Welcome to my 24Task review. Another freelancing website is on the block. Is 24Task a good start to your freelancing career? If you are thinking of making money as a freelancer, then you might be seriously considering signing up for the 24Task.com website.
You might be thinking that the popular freelancing sites might already be saturated and maybe if you join 24Task, you might stand a better chance of scoring paying gigs.
I would not blame you for thinking that way, but let me first show what's really going on here.
I signed up with this 24Task to see if it all works. And today I am going to break down for you how this site works. There are some things that I am not too particularly thrilled about, and it makes me think twice about using the platform and perhaps you might also not like it.
If you are not sure where to get started with making money online, then you might be interested in signing up for my FREE 5-Day business.
In this course, you also get set up with your first FREE website. Click on the link that follows to get started.
FREE 5-DAY TRAINING (+FREE WEBSITE)
Build Your Online Business With This
FREE

5-Day Training!
What Is 24Task.com All About?
---
24Task is a remote staffing company that provides various kinds of virtual assistance services.
According to the official 24Task website, the company was founded back in 2014. Their offices are based in the Philippines.
It's interesting to note that the actual domain name was only registered three years later in 2017.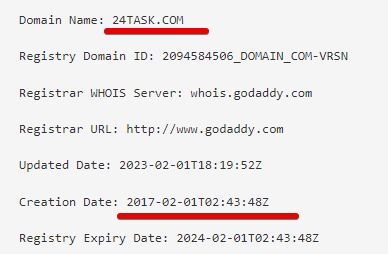 24Task is a platform that connects freelancers with clients. If you are looking to use your talents and earn money from it, then you can use 24Task.
They cover a range of categories and offer freelance opportunities for graphic designers, online marketers, translators, web developers, and writers to name a few.
It's free to register as a freelancer, however, you have to split your commission with 24task. I will chat more about that later on.
As a client, you can outsource various talents from the platform.
How To Register With The 24Task App?
---
The 24Task App is available to download from both the Google Play Store as well as the Apple Store. Once you downloaded the app onto your phone, you can go ahead and create your profile.
You can create your profile using a new e-mail address, or you can use the one you use for your Facebook or Google account.
Is 24Task Available In All Countries?
---
It looks like registration is open to most countries. It is a bit weird though that the drop-down menu for the countries is not in alphabetical order.
Nevertheless, I found my country and managed to successfully register a new 24Task account.
How Does The 24Task Website Work?
---
So, how can freelancers make money with 24Task? As a freelancer, your job is to basically outbid other freelancers for the client's job.
Companies are urged to describe the projects that they want done in as much detail as possible. Then you and other freelancers can then bid for the job.
The company or client also has the option to chat with you using their 'Live Chat' feature.
24Task will hold the client's deposit until you complete the job. Once the client is happy, you get paid. As for getting paid, you can choose to get paid either via PayPal or Visa. Note that the payout threshold is $100.
How Much Do You Have To Pay 24Task After a Job?
---
Unfortunately, you have to give the company 50% of your earnings.
Are People Happy With Using the 24Task Service?
---
According to both Trustpilot and Sitejabber, 24Task scored really good ratings.
Let's first start with Sitejabber. There were a total of 289 reviews that were submitted. The company scored 4.7 out of 5 stars from these reviews.
Then on Trustpilot, the company had 536 reviews. And they scored a rating of 4.7 out of five stars.
So, it is natural then to assume, that people are happy with using this freelancing website, right?
But at this point, I would like to draw your attention to something that Trustpilot had placed on the 24Task main review page.
Take a look at the next screenshot:
Basically, Trustpilot is informing its readers that 24Task is "breaching our terms of use with the way they're displaying Trustpilot content."
It's not confirmed as yet, but they believe that the company, 24Task, is showing an inaccurate star rating or displaying reviews they are not permitted to use.
It seems like they have an investigation going on into the 24Task community, and will keep its members informed.
So, should you believe the positive reviews?
It certainly does raise some doubt.
And there is something else that you need to be aware of as far as these reviews are concerned.
Did you know that 24Task pays you for writing a review on both Sitejabber and Trustpilot?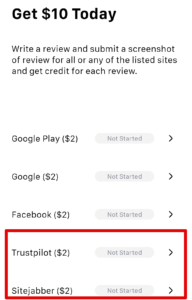 I did some further digging and found some negative reviews on ComplaintsBoard.com
It is interesting to see that freelancers were charged extra fees in order to get their earnings for a job. In the review below, the freelancer had to pay an 'insurance fee of $50,' as well as an additional fee of $250 for a company ID.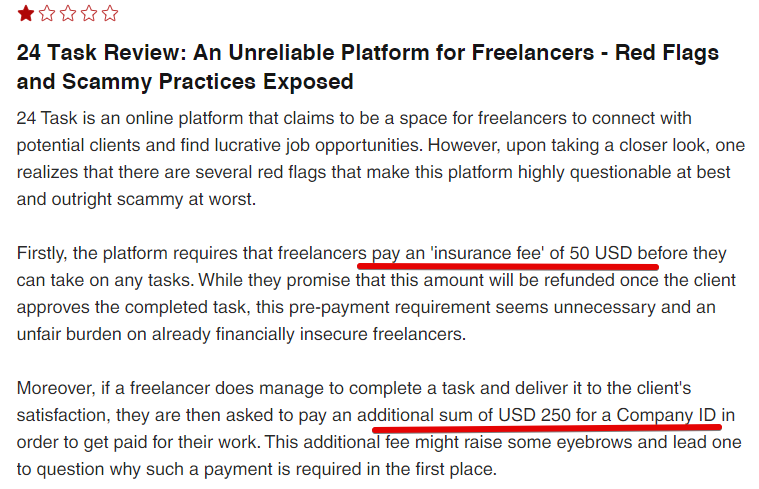 In the next review below, the freelancer was asked to pay for a digital card creation of $500 and a security fee of $60.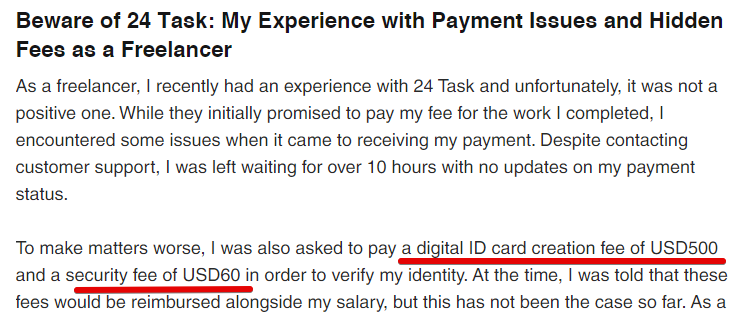 Another Way To Make Money Using 24Task Without Doing Freelancing
---
Another way you can use the 24Task platform to make money is via their referral program. If any of your friends or family join via your referral link, they will get $10 off their first order.
If your friend goes ahead and completes an order, you get $10 in referral commission.
24Task Review – Pros of 24Task
---
(1) Easy-to-use mobile application
(2) Excellent support team
(3) They have a decent referral program
Cons of 24Task
---
(1) You have to pay 50% commission
(2) This is not a passive income-earning opportunity
(3) No owner/founder transparency
(4)Very high payout threshold
Is 24Task Legit or a Scam? My Personal Opinion
---
The positive part of the 24Task company is that they have a good support team. I tested out their live chat feature when I was inquiring about their fee breakdown. They replied to me promptly.

That brings to me chatting about the not-so-good parts of the company.
I believe that the company should make it transparent that their fee is 50% of a freelancer's job. I had to jump on their live chat to learn this vital info.
And like other freelancers who had to pay insurance fees and Company ID fees, this information should be disclosed to them well in advance.
Is 24Task a good start to your freelancing career? I would not call 24Task a scam, however, I would NOT recommend it to someone starting out their freelancing career.
I believe that their fee charges are high. They have a very high payout threshold of $100. I think to pay them half of your earnings is a bit steep.
Personally, I would look at other freelancing sites for now. And if you are curious about learning how to start an online business WITHOUT spending a dime, then sign up for my free 5-day business course here.
How I Earn An Income Online
---
I transitioned from the health field to the online world.
I faced a major health challenge that affected my ability to do my day job as a pharmacist, and I had no choice but to find another way to bring in the money. You can read my story here.
It's thanks to affiliate marketing that I can earn a passive income online.
With affiliate marketing, you do not have to focus on recruiting people at all. There is no cold-calling or having "tea parties" or having to do any door-to-door selling.
It's a great business model for newbies. Even if you have no marketing or any technical experience with website building and so forth.
You have the freedom to build your business around a topic or niche that you enjoy talking about. And you are not restricted to marketing only ONE product or service.
It would be my pleasure to show you more about how I made money with this business model since 2016. Let me show you how it can benefit YOU as well by clicking here.
Thanks so much for joining me on this 24Task Review.
I hope that this has helped you out.
Looking forward to hearing from you.
Regards
Roopesh
FREE 5-DAY TRAINING (+FREE WEBSITE)
Build Your Online Business With This
FREE

5-Day Training!