Welcome to my Amazing.com review. What exactly is Amazing.com all about? At first impression, you might have guessed that it's all about a business course called Amazing Selling Machine. And I guessed it too initially.
But when I watched the sales video, I learned that the founder Matt Clark is talking about a new business course called The Omnichannel Machine. And it's not entirely focused on the Amazon FBA business model.
Is Matt Clark's new business program a scam? More importantly, is it the right business course for you?
In today's Amazing.com review I am going to show you what Matt is offering in his new course, and help you decide if it's the right fit for you.
Before we jump into the review if you would like to learn more about my NR.1 Recommendation to earn a passive income online, just click on the link that follows to get started:
FREE 5-DAY TRAINING (+FREE WEBSITE)
Build Your Online Business With This
FREE

5-Day Training!
Who Is The Founder Of Amazing.com or the Amazing Selling Machine?
---
Matt Clark is the founder. According to the official Amazing.com website, Matt made a staggering $30 million from a "single ugly page utilizing the Shopify platform."
Matt believes that the opportunity to thrive in eCommerce is bigger now than ever before. However, the Amazon FBA model which is what he originally taught, is now not a very good business model.
So, the aim of his new business model, just like with Amazing Selling Machine(ASM) is to help people "achieve financial freedom."
To understand how different the new program is from ASM, I will briefly cover what Matt was originally teaching in ASM- namely AMAZON FBA.
What Is Amazon FBA?
Amazon FBA or Fulfillment by Amazon is an eCommerce business model whereby you would utilize Amazon services to fulfill your orders.
As a business owner, you send your products to Amazon fulfillment centers.
When a customer places an order for one of your products, Amazon will pick, pack and ship the order.
They also provide customer service and process returns on your behalf.
This is the business model that you will be learning inside of the Amazing Selling Machine Course. The program was a success as Matt helped over 35 000 people build their Amazon FBA businesses.
But it's time for a change.
Now let's see what Matt is teaching in his new course.
What Is The Omnichannel Machine All About?
---
Matt believes that the way folks built eCommerce businesses years ago is ineffective and cannot be used in today's time.
Selling the same low-quality products using low-quality keywords to the same customers on the same platform such as Amazon is the old way of doing things.
When it came to doing and teaching Amazon FBA, he realized that presently everybody is teaching the same thing. Some of the familiar concepts he used and taught are :
Optimizing keywords to list products on Amazon,
Adding bonuses to products
Optimizing descriptions
Adding better images to improve CTR
And all of this stuff he believes is now the old-school ways of doing things.
Fast forward to 2022, Matt strongly believes that – that very system is broken.
What is changed in Today's Time?
According to Matt, today there are thousands of Chinese sellers which are recruited by Amazon who are all competing with you for the same product or keyword and ultimately customers.
Not only has it become very competitive, but also expensive too, especially if you were to do your business using paid advertising. In addition, Matt believes that newcomers are also faced with competitors bashing their business with negative reviews and review manipulation.
As result, it makes it harder to make money with Amazon this way, but that has not stopped the growth of the eCommerce business model.
Introducing a New WAY to do business with eCommerce: The Omnichannel Machine
So Matt teamed up with the main affiliate manager at Shopify. He learned from this guy that some eCommerce stores were doing up to 100 million dollar worth of sales a year!
They created good and attractive products and were using social media platforms to drive millions of sales to their store, where they control(and not a third party such as Amazon) the whole process.
In 2019, Matt decided to give this new model a try and partnered up with a friend of his(picture below).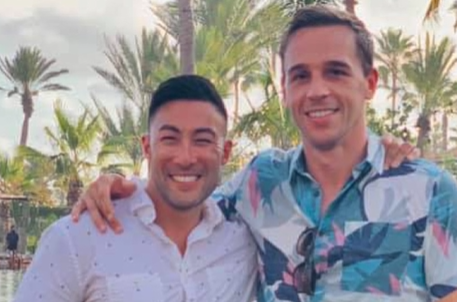 The case study was done on a coffee company called "LifeBoost."
In January 2019, they did $17 000 worth of sales. By the end of the year, they did $569 000 worth of sales in December alone.
According to Matt in the present day, their business turns over $2.5M in sales with 90% on Shopify and 10% on Amazon.
It seems like a staggering amount in such a short time, but Matt shows proof that the company was listed on the Inc 500 List of fastest growing companies three times in a row!
The Omnichannel Machine is a full custom-tailored program to help anyone create massive success with an eCommerce business. Depending on where you are with your online journey, Matt and his team will tailor a plan to help you get started with your eCommerce business.
It consists of online training and proven templates, a checklist, a Private Facebook group, and live group calls with the team.
You also have a standby eCommerce expert to assist you on a one-to-one basis. As for resources they provide you with their landing page funnels, upsell flows, and e-mail swipes for your Autoresponder sequences.
How Can You Make Money With Amazing.com?
---
The secret formula to Matt's Success is centered around 3 simple steps:
Step One:

Choose the right product(highly competitive products with a big market)

Step Two:

Build a Simple Landing Page

Step Three

: Drive Traffic To Your Landing Page
Choosing a Unique Product
The key is making sure that the product that you are selling whilst being highly competitive is also differentiated. Like his coffee products which are branded to a specific demographic.
Another example he gave was "dude wipes took a generic product -bathroom wipes, and then targeted the packaging and branding to a specific market, namely MEN." According to Matt, this company made 90 million dollars in sales.
Using a Landing Page
As for the landing page, it's connected to your Shopify store. The landing page is where you send people and generate most of your sales. The purpose of the page is to list every feature and benefit the product or service offers to your customers.
The idea of the landing page is to give them every reason to buy.
And I personally agree with the importance of a landing page. You have more control over what content goes onto the page, and nobody can discredit you or what you are marketing– basically, you are free from competitors writing negative reviews or tarnishing your reputation.
It also builds a great opportunity for your customer to get to know you a bit better. It helps to build trust and credibility.
Drive Traffic To Your Landing Page
And the last step is using social media platforms such as Facebook, Instagram, Tiktok, and YouTube to drive traffic to your landing page.
How Much Does The Omnichannel Machine Cost?
---
It's hard to say. Since this is a custom-tailored course, the cost would depend on which stage in your entrepreneurial journey you are at.
Do you need help with everything from the word go? or, are you familiar with the E-commerce business but need help with setting up your landing page? Perhaps you are at a stage where you only need to learn how to get traffic to your store.
That is the reason why Matt and his team want you to book a strategy call to see how they can help you. The call should last no longer than 45 minutes.
In my opinion, I believe that the course will not be cheap. Amazing Selling Machine had a price tag of $5,000.
And here are some independent reviews that I found that confirm the course is expensive.
Are People Happy With Amazing.com?
---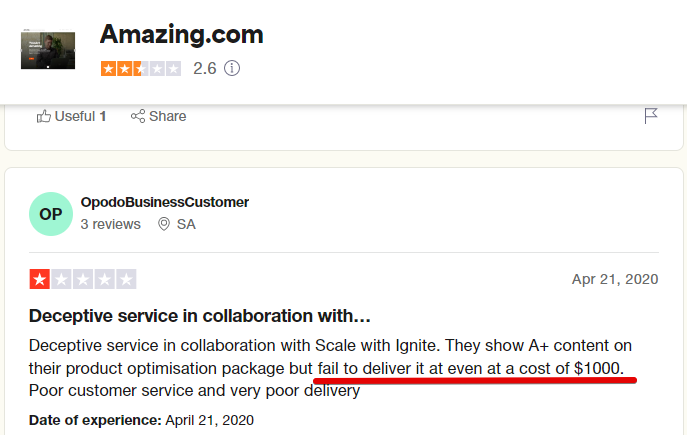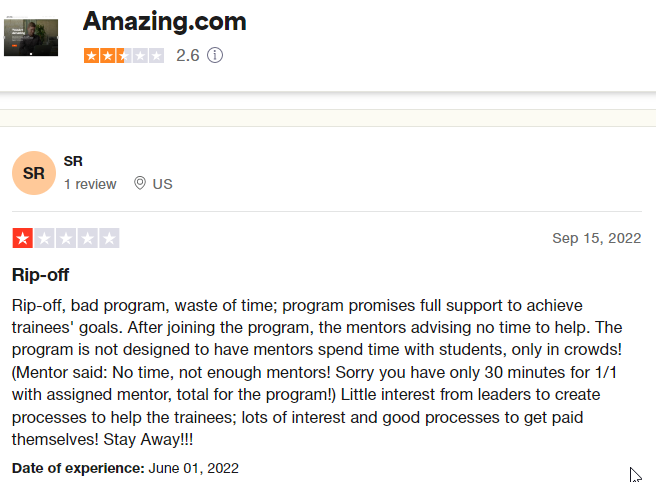 Pros Of Amazing Selling Machine
---
There is owner transparency
2. They have been around for a long time
3. You are learning to build your OWN online business independent of using the Amazon platform
4. You get mentorship and access to a Private Facebook group
Cons Of Amazing Selling Machine
---
1. It's expensive
2. You have no idea what their prices are until you book a strategy call
3. You have to liaise with the customers(e.g customer support and process returns if necessary)
Is Amazing.com a Scam? My Personal Opinion
---
I would not say that Amazing.com is a scam. However, I am on the fence about whether or not to recommend the course to anyone.
I like the fact that Matt wants to help you build an eCommerce store that does not depend on Amazon's customers.
And once your brand is built, it becomes easier to sell on third-party sites such as Amazon.
I would have liked to see more transparency. No details on the pricing, the refund policy, or even a glimpse as to what the inside of the course or Private Facebook groups looks like.
Is The Omnichannel Machine the right course for you?
To answer that question you have to decide for yourself. Do you see yourself doing the eCommerce business?
With an eCommerce business, you would need to spend money on products. That can become expensive.
In addition, you would need to make sure that your customers are kept happy. In this case, there is no Amazon to follow up with your customer and process returns. That job is all yours!
Do you see yourself spending money on products, researching and coming up with trending products, and dealing with customers?
If it all sounds exciting to you, then perhaps you can give The Omnichannel Machine a go!
If you want to have a business where you do not have to liaise with customers or spend any money on products, and it will cost you much less to get the educational training, then read further on…
How I Earn A Passive Income Online
---
I transitioned from the health field to the online world. I faced a major health challenge that affected my ability to do my day job as a pharmacist, and I had no choice but to find another way to bring in the money. You can read my story here.
It's thanks to affiliate marketing that I can earn a passive income online.
With affiliate marketing, you do not have to focus on recruiting people at all. There is no cold-calling or having "tea-parties" or having to do any door-to-door selling.
It's a great business model for newbies. Even if you have no marketing or any technical experience with website building and so forth. And you do not have to deal with any customers or purchase any products.
You have the freedom to build your business around a topic or niche that you enjoy talking about. And you are not restricted to marketing only ONE product or service.
It would my pleasure to show you more about how I made money with this business model since 2016. Let me show you how it can benefit YOU as well by clicking here.
Thanks so much for joining me on this Amazing.com review.
I hope that it has helped you out.
Looking forward to hearing from you.
Regards
Roopesh