Hello there. Would you like to start your very own blog for free? Today, I am going to show you exactly how to do that. I am going to help you to get set up with your very own blog including its hosting. You will even get your own subdomain, and there is a very special bonus.
Guess what that is?
Apart from how to start a blog in South Africa for free, I am going to introduce you to the skills that you need to become a successful blogger!
Yes, you are going to take away some very valuable points that will help you start a profitable online business.
My name is Roopesh. Yes, I am a South African. I have been in the online business world since 2015. I actually came from the medical field. So if you like, feel free to read my story here.
The point is that not only can you start an online business, but you can also make it your full-time source of income if you want. The advantage of an online business is that you have flexibility.
In other words, even though you may have a job or other commitments, you can work on your business in your free time.
How To Start a Blog In South Africa For Free?
---
To get started as a blogger, you would need the following things.
The first step is to choose a specific blogging platform. Then you need to decide on what your niche or subject for your business is going to be about.
Then you can either register a subdomain(which is a free domain), or you can buy your very own personal domain. (don't worry it's not expensive)
Once your blog is all setup, it's time to start creating that all-important content. Once your content starts ranking, you then have many ways of earning from your site.
Let's dive right in and talk about choosing your blogging platform.
Recommended Reading: Can You Start a Blog From Your Phone?[Easier Than You Think]
What Do You Need To Start a Blog?
---
There are many paid services out there. I am going to recommend an online business training platform that is both FREE and has a paid membership option.
I am on the paid option and have been using it for the past 6 years. You do not have to go on the paid option, I am using it to illustrate how easy it is to get a free blog set-up.
Are you going to use WordPress, Wix, Weebly, Medium, or Squarespace?
A blogging platform is your way of communicating with the world. WordPress is the most commonly used CMS or content management system. It's easy to use once you get the hang of it.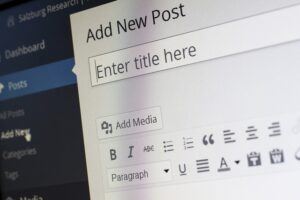 You can customize your WordPress site with plugins. Plugins simply help to improve the overall functionality of your website.
You can register for free with WordPress. There is one disadvantage though, and that is that you have to buy additional hosting for your website. Hosting allows your website to be served to your visitors.
Without hosting, or poor quality hosting, your website can suffer downtimes or malware attacks. This can lead to your visitors leaving your site leaving you with an unprofitable business.
Hosting is a paid service. But I am going to show you how to get both your WordPress site and the hosting for free.
Lastly, there is one more important thing you need to decide on. That is the niche or subject for your website or blog.
What is your blog going to be about?
Your niche can be football snack helmets, urban hiking, collectible toys, drones, etc.
There are tons of niches that you can choose from. This means that there are endless possibilities for you to make money online.
If you have any trouble finding a niche, Wealthy Affiliate has experts to help you out, and you can use their Niche Finder Tool.
Now let me show you how it comes all together. I will show you how you can get a name for your website, the actual site, and hosting all set up for free!
How to Start A Blog For Free?
---
At Wealthy Affiliate, with their free starter membership, you get a website with your own free sub-domain as well as associated hosting.
Let me show you how to get it.
Once you register for free, then navigate to "Websites," then scroll down to Site Builder.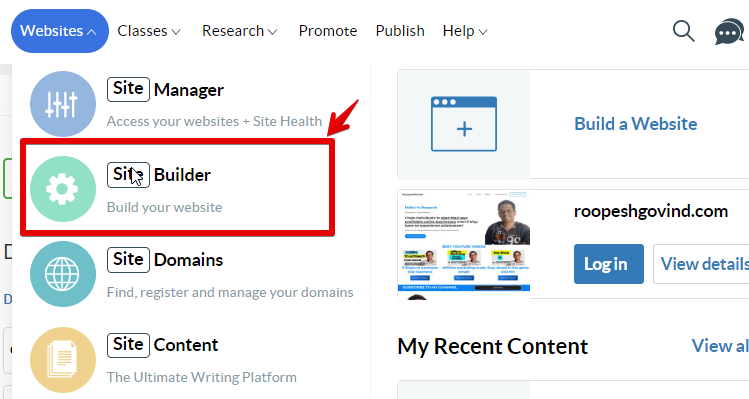 There you can choose to build on a "FREE DOMAIN."

The last step is to get choose a subdomain, for your website. The subdomain is basically what the name of your site is going to be.
Your subdomain should be related to what your niche or subject of your website is all about. The great part is that since it's a subdomain, the name you choose is not cast in stone.
At a later stage, when you want to have your own personal domain, you can move all of the original websites to the new name. At that point, you should make sure you have a name, as you cannot change it thereafter.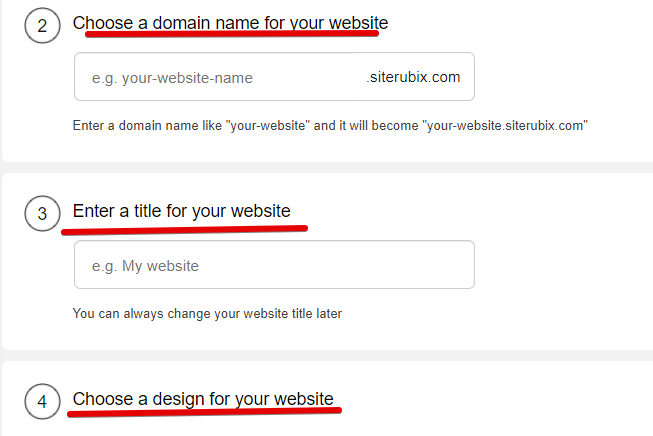 And within seconds you will have a free website with free hosting. Easy right?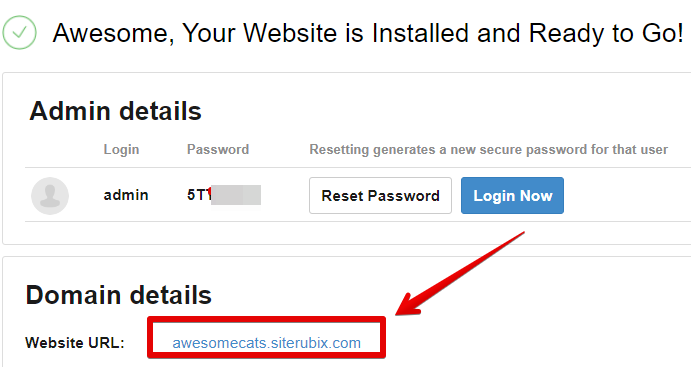 But the main question is, how do you go about building a profitable blog?
Let me show you that next..
Recommended Reading: Is Blogging Too Saturated?[Here are Are 6 Reasons It Isn't]
How To Make Money From Your Blog? Content Is King
---
In the online world, when it comes to blogging, they often say that content is king.
Whilst having content is definitely important, it's not just any content that will make your website flourish and get you visitors.
You need to make sure that the content that you write has the best chance of getting top rankings on Google and other search engines.
To do this, you have to learn a bit about SEO or Search Engine Optimization. SEO is all about using techniques such as keyword analysis and researching your competition so that your content can be both unique and get first-page rankings.
Whatever niche you go into, there is bound to be another website within your niche that already has got good authority with Google.
Do not let this discourage you! There is a way for you to still make money within the same niche. You simply have to do your keyword research properly.
There are keyword research tools available to help you find low-competition, high-search volume terms.
With these keywords, you can write content that will beat the competition and get you, free visitors, to your website.
This is part of what good SEO practice is all about. If you are a newbie reading this, it may sound like a lot to take in. Once you understand the fundamentals, you will easily get used to it all.
And that's another reason why I recommend the Wealthy Affiliate training platform. Not only will you get the free website, the free hosting, and the free subdomain, but you will get training on how to build that solid foundation.
In that way, you get a taste of what the world of blogging is all about.
Let's say that your website is now coming along well.
You are adding content consistently and now your site is gaining traction. Google is now taking notice and ranking your articles well. You are now getting a constant flow of traffic to your website.
How do you make money with your blog? Let me show some of the awesome ways that you can make money online with your website.
How To Make Money From Your Free Blog?
---
There are a number of ways you can monetize your blog.
You can sell ad space. This is a very common and lucrative way to earn from your website.
You can register with ad networks like Google Adsense, or Mediavine. Every time someone clicks on an ad that is displayed on your site, you earn money.
Very similar to the above, is allowing for sponsored content to be displayed on your website. You can charge companies to write advertorial posts on your website.
Then you can create your very own coaching or consulting course. Folks can register for it via your website. You spend time and energy creating the course once-off and can earn a nice passive income from it.
The way that I earn from my blog which you can also do is via a business model called affiliate marketing. With affiliate marketing, you are promoting companies' products or services.
So you are the middle guy or girl. For every successful transaction that takes place, you earn a commission.
Take a look at the diagram below, to see how affiliate marketing works.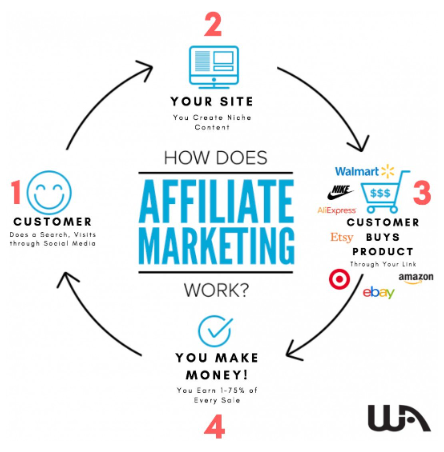 The benefit of affiliate marketing is that you do not have to have a product of your own to earn commissions. You do not have to do any recruiting as with an MLM like Velovita or Dreamtrips.
It's a newbie-friendly method, and it does not cost much to get started.
Recommended Reading: Does Affiliate Marketing Work In South Africa?
Conclusion – It's All Within Your Reach
---
If one has to buy a franchise in South Africa, it would not be cheap depending on the type of franchise one wants to buy.
How can you start a business that is affordable in South Africa?
One of the ways is through online affiliate marketing. It's cheaper than buying a franchise, and you get all the training, tools, and support to get started.
You learned today how to register a blog for free. You also know what makes a blog successful which is writing SEO-optimized content. And finally, you know how to make money from your blog once it's getting tons of organic traffic.
The only thing left to do is sign-up for my NR.1 recommended business training platform and get started with your blog.
You might get load-shedding stopping you from working on your online business from time to time.
The key is to be consistent, follow the training, and never give up. You can and will make your blog a success.
It's all within your reach.
Thanks for reading.
Looking forward to hearing from you.
Kind Regards and Take Care
Roopesh