Welcome to my Legendary Marketer review. If you are searching for an online business teaching platform, then you might have heard the name Legendary Marketer.
You might not know this, but the Legendary Marketer educational platform has been featured in Inc. magazine. Is Legendary Marketer legit, or should you avoid it at all costs?
Even if the course might be legit, it still might not be for you. And in this review, I am going to help you to decide if this is the right online business teaching course for you.
And before we dive into the review, feel free to check out my NR.1 recommendation for starting an online business. Simply click on the link that follows to learn more.
Is There A Legit Way To Make Money Online?
Yes, there is! I got proof it works!
What is Legendary Marketer All About?
---
Legendary Marketer is marketed as a platform with "online marketing education delivered simply and with integrity."
In other words, it's a place where anyone can learn how to start their very own online business.
Legendary Marketer does not offer just one course or cover one business aspect within their teaching curriculum. They have packages that start from $1 and go all the way up to $2,500.
Legendary Marketer was recently featured as an Inc. 5000 fastest-growing privately-held company in America! They have also been named the 67th fastest-growing privately-held education company in America!
The company was featured in a 2-page spread in the Inc.Magazine. Below is a screenshot of the Founder David Sharpe showing the magazine.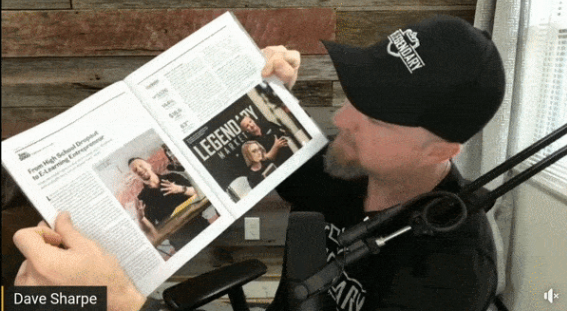 The founder of Legendary Marketer believes that E-Learning is not just normal… It's essential.
This is what David has to say :
"Gone are the days when formal university education is a requirement to start your own business or get a high-paying job. (I agree, see my transition from pharmacist to online entrepreneur)

And LONG GONE are the days where credibility and authority are solely based on the degrees you've accumulated.

Our world is thinking way leaner and way more efficiently than ever."
Ten years ago, online education was progressive and foreign to most people. Now, it's becoming a norm.
Before we check out how the Legendary Marketer program can benefit you, let's learn more about David Sharpe.
Who is David Sharpe?
---
David Sharpe is the founder of Legendary Marketer. Along with David, Matt Heltzel is the CMO of the company.
He had a tough time during his schooling days. He would get reprimanded by teachers for having arrived at a solution to a maths problem without following the teacher's technique.
During his high-school days, he turned to alcohol and drugs to help him cope with the school pressures. In 9th grade, he dropped out of school and became a heroin addict.
Becoming a teenage dad, he joined his dad in the construction business. Things turned around for him for the better, when he stopped the drugs and alcohol.
Now he is in the game of online entrepreneurship for over 10 years. He founded 3 multi-million dollar companies from scratch. And educated over 500 000 entrepreneurs.
Let's see what benefits the Legendary Marketer can offer you.
Recommended Reading: Wealthy Affiliate Review – The Only Review You Need To Read
What Are The Benefits of The Legendary Marketer Program?
---
Perfect for Newbies or Experienced Marketers
One of the main benefits of joining Legendary Marketer is that the training program is designed with both newbies and experienced marketers in mind. You also can choose to buy from one of their lower-priced products or one of the high-ticketed products(I will talk more about these later on)
As a Legendary Marketer member, you get FREE access to their affiliate program. Their affiliate program pays really well. You DO NOT need to purchase any of their products to promote and earn affiliate commissions.
You get excellent support. As you go through the 15-day business builder challenge, you get assigned a business advisor. He or she will help you with every step of your entrepreneurial journey. You also get access to live weekly strategy sessions as well as become a part of their Private FaceBook community. So, definitely lots of support here.
You do not have to do ANY RECRUITING to earn. This is not an MLM-type business such as Velovita, or DreamTrips, where the higher paychecks lie in the recruiting compensation plan. If you do not enjoy the network marketing business model, then Legendary Marketer is definitely something that you need to consider.
Inside Legendary Marketer- The Legendary Marketer Products
---
There are a number of products that Legendary Marketer sells.
You can buy their standalone products or the flagship business blueprints. It all depends on where you are in your online journey and what your budget will allow.
Some of the products can be pricey.
Legendary Marketer 15-Day Business Builder Challenge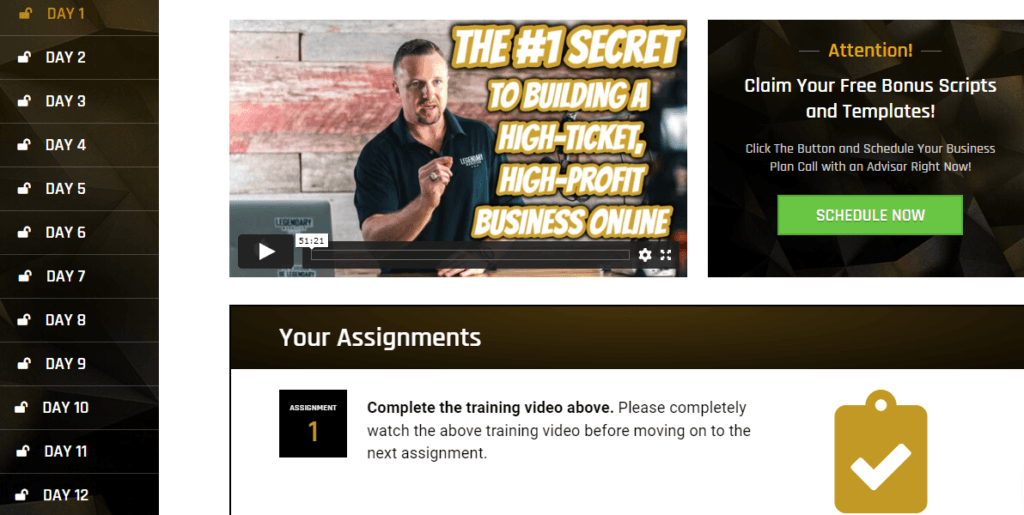 The 15-day business challenge is hosted by David. If you are brand new to the online business world, then the challenge is an eye-opener.
You will learn more about David's journey to becoming a successful businessman. You will learn the formula that successful marketers use in their online businesses. Many things that David talks about were new to me, even though I was in the affiliate marketing game for a while.
He will outline the conversion funnel for your business. It first starts with choosing the right product or service to market. Then you build an entire marketing funnel(the opt page, the bridge page, the product sales page, followed by a thank you page). If I can recall correctly, it's on day 3 of the challenge that you learn this.
The main idea of the business builder challenge is to help you get set up with a solid foundation for your business. As you progress along the challenge, a business advisor will be assigned to you.
They will assist you as you proceed with the challenge, and at some point talk to you about the flagship products which are the business blueprints.
You also would need to complete certain assignments before you can proceed to the next day's task.
2. Marketers Club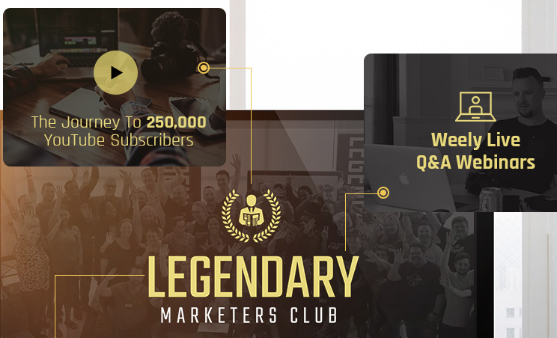 This is a monthly subscription service.  You get training, resources, and education that will help you to start, grow and scale your online business.
The CMO of Legendary Marketer, Matt Heltzel hosts weekly marketing training webinars covering topics such as using paid ads and social media.
Some of the highlights of the marketers club are:
Live Q&A sessions with 6 and 7-figure earners
The Journey To 250,000 YouTube Subscribers class
Sales Secrets From The 5-Billion Dollar Man
3. Traffic University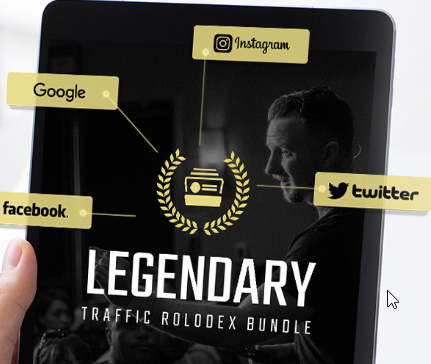 If you want to master paid traffic methods, then this is a product for you. You will learn how to execute paid ads effectively across all the major platforms such as Google, FaceBook, YouTube, and Instagram.
You will learn how to get landing pages that get approved by these platforms without your accounts getting flagged.
4. The Insider's Guide To Affiliate Marketing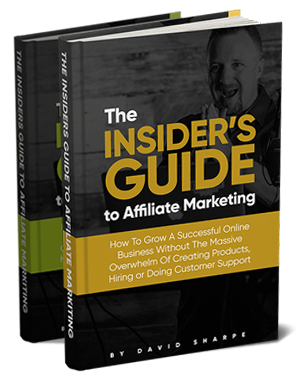 This is an e-book written by David Sharpe. You can get it for $2 bucks here.
What Are The Legendary Marketer Business Blueprints All About?
---
Legendary Marketer is different from other business courses in the sense that they focus on teaching you 4 unique business models.
The 4 business blueprints are the main courses offered. And these four blueprints are as follows.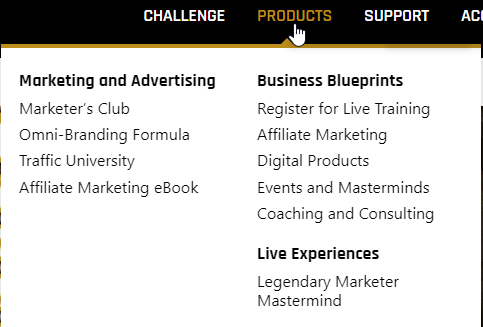 The Affiliate Marketing Business Blueprints
The Digital Products Business Blueprints
The Coaching and Consulting Business Blueprints
The Events and MasterMinds Blueprints
What is so unique about all of these four business models?
According to David, they all have three things in common.
David learned from his mentor Jay Abraham that a good business model is one that is sustainable and profitable and is able to meet three criteria.
These three criteria are :
Number One: You must be able to get more customers coming in on a regular basis
Number Two: You must be able to do repeat sales to your existing customers
Number Three: You must be able to sell high-ticket products or services to your customers
And those four business models, David believes have all three criteria.
The Affiliate Marketing business blueprint will help you to start your own affiliate marketing business.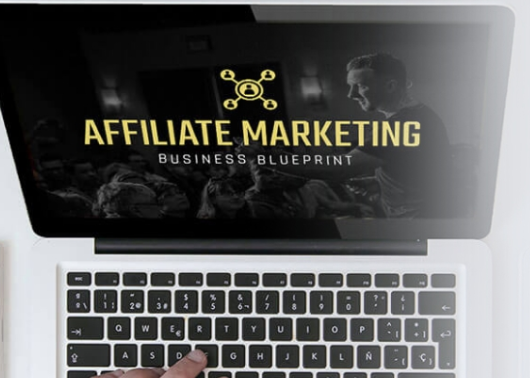 You earn money by promoting other people's products or services. You are the middle person and bring the buyer and seller together.
Then with the Digital Products business blueprint, you will earn how to market digital products. When you sell a physical product, you have to worry about shipping, international customers, taxes, laws, importing, inventory management, and so on.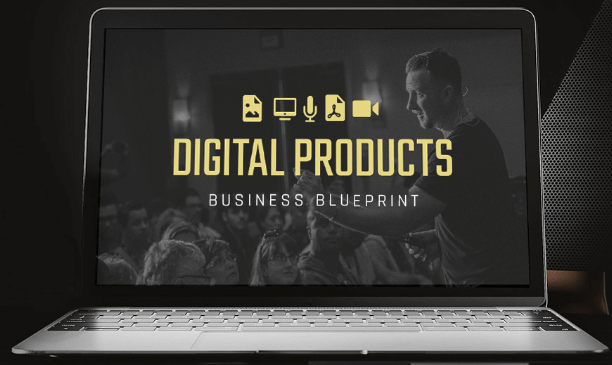 With selling digital products, you do not have these headaches. They are easy to distribute, significantly more sustainable, can be replicated infinitely, and are often times simpler to create. 
The Legendary Marketer coaching and consulting blueprint is all about helping you to take your expertise and passion and turn it into a service-based business where you work on a retainer or contract basis.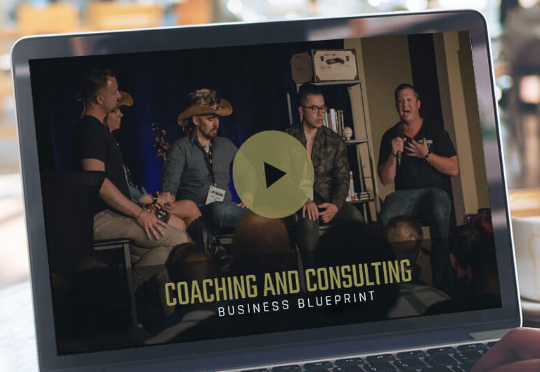 The last business blueprint is learning how to launch your own event or mastermind. If you can speak or facilitate a live gathering, you can profit and make an impact with your work. And this business blueprint will show you how to do it.
How Much Does It Cost To Join the Legendary Marketer?
---
Here is a breakdown of all the products on offer at Legendary Marketer
1.Legendary Marketer Business Blueprints(once off)- $2,500
2. Traffic University(one time payment) – $1,497
3.Omni-Branding Formula + Bonuses(one time payment) – $47
4.Marketers Club(monthly fee)–$30
5.Affiliate Marketing e-Book + Bonuses(one time payment) – $2
6.15-Day Business Builder Challenge(one time payment) –$7
7. 15-Second Free Leads – $1.00
8. Copywriter's Playbook – $1.00
Additional Expenses:
In addition, you also would need to invest in funnel-building software and an e-mail service provider. They recommend Clickfunnels. It cost $97 per month.
I would rather recommend Systeme.io. I use it for my funnels and it has built-in e-mail functionality. It cost me under $40 bucks a month. Check out my review of Systeme.io.
How Can You Make Money With Legendary Marketer?
---
David hosts the Wake-up Legendary Show featuring members who have had success with the Legendary Marketer training. You get to learn a lot from these sessions. If you want you can check them on Davids's YouTube channel.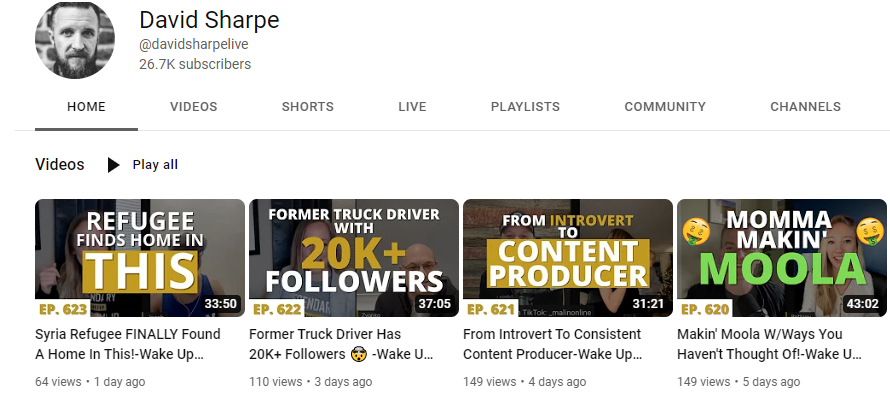 How can you make money with Legendary Marketer?
You can promote the program and earn affiliate commissions. The other way is to learn one of the 4 business models taught within the blueprints and implement the training.
You can:
Start your own affiliate marketing business, or
Sell your own digital products online, or
Launch your own coaching/consulting course, or
Have your own Mastermind.
Pros of The Legendary Marketer System
---
Owner Transparency
The Training is Updated Regularly
I was fortunate enough to get some FREE training from one of the top affiliates for Legendary Marketer. He goes by the name of Joshua S Smith.
The training was all about how to get leads using FaceBook reels. It's the exact method that he was using to generate 7000 leads a day! (initially, I thought it was crazy too).
But his results proved it!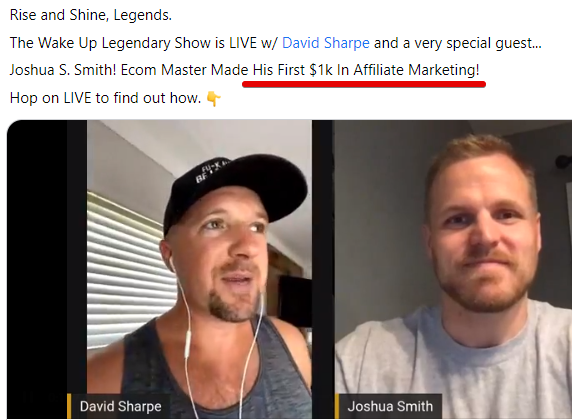 Excellent support network
They have a refund policy
Featured in a respectable publication
Cons of Invincible Marketer
---
1. Expensive product packages
2.No trial into the business blueprints
3. Membership is not available to all countries
4. Lots of focus on social media marketing
5. Additional tools such as funnel builders and e-mail auto responders and using paid ads, are additional costs.
Is Legendary Marketer a Pyramid Scheme?
---
You might have heard folks make mention Legendary Marketer is a pyramid scheme.
A pyramid scheme operates where you get paid for solely bringing someone into the organization. Legendary Marketer is not a pyramid scheme. They offer educational products that can help one to build an online business.
It takes time and effort just like it would to build any REAL business. You can only earn from either being an affiliate for the company or by building a business following the training.
Is Legendary Marketer a Scam? My Personal Opinion
---
They have owner transparency, the company is recognized in popular publications, and they have a track record of success.
They also have a long-standing in the market.
Though Legendary Marketer is a great course, it's not the best business-building course out there. It is expensive. You do not get to interact with the owner directly. Two other business platforms where you can are Wealthy Affiliate and Invincible Marketer.
Is Legendary Marketer the right course for you?
Great question.
Before you think of signing up for LM, first check to see if your country is not on its list of excluded countries.
The only way you will know whether Legendary Marketer is for you, is to try out their 15-day business builder challenge. However, do know that at some point you will be upselled by one of their business advisors to buy the business blueprints.
If you have the money and are enjoying the challenge, then go for the blueprints. If on the other hand, you are strapped for cash, it is not the end of the world.
The other option is to buy cheaper products such as The Insider's Guide To Affiliate Marketing($1,99) or The Copywriter's Playbook($1,00).
At a later stage, you can always upgrade to the business blueprints if you want to.
And you also have another option. If you want to get started learning how to make money online WITHOUT having to spend so much money, then check out my NR.1 recommendation by clicking on the link that follows.
How I Earn A Passive Income Online
---
I transitioned from the health field to the online world. I face a major health challenge that affected my ability to do my day job as a pharmacist, and I had no choice but to find another way to bring in the money. You can read my story here.
It's thanks to affiliate marketing that I can earn a passive income online.
With affiliate marketing, you do not have to focus on recruiting people at all. There is no cold-calling or having "tea-parties" or having to do any door-to-door selling.
It's a great business model for newbies. Even if you have no marketing or any technical experience with website building and so forth.
You have the freedom to build your business around a topic or niche that you enjoy talking about. And you are not restricted to marketing only ONE product or service.
I sell high-ticket digital products. The commissions are higher and you have to only sell a few to make your monthly target.
It would my pleasure to show you more about how I made money with this business model since 2016. Let me show you how it can benefit YOU as well by clicking here.
Thanks so much for joining me on this Legendary Marketer Review.
I hope that it has helped you out.
Looking forward to hearing from you.
Regards
Roopesh