Welcome to this 7 Figure Accelerator review. Philip Johansen's business course is marketed as one that is a done-for-you online system that 'makes regular people $1,000 to $5,000 per day!"
Is the 7 Figure Accelerator legit, or is it a scam?
It all sounds inviting. The thought of not having to do the heavy-weight lifting when it comes to setting up your online business. In addition, you get to make some serious daily commissions with just 57 minutes of work a day! That's what Philip Johansen's promise is.
Is there a catch?
In today's review, I am going to show you exactly how the 7 Figure business course works. You will see whether or not people are happy with buying Philip's course. How exactly will you be making money with 7 Figure Accelerator? Some folks out there are calling 7 Figure Accelerator a Ponzi scheme. Is it a Ponzi scheme?
I am going to address all of these issues so that you can make an informed decision on whether or not to buy Philip's course.
If you are interested in earning a passive income online, then one of the ways to get started is to build an online asset.
And what better way than to start with your very own website?
I created a 5-day training course to not only help you get started with FREE training but also to help you get your first FREE WEBSITE. Click on the link that follows to register.
FREE 5-DAY TRAINING (+FREE WEBSITE)
Build Your Online Business With This
FREE

5-Day Training!
What is The 7 Figure Accelerator All About?
---
The 7 Figure Accelerator is marketed as an online business course that will help you get started with making money online using just your cellphone and an internet connection.
The business model involves promoting affiliate products using social media — a zero capital investment business according to Philip.
Philip and his team will help you to build this automated system that will generate $1000 to $5000 per day, helping you to hit $30000 or $40000 per month within 90 days or less!
Philip stresses that you do not need to have any of your products, nor you do need to create a website, or even do any paid advertising.
According to Philip, it's a "brand new miracle system for 2023." that has already helped 100's of regular people, and he shows you some of these folks in the main sales video.
Many of the folks in the videos claimed to have earned substantial amounts of money using Philip's system.
Here are what some of them said:
Ashley Perry "50k in his first 50days"
"$100 000 in just one month"
"$114 000 in the last 30 days"
Berta Raves made "$100k in her first 93-days"
Philip also takes you to the back office of his WarriorPlus account where you see his affiliate commissions.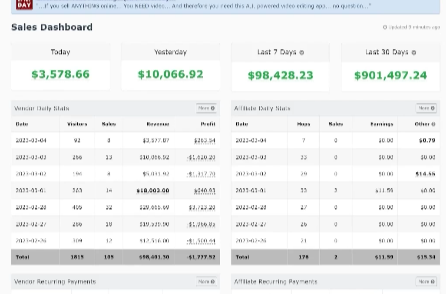 With the 7 Figure Accelerator, Philip teaches his students how to sell high-ticket affiliate products. These are products that carry high commissions. High-ticket affiliate marketing is actually a legit way to make money online.
You can read how to get started with high-ticket affiliate marketing here.
Philip's team has compiled a list of high-ticket products ranging from $2,500 all the way up to $75,000.
Philips course is focused on helping you to get customers to these products or services using Instagram. His team will help you to build the automated system which is basically the landing pages, the funnels, to promote affiliate offers. All you have to do is place the link in your 'bio' area in your Instagram account.
The way to use Instagram effectively is by uploading 7-second viral videos.
Recommended Reading: Why is Affiliate Marketing Best For Students?
How Much Does It Cost To Join The 7 Figure Business Accelerator Course?
---
The normal price for the course is $2,497. At the time of writing this review, the course is discounted to $2,247.
For that price, they give you the 90% done-for-you-system, and the opportunity to make $10 000 to $30 000 in 90 days or less.
Phillip believes that you can attain this goal by following the training and dedicating a minimum of 57 minutes a day. You also have the opportunity to join the one-on-one mentorship program with Philip.
Is 7 Figure Accelerator a scam? I will share my verdict with you soon.
Are There Payment Options When Purchasing The 7-Figure Accelerator Business Program?
---
Yes, there are various payment methods.
You can purchase the 7 Figure accelerator over 4 installments. The first payment is $1,297. Then in 30 days' time, you pay another $1,297. The final payment is actually 2 of the $1,297. You end up paying a total of $5,188.
They also have a 10-day payment option. The first payment would be $597. In 30 days, you pay another $597, followed by 8 payments of $597. You end up paying a total of $5 970.
They accept Paypal or Cards as a form of payment.
Does 7 Figure Accelerator have a Refund Policy?
---
Unfortunately, there are no refunds on the 7-Figure Accelerator program.
7 Figure Accelerator Reviews – Are People Happy With Philip Johansen's Course?
---
On Trustpilot.com, 7 Figure Accelerator scored 3.3 out of five stars.
51% of these reviews are 5-star ratings. That means that half of them had good things to say about Philip's course. I am going to show why these positive reviews should NOT be the sole basis for your decision to buy the course.
I will reveal that even though people might be making commissions with this course, it's not the best way to build an online business.
For now, let's see what all the 7 Figure complaints are all about.
Firstly, affiliates were complaining of being robbed of their commissions. These affiliates were tracking their affiliate links and knew that they were supposed to be credited for sales, but were denied them.

Then there were complaints that the company and the founder did not honor the $10 000 guarantee. If you do not get any results within the first 3 months, Philip will give you 10K back. The guarantee was not honored and the customers were given various excuses.

There was a complaint that the company chopped and changed the content or structure of the landing pages, and email swipes that members get as part of the marketing package.
A member believed that it was structured in an unethical manner to simply get people to buy into the program using emotional triggers and to take advantage of people's circumstances.

People were calling Philip a scam artist, a manipulator, a gas lighter. These words were echoed by a number of reviewers.
I also noticed that many reviews labeled the 7 Figure Accelerator a Ponzi scheme. Is 7 Figure Accelerator a Ponzi? Stick with me, I will address this shortly.
Pros of 7 Figure Accelerator
---
(1) Owner Transparency
Cons of 7 Figure Accelerator
---
(1) Time limit – the course is always available. Philip claims that he has limited spots available. It's a tactic to get you to act fast and sign-up.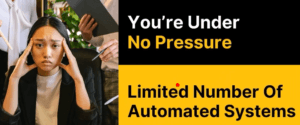 (2) Course is expensive
(3) Lots of upsells
(4) Get rich quick claims
How Do You Make Money With The 7 Figure Accelerator Business Program?
---
As many people have mentioned on Trustpilot, it's a 'copy and paste" business model. Philip and his team will train you to build your Instagram channel by modeling what other top 7 Figure Affiliate marketers are doing.
Do what they are doing, and you can make big money like them.
The next important question is, "What exactly are you selling to earn these commissions?'
The done-for-you automated system, the funnels, and the pre-written e-mails are all designed to get more leads to the 7 Figure Accelerator program.

In other words, you are an affiliate of 7 Figure Accelerator.
Is 7 Figure Accelerator a Ponzi Scheme? My Personal Opinion
---
What is a Ponzi scheme?
According to Wikipedia, it is a form of fraud that lures investors and pays profits to earlier investors with funds from more recent investors.
If you look at 7 Figure Accelerator, you have to buy a membership to become an affiliate. Once you are an affiliate, you have to work to get people to buy into the company so that you can make commissions, or at the very least recoup your costs.
In my opinion, it's more of a recruitment scheme rather than building your own business.
Yes, there are people making commissions, and from the website, they show big earnings.
And that might seem inviting.
However, at the end of the day, you are paying to promote a course that has tools, and training geared only toward getting more members to the course.
If it's all done for you, then you are not learning much. They even discourage you from being creative and rather model other people's Instagram reels.
What happens if they, the company, decide to suddenly close their service?
You left to start off all over again. That's why I said earlier, it might be paying commissions, but it's also like putting all of your eggs into one basket.
Affiliate Marketing VS 7 Figure Accelerator
---
Let's take a look and see how different the 7 Figure Accelerator Business Course is from a genuine affiliate marketing course.
Number One: Why Pay To Be An Affiliate
You have to PAY to Play as an affiliate for 7 Figure Business Accelerator.
Why should you pay in the first place to be an affiliate?
There are many top affiliate marketing courses such as Wealthy Affiliate and Legendary Marketer where it's free to be an affiliate and earn good commissions.
Number Two: No Solid Training
They are only teaching you to use Instagram. Mind you, there are tons of free videos that can help you to use Instagram as a marketing tool.
The rest of the stuff the company does for you.
There are affiliate marketing courses that teach you other freeways such as SEO(using a website), YouTube, and Paid Advertising.
You have a choice as to which way you would like to build your affiliate marketing business with these business courses.
Number Three: You Cannot Choose a Niche
As a 7 Figure Accelerator member, you are forced to promote products within the Make Money Online niche.
Added to that, the 'done for system' is designed to only promote ONE product within this niche.
At one point in Philip's free training, he used a high-ticket Amazon affiliate product as an example to earning high commissions.
Unfortunately, they will not be helping you build a business to promote a business in a niche that you are passionate about or interested in. There are thousands of niches or audiences you can market to and build a full-time business besides the make money online niche.
An affiliate marketing business course such as Wealthy Affiliate can help you build a business based on any niche you want. You can join their FREE Starter Membership here.
Number Four: High Ticket and Low Ticket Affiliate Gameplan
Yes, it is nice to sell a $2000 product and make a $800 commission. But are you really helping your customer, or is it just about making money?
At the end of the day, it's my belief that you should provide value to your customer. You should do things that best serve them.
If it means sending them to a low-ticket affiliate product, that will help them, then that's what you should do.
Remember, low-ticket affiliate products can also help you build a full-time business.
If for example, you sell a $49 product that carries a $29 recurring fee, then you simply need more people, but the beauty is that you are earning a recurring income online.
It's all about joining different affiliate programs, and this is not taught within the 7 Figure Accelerator course.
Final Words – To Join Or Not To Join
---
There are two big risks associated with being an affiliate of the 7 Figure Business Accelerator. The first is that you are building your entire business using Instagram.
Instagram, no doubt can be great. But you do not have much control. Anytime, they can ban or shut down your account, leaving you in a position to start all over again.
You should always have a backup. In this case, it would help to build your e-mail list. In that way, you can always promote to people who have subscribed to your offer.
The second risk is depending on the "done for you" system. I understand that not everyone has the time, but if you learn the ropes of building your online business, you are less dependent on others and you also have more control.
You can control what products to promote
You can control what niche to build your business on
You can control what you promote and how to promote to your e-mail list
You control what platform/s to build your business (website, social media, Youtube, PPC)
I hope that this review has given you a clearer picture of what Philip Johansen's course is all about.
Looking forward to hearing any thoughts that you may have.
How I Earn An Income Online
---
I transitioned from the health field to the online world.
I faced a major health challenge that affected my ability to do my day job as a pharmacist, and I had no choice but to find another way to bring in the money. You can read my story here.
It's thanks to affiliate marketing that I can earn a passive income online.
With affiliate marketing, you do not have to focus on recruiting people at all. There is no cold-calling or having "tea parties" or having to do any door-to-door selling.
It's a great business model for newbies. Even if you have no marketing or any technical experience with website building and so forth.
You have the freedom to build your business around a topic or niche that you enjoy talking about. And you are not restricted to marketing only ONE product or service.
It would be my pleasure to show you more about how I made money with this business model since 2016. Let me show you how it can benefit YOU as well by clicking here.
Thanks so much for joining me on this 7 Figure Accelerator Review.
I hope that it has helped you out.
Looking forward to hearing from you.
Regards
Roopesh