"How To Earn A Passive Income
Using A Proven Business Model

That Does NOT Involve Any Recruiting, Forex, MLM or Selling Your Own Products…

(newbie-friendly)

"
Hi, my name is Roopesh.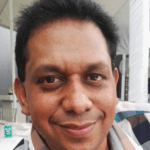 I am a pharmacist turned online entrepreneur. You might be thinking, why such a crazy career change?
Stay with me, I will tell you my story shortly…
Just know for now that I have been in the world of online entrepreneurship for over 6 years!
I reviewed over 400 make-money online business opportunities. I have learned to tell the good business programs from the ones that you need to stay away from!
And today, I am happy to show you an online teaching business program that works!
It's ethical, and there is owner integrity.
I bought it. I tested it.
I even got results with it(which you are gonna see too!), but first, let me tell you how I got here!
There is a lot of Hype Online. It's Like a Craze And Everyone Will Push You Into Buying Their Course or Program. They Will Use Fancy Words to Get Your Money…But Do They Have Your Best Interest At Heart?
In 2015, my hearing took a turn for the worse. I found it really tough to do my day job.
I needed a backup plan as I was the sole breadwinner.
They called my condition Tinnitus, a ringing or whistling noise in the ears. And since I only had one good ear serving me(as I was permanently deaf in my right ear), the condition became more stressful.
In fact, it came to a point where I could not handle full-time hours.
I turned to Google and social media channels in a bid to find a less-stressful alternative way to bring in money.
Something else also dawned on me at the time.
Whether I was a professional or not, I was still working a job, and the cold hard truth is that...I was replaceable.
The company's profit was more important to them than my health. If I could not do my job, I would have to leave. They would easily find my replacement in 30-days.
It was I, who would stand to lose out the most.
At least that's my perspective of the corporate world. Even if you give them loyalty over years, it really does not count for much, especially these days.
What do you think?
So, I am in this position of having no financial security, no control over how I can spend my TIME, and definitely no safety net that I could depend on…
Call it fate or just good timing, but just a few days before my birthday in August 2015, I signed up for a teaching platform that I read about on a review website.
It gave me hope and pushed me in the right direction. It taught me about a business model that made sense.
And even though I knew that I was not a technically minded person, I would give it my all.
And here is my proof of my first online commission back in 2016.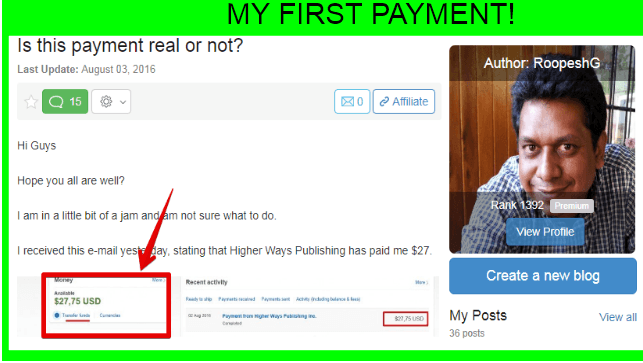 It was small, but hey, it's proof that it works, right?
And that brings me to show you what this business model is all about, and how it can help YOU!
"Affiliate Marketing – the
Proven Business Newbie Friendly

Business Model"

It's a fancy name.

But I can assure you…….it's really not a complex business model to understand.

Let me show you how it works.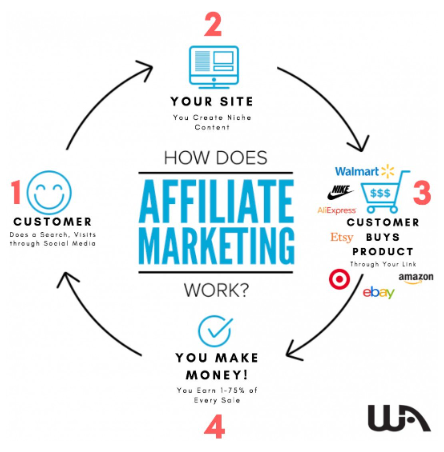 You simply promote other people's products or services and for every sale that takes place, you earn a commission.
Think of it this way….you are the middle guy or lady. You bring the buyer and seller together, and you walk away with your cut.
Simple right?
Let's say that you recommend to a family member, a good book that you've just completed reading or a movie that you enjoyed watching.
Wouldn't it be cool, if you were to get paid for your recommendation?
Well, in the online world you do get paid….and you can get paid some serious money (I will show you more PROOF today!)
"Affiliate Marketing is a Billion $$$$ Industry. It Will Not Stop Anytime Soon"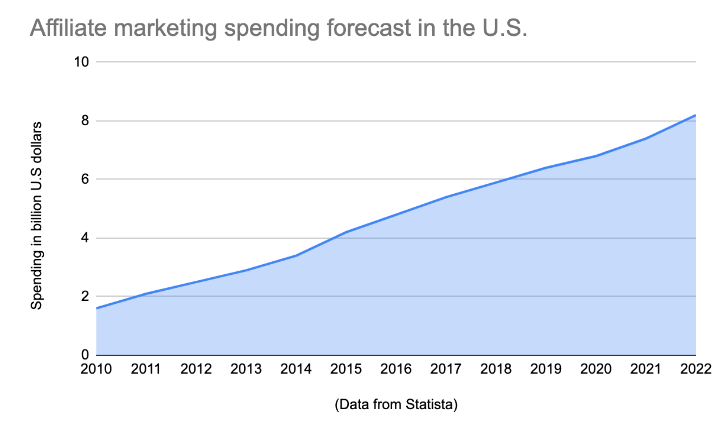 I wish that for every OTC product that I recommend or sell as a pharmacist, I would get a percentage thereof. Unfortunately, I only get paid a fixed salary.
Affiliate marketing levels the playing fields...it gives ANYONE who is willing to work at it, an opportunity to make GREAT returns.
In fact, it's so popular that major brands such as Amazon, Airbnb, and Booking.com, all have their own affiliate programs.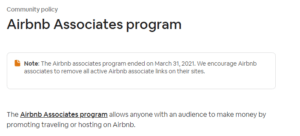 You as an affiliate marketer can join these affiliate programs for FREE!
Remember. the companies or the affiliate merchant or vendor only has to PAY YOU once you bring in a buying customer.
How can affiliate marketing help you?
What are the benefits of doing the affiliate marketing business model?
Glad that you asked.
Let me show you :
You don't have to OWN YOUR OWN PRODUCTS
You can choose from THOUSANDS OF NICHES
It's EASY TO UNDERSTAND
You can do it FULL TIME OR PART TIME
No RECRUITING
You can sell PHYSICAL OR DIGITAL PRODUCTS
"Ok But How Do I Get Started? I Am A Complete Newbie. Is It Hard?"
Great questions.
How to get started?
Answer:
To get started, you have to decide on the niche. A niche is basically who your target audience is.
For instance, my niche is helping folks who have the mindset that you NEED to have a DEGREE to make good money. I want to show them that it's not true at all.
You can choose from thousands of niches. It can be the health niche, the fitness niche, the sports niche, the collectible toys niche, the model aircraft niche, or even the football snack helmets niche.
I am a newbie. Is it hard?
Answer:
I came from the health field. Someone who knew nothing about online business.
If I can do this, you can do it. You got this!
"How Much Money Can You Make?"
That is all up to YOU!
It depends on the amount of time and effort that you are willing to invest into this. If you take it as a hobby, then it might not make you serious money.
If you treat it like a business, then you can really surprise yourself.
Remember earlier on I showed you my first small commission?
Let me show you my first $1,000 commission.

This was from selling just ONE digital educational product.
BUSINESS TIP FOR YOU: Digital products tend to have higher commission payouts.
So if you want to reach your income goals quicker, I recommend focusing on marketing digital products rather than physical products.
You do not have to focus on high volume to attain your income goal. If your income goal for the month is, say 5K, then you just concentrate on selling 5 high-ticket products.
Of course, you have to deliver value. Help people, and not just sell to make a profit. Be in it to serve and the money will follow!
Make sense?
"Where Do I Get Started?"
Like Tony Robbins said, "Success Leaves Clues."
If you want success in a certain field, follow the people who already have the results that you are looking for.
Learn from them, observe them and if possible get them to SHOW YOU HOW IT'S DONE!
My first big commission came as a result of joining a business course where I was SHOWED exactly what to do.
The course owner is not a fly-by-night.
He spent $300 000 over 6 years trying to find out what works and what does not to make REAL money online.
I learned from him. He has got the results. I got the results too, as I showed you earlier on.
And I believe that you are in good hands with him.
As a special BONUS to you, you will get a FREE 4 DAY-VIDEO mini-course by him, without having to spend a cent.
You can then decide if it's for you or not.
On the first day, I will introduce you to him, thereafter he will take it from there.
DAY ONE: FREE TRAINING FOR YOU! (
click on the image to get started

)

P.S if you have read up to this point, it means that you want a change. You know that you deserve more and you are ready to take the next step. Congrats to you.

Wish you an exciting and successful journey ahead.

Do take care.

Your Friend

Roopesh