Hi there, welcome to my site.
My Story…
---
I am a Pharmacist turned Online Marketer. You must be thinking- that's a crazy jump, right?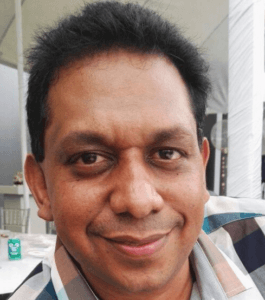 And I agree, is it…
But my story is a bit crazy too.
You see in 2016, all was going well with my regular pharmacy day job. I was working for a popular retail drug store at the time.
I was managing one of their stores and things were going great….but to me, something was missing…
I remember that even before 2016 when I read the famous Rich Dad, Poor Dad by Robert Kiyosaki…I knew that I wanted to have a passive income business of my own. I wanted my money to work for me and not the other way around.
And so I took the plunge.
My wife and I invested in an educational franchise called SEMAS.
It was all about teaching kids how to use the Japanese Abacus. The idea of the program was to help them enhance their IQ, improve brain development, foster confidence, and help them with overall performance.
The concept was great, but I learned my first very painful and EXPENSIVE lesson– not to get too EMOTIONAL when it comes to buying a business.
You see, we did not read the franchise contract properly. We saw other franchisees buying licenses for their areas and quickly signed on the dotted line to secure our area.
Little realizing that the contract was one-sided, all in favor of the master franchisor. Over the 5 years that surpassed, we drained out of our life savings in an attempt to keep the sinking business afloat.
We were not taught any marketing skills, so we struggled to get more enrollments. Basically, it was just a really bad business decision.
Nevertheless, I did not give up.
After that, I tried my hand at other ventures.
Whilst I went back to freelancing my pharmacy job, I tried to make money with horse racing (a really dumb idea!).
Then I even wrote the real-estate exam, to become a fully qualified realtor.
At the time, selling houses just did not quite resonate with me. There was lots of red-taping going on, and I found it hard to compete with the big names out there.
I then joined a very famous MLM company. But since there was no marketing training, I found myself only chatting with family and friends.
And I could sense that over time, I was becoming a burden to them, and I thought it was more important to have family relations than to shove pills and lotions in their faces.
I made a decision to quit the MLM.
But the biggest knock…..was when my only source of income, my day job, was threatened…..
My Hearing Took A Bad Turn…
---
I was born deaf in my right ear.
I guess all the stresses, of having lost the money and not succeeding in any venture finally took its toll on my one and only good ear.
I started getting vertigo attacks, and eventually, the ringing became so intense in my ear, that I had no choice but to get a hearing aid.
The tinnitus was bad and listening to music and watching movies were never the same for me.
But the hearing loss made doing my job as a pharmacist tough.
I could not hear the customers probably. I could not function at my best.
I needed to find a backup plan. and that's where I found myself starting an online business…
and here I am talking to you!
How Can I Help You?
---
How can I help you?
Simple…I will show you exactly what works to make money online.
The online world like just the traditional business world has different classes of business opportunities.
You get the downright scams. These are ones that will promise you magical returns on your investment and will often leave you hanging dry. Like crypto-Ponzi schemes. Stay away from them!
Then you get those mediocre opportunities. These are not scams, but they are also a waste of your precious time. Such examples include online survey jobs, and GPT or 'get-paid-to' websites.
You can make some money in these sorts of jobs, but they are not going to help you build a sustainable online business. One where you can quit your job, and earn a passive income from.
The legit opportunities are the ones where you invest the time and effort to build a business that will work for you!
If you want to make serious money online, then I can help you to get there.
The Goal Of My Site
---
The goal of my site is to serve you.
I build it to show you that if you do not have a degree, it's not the end of the world. You can make serious money online.
Take a look at the screenshot below, this is the first $1,000 commission I made in 2021.

Your first big commission is always the special one. And it's one you will always remember.
I also want to tell you that even if you have a degree or a qualification, it's not something that you have to stick by.
If you are enjoying your profession, and are happy with the money you are making then it's cool.
If on the other hand, you want to earn higher-ticket commissions and want to start an online business, then you are in the right place.
Bottom Line: With or without a degree, you have an amazing opportunity to make money online.
And my goal is to show you that way…
HINT: It does NOT involve crypto, forex trading, MLM recruiting, or Dropshipping.
Your Online Journey Starts HERE…
---
I believe that my losing my hearing was a blessing in disguise. At the time, I could not understand it, I could not accept it. But, I am grateful it happened.
Grateful for not only having the opportunity to make a good income online. But I am grateful to help others and would definitely love to help YOU see the opportunity.
Just know that there is an average of 4 Billion people visiting Google daily. There are tons of opportunities online.
And there is enough for everyone TO GO AROUND!
The one question remains, "Are you ready to get started?"
If you are, then sign-up for my free training where I show you how to get started using the same business model that helped me make REAL money online.
Thanks For Reading My Story.
I cannot wait to hear your Success Story In the Near Future.
Your Friend
Roopesh