Welcome to my Velovita review. Is Velovita a scam or is it a legit business opportunity? Are you tired of working for somebody else? Tired of grinding that 9-5 making someone else rich and helping them build their dreams?
You finally had enough, and you now want to take matters into your hands. You want to start your own business. You want to have TIME and FINANCIAL freedom. And that's why you are thinking of joining the Velovita business opportunity.
Maybe someone invited you to check out the company. Or you may have come across it on social media. Whatever the case is, you are here because you want to know if Velovita is legit.
Today, I am going to show you what their business opportunity is all about. I will also reveal why it's not a TRUE global business opportunity as to what they market it out to be. Most importantly, I will show what is required of you, should you want to become a success with the company.
Basically, at the end of this review, you will know whether or not Velovita is the right business opportunity for you.
My name is Roopesh and I have reviewed over 400 make-money-business opportunities since 2016. Feel free to check out my NR.1 Recommendation for making money online. Just click on the link that follows:
Name:  Velovita MLM Business
Website:  www.Velovita.com
Price: From $49.95 to $1,299
Owners: Kosta Gara and Jeff Mack
Overall Rank: 5.0 out of 10
Who Are Founders of VeloVita?
---
The Velovita Official Youtube channel has around 1200 subscribers. Unfortunately, I could not find any video with the founders involved.
Nevertheless, their official website does have a fair amount of information about the founders as well as the supporting team members of the company.
Kosta Gara and Jeff Mack are the two founders of the Velovita company. According to LinkedIn, Kosta holds an Engineering degree.

From 1998, Kosta served as a manager of various companies. He partnered up with his best friend to start a company in 2007 that recently crossed 500 million in sales and is still going strong 13 years later.
Jeff Mack has two decades of experience dealing with multi-level marketing companies. He also achieved the rank of being one of the top earners in 3 different direct sales companies.
Their mission is to give others the opportunity to build their own successful online businesses. They believe that time is limited on earth and that one should spend it to build and live their own dreams.
What is Velovita All About?
---
The Velovita company is fairly new. It came into operation in 2019. The company is headquartered in Florida and according to the founders they are debt-free.
The company operates on a direct selling model. That means that they depend on their members to promote the product line.
The main products are nanoceuticals. The focus of these products is to fuel the brain thereby feeding the mind.
The founders believe that their products are unique and it gives the members a unique opportunity to build a flourishing business.
Let's take a closer at their product portfolio.
The Velovita Products
---
It not surprising that since the company is new, they do not have an extensive product portfolio. In fact, they have just 4 flagship products.

The main areas in which the products are supposed to work on are :
Mental Boost
Sleep Cycle
Energy and Vitality, and
Dietary Supplement
The Bran Velovita Product
This product is intended to give one that energy boost and help to clear away brain fog. It also was supposed to enhance one's mood.
The Zlem Velovita Product
Designed to act as a natural sleeping aid.
The Uuth Time Reverser Velovita Product
A super berry dietary supplement that is supposed to make you feel vibrant and make you look on top of the world.
The Plos Thermos Velovita Product
This is a creamer that you add to your coffee that was supposed to help with "your fitness and body composition goals."
The products come in single serving "snap" sachets. You simply fold the sachet and it will allow you to drink the contents from the folded section.
Are The Velovita Products Safe?
---
There are reviews on the official Velovita website that support the positive benefits of taking Velvovita supplements.
On the flip side, I found some users who found the taste of the products to be absolutely horrible. The screenshot below was on a Youtube channel. The user was referring to Bran and Zlem products.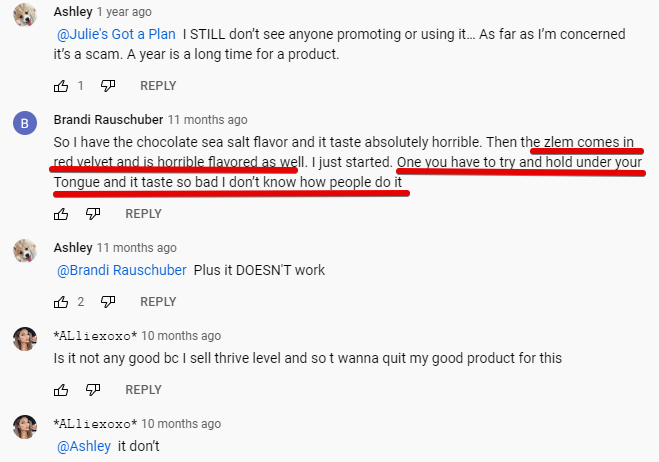 But the big question is, are the Velovita products safe? Let's face it the taste might be bad, but if it works and if it's safe, then it might be worth it, right?
The main problem with Nanoceutical products is that they are unregulated. And like all dietary supplements that are introduced to the market, they have little or no evidence of safety or efficacy.
An Article was written by William Schultz and Lisa Barclay, authors of A Hard Pill to Swallow: Barriers to Effective FDA Regulation of Nanotechnology-Based Dietary Supplements. They believe that whilst these sorts of products have the ability to sort the problem, it does not come without risk.
Are Velovita Products Approved By The FDA?
---
No, they are not.
As such they have the usual disclaimer on their website. It means that you take the products at your risk. If you have a medical condition, then you need to first consult with a doctor before you use them.
This is one of the main reasons why it's so hard to grow an MLM business in a health niche. I will elaborate on this shortly. Let's first see how one can make money with the Velovita business.
How To Make Money With Velovita – The Velovita Compensation Plan
---
You can choose to sign-up as a member or as an apprentice. It cost $49.95 to join either way. The difference is that as a member, you do not have to purchase any products, and you cannot earn a 10% referral bonus when a member joins your team.
As tools to promote your business, you do get a replicated website where you can earn retail profits from anyone who buys from your store.
There are five ranks within the company :
Member
Apprentice – BV 100
Promoter – BV 200
Influencer – BV 400
Ambassador – BV 800
From the second level onward, you would have to register for their V-Fill PROGRAM. It's an autoship facility where you are required to purchase a minimum amount of products.
By doing this, you would maintain a steady BV(business volume) to be an active member and be eligible to earn commissions from your downline.
You can upgrade to the level which suits your budget. Take a look at what their price points are.
Promoter Level $324.75
On this level, you need to make 180 BV. You get 5 boxes of product, plus 1 free bonus box!
Influencer Level $649.50
As an Influencer in the company, you need to maintain a BV of 360. Here you get 10 boxes of products, plus 2 free bonus boxes.
Ambassador Level $1,299.00
Maintain a BV of 720 on this level.
The Velovita Binary Tree Compensation Plan
As you recruit new members to the company, they are allocated to either the left or right side of your 'binary tree.'
From this binary tree, you can earn REFERRAL bonuses. These are bonuses that are paid out to new members that join the team.
You also can earn TEAM COMMISSION BONUSES. This is worked out on the total volume of your organization. And they usually look at the lesser leg when paying out the bonus.
They have a Royalty Matching bonus. It pays you for developing successful Associates on your team, regardless of which leg of your team they are placed. It works seven levels deep.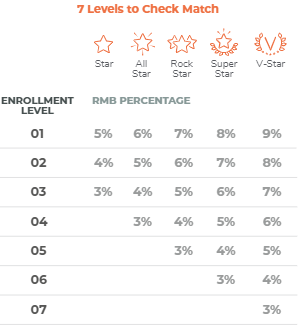 Lifestyle Bonus – Upon qualifying for the Referral and Matching Bonuses, you can start receiving the Lifestyle bonus. This allows you to earn a paycheck every week.
Star $125
All Star $250
Rock Star $500
Super Star $1250
V-Star $2,500
The Velovita Company also offers Leadership qualifications and quarterly partnership bonuses to their high earners.
Bottom Line: The More You Focus On Building Your Downline, and Get Your Downline To Do The Same, The More You Can Earn
The Pros of Velovita
---
They have real owners
They are in a popular niche
The Cons of VeloVita
---
They do not operate worldwide

No income disclosure on their website
The company is still new future is uncertain
They have expensive membership packages
You have to recruit to earn the higher paychecks
Is Velovita a Scam? My Personal Opinion
---
In my opinion, Velovita is not a scam as they have owner transparency.
Should you join Velovita? Is the Velovita business opportunity for you?
The fact is that they have a very small product portfolio. And they are in the health niche. The health and wellness niche is a very competitive one.
If you want to stand out and earn higher paychecks, then you would need to do more than just market the products to family and friends.
And this is the main reason why I said earlier that it will be a tough job on your part. They only give you a replicated website. In my opinion, it's not enough.
They need to offer some marketing training that will help you grow your business. If you are a newbie, this is essential to build a solid foundation. Sadly, no such training is offered.
Also know that if you want to build an empire, then your downline needs to be experienced in marketing and motivated like yourself to grow a powerful team. This is something you have no control over.
In other words, you do not have FULL CONTROL when it comes to building an MLM business.
To conclude, if you have sales and marketing experience, then perhaps the Velovita business is for you.
If on the other hand, you do not like recruiting and have no experience with any marketing, then check out my NR.1 Recommendation here.
How I Earn A Passive Income Online
---
I transitioned from the health field to the online world. I face a major health challenge that affected my ability to do my day job as a pharmacist, and I had no choice but to find another way to bring in the money. You can read my story here.
It's thanks to affiliate marketing that I can earn a passive income online.
With affiliate marketing, you do not have to focus on recruiting people at all. There is no cold-calling or having "tea-parties" or having to do any door-to-door selling.
It's a great business model for newbies. Even if you have no marketing or any technical experience with website building and so forth.
You have the freedom to build your business around a topic or niche that you enjoy talking about. And you are not restricted to marketing only ONE product or service.
It would my pleasure to show you more about how I made money with this business model since 2016. Let me show you how it can benefit YOU as well by clicking here.
Thanks so much for joining me on this Velovita review.
I hope that it has helped you out.
Looking forward to hearing from you.
Regards
Roopesh