Welcome to my Beautycounter MLM review. Would you like to start your very own work-from-home business? Would you like to do it by selling cruelty-free and earth-friendly cosmetic products? You may be considering joining the BeautyCounter MLM business.
You might have tried one or two of their product lines, and now are thinking of making a career from selling BeautyCounter products. Is BeautyCounter a pyramid scheme or a legit business opportunity?
BeautyCounter may have the right intentions in manufacturing 'earth-friendly' products, but there are some flaws when it comes to talking about the business side of things. I am going to show what these are so that you will be able to make a sound decision on whether or not to join them.
Congrats by the way for taking the time to do your research. It shows that you want to be 100% certain before you go all in on this opportunity.
Before we get started with the review, check out my NR.1 recommendation for making money online. Simply click on the link that follows to get started.
FREE 5-DAY TRAINING (+FREE WEBSITE)
Build Your Online Business With This
FREE

5-Day Training!
What is BeautyCounter All About?
---
BeautyCounter is a company that sells skincare and cosmetics products. They claim to be different from the other brands in the sense that their products are more "safer." Safer in terms of not having any of the 1400 chemicals which are banned or restricted in personal care products by the European Union.
The company's mission is to get more people to follow their course of using and buying these product lines. According to the official website, they even managed to change certain acts and are now calling for a petition to bring changes in parliament.
As far as their business model is concerned, they operate as a network marketing company. Usually with these business models, one can only purchase the products from the company's consultants. However, this company also has brick-and-mortar outlets, which I think is unfair to its consultants, but we will talk more about it in a later section.
Who Is The Founder of BeautyCounter MLM?
---
Gregg Renfrew is the founder and executive chair at BeautyCounter.
She founded the company back in 2011. According to her LinkedIn profile, her main ambition is to bring awareness to consumers who buy personal care products containing potentially harmful ingredients.
From there, she hopes that people make their own judgments about safety.
Let's take a quick look at the company's product line.
The BeautyCounter MLM Products- Are BeautyCounter Products Affordable?
---
They have products within three main categories.
These are :
Skin Care
Make-up
Bath and Body
In addition, they have limited edition gifts and sets that are Gregg's top picks.
BeautyCounter has a "NEVER LIST." This is a list of all the nasty ingredients that are found in most commercial cosmetic and skincare products. Some ingredients on the list include those such as, Benzalkonium Chloride, Phthalates (DBP, DEHP, DEP, and others), Parabens (methyl-, isobutyl-, propyl- and others), and PEG compounds to name a few.
Beautycounter adopts a policy of not including any of these ingredients in its products. However, they do acknowledge that at some point, trace amounts may get in from time to time.
Are People Happy With Using BeautyCounter Products?- BeautyCounter Product Complaints
Some of the common complaints of customers who have used the products were as follows.
The contents of the products evaporated quickly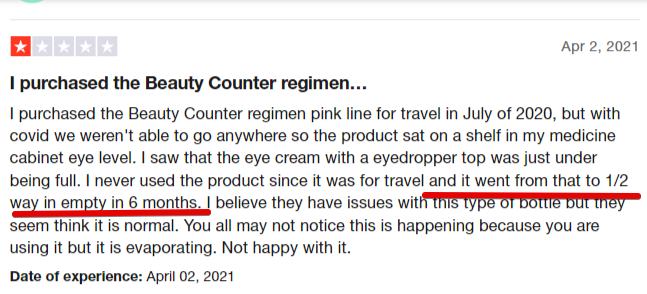 Poor customer service
Products were expensive
Customer credit card details were leaked
How Can You Make Money With BeautyCounter- the BeautyCounter Compensation Plan
---
As a Beautycounter consultant, you earn retail commissions which are around 25%. The cost to join as a BeautyCounter consultant is $50 and you get a digital kit.
Included in this kit is your own BeautyCounter replicated website. This is where you can direct your customers, and you earn retail profits on their purchases.
Apart from earning retail commissions, as a BeautyCounter consultant, you can earn bonuses and override commissions for mentoring and building your team. You can enjoy special incentive trips if you succeed ascending the higher ranks of the company.
Like with most MLM concerns there is a complex compensation plan. And here is a screenshot to show you that Beautycounter has one as well.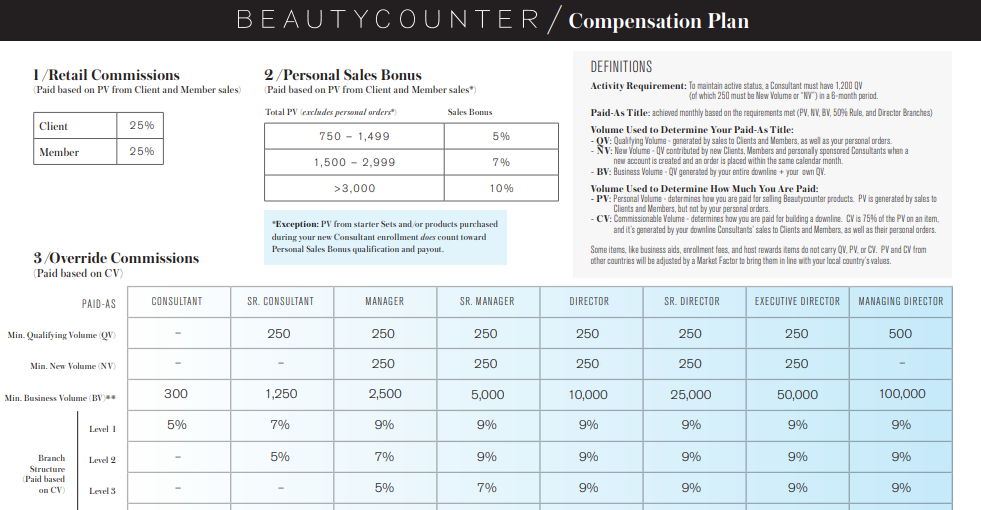 Bear in mind, that to earn commissions from product purchases within your downline, you have to be an ACTIVE BeautyCounter consultant. That means you need to commit to buying a certain amount of product that has a QV(qualifying volume), in this case, it's 1200 QV.
Apart from buying regular products, there are other drawbacks that I believe make it challenging to make money with BeautyCounter.
Let me first show you the pros and cons and then I will address these challenges.
Pros of BeautyCounter MLM
---
They have owner transparency
They have an income disclosure(it gives folks an idea of what existing members are earning on average)
They are in a lucrative market
Cons of BeautyCounter MLM
---
Products can be expensive
Only operational in certain countries(you cannot build a global business)
You have to commit to product purchases if you want to earn commissions from your downline'
You cannot enroll family members directly within your downline
To earn higher paychecks you have to focus on recruiting
Is BeautyCounter A Scam? My Personal Opinion
---
Beautycounter is not a scam.
Is Beautycounter a pyramid scheme?
No it is not a pyramid scheme as the company does not compensate you for recruiting but from the sales of products generated within the organization.
However, if you want to make money with them, it will not be easy. Let me show some of the challenges that you will be facing.
Firstly, it is expensive to start a BeautyCounter business. In addition to purchasing a digital kit for $51, you also have to buy a $98 enrollment Kit that includes sales materials, products, and a personal website for one year.
Remember you also have to buy regular monthly stock to remain an active BeautyCounter consultant.
The second challenge is that you are not allowed to recruit family directly into your downline. They have to go to another sponsor. That means you do all the hard work of convincing someone to join and someone else gets the credit.
The BeautyCounter business opportunity is not exclusive to only consultants. They have brick-and-mortar stores that also sell Beautycounter products. It is already tough enough having to compete with other brands and consultants, and now you also have to compete with stores for retail commission.
You cannot build a worldwide business as they only operate within the United States and Canada.
The complex compensation plan reveals that you have to focus on recruiting to earn higher paychecks. This is the toughest challenge because they do not offer training within their enrollment packages on how to effectively build a successful network.
Not only are you to get people to join your downline, but you also have to motivate them to do the same. And this can be hard for someone who does not have sales, marketing, and leadership training.
In fact, it even shows in the Beautycounter income disclosure that very few consultants make it to earn higher paychecks.
Within the first 6 months, only 41% of the BeautyCounter consultants earned more than $100. You can be one of the 6% of new consultants to make over $1,000 but it will require hard work.
No doubt that building a legit business will always require hard work and time. But not every real business requires you to do recruiting.
If you are someone who enjoys the RECRUITING business, then perhaps the BeautyCounter business is for you.
If on the other hand, you do not want to spend money on buying products, and recruiting and want to build a worldwide business, then read further on.
How I Earn A Passive Income Online
---
I transitioned from the health field to the online world. I face a major health challenge that affected my ability to do my day job as a pharmacist, and I had no choice but to find another way to bring in the money. You can read my story here.
It's thanks to affiliate marketing that I can earn a passive income online.
With affiliate marketing, you do not have to focus on recruiting people at all. There is no cold-calling or having "tea-parties" or having to do any door-to-door selling.
It's a great business model for newbies. Even if you have no marketing or any technical experience with website building and so forth.
You have the freedom to build your business around a topic or niche that you enjoy talking about. And you are not restricted to marketing only ONE product or service.
It would my pleasure to show you more about how I made money with this business model since 2016. Let me show you how it can benefit YOU as well by clicking here.
Thanks so much for joining me on this BeautyCounter review.
I hope that it has helped you out.
Looking forward to hearing from you.
Regards
Roopesh