Welcome to my Wealthy Leads review. Who does not want to earn a passive income? The only thing that stops people from doing it is having access to the right information. If people had the right information on hand or were shown EXACTLY what works and how to get started, then they would certainly give it a go!
The problem is that there are tons of scams that pretend to have the right information, that pretend to have your best interests at heart. And unfortunately, people fall prey to them.
Is Wealthy Leads one such platform? Is Wealthy Leads a scam? Well, I did find their main offer confusing. Would I recommend Wealthy Leads? Read further on and I will tell you.
Congratulations by the way for taking the time to do your research. It shows that you want to be 100% certain by having as much information as you can, before making a sound decision.
Well done to you!
Before we get started with the review, feel free to check out my NR.1 recommendation for earning a passive income online. Simply click on the link that follows to get started:
FREE 5-DAY TRAINING (+FREE WEBSITE)
Build Your Online Business With This
FREE

5-Day Training!
What is The Wealthy Leads Sales Video All About?
---
The narrator promises to show you how to earn a passive income with cryptocurrency.
He takes you through the process of showing you how he did crypto trades starting from $24 and ending up to $68 000 in a short space of time of 30 days!
What are the three steps to making money with Cryptocurrency?
Step ONE: Choose the right crypto to buy using a legit trading platform
Step TWO: Convert your crypto (basically going to another trading platform and staking or swopping your investment for another investment which they are tipped for a guaranteed profit)
Step THREE: Invest your crypto and watch it earn a passive income.
Here's the thing. The sales video is all about crypto, but then it leads to something else. I will show you what I mean.
Who Created the Wealthy Leads Cryptocurrency Program?
---
The founders of Wealthy Leads are Richard Telfeja and Laz Chavez Price.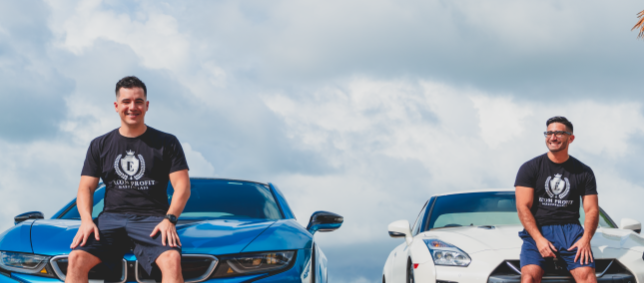 There is not much information about them on their social media channels. The official Wealthy Leads youtube channel has around 3000 subscribers. From doing further research I learned that Richard was involved with drop shipping.
In fact, he has produced reviews on his channel about a program called the Ecom Profit Masterclass which is inactive.
Laz Chavez Price has an engineering degree and also has experience in building eCommerce businesses.
The Wealthy Leads Course Breakdown- What You Will Be Learning With Wealthy Leads?
---
The Wealthy Leads training is broken down into an 8-week module.
It turns out that what was supposed to be training on crypto is now changed to helping people get leads for their businesses.
Over the course of the eight weeks, you will be learning :
How to choose a profitable product to promote
How to create sales funnels
Lead generation techniques
e-mail marketing
Converting leads into sales
You get access to various bonuses such as their Seven Figure Downloadable Funnels, access to their mastermind group, monthly coaching, and email mastery course.
So, in a nutshell, Wealthy Leads is more of a lead generation service rather than a crypto investing course.
How Much Does Wealthy Leads Cost?
---
I learned that the cost of their course is a staggering $1,997. You can opt to pay it in three installments of $897.
It's an expensive course. And there are no real testimonials or success stories to be found on either the official website or on their social media channels.
Is Wealthy Leads a Scam?
---
It's misleading.
It first starts out to be about cryptocurrency and then leads on to be about lead generation.
There are no testimonials, and the course is expensive. I would not recommend Wealthy Leads.
There are alternatives. If you would like to learn about trading Cryptocurrencies, there are loads of training available on YouTube. Even some of the popular trading platforms themselves offer mini-courses.
As for lead generation, there are courses that are way cheaper. Like Invincible Marketer. A course that I personally bought, went through, and achieved results with. They have a $7 trial offer that you can try here.
As far as earning a passive income is concerned, I believe that the initial sales video-the one of converting $25 into $68000 in a short space of time, is misleading too.
Yes, you can earn good profits online. I can show you proof that I did it, but it takes time and effort to build a solid online business with passive income potential.
If you would like to learn how to earn a passive income, read further on.
How I Earn A Passive Income Online
---
I transitioned from the health field to the online world. I face a major health challenge that affected my ability to do my day job as a pharmacist, and I had no choice but to find another way to bring in the money. You can read my story here.
It's thanks to affiliate marketing that I can earn a passive income online.
With affiliate marketing, you do not have to focus on recruiting people at all. There is no cold-calling or having "tea-parties" or having to do any door-to-door selling.
It's a great business model for newbies. Even if you have no marketing or any technical experience with website building and so forth.
You have the freedom to build your business around a topic or niche that you enjoy talking about. And you are not restricted to marketing only ONE product or service.
It would my pleasure to show you more about how I made money with this business model since 2016. Let me show you how it can benefit YOU as well by clicking here.
Thanks so much for joining me on this Wealthy Leads review.
I hope that it has helped you out.
Looking forward to hearing from you.
Regards
Roopesh