Welcome to my Biaheza Dropshipping Course review. Are you thinking of starting your very own eCommerce business? Would you like to build yourself a mini-Amazon store?
If your answer is yes, then you are probably thinking of signing up for the Biaheza Dropshipping course. Is the Biaheza Dropshipping Course a scam or a legit business course?
More importantly, is Dropshipping the right business model for you?
In today's review I will be addressing these as well as other important concerns that you might have.
Congratulations on taking the time to research this business opportunity before you dive all in. It shows that you are careful when it comes to choosing a business teaching platform. You want to be 100% sure before purchasing.
Well done.
Before we go further feel free to check out my NR.1 Recommendation to building a passive income online. Click on the link to learn more.
FREE 5-DAY TRAINING (+FREE WEBSITE)
Build Your Online Business With This
FREE

5-Day Training!
Who is Biaheza?
---
Biaheza is the founder of the Dropshipping Course. He has got an impressive following on his YouTube channel which is currently sitting at 1.16 million subscribers.
He tried various ways of making money such as selling bikes on craigslist, fixing iPhones, graphic design, and shooting his first youtube video whilst still in the 6th grade.
Biaheza was motivated by watching other people's success stories of making money online. He believed that if other people are doing it, then he too could learn how to earn a passive income online.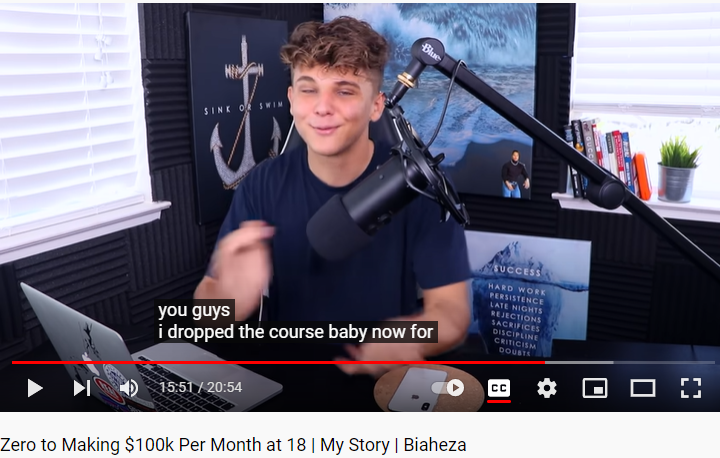 Things started to take off a bit when he learned to leverage the power of Instagram. He built his first Instagram theme page which was within the nature and photography niche. However, it did not take off as great as he had expected.
Nevertheless, he did not give up and at some point later, he noticed that one of his pages was starting to get traction. He made his first shout sale of $10.
At the age of 17, he started a dropshipping business. He found a product that was a fast seller on other Instagram theme pages.
He created a store for it and paid the owners of bigger theme pages to advertise the product on his behalf.
It was not profitable either, so he went back to the drawing board and focused on building multiple Instagram-themed pages of his own, posting content up 6 times a day!
In August 2018, he hit $2000 worth of sales in a single month. He moved from selling shout-outs to paid advertising.
Apparently, he made $33488.90 within his first month(NOTE: this was before deducting ad costs and other relevant fees).
The next big shift for his business was when he dived into FaceBook advertising. Fast forward to 2019, Biaheza made his first 6-figure earnings.
And that's essentially what you will be learning should you sign up for Biaheza's flagship business course.
Let's take a deeper at what the course is about.
What is the Biaheza Dropshipping Course All About?
---
The course is all about teaching you how to start your own dropshipping business.
What Exactly is Dropshipping?
According to Wikipedia, Dropshipping is an eCommerce business model whereby you, the seller, accept customer orders without having the need to keep inventory on hand.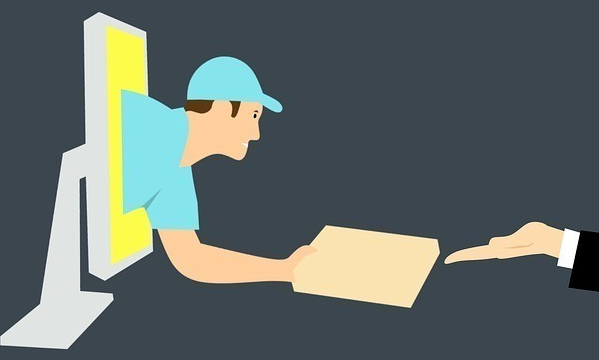 You can buy products in bulk from wholesalers or drop shippers such as Aliexpress. You then retail them for a higher price on your online store and make a profit.
This business model was introduced in China in the early 2000s. Is it still popular today? I will show you in a minute.
According to Biaheza, everything is covered in his course. Topics such as how to source out winning products, building a live store, using Instagram to boost conversions, and using and scaling Facebook ads.
Here is a complete breakdown of the topics that are covered within Biaheza's Dropshipping course.
Module One: Introduction To Dropshipping
How Dropshipping Really Works 
The Four Pillars of Dropshipping 
Should You Outsource Everything 
Module Two: Pillar One
Checklist for Products that ACTUALLY Sell 
Where Do You Find Winning Products 
Revealing Products I've Sold in the Past
Module Three: Pillar Two
What Type of Store Should You Start 
Explaining The Product We're Choosing 
Creating a Shopify Website From Scratch Step by Step
Creating the Product Page Step by Step
Importing Reviews to Product Page 
Final Branded Website Result 
The pillar three module walks you through the process of creating your first advertisement. You will also be learning how to do organic marketing on Tik Tok.
The fourth module is all about leveraging Tik Tok advertising and advertising on other social media channels.
The final module teaches you how to deal with customers. How to manage the taxes and other legalities of your business and how to fulfill mass orders.
Bonus Content With The Biaheza Dropshipping Course
Biaheza's Instagram Theme Marketing Strategy
Biaheza's full FaceBook Marketing Strategy
Using Lookalike Audiences
Creating Viral ads
How Much Does The Biaheza Dropshipping Cost?
The course cost $294. There is no trial period. There are also no refunds on all of your purchases.
Is Dropshipping Still a Profitable Business Model?
---
No doubt that Dropshipping is a profitable business. But it does not mean that it's a popular one.
Take a look at the screenshot below showing the Google trends result of dropshipping 'interest over time.'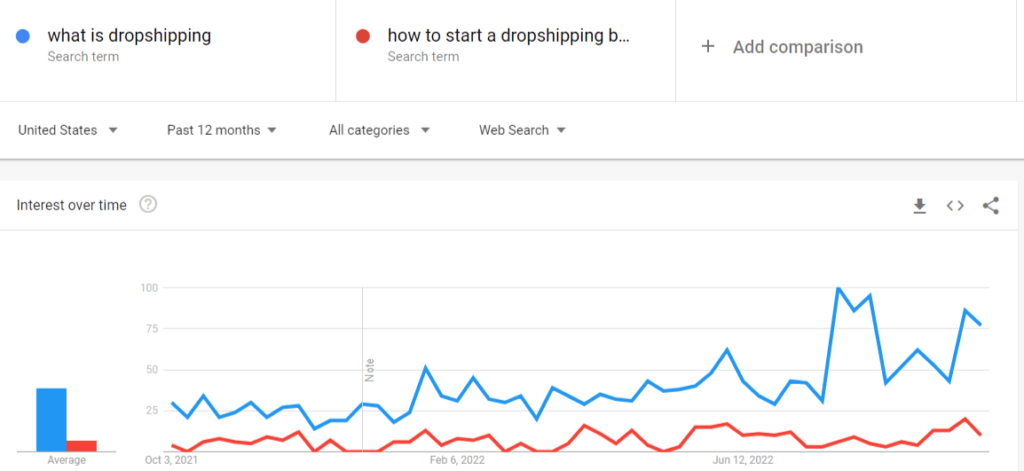 I searched two common terms- "what is dropshipping" and "how to start a dropshipping business." Over the year, the search has been steady. There was one big interest in the business around August after which it took a nose-dive.
It then picked up again, and as we speak the interest in dropshipping went down. Biaheza claims that now is the best time to start a dropshipping business. I personally would not take that statement to heart.
Dropshipping as I showed you is a tough business model and is demanding, which probably explains why the subject is not trending as one would expect.
Is the course really worth it or is it a scam? Is the Biaheza Dropshhiping Course for you? Let's first check out the pros and cons before I reveal my verdict
Pros Of The Biaheza Dropshipping Course
---
There is owner transparency
You will find many courses out there whereby the owner does not show his or her face.
Or sometimes, they may even use stock photo images to disguise their true identity. It's not the case here, and the fact that Biaheza shows his face offers more credibility and trust to the program.
2. No 'Get-Rich-Quickly' Claims
Biaheza does not sugarcoat things and makes it known that pursuing a dropshipping business is not a walk in the park.
It takes hard work and effort, and I can appreciate that.
Cons Of The Biaheza Dropshipping Course
---
Not enough reviews or recent success stories
2. It's expensive (you have to take into account additional product costs, Shopify, and PayPal fees)
3. The dropshipping business is tough and can be risky- as Biaheza pointed out in one of the videos he paid $500 to various theme pages owners to market his product but did not come out with a profit
4. At some point you would have to do paid advertising
5. There is no one-on-one mentorship
6. Biaheza does not name which of his personal sites are raking in the profits.
Is The Biaheza Dropshipping Course A Scam? My Personal Opinion
---
In my opinion, I do not think that it's a scam. The owner is legit and he has testimonials on the official website.
Is $294 Worth The Asking Price for the Biaheza Dropshipping Course?
Many other Biaheza Course reviews are of the opinion that the material in this course is sub-standard. They believe that the topics or content is readily available for FREE on YouTube or Google.
I personally have not bought the course, so I cannot verify this is to be true. What I can say, is that if Biaheza got the results and if he is showing his students the exact blueprint to building a 7-figure dropshipping business, then perhaps the course price is justified.
One of the drawbacks, I believe is that there is no member community or private Facebook group for folks to share their experiences.
It would have been great if Biaheza were to offer one-on-one mentorship.
Is Biaheza Dropshipping Course for YOU?
That depends on you and the kind of business model that you prefer. As I showed you, there are many components to having a successful dropshipping business.
You have to keep researching the trending products that you are going to incorporate into your online store. Then you have to liaise with the relevant drop shipper and make good relations to secure decent stock prices.
You have to have a budget for Facebook and other social media marketing. And you also have to see to it that your customers are happy and process returns whenever the need arises.
It's a hands-on business model.
If you are happy with dealing with customers, spending and testing ads, and have the time to observe trending products that your competitors are selling then perhaps this business model is for you.
If on the other hand, you prefer a less risky way to make money, without having to deal with customers or suppliers, click on the link that follows to check out my NR.1 recommendation.
How Do I Earn A Passive Income
---
I transitioned from the health field to the online world. I faced a major health challenge that affected my ability to do my day job as a pharmacist, and I had no choice but to find another way to bring in the money. You can read my story here.
It's thanks to affiliate marketing that I can earn a passive income online.
With affiliate marketing, you do not have to focus on recruiting people at all. There is no cold-calling or having "tea-parties" or having to do any door-to-door selling.
It's a great business model for newbies. Even if you have no marketing or any technical experience with website building and so forth. And you do not have to deal with any customers or purchase any products.
You have the freedom to build your business around a topic or niche that you enjoy talking about. And you are not restricted to marketing only ONE product or service.
It would my pleasure to show you more about how I made money with this business model since 2016. Let me show you how it can benefit YOU as well by clicking here.
Thanks so much for joining me on this Biaheza Dropshipping Course review.
I hope that it has helped you out.
Looking forward to hearing from you.
Regards
Roopesh