Welcome to my Stella and Dot MLM review. Would you like to get into the fashion industry business? According to Zippia.com. the global fashion industry is valued at $1.5 trillion as of 2020. They elaborated further that the US fashion market is expected to reach $494.89 billion by 2023.
That is some serious money!
So, rest assured that you are definitely on the right path in wanting to pursue a career in the fashion business. Is Stella and Dot the right business for you? Is Stella and Dot a scam?
Two very important questions. And I will give the answers in this review. First off, I want to congratulate you for taking the time to do your research.
Many folks will dive straight into a business opportunity. They give in to their emotions rather than properly analyzing the business and realize later on, that an impulsive decision was not a very good one.
Kudos to you, for avoiding such a mistake.
And one last thing before I jump into the review if you would like to check out my NR.1 Recommendation for making money online, simply click on the link that follows:
Who Are The Founders of Stella and Dot?
---
Jessica Herin is the CEO and Founder of the company. The company was founded back in 2006. The company was named after the founder's grandmother.
According to its official YouTube channel, the company is listed as Inc. 500 Fastest-Growing Company.
The aim of the company is to help women become entrepreneurs. The company has helped women to earn $500+ million in commissions since it came into operation.
It's a positive thing to see an MLM still going strong over the years.
Having said that it is expected that you will get a mixed number of good and bad reviews.
When it comes to bad reviews, keep in mind that it's a difficult task to make everyone happy. But for now, do not worry about the reviews part, I will chat more about it in detail later on.
For now, let's take a look at how you can make money with Stella and Dot.
How Does Stella And Dot Work?
---
Stella and Dot are a direct marketing company. This means they do not market or advertise their product lines directly to the public.
They rely on their members to promote the products and in exchange, the company would reward them with a commission, bonuses, or shares in the company.
This is how it works with most MLM or multi-level marketing companies.
And with Stella and Dot, it works in two ways.
You can earn a retail profit from selling products via your replicated website(1st method). And the other way to make money is by building a team and working together to earn commissions based on product sales and rankings and so forth(2nd method). (I will show you more when we talk about their comp. plan)
What exactly will be you selling when you become a member of the Stella and Dot group?
The Stella and Dot Products- Are They Really That Unique?
---
The inspiration behind the company's product lines is the founder's grandmother. The founders created the products with the intention of them having a lasting impression for generations to come.
According to the official website, you are buying, supporting, and marketing products that are :
ethically manufactured,
made from recyclable materials,
not made from methods that impact the environment in a harmful way,

They have an extensive product portfolio and sell the following types of jewelry and apparel:
Necklaces
Earings
Rings
Bracelets
Strands and Charms
Bags
Are they unique? Are they worth it?
That would depend on one person's perspective. I must be honest here- I am not a jewelry person. And I find it 'safer' to learn what jewelry piece my wife prefers to wear before I go out and buy what I think she would like.
Less fighting, more smiling LOL.
The point is that some folks love the Stella and Dot pieces, whilst others do not.
Take a look in the next section.
The Stella And Dot Product Reviews – Are People Happy With The Stelladot Products?
---
Here are some of the positive reviews from ladies who have bought the company's jewelry pieces.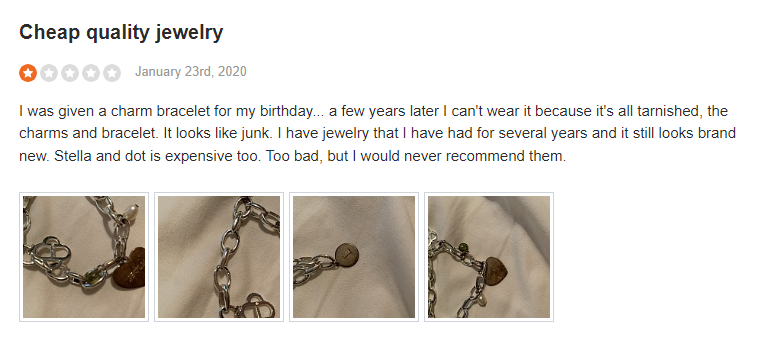 What does this mean for you, someone who will be having your own Stella And Dot business?
It means that you would have to accept the good with the bad. Some folks might not be happy with the price, the quality, or the look. You have to simply respect that.
It also means that it might not be easy to make money with these sorts of products. Many folks are happy with their current brand, and might not be ready to switch over just yet.
And the other challenge is that if you really want to make good money with Stella and Dot, you have to do more than just sell items on a one-to-one basis. You have to build a powerful team.
Let me show you more by chatting about their compensation plan.
The Stella and Dot Compensation Plan
---
RETAIL PROFIT
As I mentioned earlier on, you can earn retail commissions. This is where people can purchase items from your replicated website, and you earn a commission.
Depending on which affiliate level you are with the company, you can earn between 10%-30% on all first-time orders.
Qualifying Affiliate – 10%
Affiliate – 20%
Ambassador – 25%
Specialist – 30%
BUILDING YOUR TEAM
If you want to build a powerful MLM business, then you need to focus on building your downline. This is where it gets a bit more complicated.
You need to maintain a certain PERSONAL QUALIFYING VOLUME(PQV), to qualify for team commissions. You can earn line commissions on the wholesale volume of products that are bought.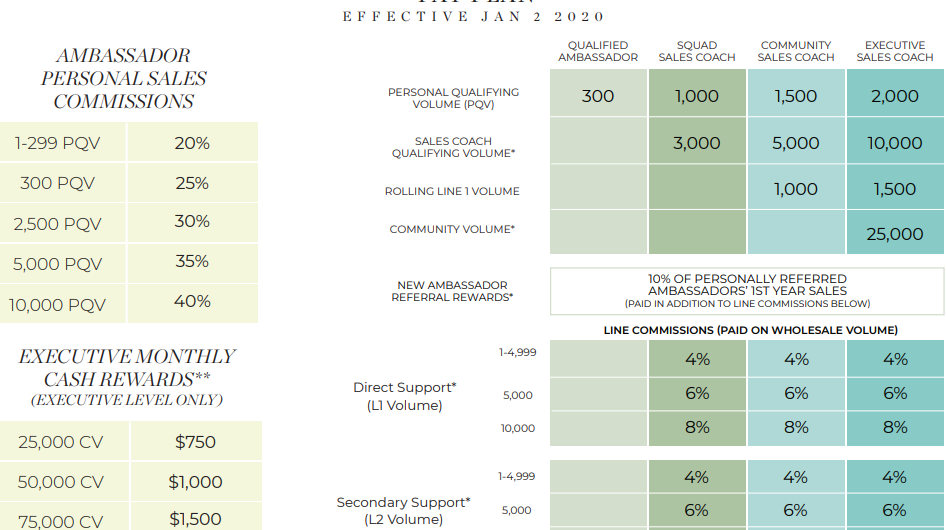 If you are on the Ambassador rank, you can earn higher personal sales commissions, if you make higher PQV turnover. On the executive level, you can also bag good cash rewards if your team turns high in CV(or commission volume).
Bottom Line: The more people you RECRUIT into the business, the more you can earn.
Take note that it's not only RECRUITING that you need to focus on.
Getting people to join your team is only part of the job done. For you to have a really powerful business, your team members need to have the same level of drive and enthusiasm to grow their business as you have.
It's easier said than done.
And you might be wondering how well people actually perform when they join the Stella and Dot business.
Let me show you in the next section.
How Much Do Stella And Dot Stylists Make?
---
Below is the income disclosure for the year 2020.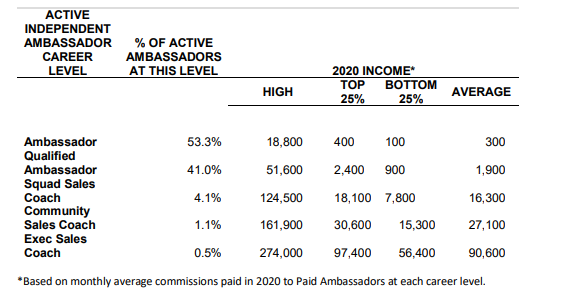 As you can see, slightly over 50% of the associates are within the Ambassador Qualified(the first level).
The higher ranks make up 5.7% of the total associates(the last three levels). This is where the "fatter" paychecks are to be earned, but as you can see, very few members reach this level.
How Much Does it Cost To Join Stella and Dot?
---
You can choose from three different business starter kits. The more expensive the kit, the more samples you get.
With more stock you get, the quicker you can make a retail profit and even get people to join your team.

Basic Kit:

$199

Trunk Show Essentials:

$499

Business Builder:

$699
All of the Stella and Dot Business Kits come with :
Training materials and online training
Digital marketing materials and email campaigns
Social media and public relations support
60-day free trial of eMarketing Suite
Pros of Stella and Dot MLM
---
With a single affiliate account, you can promote and earn commissions from all the Stella and Dot sister companies.
They have owner transparency
They have a long-standing in the MLM market
Cons of Stella and Dot MLM
---
They only operate in the United States and Canada
Complex compensation plan
Business kits are expensive
Highly competitive niche
Products are expensive
Have to recruit to earn higher paychecks
Is Stella and Dot a Scam? My Personal Opinion
---
I do not believe that Stella and Dot MLM is a scam.
Can You make money with Stella and Dot?
Yes, I believe you can.
Is Stella and Dot For You?
As I showed you, making money with this MLM just like any other legit MLM is not an easy task.
That's if you aiming at earning higher paychecks.
It's not impossible. I believe that you have to have the necessary sales and marketing experience to build a powerful downline. If you have the passion and drive to motivate people and lead a team, then perhaps the Stella and Dot business is for you.
If on the other hand, recruiting people is something that you are not comfortable with doing, then it might not be the business choice for you.
Read further on, to check out my NR.1 Recommendation….
How I Earn A Passive Income Online
---
I transitioned from the health field to the online world.
I faced a major health challenge that affected my ability to do my day job as a pharmacist, and I had no choice but to find another way to bring in the money. You can read my story here.
It's thanks to affiliate marketing that I can earn a passive income online.
With affiliate marketing, you do not have to focus on recruiting people at all. There is no cold-calling or having "tea-parties" or having to do any door-to-door selling.
It's a great business model for newbies. Even if you have no marketing or any technical experience with website building and so forth.
You have the freedom to build your business around a topic or niche that you enjoy talking about. And you are not restricted to marketing only ONE product or service.
It would be my pleasure to show you more about how I made money with this business model since 2016. Let me show you how it can benefit YOU as well by clicking here.
Thanks so much for joining me on this Stella and Dot review.
I hope that it has helped you out.
Looking forward to hearing from you.
Regards
Roopesh