Welcome to my Brambila Method 2.0 review. What is the best way to make money online? Do you do freelancing jobs? Do you sell your own course online? Do you do affiliate marketing?
The truth is that each of the above is a legit way of earning online. Which one is the right one for you? And that only you have the answer to.
It helps to know how they work, right?
That is where the Brambila Method comes in. It can show you what all of these models(and many more)are about. Is the Brambila Method a scam? Should you join them?
Today I will help you decide if Adrian Brambila's course is worth it.
I have reviewed over 400 online business opportunities. I have seen the downright scams, and the mediocre opportunities and learned about the legit online training programs.
If you would like to check out my TOP recommendation for starting an online business, simply click on the link that follows.
FREE 5-DAY TRAINING (+FREE WEBSITE)
Build Your Online Business With This
FREE

5-Day Training!
Who is The Founder of the Brambila Method?
---
Adrian Brambila is the founder of the Brambila Method. The inspiration behind creating this course is Adrian's grandma.
As you will learn on the sales page, she traveled across the country trying to put money on the table. Though she was unsuccessful in her endeavors, she did manage to send Adrian's parents to the United States. From that point on, Adrian made it his mission to become an online success.
In 2011, Adrian started his first affiliate marketing gig. (Affiliate marketing is a legit business model, and is one that helped me earn my first 4-figure commission, you can read more about my story here).

Adrian believes in the "less is more" philosophy. Even though he has made staggering amounts of money, he does not live extravagantly.
If you were to check out his Youtube videos, where he has 152 000 subscribers, you will notice that he operates his business from his van whilst traveling.
Recommended Reading: Invincible Marketer review- This is The Course You Need To Buy!
What is The Brambila Method 2.0?
---
The main point of the course is to get you "to make your first $1,000 online." This is the updated version, I did not get a chance to check out the original Brambila Method.
To help you to get to your first $1,000, the course introduces you to various side hustles that you can try.
Since they are free or cost very little to get started, you are not going to be losing lots of money should the venture not work out.
Let's say that you decide to do a Fiverr gig.
Maybe the job is to create a logo for someone's company. It's free to use graphic design software such as Canva and Befunky. You might spend around 30 minutes or less of your time producing the logo. And you can then charge 5 or 10 bucks for the work.
The cool part about these freelancing jobs is that once you built a reputation with sites such as Fiverr, and Upwork, you can rake in consistent jobs. This can equate to a decent monthly or weekly paycheck.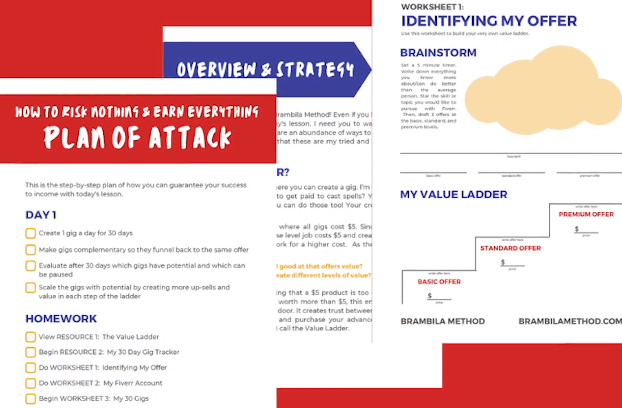 How Does The Brambila Method 2.0 Course Work? The Brambila Method Course Modules
---
The course is broken down into an 8-day program. Each day, you learn a different way to make money online. Let's take a closer look at the course breakdown.
Day One: Fiverr
As the example I used above, it's all about using your creativity and marketing it on Fiverr.
After marketing your first gig, Adrian teaches you how to use the value ladder system within the marketplace to maximize your profits.
Day Two: Sell courses on Udemy and Skillshare
This is where you learn how to create online assets. You build out a mini-course that is sold on platforms such as Udemy and Skillshare.
Initially, you got to put in the effort to create the course. Thereafter you can start earning a passive income on the enrollments.
Apart from earning from the actual course, you can place affiliate links within your course. It allows you to earn additional commissions from other products that you might be affiliated with.
Day Three: Getting High-Ticket Sales From Premium Freelance Sites
Upwork is very similar to Fiverr. The difference is that the customers want a higher quality of work, and as such, you can charge higher prices.
Here you can land temporary contract work. Land three or four of these contracts, and you have yourself a stable income.
Day Four: Print On Demand
If you are great at graphic design, then you can get into the print-on-demand business. Basically, all you have to do is SELL your designs to a 3rd party company such as Redbubble.com.

Day Five: Affiliate Marketing
Affiliate marketing is where you earn commissions by marketing other people's products or services.
This is my NR.1 recommendation for making money online for newbies. You do not have to have your own product. You do not have to do any recruiting. You can also choose what niche to get into.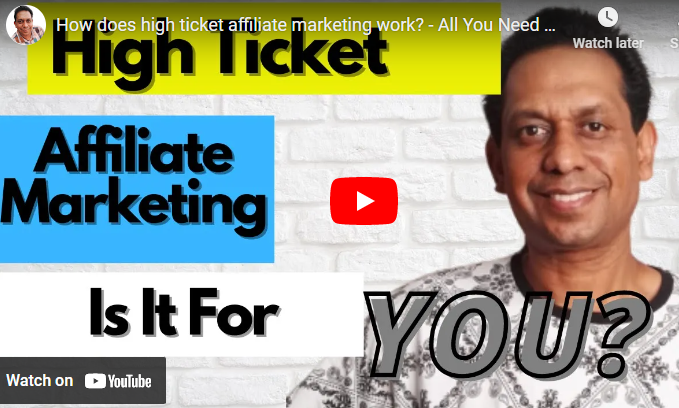 You can do it full-time or part-time.
Day Six: Using Social Media To Your Affiliate Offers
Adrian will show you how to find buyers on Pinterest and Youtube.
Day 7: Invitation To The Paid Ads Workshop
In addition to learning about SEO, which is an organic traffic method, Adrian shows you how to use paid advertising to get more leads to your offers.
All in all, there are 50 lessons that make up the Brambila Method 2.0 version.
The modules are as follows :
Module One: Fundamentals
Module Two: Mindset
Module Three: Gigs
Module Four: Using AI technology
Module Five: e-Lancing
Module Six: Content Creation
Module Seven: Affiliate Marketing
Module Eight: Tech and Bonuses
Recommended Reading: Wealthy Affiliate University- It's Still one of the Best Courses for Newbies!
How Much Does The Brambila Method 2.0 Cost?
---
It's a $297 annual subscription.
Within the 12-month period, you are expected to go through all of the course material. According to Adrian, the program gets updated, and you need to pay again for the next 12 months of course material.
The course is backed by a 14-day refund policy.
Pros of The Brambila Method
---
There is owner transparency
There are member testimonials
They have a refund policy
The strategies taught are not expensive to implement
The course is regularly updated
Cons of The Brambila Method
---
14-Days is too short of a period to implement all of the models taught
You have to pay to renew your membership
Additional expenses to implement your business (for example paying for software to build your own course)
Overwhelming for the newbie- lots of choices, and more confusion.
Is The Brambila Method A Scam? My Personal Opinion
---
The Brambila Method is not a scam. Adrian is not just a course creator out to make money. He is teaching you very much the same strategies that he has used in his business. They have worked for him, and his students.
I like the idea that there is a variety of business models that he teaches. However, I personally feel that it can be overwhelming for the newbie.
For someone who is new wanting to start their own online business, I think having training on one solid and legit business model is more than adequate.
It's less confusing and it's more focused.
Rather master one craft, and become good at it, before attempting something else. Affiliate marketing, for instance, is a business model that if done correctly can help someone build a full-time business.
How I Earn A Passive Income Online
---
I transitioned from the health field to the online world. I face a major health challenge that affected my ability to do my day job as a pharmacist, and I had no choice but to find another way to bring in the money. You can read my story here.
It's thanks to affiliate marketing that I can earn a passive income online.
With affiliate marketing, you do not have to focus on recruiting people at all. There is no cold-calling or having "tea-parties" or having to do any door-to-door selling.
It's a great business model for newbies. Even if you have no marketing or any technical experience with website building and so forth.
You have the freedom to build your business around a topic or niche that you enjoy talking about. And you are not restricted to marketing only ONE product or service.
It would my pleasure to show you more about how I made money with this business model since 2016. Let me show you how it can benefit YOU as well by clicking here.
Thanks so much for joining me on this Brambila Method 2.0 review.
I hope that it has helped you out.
Looking forward to hearing from you.
Regards
Roopesh