Welcome to my Invincible Marketer review. You might have seen one of Aaron Chen's YouTube ads talking about his course called the Invincible Marketer. You want to start making real money online and are seriously considering joining the IM program.
But you are not sure if Invincible Marketer is really worth it? Is Invincible Marketer a scam, or can they teach you how to build a profitable online business?
Today, you are in luck. I bought the course last year. I tested it out and implemented the training, and I will show you the results that I got.
My name is Roopesh. I reviewed over 400 make-money-online products. It's my pleasure to help you to come to an informed decision regarding the Invincible Marketer course.
Before we get started, feel free to check out my NR.1 recommendation for building a solid online business, even if you are a complete newbie. Click on the link that follows to learn more.
Is There A Legit Way To Make Money Online?
Yes, there is! I got proof it works!
What is Invincible Marketer All About? – The Conversion Model
---
The Invincible Marketer is marketed as a COMPLETE  'over the shoulder', step-by-step program that takes a beginner with minimal knowledge of generating sales online, and transforms them into a confident, capable and profitable affiliate entrepreneur.
The program consists of daily sessions, mindset strategies, and specific steps that you as an IM member need to take in order to have a successful online business.
I bought the Invincible Marketer course. I put it to the test, and I will show you later on, that the program certainly works.
Just to give you a broad outline, Invincible Marketer is really about building a powerful conversion model in your business.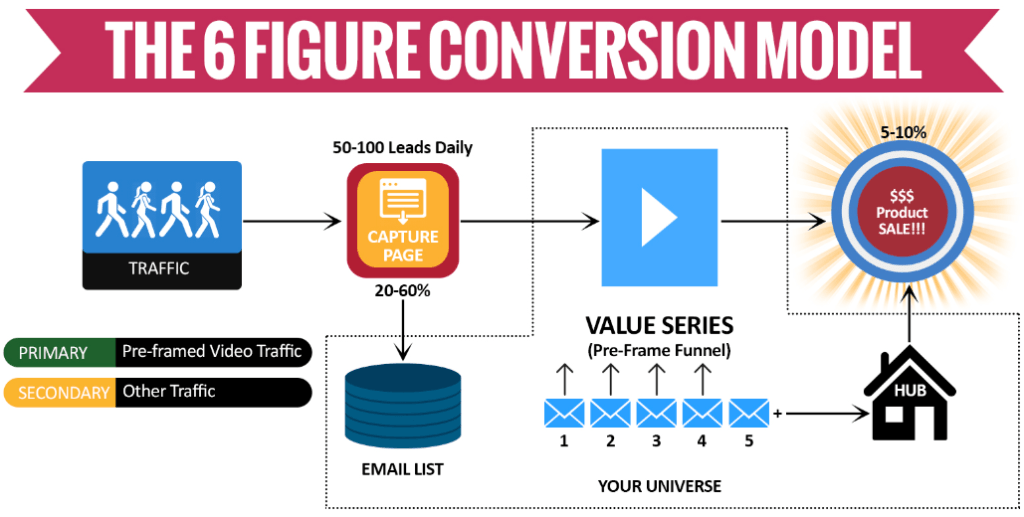 Gone are the days when you simply send people directly to the sales page of the product that you are promoting and hope for a quick commission.
These days, it's all about giving value and helping people.
Like Zig Ziglar once said, "You can have everything in life you want if you will just help other people get what they want."
And by building a conversion model in your business, you are doing just that.
When you get traffic(or potential customers) coming to your business, you need to first send them through a value series. This is where they get to learn more about the product that you are selling.
They might not buy immediately from you, but since you have them on your e-mail database, you are constantly sending them valuable information via e-mail campaigns. (even after your value series has ended)
This is where relationship building comes into play. You give your audience an opportunity to get to know you, like you, and trust you.
Eventually, when they are ready, they will buy from you.
And this is what Invincible Marketer teaches you. As I said earlier, the training definitely helped me in my business, even after doing many years of affiliate marketing.
By the way, you can download your free version of The 6-Figure Conversion Model here. Let me introduce you to the owner of Invincible Marketer.
Who Is Aaron Chen?
---
Aaron Chen is the founder of the Invincible Marketer program. You might haved watched his reviews on YouTube. He actually has got a huge following of 26 000 subscribers.
But his journey was not all that easy. He started eight years ago. Back then he was working a regular corporate job. Naturally like with most 9-5 jobs, he was feeling overworked and underpaid, stressed, out, and did not have the luxury of spending time with his family when he wanted to. (I can relate, check out my story here)
He wanted a different lifestyle. A life where he could live on his own terms and that's why he turned to online marketing. Over the eight years from 2009 to 2016, Aaron tried his hand at everything.
He bought tons of online courses, tried various business models, and collectively spent around $100 000 looking for a viable way to make REAL money online.
In 2016, when it felt like quitting, he met his mentor(picture below) and it changed the course of his life.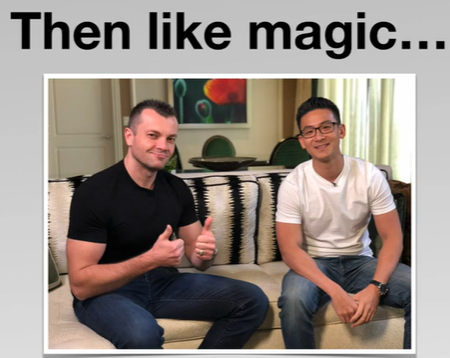 He had the biggest "A-Ha" moment and realized that the way most courses teach one to make money online is WRONG.
When his mentor showed him the right way, he started gaining amazing success, and things started changing for the better.
And that's where Aaron created the Invincible Marketer program to show you what works, and what will bring you REAL results to making money online.
How Do You Benefit from Becoming an Invincible Marketer Member? The Invincible Marketer Benefits.
---
You are not alone in your online journey. If you are just starting out building your online business it's exciting. But it can also be scary, or intimidating. One of the benefits of being an Invincible Marketer student is that you get support and help every step of the way.
It's perfect if you are a newbie. Aaron walks you through easy-to-follow step-by-step tutorials on how to get started with building as he calls it "the conversion funnel" of your business.
The other benefit of this course is that once you understand what Aaron teaches, you can implement it in any business model you decide to follow. It's not just related to affiliate marketing. If you have your own course that you want to sell or grow your multi-level marketing business, you can do it by implementing the IM training.
At the end of the day, the idea is NOT just to make money but to have a sustainable business. The main benefit of completing the training and taking action is to have a passive income stream.
Now, let's take a closer look at some of the main features of the Invincible Marketer program.
The Invincible Marketer Features – What Are You Paying For?
---
When you sign-up with Invincible Marketer, you get immediate access to the flagship training sessions. (there are a total of 17 sessions, I will show you more about the course later)
You get access to their Private FaceBook Community group.
If you join Aaron's lifetime membership course, you get access to a host of other features.
You get access to :
Lifetime resources (templates, carbon e-mail swipes, etc)
Lifetime coaching calls
Private product network(PPN)
The Invincible Marketer affiliate program
As an IM member, you also get access to their advanced strategies section. This is the section where you learn about traffic methods such as chatbots, retargeting, Tik Tok leads, and Aaron's high conversion strategy.
Inside The Invincible Marketer Program- The Training Sessions
---
There are 17 training sessions that make up the core Invincible Marketer course.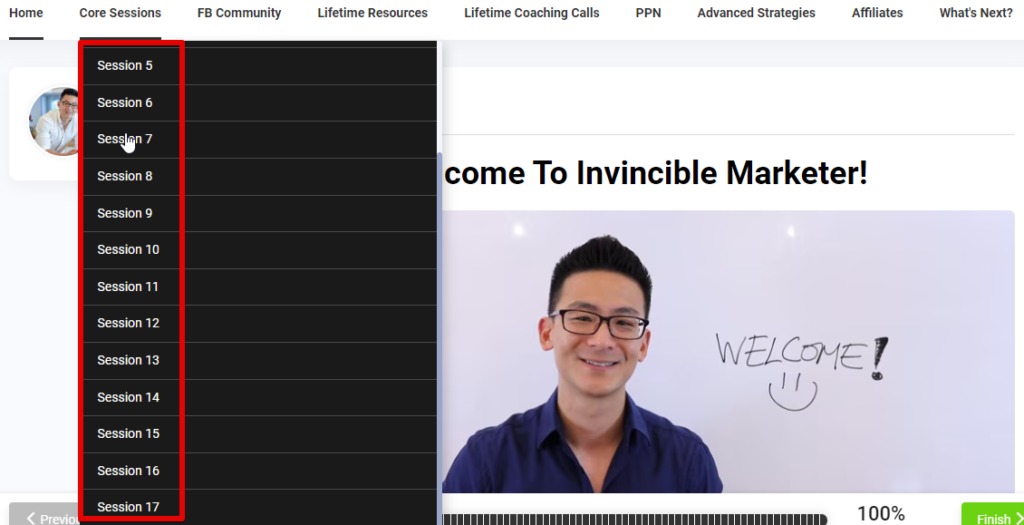 Every session has a training video by Aaron. Depending on the topic, there might be worksheets that you have to download to work through or links to other videos that complete the specific lesson.
The training sessions are NOT all centered around learning how to build an online business. There are many sessions where Aaron focuses on mindset training.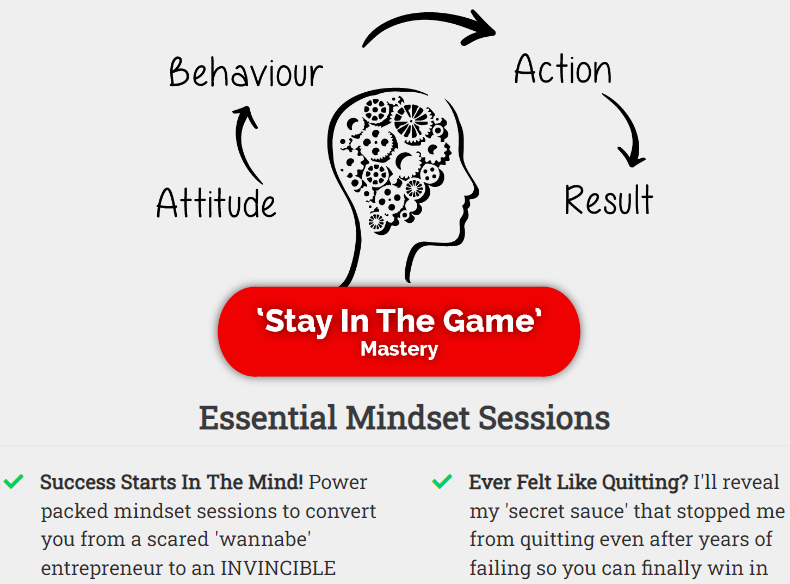 In my opinion, this is what stands out from other courses that I have completed and makes it a unique business course.
Take a look at session two.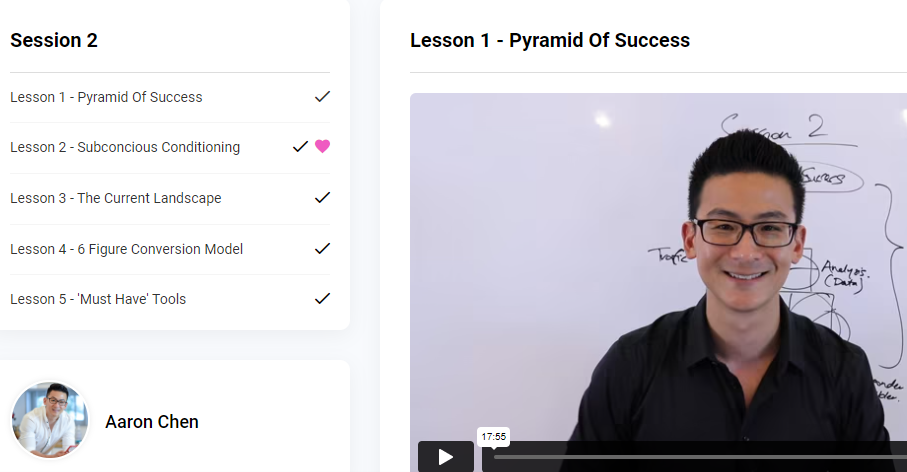 The first session is where you learn about the pyramid of success. These are the core foundational blocks that your business needs to be built upon to become both profitable and sustainable.
Then Aaron jumps to some mindset training where he talks about subconscious conditioning. And this is really about conditioning your thoughts and starting to see things the way successful people do. As you can see, I bookmarked this training, so that I can visit it often as I want.
Then Aaron talks about what it's like out there with other people selling courses and what the opportunity is like for new entrepreneurs entering the online space.
And the final part of the session closes with Aaron mentioning the other tools that you need in addition to the Invincible marketer training. (I will talk more about it soon)
The fact that Aaron mixes the training with different yet relevant topics makes the course refreshing and fun to go through.

And you also have a progress bar at the end of the session to see how far you have progressed.
The Invincible Marketer Live Coaching Calls- It's Well Worth The Money
---
As an Invincible Marketer lifetime or platinum member, you get access to the library of recorded live webinars dated all the way back to December 2019.
Aaron also invites you to his live coaching call. It takes place via a zoom call.
The cool part about these sessions is that Aaron will take a look at your funnels, e-mail series, and value series and give you live feedback on what you need to do to make it better.
It's not common or often where you get the owner of a business teaching platform directly communicating with you and have them take a look at your business. The other platform that has that feature is Wealthy Affiliate.
The Invincible Marketer Private Product Network (PPN)
---
What niche do you choose? Which are the best products to promote in a specific niche?
Often, this is where newbies coming to the online world have the most struggle. People do not want to fail before they start. For this very reason, they can end up taking a very long time to make a decision on what niche, or target audience they should focus on.
Aaron helps you out here as well.
The PPN or Private Product Network is a list of different products within different niches that you can choose from if you are unsure of where to start.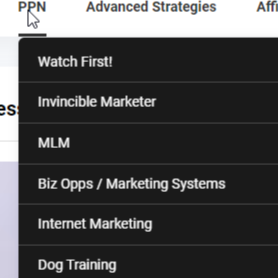 If you want to promote an MLM business, then Aaron has got some of his recommendations that you can choose from. If your niche is Dog Training, then there is a product for you as well. You can choose from two "Biz Opps" which are within the make-money-online niche.
It is completely up to you! The PPN network is there to help you if you need it and to save you TIME.
The Invincible Marketer – Is Not Only for Newbies
---
To this point, I talked about the features suited mostly for someone who is brand new to the world of online business.
If you are an experienced marketer, then the Invincible Marketer program also has something for you.
The advanced strategies section will show you other traffic methods or techniques that can help you to scale your online business.
You can learn more about Chatbots, Retargeting(paid ads), and using the social media platform, Tik Tok.
If you already have a minimum of 1000 subscribers on your e-mail list, then it is worth checking out Aaron's "High Conversion Strategy."
And if you fancy learning about using YouTube, then Aaron has got his own very successful course called the Video Authority Mastery. Many of his Invincible Marketer students have had great success with VMA.
Feel free to learn about Aaron's Video Authority Mastery course here.
How Good Is The Support At Invincible Marketer? 100% Top Class!
---
As an Invincible Marketer member, you get full access to their Private FaceBook Community.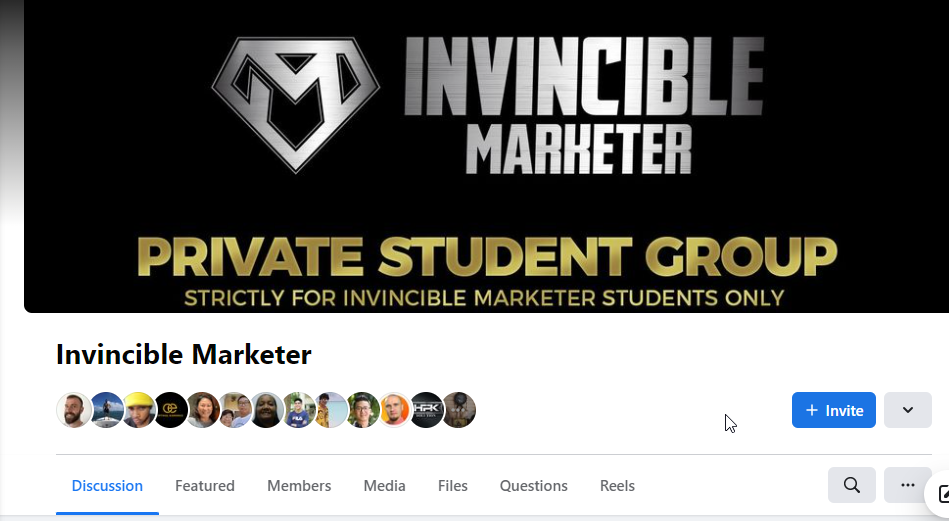 They have 1816 members at the moment. Even though Aaron is a busy man, he takes the time to respond to every post on the Facebook page.
But the part that got me to sign-up for Aaron's course was the private support that I received from him even when I was NOT an Invincible Marketer member.
I knew already that Aaron had a very successful YouTube channel. I learned a lot from his videos whilst I was compiling my own product reviews.
Anyway, my initial thought was that since he was so successful, he would not have the time to answer me in the e-mails.
I was DEAD-WRONG!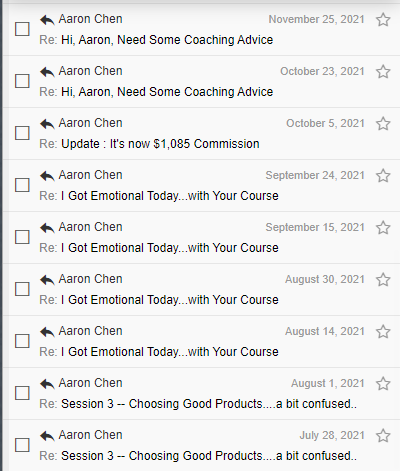 As you can see, I bothered Aaron's brain countless times, and every time he responded as quickly as he could. He was professional and very helpful on each occasion.
I knew that if I was getting great support as a non-Invincible Marketer member, then I would get much more as a paying customer.
And the rest is history!
Are People Happy With The Invincible Marketer Program?
---
At the time of writing this review, there were 269 reviews. These reviews scored an average of 4.8 out of five stars.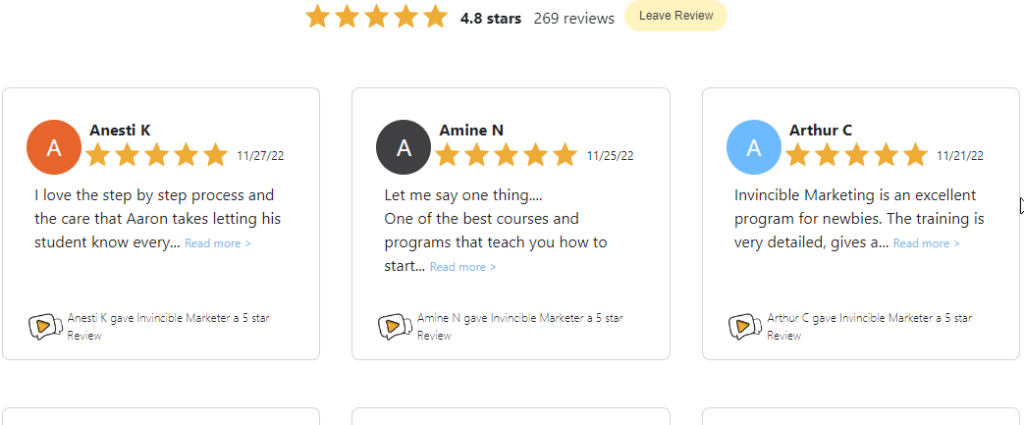 Can you trust these reviews? Yes, you can. I do believe that they are genuine. And here are folks who have made profits after implementing Aaron's training.

Can You Really Make Money With The Invincible Marketer?
---
Great question.
If the testimonials in the previous section are not convincing enough, then let me show you some of my results.
They say that you will never forget your first online commission. That's true.
And here is proof of my first $1,000 commission that I earned after going through the Invincible Marketer course.

How Much Does The Invincible Marketer Course Cost?
---
There are two main membership packages that you can choose from.
The first package is the monthly option where you pay $67 per month. With the $67 per month, you get access to all 17 training sessions. You also get access to their private FaceBook group.
Then there is the Invincible Marketer Lifetime membership which is $430. With this membership, everything is unlocked. You get access to advanced strategies, Lifetime resources, and lifetime coaching calls.
I started with the $67 per month option and then upgraded to lifetime membership. There is no pressure to upgrade. Once you start earning your first commissions, then you can consider upgrading to the lifetime membership.
And if you are not sure whether Invincible Marketer is for you, you can join the $7 Trial Membership and test drive the program before you commit.
As I mentioned earlier, this is NOT the full price of starting your online business. Apart from the top training from Aaron, and the support and resources, you still need to purchase additional tools. And Aaron makes you aware of that before you buy his course.
You would need these tools as well:
A funnel builder
A tracking software
An e-mail service provider (or autoresponder)
Aaron states that these tools would cost you an additional $150. That is true if you decide to buy the Clickfunnels funnel builder.
I use an alternate funnel builder called Systeme.io. It even allows me to build out my e-mail campaigns as well. So with Systeme.io, I already got two tools at one price of $27 per month.
The tracking software is an additional $13 per month. So in total, I spend under $50 for these additional tools that Aaron recommends.
Check out my review of Systeme.Io here.
Pros of The Invincible Marketer
---
Excellent Support
$7 Trial Membership Option
Includes Mindset Training(many online courses do not have this)
Lots of Member Testimonials
Access To A Private Facebook Group
Live Coaching Calls
Cons of The Invincible Marketer Program
---
You Have To Invest In Additional Tools
2. You have to Become a Lifetime Member To Join Their Affiliate Program
3. Not Much Training On SEO(search engine optimization) as a traffic source
Is Invincible Marketer a Scam? My Personal Opinion
---
Invincible Marketer is definitely not a scam. There is owner transparency, tons of member testimonials, and they do have a conditional money-back guarantee.
Is The Invincible Marketer the right business course for you?
If you are brand new to the world of online business, then joining the Invincible Marketer program is a great starting point.
You will be learning from Aaron, someone who has failed before and now is a highly successful and respected online entrepreneur. He is teaching you the exact methods that he uses in his business. The support that you are getting from him is already a golden value.
One of the main highlights of the course is the ongoing mindset training. Whilst it's a given that you have to physically take action in building your business, you also have to be mentally prepared to take on the journey.
And many courses fail in helping you to become mentally strong. Aaron's sessions on mindset strategies will help you stay on course when you find the journey challenging.
The course checks all the main aspects of becoming a successful online entrepreneur. You have a detailed training program, excellent support, mindset training, and great resources in one place.
It is my NR.1 recommendation for making REAL money online.
How I Earn A Passive Income Online
---
I transitioned from the health field to the online world. I face a major health challenge that affected my ability to do my day job as a pharmacist, and I had no choice but to find another way to bring in the money. You can read my story here.
It's thanks to affiliate marketing that I can earn a passive income online.
With affiliate marketing, you do not have to focus on recruiting people at all. There is no cold-calling or having "tea-parties" or having to do any door-to-door selling.
It's a great business model for newbies. Even if you have no marketing or any technical experience with website building and so forth.
You have the freedom to build your business around a topic or niche that you enjoy talking about. And you are not restricted to marketing only ONE product or service.
I sell high-ticket digital products. The commissions are higher and you have to only sell a few to make your monthly target.
It would my pleasure to show you more about how I made money with this business model since 2016. Let me show you how it can benefit YOU as well by clicking here.
Thanks so much for joining me on this Invincible Marketer Review.
I hope that it has helped you out.
Looking forward to hearing from you.
Regards
Roopesh