Welcome to my Click Build Collect review. Would you like to make money on autopilot? If your answer is yes, then you might be interested in signing up to Click Build Collect.
A system that anyone can use, that does not require ANY HARD work, and is so simple that even a child could do it.
And the best part is that Click Build Collect is within its beta phase. That means that you can get into the program before anybody else! But before you sign up, read about the red flags of Click Build Collect.
There are other Click Build Collect reviews that believe that the program is legit. Is Click Build Collect a scam? Let me show you exactly what is going on here.
If you're tired of scams and want a real solution for making money online, then register for a FREE 5-Day Business Course without having to pay a single cent!
FREE 5-DAY TRAINING (+FREE WEBSITE)
Build Your Online Business With This
FREE

5-Day Training!
What Is Click Build Collect All About?
---
Jason Perriman is the owner/CEO of Click Build Collect. According to Jason Click Build Collect is an "automatic commission generating" system that can help you make $561 per day on command!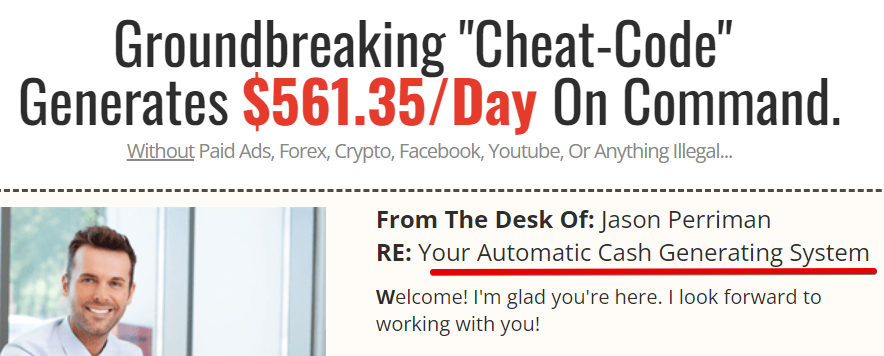 Jason goes on to state that you do not need to do any paid advertising. The system does not involve cryptocurrency, Facebook, or YouTube or is based on any illegal activity.
Click Build Collect has passed the alpha phase. It is now within the beta phase, and the program developers are calling out beta testers before the program is rolled out to the public.
They only need 50 people to join the testing team, after which the program will be closed and then re-open at an unknown time.
In fact, they claim that if you are reading their sales page, it would mean that there is one spot left for you to register.
Doesn't that make you feel lucky, right?
Recommended Reading: FullStaq Marketer Review -No Scam, Not For Everyone!
Are People Making Money With Click Build Collect?
---
The sales page has a section displaying some earnings. However, it's vague, to say the least. These could be someone else figures.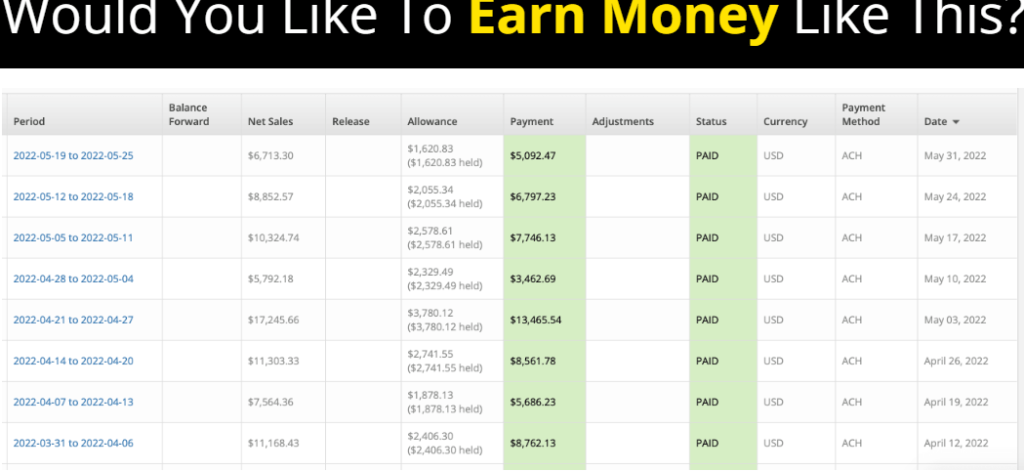 In other words, it's not convincing enough.
There are no testimonials, so it makes it harder to believe whether or not Click Build Collect is a legitimate business opportunity.
How Much Does Click Build Collect Cost?
---
The cost to join Click Build Collect as a beta tester is $47. However, if you decide to leave their check-out page, you will find a down-sell offer for the program for just $17.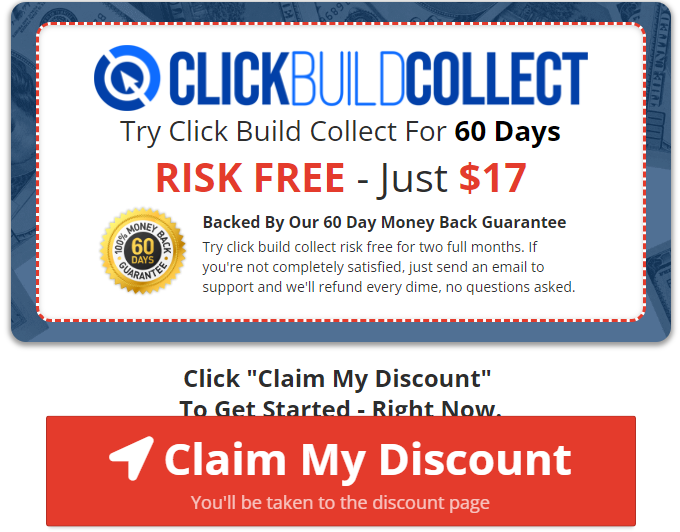 They do have a 60-day money-back guarantee.
Now let's check out some of the red flags of this business opportunity.
Red Flags Of Click Build Collect
---
Red Flag Nr.1:

No Real Owner
Earlier on I mentioned that Jason Perriman is the CEO of the Click Build Collect business.
On further investigation, I learned that the image they used was actually a stock photo image. Take a look at the next screenshot to see many variations of the photo that one can use from iStock photo website.

In other words, there is no owner transparency.
Red Flag Nr.2: Qualifying Criteria is A Lie
---
According to information on the official sales page, you cannot just join the Click Build Collect system. There are certain qualifying criteria that you have to meet.

These are :
Need to be a U.S. or a Canadian citizen
Must fill in the registration form
Must pay the registration fee
It's the first criterion that I believe is a lie. If you were to proceed with the checkout process, you will find that you can select any country from their drop-down menu.
In other words, they accept anyone from any country.
Red Flag. Nr.3:

Fake Scarcity Claims
Only 1 beta test spot left!

That's their claim. If you are reading their sales page, then you should hurry up and make the purchase immediately, as you have the last slot.
That is absolute nonsense. Simply refresh the page, or come back later, and you will discover that the offer will still be open.
Pros of Click Build Collect
---
(1) They have a money-back guarantee
Cons of Click Build Collect
---
(1) Unrealistic money claims
(2) No real owner
(3) No testimonials/proof of real earnings
(4) No evidence if there is any real program or software at work
Is Click Build Collect a Scam? My Personal Opinion
---
In my opinion, the only thing that stops it from being a complete scam is the fact that there is a money-back guarantee.
I really want you to be cautious about Click Build Collect.
It might seem tempting, but the reality is that it doesn't seem to offer any genuine products or services – it's operating more like a Ponzi scheme. You know, those setups that promise profits without any real investment, just shuffling money around between new and existing members.
And that "Jason Perriman" they're talking about?
Well, it's unclear if he's a real person with actual experience. His claims about Click Build Collect might sound overly good to be true, which is a classic red flag.
I get it, they're promoting Click Build Collect as this effortless way to make money without needing any skills or experience. But let's have an honest talk – making real money usually involves dedication and effort. There's no magical shortcut that works for everyone.
Their idea of making money through copying and pasting online content? It doesn't sound rock-solid to me. In fact, it raises a lot of doubts.
So, here's my heartfelt advice: Steer clear of Click Build Collect. I genuinely worry that you might end up losing your hard-earned money if you dive in.
Instead, I urge you to explore more trustworthy programs that truly offer value and support.
In fact, I've got something you might be interested in – a 5-day free business course along with a complimentary website. It's a real opportunity to learn and grow, without any hidden agendas.
How I Earn An Income Online
---
I transitioned from the health field to the online world.
I faced a major health challenge that affected my ability to do my day job as a pharmacist, and I had no choice but to find another way to bring in the money. You can read my story here.
It's thanks to affiliate marketing that I can earn a passive income online.
With affiliate marketing, you do not have to focus on recruiting people at all. There is no cold-calling or having "tea parties" or having to do any door-to-door selling.
It's a great business model for newbies. Even if you have no marketing or any technical experience with website building and so forth.
You have the freedom to build your business around a topic or niche that you enjoy talking about. And you are not restricted to marketing only ONE product or service.
It would be my pleasure to show you more about how I made money with this business model since 2016. Let me show you how it can benefit YOU as well by clicking here.
Thanks so much for joining me on this Click Build Collect Review.
I hope that this has helped you out.
Looking forward to hearing from you.
Regards
Roopesh
Take care and make wise choices. Your success matters to me.