Welcome to my Aplgo review. Is Aplgo Legit, or it is a pyramid scheme? There are many multi-level marketing companies that are springing up. You might have noticed the number of Crypto-MLMs doing the rounds.
Just watch out for them, they may promise quick passive income returns, but there is a hidden agenda to some of them.
Today we are going to be talking about a health and wellness MLM company.
Aplgo.
Is Aplgo a scam? Do the Aplgo products actually work? Can you make money with Aplgo? These are all the concerns that I will be addressing in today's review.
Congratulations to you!
For taking the time to do the necessary research before you go all in. It shows you want to be sure, and you are prepared to put your emotions aside before making a business decision. That is awesome.
If you're tired of scams and want a real solution for making money online, then register for my FREE 5-Day Business Course without having to pay a single cent!
FREE 5-DAY TRAINING (+FREE WEBSITE)
Build Your Online Business With This
FREE

5-Day Training!
What is The AplGo Company All About?
---
Aplgo is a multi-level marketing company that is focused on the health and wellness niche. Are their products unique? We will talk about that soon.
Aplgo is actually a re-brand of a company called Ageo Product Line. This old company was formed in 2017 and originated in Russia. At the time, it was an eCommerce concern, and it did not have a multi-level marketing model in place.
Now Aplgo offices are located all over the world.
The company offers the opportunity for its members to earn money through their compensation plan. There is a story that it's a 'Pay To Play' model. I am going to show you whether Aplgo is fair or not.
For now, let's learn more about the owners of the company.
Who Are The Founders of Aplgo?
---
The founders of the Aplgo MLM business are husband and wife duo, Sergey and Olga Kulilov.
Time to unveil the genius behind Aplgo's curtain – Sergey Kulikov.
He's not your average Joe; he's the creator, owner, and mastermind of APLGO. But that's not all – he's also an analytical whiz and the brain behind multiple successful projects and educational platforms.
Sergey hit his first million at a mind-blowing 21-year-old.
He's also the brain behind an online educational platform that's been powering APLGO since 2014. This platform is like your personal efficiency coach.
But wait, rewind to when he was 17.
In just a month, he built a network bigger than seasoned pros in network marketing. Sadly, the company played dirty, taking a chunk of his hard-earned network. Not one to sulk, he left and founded APLGO – a company without all the shady business.
Oh, and here's the icing on the cake: he met his future wife, Olga, during his network marketing days.
So, what drives Sergey? It's not just about personal success; he's all about sharing the joy. With a family, global properties, and a booming business, he's living the dream. But he's not hoarding it all for himself. He's all about helping APLGO's Associates grow and succeed.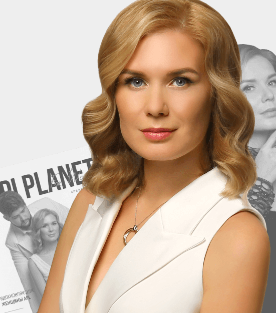 Meet Olga – the creative genius and Creative Director of APLGO. But she's not just a title; she's armed with three higher education diplomas and a science degree.
But she didn't stop there. Olga attended around 50 training events and seminars, learning from renowned speakers and coaches.
And it's not just about her impressive education and training. Olga is the heartbeat of a massive family – a whopping 250,000 APLGO Associates strong.
Recommended Reading: LiveGood MLM–Is LiveGood MLM A Scam? [2K Without Recruiting?]
The Aplgo Products – How Good Are The Aplgo Products?
---
I have had the opportunity to review many multi-level marketing companies.
What stands out with most of them, is the strong product line. Or the company makes the products at the forefront of the business. You can see what I mean by checking out my reviews of Ziya Active Wear and One Hope Wine.
Maybe it is just me, but I cannot feel the same energy or enthusiasm when it comes to talking about the Aplgo products.
It's almost like it's just a by-the-way sort of thing.
Even if you were to search YouTube, you would find that there are more product commercials than actual Aplgo product reviews from consumers.
Nevertheless, all of the Aplgo products come in a lozenge form which dissolves in the mouth. According to the official Aplgo website, all Aplgo products are made of natural ingredients and are certified Halal, Organic Kosher, Gluten Free, and Non-GMO.
Their flagship products are the "Acumullit SA " drops. The Acumullit SA technology allows the "beneficial properties of the whole food botanical ingredients to be preserved and enhanced." APLgo lozenge drops are made.
Here is a list of the various Aplgo products and what they help for:
ALT (Alternate): copes with allergy symptoms without causing harm to your body
GRW (Grow): strengthens the immune system, and permanently preserves youth and energy
MLS (Multi-Spectrum): restore and maintain health and get rid of parasites
NRM (Normal): Avoid and reduce the risk of diabetes
SLD (Slide): Helps relieve pain and low mobility, slows down the process of joint destruction
STP (Stop): effectively rid of headaches, toothaches, muscle and bone pain
HRT (Heart): keeps the heart healthy
ICE (Ice): treats heartburn, poisoning, nausea and bloating
HPR (Hepar): keeps liver healthy
BRN (Brainy): essential nutrients for cognitive clarity for learning, thinking, managing mental stress, and alertness
GTS (Get Strength): contains Molasses, Beet Sugar, Citric Acid, and Pineapple. Maintain the body's already normal energy, vitality, and endurance, physical & mental stamina, balanced metabolism, natural cellular energy, and positive mood
PWR (Power): Apricot and Lemon (Man and Woman) Power: duo product "for her and him" helps improve the condition of the genitourinary and reproductive systems as well as preserve activity and spontaneity of intimate life (we know what that means *wink)
RLX (Relax): The calming effect gives you focus to support your body's ability to achieve relaxation and mental calmness
Aplgo products are NOT endorsed or regulated by the FDA.
The big question is, do Aplgo products really work? As I said, there are no reviews on the official website, or on YouTube.
I did manage to find one review on Trustpilot.com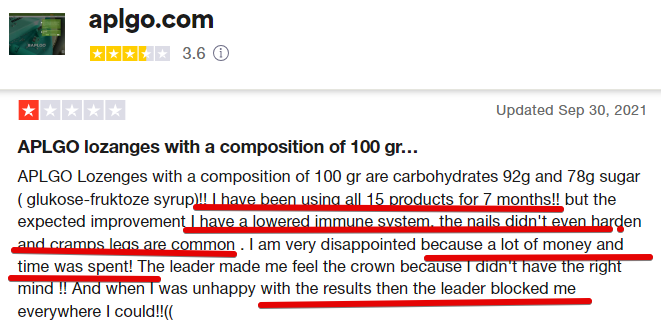 This customer used all 15 products for a period of 7 months. Within that time frame, he experienced more adverse side effects than benefits.
His immune system lowered, his nails didn't even harden, and suffered more frequent cramping in the legs.
Also note, that they are not cheap. $80 for a month's supply.
Are Aplgo products unique?
The health and wellness industry is huge. And there are tons of natural products that already exist for all of the conditions that Aplgo products cater to.
How Much Does It Cost To Join The Aplgo Company?
---
There are two options, you can join as a customer and just stick to purchasing the products. Or you can join as an affiliate.
The cost to join is $25. However, you have to purchase a GoKit in addition to the $25 if you want to become an Aplgo affiliate.
PR, Detox and Vigor kits $100
Everyday, Creative and Vibrant Youth kits $200
Family and Wild kits $400
Presentation and President's kits $600
Fantastic kit  $1800
Super 5 kit $3000
How Do You Make Money With AplGo? The Aplgo Compensation Plan
---
There is no compensation plan on the official Aplgo website.
As an affiliate for Aplgo, you can earn a percentage of every Go-Kit or Pro-go Kit, that someone within your downline purchases.
PR, Detox and Vigor kit   $100 – 10% = $10
 Everyday, Creative and Vibrant Youth kits   $200 – 10% = $20
 Family and Wild kits       $400 – 15% = $60
Presentation and President's kits      $600 – 17.5% = $105
 Fantastic kit               $1800 – 20% = $360
 Super 5 Kit   $3000 – 20% = $600
Then you can earn a Group Bonus. As you build out your team, and recruit more members, you can earn more money.
The Group Bonus is a binary leg compensation. It pays out on the number of PV or points volume that you generate within a cycle.

The Matching Bonus is a bonus you get for helping someone within your team reach the next level within the company.
Then there is the Rank Advancement Bonus. This is paid out when you achieve a certain rank within the company.
When it comes to auto-ship orders – those monthly orders that Associates and recruits place – APLGO offers AutopShip Commisions to its members.
These commissions are seamlessly integrated into the same unilevel team structure used for the Matching Recruitment Commissions Bonus.
You can earn auto-ship commissions across six levels of recruitment, amounting to 10% on each level.

The Leadership(Infinity) Bonus ushers in an era of limitless earning potential. It's designed to reward APLGO affiliates who go beyond the initial six unilevel team levels for autoship orders.
Here's how it works:
National Directors earn an extra 1% on autoship orders placed from level 7 and beyond.
International Directors enjoy a 1.5% boost on autoship orders from level 7 onward.
Premier Directors reap the benefits of a 2.5% increase on autoship orders beyond level 7.
It's essential to note that while the Leadership Bonus is calculated on a monthly basis, the actual payouts occur quarterly.
To maintain eligibility for this bonus, affiliates must uphold their rank qualification throughout the entire quarterly pay period.
APLGO's compensation plan features three distinct A.L.E. Monthly Bonuses, each tailored to reward consistent achievement:
Activity Bonus:

By maintaining the rank of a 2 Star Associate for twelve consecutive months, you unlock a $10 monthly bonus over the same period.

Lifestyle Bonus:

Sustain your status as a 2 2-star associate for twelve consecutive months, and you'll enjoy a 5% bonus on earned residual recruitment commissions during that time. This bonus is capped at $300 per month and is paid out monthly over the next twelve consecutive months.

Entertainment Bonus

: This bonus category recognizes exceptional leadership. National Directors receive a monthly $1000 bonus, International Directors secure $2000, and Premier Directors celebrate $3000 each month. However, note that these Entertainment Bonuses are granted after achieving and maintaining the required ranks for two consecutive months.
It's crucial to emphasize that to be eligible for A.L.E. Bonuses, you must uphold the required ranks without interruption.
Pros of Aplgo MLM
---
 (1) There is owner transparency
(2)The company operates in many countries
Cons of Aplgo MLM
---
(1) Not much information on their compensation plan
(2) No income disclosure report
(3) The company operates within a very competitive niche
(4)Complex compensation plan
(5)Not many reviews on companies' products
Is Aplgo Legit? My Personal Opinion
---
From where I stand, I consider APLGO to be a legit. However, there are a few elements within the company's operations that prevent me from wholeheartedly endorsing it to others.
It's quite puzzling that despite APLGO's considerable time in the industry, there's still no presence of an income disclosure report or an updated compensation plan on its website.
An income disclosure would provide a much-needed insight into the performance of existing members, offering a clearer picture of what to expect. This absence raises questions about transparency and can be a significant factor for potential members.
Is Aplgo a Pyramid Scheme?
It's a bit tricky to slap a definite label on Aplgo as a pyramid scheme, but if you asking, then your concerns are totally on point.
If the main gig for scoring bigger bucks at Aplgo starts to lean more toward getting new members aboard instead of genuinely pushing products, then it might indeed raise some red flags.
When the recruitment game overshadows actual product sales, things can get dicey.
This kind of setup often relies on a constant influx of new recruits just to keep the earlier joiners afloat. And yeah, that's one of the reasons that Vietnam issued warnings against Aplgo .
It's basically like this: Before diving into any MLM thing, whether it's Aplgo or something else, doing your homework and being smart about it is key.
Check out the products, how they pay you, and whether the whole thing hinges on recruiting more people. Taking your time and being informed is the name of the game here.
How I Earn an Income Online
---
 transitioned from the health field to the online world.
I faced a major health challenge that affected my ability to do my day job as a pharmacist, and I had no choice but to find another way to bring in the money. You can read my story here.
It's thanks to affiliate marketing that I can earn a passive income online.
With affiliate marketing, you do not have to focus on recruiting people at all. There is no cold-calling or having "tea parties" or having to do any door-to-door selling.
It's a great business model for newbies. Even if you have no marketing or any technical experience with website building and so forth.
You have the freedom to build your business around a topic or niche that you enjoy talking about. And you are not restricted to marketing only ONE product or service.
It would be my pleasure to show you more about how I made money with this business model since 2016. Let me show you how it can benefit YOU as well by clicking here.
Thanks so much for joining me on this Aplgo Review.
I hope that this has helped you out.
Looking forward to hearing from you.
Regards
Roopesh
FREE 5-DAY TRAINING (+FREE WEBSITE)
Build Your Online Business With This
FREE

5-Day Training!