Are you looking to start your very own online business in South Africa? Or more specifically, are you looking to start your very own Amazon FBA business in South Africa?
As a South African, you might have heard of Amazon launching a physical marketplace right here in South Africa. One of the reputable websites stated that Amazon has an R4 Billion rand project set up in Cape Town.
Does that mean that you can start your own Amazon FBA business as a South African citizen?
In today's post, I am going to show you how I tried to set up an Amazon FBA business of my own. In case you might be wondering, yes, I am a South African.
In fact, I am a pharmacist-turned-affiliate marketer. Why such a career change? Check out my bio to learn more about me.
If you would like to learn how to start your online business, check out my NR.1 recommended newbie-friendly training platform to get started. Simply click on the link that follows to learn more.
FREE 5-DAY TRAINING (+FREE WEBSITE)
Build Your Online Business With This
FREE

5-Day Training!
How To Open Your South African Amazon FBA Account?
---
I actually thought that we would have our own country-specific Amazon URL. You know like how in America, it's Amazon.com. in Canada, it's Amazon.ca, and in the UK, it's Amazon.co.uk.
However, when I typed in Amazon.co.za, it diverted to the Amazon.com official website.
So, the easiest way to get started is to visit the following link, https://sell.amazon.com/fulfillment-by-amazon
This would take you to the official Amazon FBA homepage. https://sell.amazon.com/fulfillment-by-amazon
Your next step would be to click on the sign-up tab.
I already have an Amazon account.
I am part of the Amazon affiliate partner program. It is the same account that I use for my affiliate marketing business. By the way, this is another way that you can make money with Amazon, via affiliate marketing.
So, it takes me to their Amazon Seller Central page.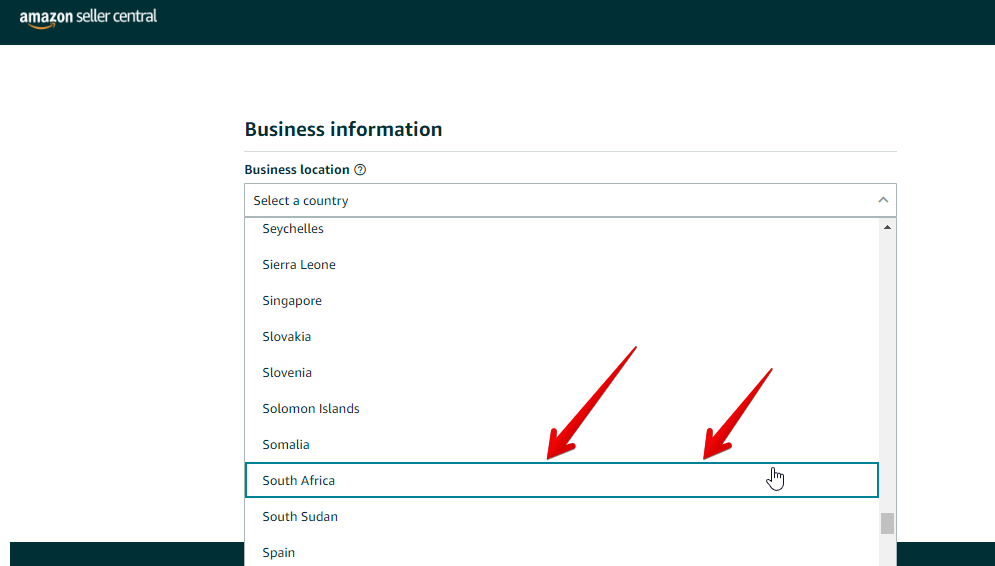 As you can see, South Africa is listed. The next step is to select what entity you registering as :
State own business
Publicly owned business
Privately owned business
Charity, or
No, I am an individual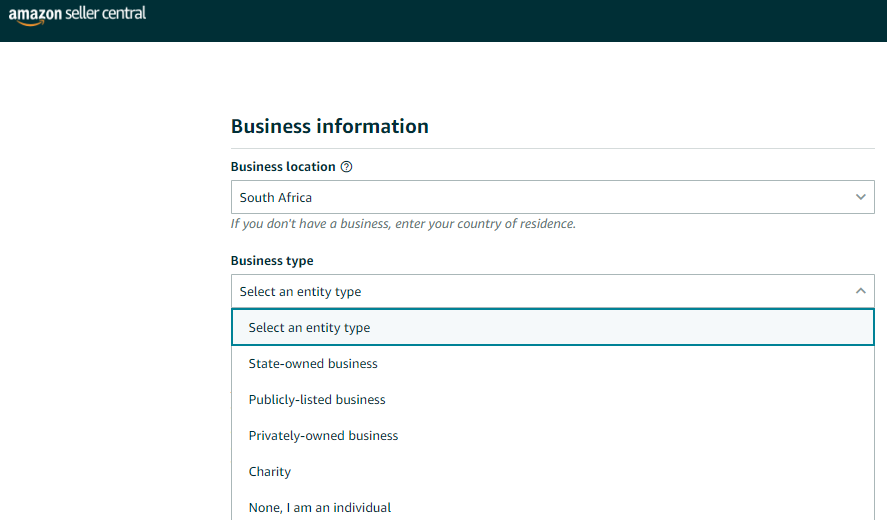 It's very important that you choose the right entity. Once you make your selection, you cannot change it at a later time.
The cool part is once you are successful with one account, it's linked globally and allows you to sell in UAE, North American stores (United States, Canada, and Mexico), European stores (United Kingdom, Germany, France, Italy, Netherlands, Poland, Sweden, and Spain), Japan, Singapore, and Australia.
So, yes Amazon FBA is available in South Africa.
Recommended Reading: Is Amazon FBA a Pyramid Scheme?
What Else Do You Need To Start Your Amazon FBA Business?
---
Creating your Amazon selling account is the first step. Then you need to create your product listings. This is where you set up your FBA inventory.
The next step is to prepare the product for safe and secure transportation to a fulfillment center. Make sure that the products are packed according to Amazon's guidelines and shipping and routing requirements.
The final step is to ship the product to Amazon. You need to create a shipping plan. (at the time of writing this post, it's unclear whether Amazon has an existing physical fulfillment center in South Africa)
Does Amazon FBA sound like the right business model for you? Here is a blog post that I wrote about some disadvantages of the Amazon FBA business model.
Is The Amazon FBA Business the Right Business For You?
---
To see if this e-commerce business is suited for you, let's answer the following questions.
Do you have the budget set aside to invest in inventory?
Do you have the time to do continuous research on trending products?
Are you okay with negotiating with suppliers on a regular basis?
Are you prepared to learn PPC(or pay-per-click) advertising?
Many folks jump into the Amazon FBA business thinking that it's simply a case of sending products to the Amazon warehouse and making a quick sale.
The truth is that there is lots of hard work and effort required to make this business work.
Amazon FBA is a legit business model. It's also not a get-rich-quickly way of making money online.
If you answered yes to all of the above questions, then perhaps Amazon FBA is for you.
If you are still unsure, then it's not the end of the world.
Alternatives To Amazon FBA To Making Money Online
---
If we are talking about Amazon, there are alternative ways to make money by having Amazon as your partner, instead of your competitor.
You can publish e-books on their marketplace. You can also become an Amazon Affiliate partner, and promote products that are sold on the Amazon marketplace.
This is called affiliate marketing, and it's the model that I use to build an online income.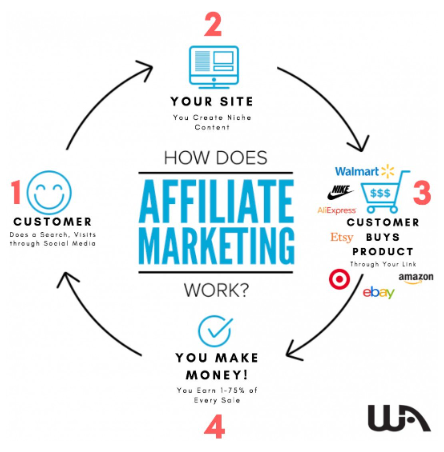 I transitioned from the health field to the online world. I face a major health challenge that affected my ability to do my day job as a pharmacist, and I had no choice but to find another way to bring in the money. You can read my story here.
It's thanks to affiliate marketing that I can earn a passive income online.
With affiliate marketing, you do not have to focus on recruiting people at all. There is no cold-calling or having "tea-parties" or having to do any door-to-door selling.
It's a great business model for newbies. Even if you have no marketing or any technical experience with website building and so forth.
You have the freedom to build your business around a topic or niche that you enjoy talking about. And you are not restricted to marketing only ONE product or service.
It would be my pleasure to show you more about how I made money with this business model since 2016. Let me show you how it can benefit YOU as well by clicking here.
I hope that today's article has helped you out. Now you know that Amazon FBA is available in South Africa.
Will you start Amazon FBA, or are you interested in another business model? Is there anything that is you need clarification or help, with before you can get started?
Looking forward to hearing from you.
Regards
Roopesh