Are you ready to start an online business? Are you thinking of doing online affiliate marketing? If you are a South African, you may be wondering if affiliate marketing works in South Africa.
Does affiliate marketing work in South Africa? I am a South African pharmacist turned affiliate marketer.
You might be wondering why I went for such a career change. Feel free to check my story here. The important point is that I have been doing online affiliate marketing since 2015!
So, yes! Affiliate marketing does work in South Africa. But, I need to CAUTION you, it can also not work out for you.
And that is basically what I am going to talk about in today's post. I am going to show you why it CAN work and why it CANNOT work.
Before we get started, feel free to check out my NR.1 recommendation for starting your own affiliate marketing business. It's an education program that I bought, I tested it out and I got results from it. Simply click on the link that follows to learn more.
FREE 5-DAY TRAINING (+FREE WEBSITE)
Build Your Online Business With This
FREE

5-Day Training!
Does Affiliate Marketing Work In South Africa?
---
Yes, it does.
You can definitely start an online affiliate marketing business as a South African citizen. There are some challenges though that you might have to face.
If you got a good internet connection, and a decent computer, you are good to go. Of course, the challenge is the extensive load shedding going on in our country at the moment.
And if you have a full-time job, then the challenge is to find some time to work on your online business.
But that's why affiliate marketing is a great business model.
It offers you flexibility. You can work on it when you have time.
The other cool part is that as a South African, you can still get paid in dollars. I will show you two common ways to get paid by international companies as a South African affiliate marketer.
I will also show you some of the reasons why affiliate marketing may not work for you.
Recommended Reading: Why Is Affiliate Marketing Booming In The 21st Century and Beyond!
What is Affiliate Marketing All About?
---
Before I show you why it's possible to do affiliate marketing in South Africa, let's quickly define what affiliate marketing is.
Affiliate marketing is a business model where you earn commissions from promoting companies' products or services.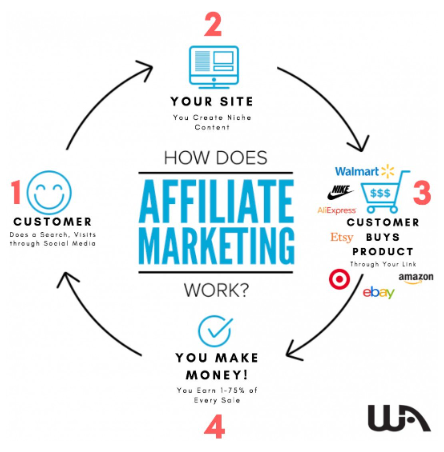 You bring the buyer and seller together, and for every sale that takes place, you earn a commission.
It's no different than recommending a good book that you just read to a friend. And if that friend buys that book you get a commission.
Unfortunately, we know that Exclusive Books or Estoril books do not have affiliate programs at the moment. But Amazon.com does!
And you can earn commissions on not just books but by promoting electronic devices, video games, and kitchen appliances. The list is endless. And Amazon is just ONE affiliate program.
But I am getting way ahead of myself.
Now you are familiar with what affiliate marketing is all about. Let's jump into the next section.
Why It Is Possible To Do Affiliate Marketing In South Africa?
---
It is possible if you have a good internet connection. And you need to have a decent computer.
Affiliate marketing is not a very hard business model to understand. You do not have to do any recruiting, and there are no complex compensation plans.
However, you still need to learn how to build this business on a solid foundation. And for that, you need to join a reputable online training platform.
And that's another reason why you can do affiliate marketing because there are two awesome online training platforms that are suited for South Africans.
The two best online affiliate marketing training programs for South Africans are :
I am a member of both of them. Yes, I tried them and tested them out. And I certainly got results using both of them.
There are a number of ways that you can do online affiliate marketing. You can do it via blogging, using social media, or paid advertising. It's up to you!
You can also target any niche or industry you want!
The two training platforms that I recommended above will walk you through every step of the affiliate marketing journey.
Why Affiliate Marketing Will Not In South Africa?
---
Let's take about some not-so-good things.
Affiliate marketing cannot work for you if work on your business half-heartedly.
I see many people coming into this business thinking that since everything is online, the results will tend to come quicker, and with less effort.
People think that they can post their affiliate links on social media, and folks will click and they get a quick commission.
It actually involves more effort.
It's like any business, be it online or offline. It's all about helping someone find a solution to their problem.
Affiliate marketing will not work for you if you fall into the 'Shiny Object Syndrome' trap! These are distractions that will have you believe that there are easier paths to getting rich quickly!
Do not fall into these traps.
Affiliate marketing is not for you if you are NOT prepared to work consistently at it. Initially, you will not see the results. But rest assured, it's all toward building that solid foundation and a business that will last.
Do not let your friends and family tell you that affiliate marketing is a scam and that it is going to crash.
Affiliate marketing will not work for you if you use the wrong tools, or incomplete training to build your business.
So join the nr.1 recommended affiliate marketing training platform.
Finally, affiliate marketing will not work for you if load-shedding cripples your internet connection. Unfortunately, this last problem is out of your control.
Unless you got a generator or another form of electricity backup, you have to wait for the lights to come back on, to charge your laptop battery, and get back to work.
Recommended Reading: Do You Need To Be A Good Writer For Affiliate Marketing?
How Do You Earn In Dollars With Affiliate Marketing In South Africa?
---
I promised you that I would show you two ways you can get paid in dollars from international companies.
As an affiliate, you need to have either a Paypal or an Ewallet account set up. These are very important to have in order to receive your affiliate commissions.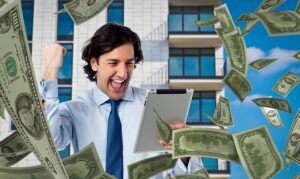 When it's time to get paid, with PayPal, you have to register with FNB. They link your Paypal account with your bank account. And you can then transfer the funds into your bank account.
With eWallet, the money is automatically set to be paid into your bank account.
Conclusion – You Can Be a Successful Affiliate Marketer in South Africa
---
You do not need any experience to get started. It's a flexible business model to do. You can work on it whenever you have free time or when the lights are back on(LOL).
There are legit and solid training platforms that are PROVEN to help people all over the world.
You can get paid by international companies. It's now easier than ever!
All you have to do is DECIDE!
Thanks for reading.
I hope that this article has helped you out.
If you have any questions or comments, please leave them below and I will get back to you.
Talk to you soon.
Regards
FREE 5-DAY TRAINING (+FREE WEBSITE)
Build Your Online Business With This
FREE

5-Day Training!