Welcome to my Honeygain review. Are you looking to earn a passive income online? One way you can do it is by using apps that can help make the process a bit easier. One such app is Honeygain.
Simply share your unused internet bandwidth and you get PAID! Now that sounds like a really cool passive income-earning opportunity, doesn't it?
Is Honeygain legit? I tested it out. Let me be honest, I was a bit nervous. When I installed the application on my computer, I had some scary thoughts!
I thought that my internet surfing would slow down. Perhaps my computer might get infected with a virus. Or perhaps the Honeygain app would crash my computer in some way.
Call me crazy, but those were some of the thoughts that were running through my head. Nevertheless, I went ahead and tested out the app.
The main reason I downloaded it, is to share with you, my reader, the outcome. To show you my results of having used the Honeygain app. And also to share with you my insight as to whether or not it's a worthwhile app to use.
Before we get started, I want to tell you that you can definitely earn a passive income online. And to do that, one of the ways is by learning high-income earning skills.
Learn how I, a pharmacist earn an income online, and how you can do it as well. Go ahead and click on the link that follows to check out my NR.1 recommendation.
FREE 5-DAY TRAINING (+FREE WEBSITE)
Build Your Online Business With This
FREE

5-Day Training!
Is It Safe To Use The HoneyGain App?
---
I read that some users tested out the app using an old phone or an old laptop that they had lying around. What if the case were that you only had one good laptop and you wanted to make money online?
Well, that's what I did.
I installed Honeygain on my main laptop. Fortunately, though, I am not dependent on this app to earn me money. Read my story on how I earn an income online.
Anyway, the point that I am trying to make, is that the Honeygain app is SAFE to use.
I also learned prior to installing Honeygain on my laptop, that the developers had gone to great lengths to ensure that all their users had a safe experience.
They made sure that when users wanted to cash out their earnings, they, the users, had to go through a 2-factor authentication process to ensure it was really them withdrawing the money.
The Honeygain team has a specially devised fraud and abuse algorithm that monitor any suspicious or hacker activity and takes action like banning them from using the Honeygain app.
Before you could link an unlimited amount of devices to your Honeygain account. Now, it's limited to 10 devices per account holder. They have a product called Swarmbytes that checks for ISPs and IP block managers who must prove all the IPs belong to them and pass the KYC standards.
And lastly, Honeygain has a team of web security, anti-fraud, and law professionals armed with all the knowledge and experience needed to ensure safe operation.
In other words, it's safe to use the Honeygain App.
Are People Happy With Using Honeygain?
---
Honeygain scored a really good user rating on the Trustpilot review website. 75% out of 10 000 reviews were 5-star ratings.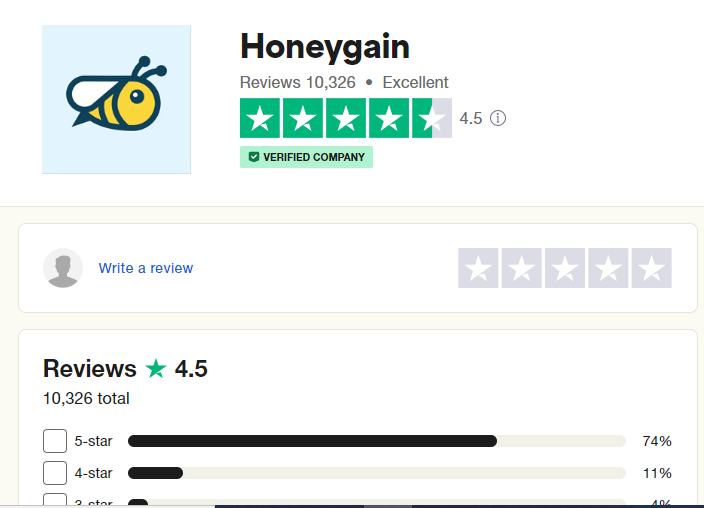 Pros of The HoneyGain App
---
(1) It's free to install
(2) It's easy to use
(3) The site is very organized and professionally designed
(4) Support is good
Cons of Using The Honeygain App
---
(1) Earning potential is low
(2) Payment threshold is high
(3) Earnings are dependent on your location
How To Install The HoneyGain App?
---
It is really easy to download the Honeygain app. When you arrive at the official Honeygain site, all you have to do is click on the "download" tab.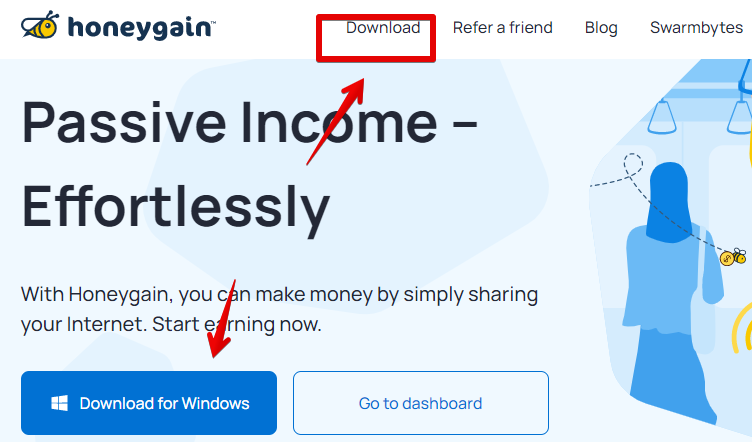 The honeygain.exe file will automatically download to your computer. Then it's just a matter of running through the set-up wizard, and everything is all done!
How To Make Money Using The HoneyGain App?
---
As they said on the official website, you do not have to do any effort to earn money with Honeygain.
The app literally runs in the background whilst you are working or streaming on your laptop.
Here is a screenshot of the Honeygain app in action on my computer.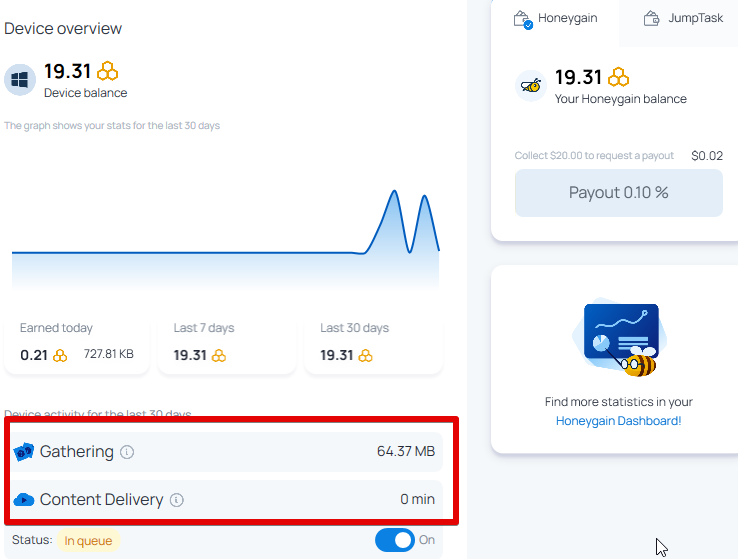 As you can see in the image above, there are two main ways you can earn with the Honeygain app. The first is when you share your internet bandwidth on the app. It allows Honeygain to "gather" small pieces of publicly available data from websites all over the world.
The second method is to earn by "content delivery." This is an additional way to earn by sharing your bandwidth for more resource-intensive content such as audio and video files.
As you can see in my case, it's still in the queuing process. It was in this process for over a week since I installed the Honeygain app.
In fact, the reason for the queue is that the number of active devices is limited, so I would have to wait for a slot to open for me to earn money that way.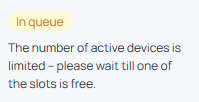 I believe that it also depends on what geographical area you are in. Not all of the locations have the same opportunity to earn money.
Speaking of earning, how much did I earn with Honeygain?
Let me show you in the next section.
How Much Money Can You Make With HoneyGain?
---
In my case, not much.
Take a look at my latest earnings that took place within the last 7 days.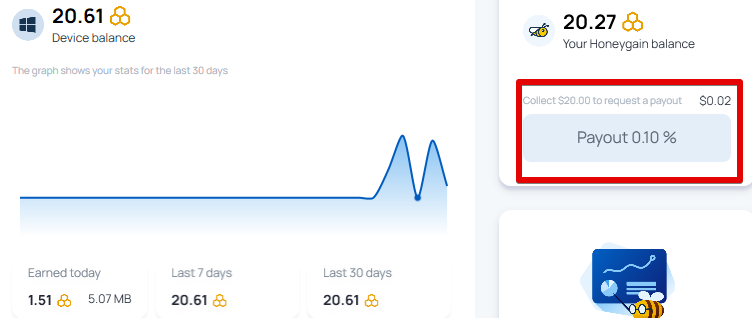 I earned 20.27 honeygain points. That is equivalent to a mere $0.02 cents. In other words, it's next to nothing.
Like I said, you might have better luck than I did. Perhaps your location might be a more demanding area than mines.
A Third Way To Earn- The HoneyGain Affiliate Program
---
Honeygain is celebrating its 4th birthday this year. You get a 10% bonus on the activities that your referrals complete.
And if your referrals gather 200MB of traffic, then you can earn a share of the 4 million credits prize pool they are offering for their birthday.
Is HoneyGain Legit? My Personal Opinion
---
Honeygain is legit. They have a good user rating. Their application is really easy to use, and they are constantly adding information and advice to their blog.
Whilst Honeygain is legit, it's not the best way for everyone to earn a passive income online.
Your success depends on your location, and as you can see, I did not have much luck with even earning a single dollar!
By all means you can give this app a try. If it works for you, then great!
If it does NOT work out fine for you, then it's not the end of the world.
Let me show you a proven-newbie friendly training platform that can help you start a profitable online business.
How I Earn An Income Online
---
I transitioned from the health field to the online world.
I faced a major health challenge that affected my ability to do my day job as a pharmacist, and I had no choice but to find another way to bring in the money. You can read my story here.
It's thanks to affiliate marketing that I can earn a passive income online.
With affiliate marketing, you do not have to focus on recruiting people at all. There is no cold-calling or having "tea parties" or having to do any door-to-door selling.
It's a great business model for newbies. Even if you have no marketing or any technical experience with website building and so forth.
You have the freedom to build your business around a topic or niche that you enjoy talking about. And you are not restricted to marketing only ONE product or service.
It would my pleasure to show you more about how I made money with this business model since 2016. Let me show you how it can benefit YOU as well by clicking here.
Thanks so much for joining me on this Upshift review.
I hope that it has helped you out.
Looking forward to hearing from you.
Regards
Roopesh