Welcome to my Upshift review. The idea of choosing your work hours is a cool one. You can decide not only when you want to work, but also the type of work that you want to do.
That is what is the reality of being an 'upshifter' is all about. And if you are lucky enough, you can also score more consistent jobs than usual.
Is Upshift legit, or is it going to be a waste of your time? More importantly, is this opportunity the right one for you? I am going to show you what the opportunity offers and also where they fall short so that you can make an informed decision.
And if you would like to know how I, a pharmacist earn an income online, and how you can do the SAME, feel free to click on the link that follows to learn more.
What is Upshift.Work All About?
---
Upshift. work is a platform that connects businesses with part-time employees. On successful completion of the onboarding process and pre-assessment, you as the part-time employee get to choose the shift that you would want to work.
According to the official Upshift. work website, they have already placed over 150 000 people within their work shift program.
Some of the benefits that you get as an Upshifter are:
You get to work when you want
You can supplement your existing income
As you become a regular user, you can choose better shifts to suit your lifestyle
To get to build your network and skills
You can access their mobile app
You can qualify for benefits
Upshift is a platform that is in existence since 2016. Apparently, they are endorsed by trusted companies such as Compass Group, Delaware North, Hyatt, and Hard Rock Casino and Resort.
Recommended Reading: Is MoneyPantry Legit or Is It a Waste of Time?
What Jobs Can You Do With Upshift.Work?
---
There are a number of different industries or categories that you can choose from should you decide to join the Upshift team.
You can work for hotels, the sports and entertainment industry, corporate dining, manufacturing and printing, and the education sector.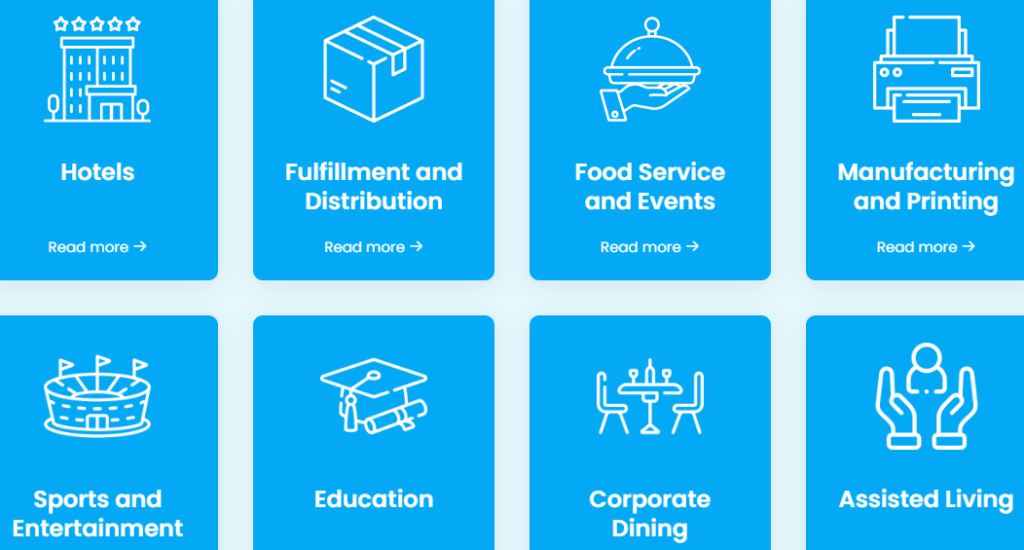 If the company that hires you are happy with your services, then it increases your chances of getting hired again.
In such cases, your ratings go up and you qualify for benefits such as dental, medical, vision, and more. When you work for Upshift, you are a W-2 employee which means that taxes are taken out of your paycheck and you will receive a W-2 after the year has ended. 
You DO NOT pay Upshift any fees once you complete a shift. Instead, Upshift charges the company.
To get started with Upshift, you have to bring documents that prove your eligibility to work within the United States. Once you complete the onboarding process, then you need to do a pre-assessment to see if you meet the job requirements.
With Upshift you get paid on a weekly basis and there are no minimum hours that you need to work.
Pros of Upshift. Work
---
(1) Registration is free
(2) You can choose your hours and the industry you would like to work for
(3) No minimum hours you need to work
(4) Lots of testimonials and positive user ratings
Cons of Upshift.Work
---
(1) Not a global business opportunity- only available within the United States
(2) No guarantee of jobs
(3) Not a passive income-earning opportunity
Is Upshift.Work Legit? My Personal Opinion
---
Upshift is legit. They have been around for a while. They have a good user rating and are recognized by reputable companies.
Recently the Upshift company was featured in the news. They are now in partnership with Frisch's Restaurants.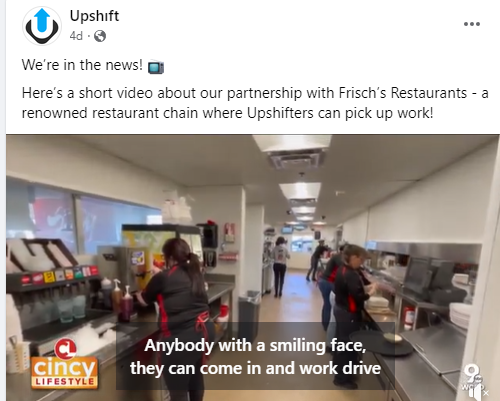 But the question is, 'Is Upshift the right job for you?'
At the end of the day, you are still going to be working a job. You still will be earning an active income. That means that once you stop working, you stop earning.
Furthermore, the possibility exists that you may not get consistent job offers. If that is the case, then you might not be able to reach your goal of wanting to make a certain amount of money at the end of the month.
If none of the above issues bother you, then perhaps Upshift is the right option for you.
If on the other hand, you are looking to earn a passive income and would like to start your own side hustle, then Upshift may not be suitable for you.
In this case, I would recommend joining an online business platform that will teach you high-income skills that will help build your own profitable online business. Take a look at my NR.1 recommendation by clicking on the link that follows.
Is Upshift Free To Join?
Yes, if you are looking for a part-time job, then registration is free. Though there are forms and assessments that you need to pass, in order to qualify for the job.
Upshift is NOT free if you are a company looking to hire staff.
How Do You Quit Upshift?
You can contact their community management team via e-mail informing them that you wish to cancel your Upshift membership.
The date you inform them will be the official resignation date. They will deactivate your Upshift mobile account by the end of the following pay period
How I Earn An Income Online
---
I transitioned from the health field to the online world.
I faced a major health challenge that affected my ability to do my day job as a pharmacist, and I had no choice but to find another way to bring in the money. You can read my story here.
It's thanks to affiliate marketing that I can earn a passive income online.
With affiliate marketing, you do not have to focus on recruiting people at all. There is no cold-calling or having "tea parties" or having to do any door-to-door selling.
It's a great business model for newbies. Even if you have no marketing or any technical experience with website building and so forth.
You have the freedom to build your business around a topic or niche that you enjoy talking about. And you are not restricted to marketing only ONE product or service.
It would my pleasure to show you more about how I made money with this business model since 2016. Let me show you how it can benefit YOU as well by clicking here.
Thanks so much for joining me on this Upshift review.
I hope that it has helped you out.
Looking forward to hearing from you.
Regards
Roopesh