Welcome to my User Interviews review. Would you like to get paid for your opinion? No recruiting, no forex, all you got to do is answer questions concerning products or services made by famous companies such as Amazon, and Pinterest, and get rewarded for your time and effort.
Why would companies pay you in the first place?
The answer is, that they rather have feedback from qualified testers such as yourself than lose millions once their product or service is released to the general public.
So, is User Interviews a scam? I signed up with them.
As we speak, I still am awaiting my first paying study. However, let me give you the complete lowdown of this business opportunity so that you know what to expect and whether or not it's for you.
And if you would like to know how I, a health professional earn an income online, feel free to learn about my NR.1 recommended business training university. It has helped me, and if you follow what they teach, they can help you as well.
Go ahead and click on the link that follows to learn about it:
FREE 5-DAY TRAINING (+FREE WEBSITE)
Build Your Online Business With This
FREE

5-Day Training!
How Do User Interviews Work?
---
Many companies are testing out new strategies to make their company both profitable and well-received by their customers or target market.
Sometimes putting something new out to the public can cost millions of dollars. Therefore to properly refine things, and to save money at the same, they rather have a smaller group of researchers to test their products or services.
And that's where you and I come into the picture.

The companies want our feedback. And they are willing to pay us for this information. User Interviews bridge the gap between companies and testers.
As a tester, you may have to test out a website, an app, or any prototype that the company is working on.
The more studies you can apply for, the more opportunities you have of getting paid.
According to the official User Interviews website, they have accommodated over 77,000 participants within the last year. They conduct 2000 studies every month.
You can have the opportunity to work with top brands such as :
Adobe
Spotify
Pinterest
Amazon
Recommended Reading: Is HoneyGain Legit? I Tested It…not so grand
How To Join User Interviews?
---
It's free to register with User Interviews. To get started, you need to click on the "sign-up" button when you land on the homepage of the official UserInterviews.com website.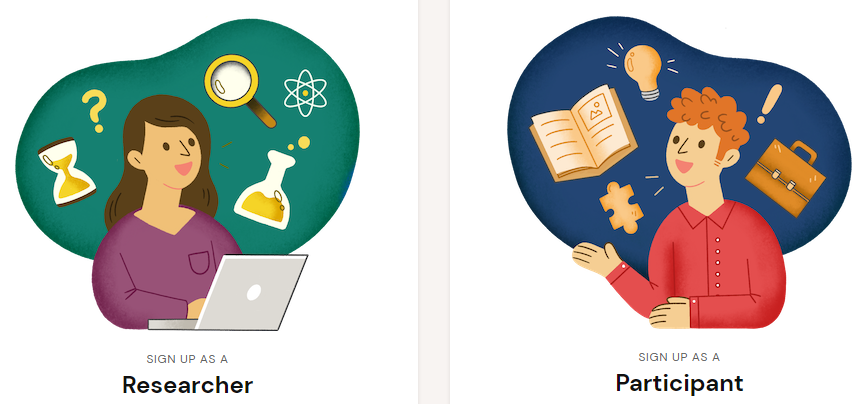 Then you get a choice of either signing up as a "Researcher" or as a "Participant." I chose the participant option.
Remember as a participant, you can apply for studies. And they will let you know whether or not you qualify.
To successfully register with User Interviews, you need to supply them with a valid e-mail address, and your best contact number.
Then you have to complete your profile. Apart from your basic details, they need to know more about your professional or work history. In other words, your employment status.
The last part of your profile is all technical stuff such as the type of computer you are using, the browser you use, and the type of operating system you are working with.
After all of that is done, it's simply a matter of waiting for them to send you studies.
How Much Money Can You Make As A User Interview Participant?
---
That depends on the type of study that you get and the frequency of studies that come along your way.
There are a number of different types of studies that you can do.
You can do :
Online tests and surveys (from 10 minutes up to several hours, you can get paid from $20 up to $300)
Online interviews (from 30 minutes to 2hours, you can get paid from $20 to $300 +)
Online diary studies (from 3 days to several weeks, you can get paid from $55 to $400+)
Online focus groups (from 1hour to 3hours, you can get paid from $40 to $200+)
All online studies (from 30 minutes to several days, you can get paid from $20 to $1500+)
At times, you cannot choose the type of study you want to do. It might be the only type that is available for you to earn some money.
Such is the case with a certain individual who wanted to do a study, but it required him to own a "smartwatch." Take a look at his query posted on the official User Interviews Facebook page.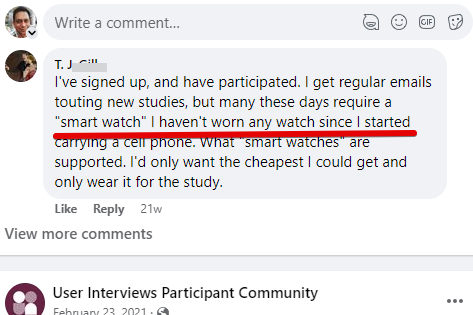 The person is trying to find a good-priced smartwatch so that he can resume his study.
Recommended Reading: Is Upshift.Work Legit? Work When You Want, Dream Job?
Are People Happy With Using User Interviews?
---
ANSWER: Yes and No
Yes, as there are a number of positive testimonials on the official website.
No, because at Trustpilot, many folks are not happy being a participant in User Interviews.
Many of the recent reviews were low ratings. Folks were calling User Interviews a scam. One participant applied to 20 studies and only got accepted for 2!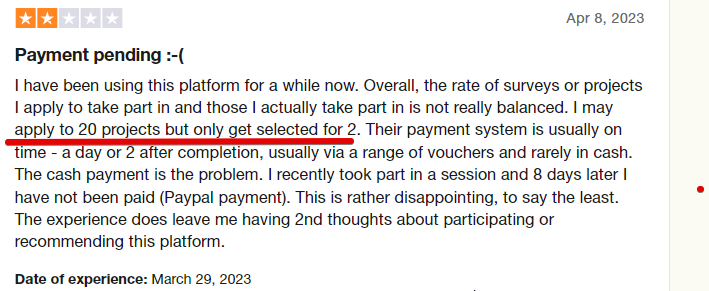 8 days later, he had still not received his Paypal payment.
Does this mean that User Interviews is a scam?
Let's take a look at the pros and cons before I reveal my verdict
Pros of User Interviews
---
(1) Registration is FREE
(2) The site is well organized
(3) They have been around for a while
(4) They have an active Facebook account
Cons of User Interviews
---
(1) No guarantee of jobs
(2) They ask for too much personal information
(3) Complaints on third-party review sites
(4) Not a passive income-earning opportunity
Is User Interviews a Scam? My Personal Opinion
---
Is User Interviews legit? I believe that they are legit. However, I would not recommend it as your primary source of income.
There are no guarantees that once you have completed a screening study, you will get the main paying study. Remember the story of that person that did 20 screeners, only to get two jobs?
The bottom line is that with User Interviews, you need to have patience and wait for them to contact you. When they need you, you can earn money.
Is User Interviews the right business opportunity for You?
If you are looking to earn a consistent income, then User Interviews is NOT for you. You might be able to make some money, but in my opinion not life-changing amounts. Not amounts that will allow you to quit your day job.
Furthermore, User Interviews are not a passive income-earning opportunity. You have to do work, in order to earn.
If you want your money to work for you, or if you want to build a passive income stream then you rather look at a better alternative.
How I Earn An Income Online
---
I transitioned from the health field to the online world.
I faced a major health challenge that affected my ability to do my day job as a pharmacist, and I had no choice but to find another way to bring in the money. You can read my story here.
It's thanks to affiliate marketing that I can earn a passive income online.
With affiliate marketing, you do not have to focus on recruiting people at all. There is no cold-calling or having "tea parties" or having to do any door-to-door selling.
It's a great business model for newbies. Even if you have no marketing or any technical experience with website building and so forth.
You have the freedom to build your business around a topic or niche that you enjoy talking about. And you are not restricted to marketing only ONE product or service.
It would my pleasure to show you more about how I made money with this business model since 2016. Let me show you how it can benefit YOU as well by clicking here.
Thanks so much for joining me on this User Interview review.
I hope that it has helped you out.
Looking forward to hearing from you.
Regards
Roopesh