Would you like to make money online? Your answer may be a resounding "Yes!" but you might NOT know where to start. Do you start a freelancing business, or do you jump into eCommerce? Or do you do Amazon FBA or Copywriting? Or maybe you want to learn more about dropshipping.
There are so many business models that you can do. Hustlers University which is now rebranded to the REAL WORLD, is a platform where you can be taught any or all of these business models.
Is Andrew Tate's Hustler's University legit, or is it a waste of your precious time and money?
In today's review, I am going to reveal more about this business opportunity. You going to read about the positives of this company as well as learn about any red flags that I expose along the way.
It is my hope that at the end of this review, you will be able to make an informed decision on whether or not you should join this business.
By the way, if you are curious to learn how I, a pharmacist, switched to making an income online, click on the link that follows. It would be my pleasure to help you get started using the same training platform that I started with, 6 years ago.
Is There A Legit Way To Make Money Online?
Yes, there is! I got proof it works!
What is Hustler's University 4.0 All About?
---
Hustler's University was recently created in 2021. It is now rebranded to the REAL WORLD. Why the rebrand? Stick with me, and I will share the reason with you in a moment.
During my research I learned that anyone who visits the official Hustler's University site is redirected to the REAL WORLD checkout page should one decide to make a purchase.
So what then is Andrew Tate's REAL WORLD all about?
Basically, it's an online community where members can learn various business models.
According to Andrew, the REAL WORLD has successful entrepreneurs who have mastered models such as freelancing, real estate investing, copywriting, Amazon FBA, and crypto-trading.
The so-called mentors are called "professors." They will be teaching you how to become a success in your chosen field.
These professors are hand-picked by Andrew and earn anywhere from 10k to 500k a month.
When you join the REAL WORLD, you have a number of resources as well as access to their online community to help you build a successful business.
Recommended Reading: Is Amazon FBA Hard, 5 Reasons Why It Is Not A Walk In The Park
Who is The Real Andrew Tate?
---
Is Andrew Tate an entrepreneur?
According to Wiki, Andrew is a social media personality, businessman, and professional kickboxer. He gained his first kickboxing championship back in 2009.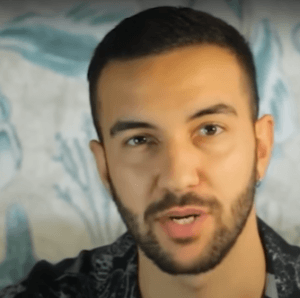 He also appeared on the Big Brother show in 2016 and was removed from it after making controversial social media comments.
Recently in December 2022, Andrew and his brother were arrested in Romania along with two women, all having been accused of human trafficking as well as forming an organized crime group.
Why Was Hustler's University Rebranded To THE REAL WORLD?
---
Andrew makes many references to the hit movie, 'The Matrix.'
He believes that we all are stuck in the world of 'modern slavery.'
He aptly labeled his program the REAL WORLD, as it offers its members an escape from this slavery and gives them the chance to live life on their own terms.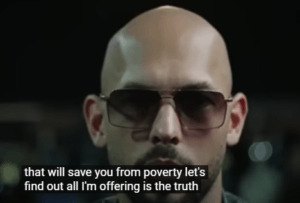 That's if you decide to take the red pill…
But that is not the real reason for the rebranding.
Apparently, Hustler's University was hosted "on a platform that was controlled by the bigger companies." At the end of August 2022, Andrew was accused of "toxic behavior."
These actions got him banned from all social media networks including the Discord stripe.
This is the very platform where members communicated with each other and the course materials are homed.
Hence, the switchover and the rebranding to the REAL WORLD. (But I am going to show why this is a red flag)
Pros of Hustler's University or The Real World
---
(1) They have an interactive community
(2) They teach skills which if implemented properly can earn one decent money.
(3) No contract or subscriptions- can cancel whenever you want
Cons of Hustler's University 4.0
---
(1) There is no free trial
(2) There are many different business models taught. This can make the experience an overwhelming one.
(3) No refund
(4) Tons of red flags
(5) Lots of hype marketing
(6) Course content is not presented in a very appealing or user-friendly manner.
(7) No affiliate marketing course included
Red Flags of The Real World or Hustlers University
---
Red Flag Number One: 'BRAND NEW' Ways of Making Money Online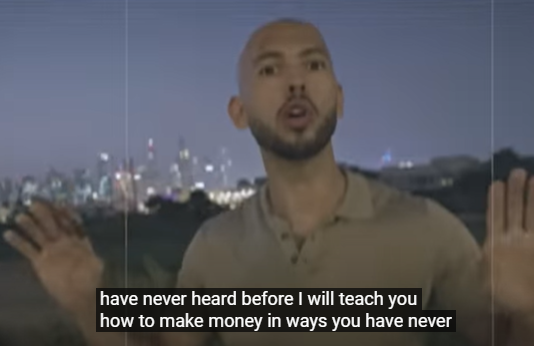 According to Andrew, his program will be teaching his students BRAND new ways of making money.
Ways that no one has ever heard of before.
As you can see in the image above, it's all business models that we have already heard of before.
Red Flag Number Two: Andrew Tate's History Is Not Positive
You can get a detailed breakdown of Andrew's past actions on Wiki.
The bottom line is that apart from Andrew's criminal investigations, his kickboxing record, and his views on women, Andrew does not show any proof that he is successful in any of the business models that his company teaches.
Red Flag Number Three: Discord is Still Around In THE REAL WORLD
Earlier on, I explained that the rebranding was due to problems with hosting Andrews's entire program on Discord.
However, it's revealed in a popular Youtube video that THE REAL WORLD is back operating on Discord.
In fact, one of the Youtubers asked how it is even possible.

Is Hustler's University Legit? My Personal Opinion
---
For what it's worth, Hustler's University or The Real World program is not a scam.
They are offering a service in exchange for your money. You can learn dropshipping, copywriting and freelancing, crypto, and Amazon Fba as a REAL WORLD member.
I also believe that the Real World success stories are genuine.
As I was doing my research, I learned that some users felt that the educational material used in the training module was rehashed or basic stuff that can be sourced for free by searching Google or YouTube.
With that being said, I would NOT recommend that you go all over the internet piecing stuff together.
It can take away a lot of your time, and you can end up learning outdated stuff. If you do not want to pay the $50, then I would rather recommend that you take a Udemy course or research other reputable courses.
My only gripe with this course, is that out of all the business models, they did not include any training on affiliate marketing.
Why? I am not so sure.
However, I do believe they should have.
The reason is that it's one of the easiest models to understand and it can help you with building a passive income-earning business. I will elaborate more on that below.
Recommended Reading: Why Affiliate Marketing is Booming In The 21st Century and Beyond!
But, let's answer the important question first…..is Andrew Tate's The Real World aka Hustlers's University the right course for you?
Answer: It depends on what you want to do, and how much you are willing to spend.
If you are tight on a budget and want to start with little or no money, then your best options would be to learn about copywriting or freelancing.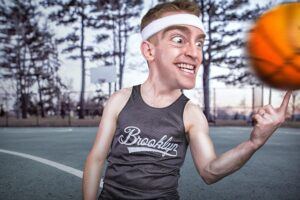 The other business models like Amazon FBA and Dropshipping, require huge capital investment.
Your success in these businesses is ultimately dependent on the volume that you turnover. The more volume you sell, the higher profits you make.
Then there is also the option of learning Crypto and stock trading. To be honest with you, I have not done any of these, I have tried doing paper claims and failed miserably.
I believe that they too require high capital investment.
So, which one do you see yourself doing?
If nothing quite grabs your attention, do not panic just yet.
Read the final section below to see how I as a pharmacist made an income online business using a simple yet powerful business technique.
How I Earn A Passive Income Online
---
I transitioned from the health field to the online world.
I faced a major health challenge that affected my ability to do my day job as a pharmacist, and I had no choice but to find another way to bring in the money. You can read my story here.
It's thanks to affiliate marketing that I can earn a passive income online.
With affiliate marketing, you do not have to focus on recruiting people at all. There is no cold-calling or having "tea parties" or having to do any door-to-door selling.
It's a great business model for newbies. Even if you have no marketing or any technical experience with website building and so forth.
You have the freedom to build your business around a topic or niche that you enjoy talking about. And you are not restricted to marketing only ONE product or service.
It would my pleasure to show you more about how I made money with this business model since 2016. Let me show you how it can benefit YOU as well by clicking here.
Thanks so much for joining me on this Hustler's University review.
I hope that it has helped you out.
Looking forward to hearing from you.
Regards
Roopesh