Are you tired of those never-ending debts? Are you tired of having to live from paycheck to paycheck? You want to escape the rat race, and you want financial freedom, right? You might be thinking of using the Money Pantry website.
Is Moneypantry.com a legit website, or can they help you to make 'DECENT'money online? I checked out this site. In this post, I will highlight the good and bad parts of this so-called 'money opportunity.'
They say that TIME is our most precious asset. I am going to save you time by helping you to decide whether or not you should take heed of the information on the moneypantry.com website.
In other words, I will be helping you to decide if this site is in line with the goals that you want to achieve. So stick with me right till the end of this Moneypantry review to find out.
And if you would like to know how I, a pharmacist earn an income online, feel free to learn more about the online business platform that helped me and can help you as well. Go ahead and click on the link that follows to learn more.
Is There A Legit Way To Make Money Online?
Yes, there is! I got proof it works!
What is MoneyPantry.com all About?
---
MoneyPantry is a website that is marketed toward helping people deal with their personal finances.
If you are someone who wants to learn how to make money online, moneypantry can offer you make-money-online opportunities.
They can also help you if you want to learn how to save your money. And if you are someone who is looking to score some freebies, or discounts whilst doing shopping, they have that option for you as well.
Recommended Reading: Amazon FBA, 5 Reasons Why It is Not a Walk In The Park
Who Owns MoneyPantry.com?
---
There is no REAL owner behind the MoneyPantry website. No owner transparency.
The official Moneypantry website started back in 2013. The creators do not have any qualifications in business or finance. Neither do they have a huge Twitter or FaceBook following.
Apparently, the website was featured in top publications such as Forbes, Yahoo Finance, and Entrepreneur.com.
The owner is an Iranian-American individual by nationality. The person came to America as a refugee in September 2002. Over 15-20 years, he or she has learned much about personal finance and achieved living a comfortable life.
The purpose of Moneypantry is therefore to help folks achieve ' the comfortable life' as well by offering information to earn, and save money.
Recommended Reading: Is Hustler's University 4.0 Legit?
How Does MoneyPantry.com Work?
---
MoneyPantry is basically a collection of blogs that cover review topics, how to "make money" articles, and posts that talk about helping you to save money.
In summary, the article covers:
Earn money,
Save money, and
Score bargain deals, or freebies

Earn Money Category
In this category, you will learn about apps that pay you for doing certain tasks. They talk about survey and website testing platforms that remunerate you for your efforts.
Save Money Category
Here you will learn about saving money whilst doing your grocery shopping. They show you how to turn cash from any unused fabric that you may have lying around at home.
You also can get free food just by using certain apps.
Bottom Line: There is a lot of information available on this website. Many articles that you can sift through.
Some of these opportunities may not be as good as you would imagine. For instance, they talk about a survey site called Surveyeah.
I researched it and came to the conclusion that it was not as promising as they made it out to be. Take a look at my video review, to learn more about Surveyeah.
Score Freebies Section
The last category talks about scoring some free stuff. To save you even more money, they mention ways whereby you get coupons deals, and discounts.
Once again, these opportunities are not for everyone, as it depends on where you are located, and whether or not the program or deal allow applicants from your country or geographical location.
Pros of MoneyPantry.com
---
(1) Free registration
(2) Lots of information, and advice
(3) No 'get-rich-quick' promises
Cons of MoneyPantry.com
---
(1) No owner transparency
(2) Opportunities do not offer the chance to build a passive income business
(3) No testimonials from guest bloggers
(4) No very active on social media. Their last post on FaceBook was in July 2022.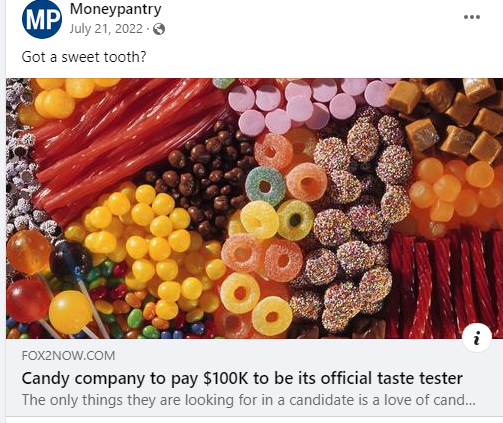 How Can You Make Money With Money Pantry
---
Previously, MoneyPantry.com had a guest post program going on. Anyone who sent in their written material would get paid. That is if it meets some of their conditions.
If your article is relevant, refreshing, and unique to earning and making money, they would pay you. They would pay from $30 to $150 per post.
They stopped accepting guest bloggers as of 17 Feb 2021.
That means that the only way you can make money is by going with one of their options as suggested in the various blogs.
Does this mean that MoneyPantry is a scam?
Is MoneyPantry.com Legit Or Is It a Scam? My Personal Opinion
---
I believe that it's a bit of both. I believe that some of the information on the website is helpful.
In my opinion, the survey sites and the 'get paid to website' offers are a waste of one's time.
Furthermore, if you are serious about making money online, they do not show you any REAL business teaching platforms that can help you accomplish this.
Let me give you an example.
Let's say that you would like to learn about a legit business model like affiliate marketing.
Affiliate marketing, in my opinion, is one of the best ways where you can not only earn GOOD money, but you can build a sustainable business. (I will talk more about this in the closing parts of this blog).
So, using Moneypantry, you would go to their search bar and type in "affiliate marketing."

Instead of learning more information about this business model, you will get a blog post that will simply link to you the best affiliate programs within specific niches.
In other words, it's information that is pretty much basic, or not helpful for someone wanting to learn how to start an ACTUAL affiliate marketing business.
Even at Trustpilot, Moneypantry scored a very low user rating with the following complaint.
Is MoneyPantry the right business opportunity for you?
---
That depends on what you are looking for. If you want to do simple tasks to earn a few dollars, then Moneypantry does have opportunities to suit your needs.
If on the other hand, you want to learn how to build a business that can help you build a passive income online, then I would not recommend looking at MoneyPantry.
How I Earn An Income Online
---
I transitioned from the health field to the online world.
I faced a major health challenge that affected my ability to do my day job as a pharmacist, and I had no choice but to find another way to bring in the money. You can read my story here.
It's thanks to affiliate marketing that I can earn a passive income online.
With affiliate marketing, you do not have to focus on recruiting people at all. There is no cold-calling or having "tea parties" or having to do any door-to-door selling.
It's a great business model for newbies. Even if you have no marketing or any technical experience with website building and so forth.
You have the freedom to build your business around a topic or niche that you enjoy talking about. And you are not restricted to marketing only ONE product or service.
It would my pleasure to show you more about how I made money with this business model since 2016. Let me show you how it can benefit YOU as well by clicking here.
Thanks so much for joining me on this MoneyPantry.com review.
I hope that it has helped you out.
Looking forward to hearing from you.
Regards
Roopesh