They say that affiliate marketing is a billion-dollar industry. They say that affiliate marketing will never die.
What makes affiliate marketing different from other models? More importantly, why is affiliate marketing booming in the 21st century and beyond?
In today's article, I will show you why affiliate marketing will continue to thrive. There are actually 3 MAIN reasons why. I will show you the benefits it offers to all the parties in the business model.
And at the end of the article, show you my recommendation to get started in this industry even if you are a complete newbie.
And if you want to skip the read, and check out how I, a pharmacist, made high-ticket commissions using affiliate marketing, simply click on the link that follows to get started.
FREE 5-DAY TRAINING (+FREE WEBSITE)
Build Your Online Business With This
FREE

5-Day Training!
Why Is Affiliate Marketing Booming In The 21st Century and Beyond?
---
Affiliate marketing is booming and will continue to boom as long as the internet is alive!
More shoppers are coming online. More businesses will offer affiliate programs. More opportunity for you, the affiliate marketer.
Almost everyone is on social media. Another big opportunity for influencers is to earn affiliate commissions by promoting company brands and products.
Another reason why affiliate marketing is a booming business model is that it's easy to learn. It does not have complex compensation plans that involve recruiting as would the case be with the multi-level marketing business model.
Let's take a look at these three reasons in more detail.
Recommended Reading: Do You Need To Be A Good Writer For Affiliate Marketing?
The Rise of The Internet Helps To Build Profitable Online Businesses
---
With the internet, many people are now turning to shop online. It's convenient, it's safer and it's simple.
According to Oberlo.com, more than 8.5 billion people are visiting Google every day.
Even if you have just 20% of them online shoppers, that is still a lot of people, right?
And if you think that people are shopping for just digital products, think again.
Many folks may say that most money can only be made from selling digital products online.
Not necessarily true.
As an affiliate marketer, digital products can offer you high commissions. The main reason why is that it cost very little to produce, but it sells for a higher price. So you can bag a really good commission.
However, people do not only shop for digital products.
Almost everything that you can think of people buy online.
From vitamins to luxury items such as watches and electronic devices, to expensive products such as cars and booking vacations. (notice you can earn big from these high-ticket products which are NOT digital products)
And for everything that I just mentioned above, there are affiliate programs.
This goes to show that as long as people are shopping online, affiliate programs will exist, and affiliate marketing will be booming. You can learn how to get into high-ticket affiliate marketing here.
Social Media Is a Game Changer For Affiliate Marketing
---
You might have seen celebrities endorse certain items on their Instagram account. They might be called ambassadors for a company. Such celebrities include the likes of Leo Messi, Christiano Ronaldo, and Selena Gomez.
Pretty much anything they mention in their posts, folks will flock to buy.
These days, ordinary folks can become social media influencers.
This is the other reason affiliate marketing will continue to rise, is because of the existence of social media.
Businesses go to where their audience hangs out, be it Instagram, TikTok, or FaceBook.
If you are social media influencer with a decent amount of followers, you can earn well promoting other people's brands or services.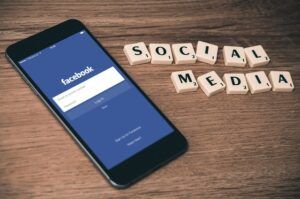 The good part about doing social media affiliate marketing is that it's free to start. You have to be consistent with posting content though.
The downside is that you do not know when your particular social media video will go viral. It all depends on the algorithms of that particular social media.
But once it takes off, you can place your affiliate link from a company(in the bio of your account) and start earning commissions.
Affiliate Marketing Is An Easy Business Model
---
The final reason that affiliate marketing will not be crushed anytime soon is that it's an easy business model to understand.
Not as complicated as other business models like an MLM type of business with complex compensation plans that involve recruiting.
Just to recap, with affiliate marketing, you are the middle man or middle lady. You will be promoting other companies products or services.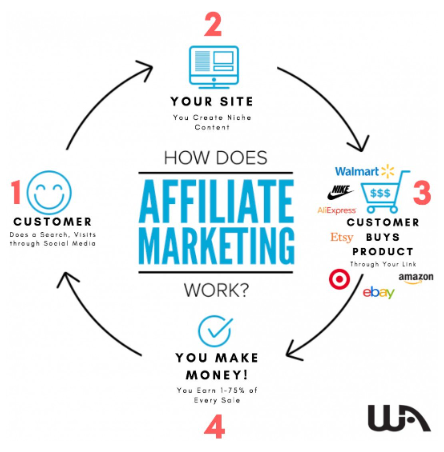 Once a transaction is finalized between the buyer and the seller, you make a commission on the sale.
The other benefit of an affiliate marketing business is that it's not expensive to get started. It offers flexibility so that you can do it in your free time.
It does not involve recruiting. You can choose from thousands of niches(or target audience markets).
The other benefit is that you can reach a worldwide audience– basically, anyone in the world in the world who has an internet connection and is within your niche can buy from you.
You can choose to do low-ticket or high-ticket affiliate marketing.
I think that one of the best parts of owning an online affiliate marketing business is that your business can earn for you around the clock. In other words, it's a great source of passive income.
And finally, there are lots of affiliate marketing training programs out there.
My best recommendations are :
Companies Welcome Affiliate Marketers
---
Companies have affiliate programs for a reason- they get marketers to promote their brand WITHOUT having to pay them.
It's only when a sale is realized that, companies will have to split the commission with the marketer.
Companies can offer prizes and incentives to marketers to sell their brands. They get more brand recognition from the efforts of marketers.
Some companies have felt it is too costly to have traditional brick-and-mortar stores. An example would be the famous Toys R Us stores.
It makes business sense to come to the online world and offer an affiliate program. Amazon, Walmart, AirBnb, and many other major brands have affiliate programs.
Conclusion – It's Not The End for Affiliate Marketing
---
It's a great time to get into the affiliate marketing business.
These days jobs are hard to come by. According to Newshub.co.za, New Zealand is entering a recession. Times may be tough for many people around the globe, but there are still opportunities to make money.
I am not saying that affiliate marketing is the only way to making REAL money. But I showed you why it's a market that is both lucrative and accessible for ANYONE to tap into.
You now know why affiliate marketing is booming in the 21st century and beyond.
The only question is, "are you ready to be a part of it or not?"
I hope that this article has helped you out.
If you have any questions or comments, please leave them below.
Would you start an online affiliate marketing business? If yes, what is your biggest fear, obstacle, or concern to getting started?
Looking forward to hearing from you.
Regards and Take Care
FREE 5-DAY TRAINING (+FREE WEBSITE)
Build Your Online Business With This
FREE

5-Day Training!