Welcome to my review of Virtual Vocations. Virtual Vocations is a platform to help people unlock remote job opportunities.
If you've ever dreamed of working from the comfort of your own home or do not like the traditional work environment, then you've likely come across Virtual Vocations in your quest for remote work. But before you dive in headfirst, you might wonder, Is Virtual Vocations a scam or a legitimate pathway to landing that dream remote job?
I am going to show you everything that you need to know about Virtual Vocations, to make an informed decision.
But that's not all. What does it really mean to work a remote job? Is it really for you? What are the alternatives to Virtual Vocations?
We are going to be answering the above questions as well. So let's get started right away!
FREE 5-DAY TRAINING (+FREE WEBSITE)
Build Your Online Business With This
FREE

5-Day Training!
What is Virtual Vocations?
---
Virtual Vocations is an online job board that connects the 'job-seeker' with REAL remote jobs.
The company offers a service to list for the employee the current and legit telecommuting jobs that one can do from the comfort of their home.
According to the official Virtual Vocations website, the company has trained researchers who visit "thousands of industry and specialty job boards, social media streams, remote-friendly employer websites, blogs, and direct employer listings to find the newest and best job leads available."

At the time of writing this post, the company had secured relationships with 3671 employer partners and helped job seekers with 14106 jobs so far.
How To Join Virtual Vocations?
---
To sign-up, you need to supply them with your name, surname, and best e-mail address.
You can also use your Facebook account to sign-up.
Once you have successfully registered, you can then go ahead and create a job alert.
How to create a job alert with Virtual Vocations?

You can choose how frequently you would like the company to alert you of any remote job openings.
You can set the alert to:
Daily alerts,
Weekly alerts,
Specific day alerts, or
No alerts at all.
The next step is to either choose a "keyword" of a job that you are interested in doing, or you can "select a specific category."

Unfortunately, because of the fact that I chose their free membership, I had access to LIMITED job opportunities.
In other words, I need to upgrade to increase my chances of getting more remote job placements.
Let's take a look at what their membership fees are.
How Much Does It Cost To Join The Virtual Vocations Website?
---
There are three membership options that you can choose from.
They are as follows:
Monthly – $19.99 per month

3 Months Membership – $49.99

6 Months Membership – $69.99
What are the benefits of purchasing a Virtual Vocations membership package?
According to the Virtual Vocations website, as a premium member, you would have access to a database of 14 000 jobs from top employers.
In addition, you get regular coaching sessions with their career support team, and you get priority access to the Employer Partner job email. You also get full access to their Remote Career Center with courses, career guides, and worksheets.
Why

Do You Have to Pay Virtual Vocations

For A Job That You Looking For?
---
According to the founders, Virtual Vocations charge job-seekers for "peace of mind" when looking for a job.
They eliminate the stress that you would go through of doing the job search all by yourself. They will provide "a safe, fast, and easy way to find, track, and apply to new remote job leads."
You will be shielded from scams, low-paying jobs, or otherwise pricey business opportunities.
Unfortunately, they also will not show you the legit business training platforms that can help you become an online ontrepreneur and earn a passive income online like my number one recommendation.
Does Virtual Vocations Offer a Money Back Guarantee?
---
Yes, they offer a refund within the first 30 days of sign-up as a subscriber. However, if you allow their team to do a resume assessment, then you do not qualify for the refund.
Pros of Virtual Vocations
---
(1) They post regularly news on their social media account/blog.
(2) They have been around in the business for a long time
Cons of Virtual Vocations
---
(1) Not many testimonials
(2) Have to pay to find a job.
(3) They will not help you find a passive-income earning opportunity
(4)Not a global opportunity
Are People Happy With Using Virtual Vocations?
---
The official Virtual Vocations has a number of positive testimonials. I believe that these reviews are genuine.
On Sitejabber, there were three reviews posted. 2 of them were 1-star rated and 1 was a 5-star rated review.
The negative complaints revolved around issues where customers could not get their accounts canceled.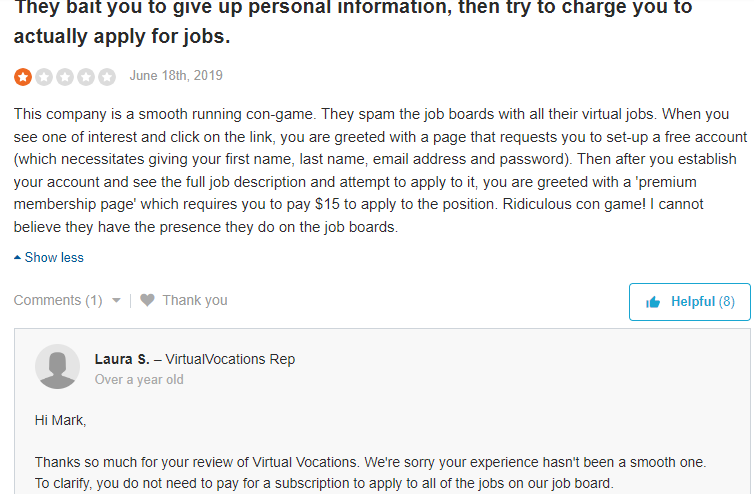 The other complaint was from a customer who claimed that he had to pay more to learn more about a job listing that was initially listed for free.
This misunderstanding was cleared up by someone from the Virtual Vocations support team. You can still find a remote job for FREE on Virtual Vocations without having to take out a membership package.
Recommended Reading: The Best Work-at-Home Jobs for Disabled People
Is Virtual Vocations a Scam? My Personal Opinion
---
I do not think Virtual Vocations is a scam.
It is a legit site that has been around for long. From my research, I learned that Virtual Vocations is a family-based company. If that is true I think that they could offer a bit more transparency and let their "job-seekers" get to know them a bit more.
Nevertheless, the company does have an A+ RATING with the BBB.
They scored 4.9 out of 5 stars.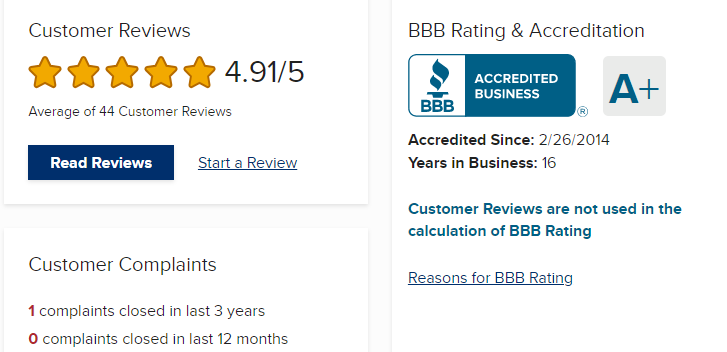 I think people are not happy with the fact that they have to pay for a job search. Should a job search be free?
Maybe or maybe not.
What I do know is that there are tons of scams online. Trust me I have researched more than 400 make-money online opportunities. My site PassiveIncomeForAll.com and this one is where all my reviews are written.
Virtual Vocations are offering a service where you get REAL remote job vacancies that are scattered all over the internet in one convenient place. You do not have to worry if a job is a scam.
It saves you the time of doing the heavy lifting from going from site to site.
You are not obliged to pay for these searches and can choose to spend your precious time looking for that remote work.
At the end of the day, the choice is up to you.
Is Virtual Vocations The Right Job-Seeking Platform For You?
---
Whilst Virtual Vocations is a legit site, it still is by no means suitable for everyone.
The platform is designed to mainly help folks within the United States find remote jobs. Though they do welcome international members, the chances of one getting a job from outside of the US are slim.
So, Virtual Vocations will probably work for you if you are a United States citizen.
Virtual vocations do have an extensive portfolio of company profiles, around 19 000 of them. And they cover job placements in over 40 different categories.
As paying subscribers, they are not going to waste your time showing you low-paying money online opportunities such as surveys jobs like Ipsos Isay or GPT sites like TesterUp.
But at the end of the day, if it's a "job" that you are after, then it's a "job" that you will get.
The point is that if you are looking for a way to achieve financial freedom or earn a passive income, then Virtual Vocations will NOT be able to help you.
Bottom Line: Virtual Vocations is not for you if you are not a US citizen. It's also not for you if you want to become an online entrepreneur or have intentions of starting your own business.
Are There Alternatives To Virtual Vocations?
---
That depends on you and the sort of work that you would enjoy doing.
You can check out freelance platforms such as Upwork, Freelancer, and Fiverr. They can connect you with clients seeking various services, including writing, graphic design, web development, and much more.
You get to set your own rates and choose the hours you want to work. If you score good ratings on these platforms, then you can land frequent gigs that can help you build a full-time income.
You have other remote job board sites that are very similar to Virtual Vocations. These include the likes of FlexJobs, Remote. co and We Work Remotely.
You can go directly to the company you are interested in working for. Most companies nowadays have social media presence or websites. You can follow their feeds to see if they might have remote job openings.
In addition to checking out remote job platforms and freelance opportunities, another alternative worth considering is venturing into the world of online entrepreneurship.
Building an online business and using affiliate marketing as a business model, allows you the freedom to build a sustainable income stream based on your passions and interests.
By leveraging the power of an online training platform such as Wealthy Affiliate, you can learn the skills needed to create and grow your own successful online business.
You can generate an income from promoting products and services you genuinely believe in, without the constraints of traditional employment.
How I Earn An Income Online
---
I transitioned from the health field to the online world.
I faced a major health challenge that affected my ability to do my day job as a pharmacist, and I had no choice but to find another way to bring in the money. You can read my story here.
It's thanks to affiliate marketing that I can earn a passive income online.
With affiliate marketing, you do not have to focus on recruiting people at all. There is no cold-calling or having "tea parties" or having to do any door-to-door selling.
It's a great business model for newbies. Even if you have no marketing or any technical experience with website building and so forth.
You have the freedom to build your business around a topic or niche that you enjoy talking about. And you are not restricted to marketing only ONE product or service.
It would my pleasure to show you more about how I made money with this business model since 2016. Let me show you how it can benefit YOU as well by clicking here.
Thanks so much for joining me on this Virtual Vocations Review.
I hope that it has helped you out.
Looking forward to hearing from you.
Regards
Roopesh