Welcome to my Superprof review. If you've been dreaming of spreading your love for a subject that you enjoy teaching while also making some decent money, you've probably stumbled upon Superprof, the buzzing online teaching marketplace.
But hold up – is it really as awesome as it sounds? Can you actually rake in the cash doing what you love most? Well, that's precisely what we're here to uncover in this no-nonsense review.
Did you know that the first-ever online tutoring session took place in 1994, marking the beginning of a revolution in remote education?
Fast forward to today, and online tutoring has become a global phenomenon, connecting students and tutors across borders and time zones.
With the rise of virtual whiteboards, screen-sharing, and interactive tools, online tutoring has transformed into an immersive and engaging experience, making learning even more enjoyable.
So can you take advantage of this opportunity, and can Superprof help you out, or is Superprof a scam? Let me show you what it's all about so that you can make an informed decision on what to do.
FREE 5-DAY TRAINING (+FREE WEBSITE)
Build Your Online Business With This
FREE

5-Day Training!
What Is Superprof All About?
---
Superprof is a platform that connects tutors with students. If you are a student who is looking to learn about a particular subject, then you can connect with a tutor from Superprof.
If you are a tutor, then you make put your passions to work, and earn money whilst teaching it to people.
According to the official Superprof website, the company is a global concern that is present in 39 countries and translated into 18 languages.
The company was first launched in August 2013 in Biarritz. Over the years, it expanded its reach to first Europe and then the Rest of the world. In 2019, the company reached its 10 million tutor mark.
Last year in 2022, they had 22 million tutors and this year it marks the company's 10th anniversary.
Recommended Reading: Is MoneyPantry Legit or a Waste of Your Time?
Who Are The Owners Of Superprof?
---
Wilfred Granier is the co-founder of Superprof along with Yann. There is a YouTube video of Wilfred talking about the company.

At the time, they had 70 people in their workforce working from their knowledge-sharing embassy in Paris.
The main idea of Supeprof is to act as a big search engine for students to find the perfect teacher from millions of teacher profiles.
How Does Superprof Work?
---
Once you sign-up as a Superprof teacher, you can choose which subjects you would like to teach. The most popular subjects that they had were :
Mathematics
Spanish
Piano
Violin
French
Academic English
Acting
Guitar
You are not limited to these subjects. They have over 1000 subjects that you can choose to teach.

I chose Biology. It was my favorite subject in school. This would be a great place to see if I can still remember my work and help some people out.
It's interesting to note, that in addition to Biology, you can link associated skills to your profile. In my case, it was Anatomy, Cell Biology, and Genetics.
The next step is to create an ad on the site.

It is fairly easier to create an ad. You need to supply a minimum of 12 words describing your skills and talk a bit about your background.
Then you need to tell your students where your field of expertise lies, and why they should hire you as a tutor compared to anybody else.
The last section is where you reassure the students about your professionalism, inspire confidence and establish yourself as a legitimate teacher.
You can choose whether you would do the tutoring job from home, or you would like to travel or do online tutoring.
You can set your rate per hour. In my case, the hourly rate for teaching Biology in New York is $10.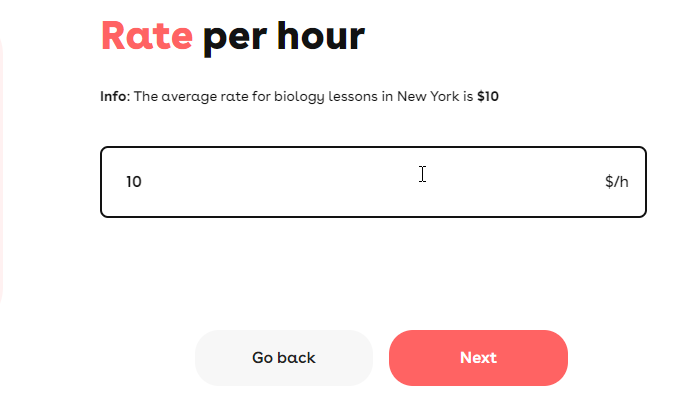 How Much Do You Have To Pay Superprof to Register as a Teacher?
---
There are two ways that Superprof makes money from you, as a freelance tutor.
(1) The first is by paying a 10% Superprof commission or processing fee on any jobs done through the platform. (However, in some countries this fee is waived. You can also bypass this fee by making an arrangement of teaching your students outside the confines of the Superprof platform)
(2) You can join their Premium club which cost $9 a month. With this option, you waive the option of having to pay the 10% fee. The other benefit is that you can increase the visibility of students on your profile.
Can Anyone Register On Superprof? The Superprof Requirements
---
You need to be over the age of 18 years to participate on the platform. You must have valid proof of identity and the necessary tools and equipment to teach your students either online or in person.
If you have a qualification, it can be more advantageous to your profile, and help you to secure more teaching jobs.
How Can You Get More Jobs on Superprof?
---
That depends on a number of factors. It depends on the initial subject you decide to teach. If you choose a very popular subject, then it's likely that you are going to get some tough competition.
Your experience and qualifications can play a great deal in boosting your ad outreach and getting more students to see your profile.
Some of the other things that you can do to get more teaching jobs on Superprof are:
Starting at low fees, getting more reviews, building a good portfolio, and then raising your fees later on, or
Offering a discount or the first lesson for free
Become a premium club member
SuperProf Reviews – Are People Happy With Using Superprof?
---
According to the 3rd party review site Glassdoor, Superprof scored a 4.2 out of 5-star rating. The site had 284 reviews on record and 89% of people would actually recommend Superprof to their friends or family.
Here is the overall summary of the pros and cons listed at Glassdoor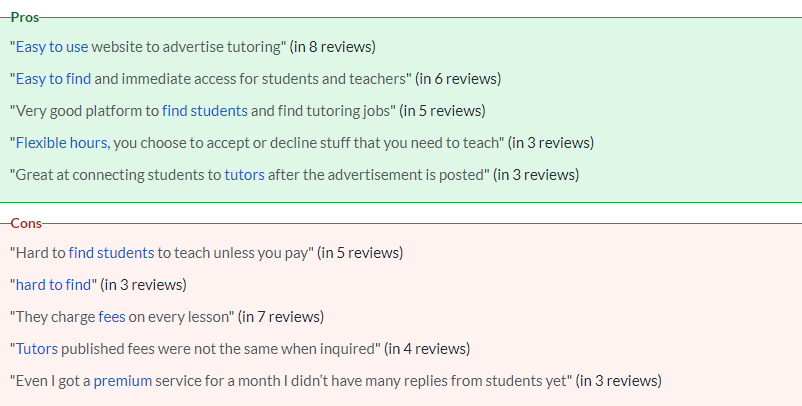 Pros of Superprof
---
(1) They have owner transparency
(2) They regularly post content on their social media profile as well as on their blog
(3) They have a long-standing in the market
(4) As a teacher, you can arrange with the student to teach outside of the Superprof platform bypassing having to pay their commission fees.
(5) They have quick payment processing methods
Cons of Superprof
---
(1) Tough competition – no guarantee of teaching jobs
(2) If you teach a popular topic,-low earning potential
(3) You have to pay a 10% commission on tutor jobs
Is Superprof a Scam? My Personal Opinion
---
Is Superprof legit?
Yes, Superprof is a legitimate teacher marketplace. They have a long-standing in the market and offer a variety of subjects that students can learn and tutors can teach.
Your success on Superprof is not guaranteed. It really depends on the subject that you choose, your profile, your level of experience, and whether or not the topic is in demand. If it's a popular topic, then you might face stiff competition.
If you are within a niche that not many people are in, and there is a demand, then you can pretty much set your fees and earn decent money.
I believe that it definitely worth giving a shot, but it should not be one to be completely dependent on.
What Are The Alternatives To Tutoring That I Can Do?
---
Great question, it's always a good idea to have alternatives.
So, here are some alternate ways you can make money using your skills as a teacher.
You can :
(1) Do Content Creation: You can start a blog, a YouTube channel, or social media accounts dedicated to your subject of interest.
Share informative and engaging content, educational videos, and insightful articles.
You can monetize through ads, sponsorships, and affiliate marketing by recommending relevant biology books, equipment, or online courses.
(2) Do An Online Course: Take your expertise and create an online course. You can register your course on platforms such as Udemy, or Teachable.
(3) Affiliate Marketing: I mentioned it earlier. It a be a great way to merge your love for the subject with online income.
You get to partner with companies that offer products or resources related to your subject. You can promote them through your blog, social media, or content. You earn a commission on each sale made through your referral links.
My number one recommended online business platform will help you get started with affiliate marketing with a free starter membership here.
How I Earn An Income Online
---
I transitioned from the health field to the online world.
I faced a major health challenge that affected my ability to do my day job as a pharmacist, and I had no choice but to find another way to bring in the money. You can read my story here.
It's thanks to affiliate marketing that I can earn a passive income online.
With affiliate marketing, you do not have to focus on recruiting people at all. There is no cold-calling or having "tea parties" or having to do any door-to-door selling.
It's a great business model for newbies. Even if you have no marketing or any technical experience with website building and so forth.
You have the freedom to build your business around a topic or niche that you enjoy talking about. And you are not restricted to marketing only ONE product or service.
It would be my pleasure to show you more about how I made money with this business model since 2016. Let me show you how it can benefit YOU as well by clicking here.
Thanks so much for joining me on this Superprof Review.
I hope that it has helped you out.
Looking forward to hearing from you.
Regards
Roopesh