Welcome to my Write App Reviews review. Is Write App Reviews a scam? Would you like to make money from testing apps? It sounds pretty easy, right? All you have to do is use an app. Then write an article telling your experience and then you get paid!
That is what the Write App Reviews business opportunity is marketed as. Is there a catch? Can it really be that simple to make money online?
I bought this Clickbank product. Let me show you how Write App Reviews really works so that you can make an informed decision.
And feel free to check out my NR.1 Recommendation for making money online. Simply click on the link that follows to learn more.
Is There A Legit Way To Make Money Online?
Yes, there is! I got proof it works!
What is Write App Reviews?
---
Write App Reviews is marketed as a make-money-online opportunity where you can get paid for simply testing applications and writing reviews on them.
They make the entire process sound really simple. It's a 3-step process to make money with them.


All you have to do is step one- choose an app to test. Then step two is to write your opinion after testing the app. And the final step is to make money from your reviews.
Can you make money from writing reviews? Yes, you can. However, there is a right way of doing it and a wrong way as well.
Which way are Write App Reviews going to be teaching you?
I am going to show you that it might not be as easy as they say. I bought the program and tested it out and will show you what is going on.
Also bear in mind that one of the best selling points of any legit business opportunities is the member testimonials and I will reveal that this too is not up to scratch.
Is Write App Reviews Legit?
---
Is Write App Reviews a scam? A scam is basically a program that lures you by promising unrealistic amounts of money in a short space of time from doing little or no effort.
Once you sign-up, you realize that it's all just empty promises. It's hard or impossible to get your money back. That is how scams work.
And if you wondering whether Write App Reviews is one such scam, or if it is legit, the good news is that it is legit.
However, there are some red flags that you need to be made aware of before you go ahead and sign-up.
Let me first show you that I indeed purchased the Write App Reviews program.
How Much Does It Cost To Join Write App Reviews?
---
Write App Reviews usually sells for $97. At moment, it retails for $27.However, they offer a $10 discount and you can purchase the product for $17.
Below is a screenshot of my official receipt from Clickbank.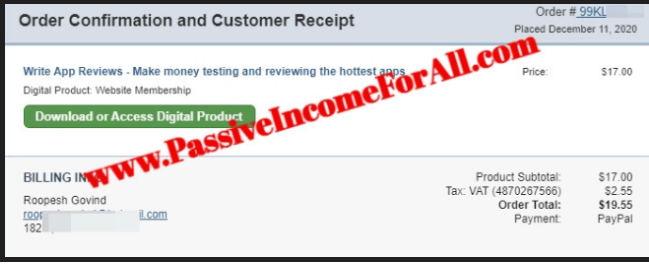 You might be wondering why it's watermarked with the domain PassiveIncomeForAll.com. That is my site as well. I have written over 400 make-money online reviews there. So, feel free to check it out if you like.
Can you get a refund if you are not happy with Write App reviews? Yes, they offer a 60-day money-back guarantee.
The Write App Reviews Sales Page Is Misleading
---
The official Write App Reviews website claims that you can get access to their system. All you have to do is simply provide them with your name and a valid e-mail address and you are good to go.

It's misleading.
Once you register with them it leads you to another sales page whereby they market you more about the Write App Reviews business opportunity.
It's filled with emotional triggers. They make you feel like you are part of the FOMO(fear out of missing out) club. That you are losing lots of money as billions of apps are been downloaded and you are missing out on the opportunity to test them and get paid for doing so.
They do have a frequently asked section that covers what the program is all about. However, it's vague and not convincing enough.
They state that you can make a certain amount of money(up to $35) from testing apps. However, there is no concrete evidence to prove this, so you simply have to take their word for it.
The page is misleading because you are not getting "instant access" to their program. You are not going to see how it works either. They also claim that you will be getting a website of your own.
I will show you the limitations of using their website and how difficult it will be to make money using their business model.
The bottom line is that you have to pay to gain access to their membership area. So, let me go ahead now and show you what it looks like in the member's area.
The Write App Reviews Membership Area
---
Before you get to access their main membership area, you are greeted with some one-time upsells.

One of them is called the Express Pass VIP area. That will set you back another $97 should you decide to go for it.
I did not purchase this upsell or any of the others that came my way. With this upgrade, they claim to give you access to the exclusive and hottest apps to review that are not given to the standard members.
In an attempt to get you to buy, they will down-sell you, which did not grab my attention either. I was eager to see what the main product looks like.
And it's disappointing, to say the least.
They provide you with a WordPress website with limited functionality. You get a list of apps on their database. You have to download these apps and test them. And the final step is to come to your WordPress site, write your review, and hope that it ranks well on Google and other search engines.
And I am going to show you in the next section exactly why you cannot make lots of money with the product.
How Do Write App Reviews Work?
---
Let's quickly recap how you are supposed to make money with Write App Reviews. The three steps that they are teaching you are as follows :
Choose an app you want to review
Use the app, and then write a review about it on your website
Write App Reviews monetizes your website traffic to make YOU more money
Let me first show you how Write App Reviews plans to monetize your website and claim to help you make more money.
After you have written your review on your website, the first way that you can make money is via banner ads.
The ads are strategically placed on your website as shown in the screenshot below.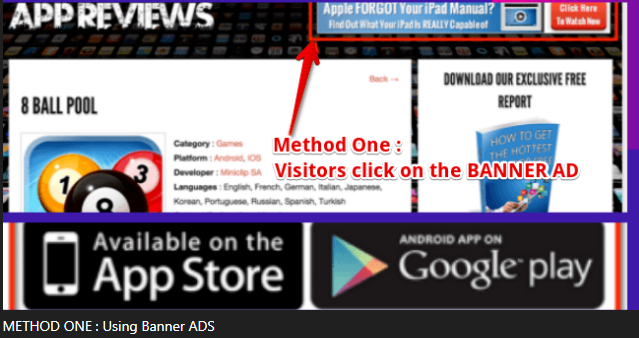 Should a visitor click on the ad, it will take them to a Clickbank or Jvzoo product. And if someone buys that product, you get paid a commission.
The second way is by virtue of your visitor downloading a paid app from the Google Play store or from the iPhone store.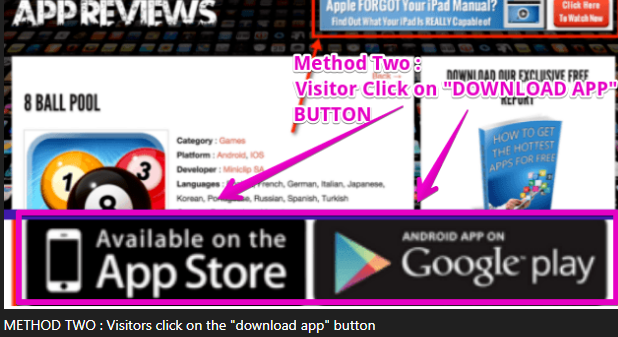 You get a commission if anyone purchases an app that you are affiliated with.
The third way is via e-mail marketing. Basically, you would have an offer placed within your review article. In exchange for the offer, or free gift, your visitor would need to give you their e-mail address.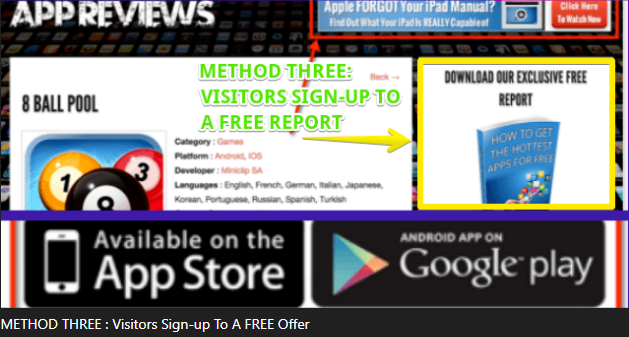 Then their names are stored in the Write App Reviews database. They would follow up with a regular e-mail sequence. And via this e-mail series, put forward a product or service and hope that your customer will buy. Should they buy, you will get a cut of the commission.
That in a nutshell is how you make money with Write App Reviews.
The Positives About Write App Reviews
There are two business concepts they are introducing to you that are legit. These are affiliate marketing and e-mail marketing.
Affiliate marketing is a business model where you earn a sale from promoting other people's products. In this case, send your visitors from the Write App Reviews to either the App Store or to a marketplace like Clickbank to earn money.
The second business model is e-mail marketing. One of the best marketing strategies that work to this day is e-mail marketing.
I am sure that you get at least one e-mail daily just to entice you to buy something, right?
Whilst these two concepts are good to learn, it still does not make the job easier to make money with the Write App Review platform.
Let me tell you why.
Reason One Why It's Hard To Make Money: Limited Freedom To Choosing Affiliate Products
As an affiliate marketer, your job is to help people.
If you want people to buy from you, then your review needs to be helpful and honest. You stand a better chance of gaining people's trust and earning a commission.
With Write App Reviews, you are limited to promoting Clickbank or Jvzoo products. There are better places where you can find much better products.
If you resort to promoting medicore products that people will not find useful, they will stop buying from you.
Your reputation is on the line. You are not given the freedom to promote your own products.
Reason Two Why It's Hard To Make Money: No Focus on Traffic
They give you a website. You have your reviews written. And your ads are all up and running.
How are you going to get visitors to your website in the first place?
They are not teaching you how to get traffic to your website.
They should at least focus on teaching you how to rank your review articles among Google and other search engines.
This is called SEO or search engine optimization. SEO is techniques such as keyword research to optimize your articles to be ranked on search engines.
Think of it this way.
There are thousands of other people writing app reviews. How do you stand out? How do you get into the top spots of Google? Through SEO.
Let's say you do not like the idea of SEO. They are not teaching other traffic methods too. Such as using social media channels, or YouTube.
Can you see why it's so hard to make money with Write App reviews?
Bottom Line: With Write App reviews, you are given a website that you cannot customize and brand to your preference. You are limited to choosing your own product to promote. You are not taught how to get traffic to your business.
The Red Flags of Write App Reviews
---
Red Flag Nr.1: You Do Not Own Your E-mail List
Ever heard the term, "money is on the list?" It means that if you got a list of e-mail subscribers, you are more likely to make a consistent income.
The people on the list gave you their e-mail because they trust you, and most likely will buy whatever you recommend.
Unfortunately, the list that you will be building using Write App Reviews is not YOURS! They control your site, and they will market to your list.
You have no control over what you can market to your "tribe."
Red Flag Nr.2: No REAL Owner Information
There is no owner transparency. There is no one to stand responsible for this particular product.
The official domain was registered on the 25Th Feb 2020. There are no details about the founders.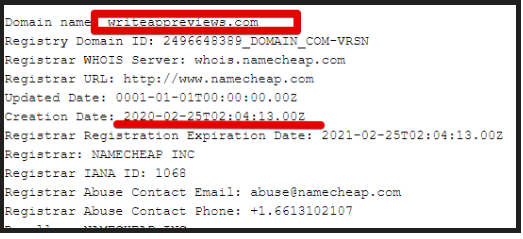 Red Flag Nr.3: No Testimonials or Success Stories
I touched on this topic earlier. The official site does not have any member testimonials. Whilst they claim one can earn anything from $25 to $35 per app review, there is NO PROOF that people have made money using this platform.
Pros of Write App Reviews
---
It's a Clickbank product (you can always request a refund)
They introduce a lucrative business model -affiliate marketing (it's a billion-dollar industry, and it works. Learn how to get started here)
Cons of Write App Reviews
---
No real owner
No testimonials
No support forum or community help
Lots of upsells
No traffic method training
Unable to customize one's website
Is Write App Reviews A Scam? My Personal Opinion
---
In my opinion, Write App Reviews is not a scam. Having said that it's not one of the best make-money-online programs either. And it certainly is not for someone who wants to make serious money online.
On paper, they have a great concept to help you to make money online. However, when it comes to executing the plan into action, it is missing a number of crucial pieces.
They give you a site, with limited customizable features. You cannot brand it with your personality and add videos, or write review articles like with a fully-fledged WordPress site.
You cannot promote any product you like. You are not taught any traffic methods that will help to stand out amongst the competition.
There is no proof of anyone who has indeed made money using the techniques taught at Write App Reviews.
At least you can still get your money back since it's a Clickbank product. The question is, do you really want to spend your precious time going through it, when you have a pretty good idea of what's it all about?
How I Earn a Passive Income Online
---
I transitioned from the health field to the online world. I face a major health challenge that affected my ability to do my day job as a pharmacist, and I had no choice but to find another way to bring in the money. You can read my story here.
It's thanks to affiliate marketing that I can earn a passive income online.
With affiliate marketing, you do not have to focus on recruiting people at all. There is no cold-calling or having "tea-parties" or having to do any door-to-door selling.
It's a great business model for newbies. Even if you have no marketing or any technical experience with website building and so forth.
You have the freedom to build your business around a topic or niche that you enjoy talking about. And you are not restricted to marketing only ONE product or service.
It would my pleasure to show you more about how I made money with this business model since 2016. Let me show you how it can benefit YOU as well by clicking here.
Thanks so much for joining me on this Write App Reviews review.
I hope that it has helped you out.
Looking forward to hearing from you.
Regards
Roopesh