Welcome to my Neora MLM review. Neora is the rebranded name of Nerium International. Why the name change? Is Neora a scam or is it a legit business opportunity?
These days, you are spoilt for choice. There are tons of business opportunities out there. It can be overwhelming when you have to make a decision. Do you go with affiliate marketing, multi-level marketing, or eCommerce?
Neora falls within the multi-level marketing category.
You landed on this page because you are not sure if this company is legit. But I am guessing that you also might want to know if this is the right business model for you.
And it's my pleasure to help you address your concerns and make it easier for you to make an informed decision.
Before we jump into the review, feel free to check out my NR.1 recommendation for making money online. Click on the link that follows to learn more:
FREE 5-DAY TRAINING (+FREE WEBSITE)
Build Your Online Business With This
FREE

5-Day Training!
What Is Neora?
---
Neora is a direct sales company that came into operation in 2011. They specialize in selling skincare, hair care, and wellness products.
The products are exclusive to the company and cannot be bought from regular retail stores. The company relies heavily on its distributors or affiliates to promote the brand and its product line.
And if you are thinking of building a global business with Neora, it might not be possible as they only operate within certain territories.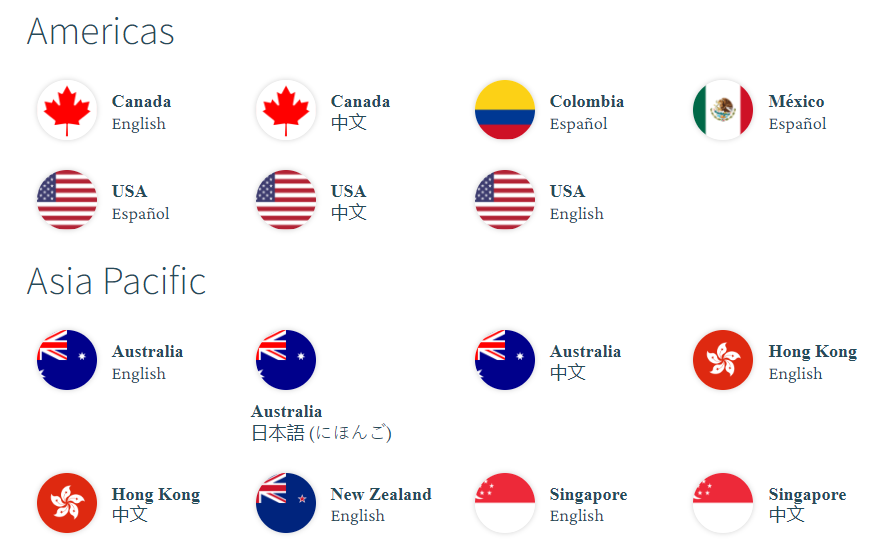 The Neora Products – What is It All About?
---
The Neora products expand over 5 categories:
Skincare
Hair Care
Wellness
Weight Management

Are Neora products expensive? Usually, products from MLM companies are higher priced compared to similar products that one can buy from local stores.
In addition, there are tons of other MLMs that are also concentrated within the cosmetic, and skincare sectors.
It shows that there is a market, which is a good thing for you, but it can also be competitive.
Are people getting results from using Neora products?
Are People Happy With Using Neora Skincare Products?
---
This is important to know because at the end of the day that is how you are going to be making the money- from selling the Neora products.
If the feedback is good, then you stand a pretty good chance of earning profits.
So let's take a look.
From the official website, both brand partners, as well as customers, submitted their results of having used products such as the Neora Age IQ day and night cream and the Eye-V Hydrogel patches and others for a period of 90-days.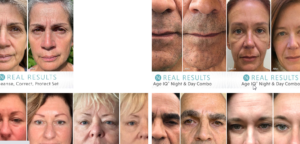 It is what it is, and to be honest I could not find any negative reviews of the Neora products. Overall the response was good.
Keep in mind though that your body's response toward using a product might be different from other people's. In other words, to see if a product works, one has to give it a try.
How Much Does It Cost To Join Neora?
---
You can only join via another brand partner's website or invitation code. Initially, you have to purchase an enrollment kit which is around $19.

You get your own e-commerce website, where family and friends can join your team and become brand partners too. Included in the starter kit, is a book by the founder Jeff Olson, as well as marketing materials.
You also get access to their Neora Edge product which is a digital marketing system. After 30-days, the trial expires and you have to pay for this service. The renewal fee will be automatically added to your autoship order.
Neora Red Flag- A RED FLAG You Need To Know About
---
RED FLAG: The FTC Lawsuit
A report surfaced on the official FTC(Federal and Trade Commissions) website that details FTC suing Neora and its current CEO, Jeffrey Olson.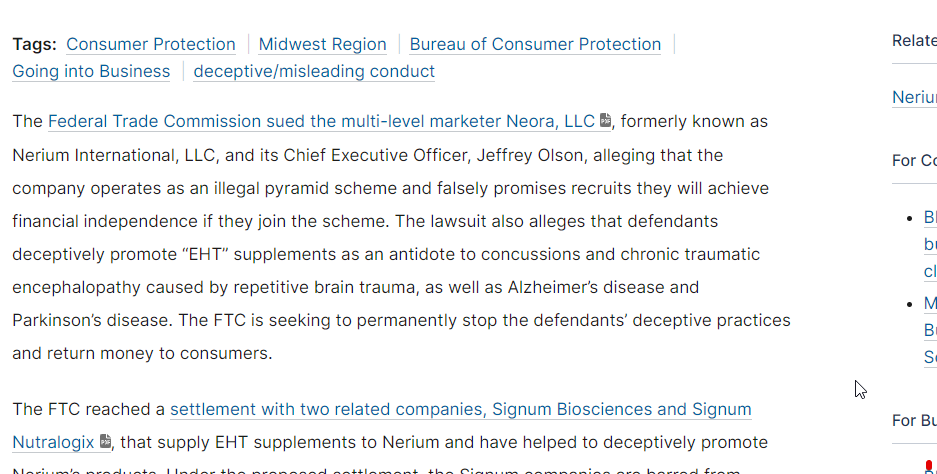 It was alleged that the company was operating as an illegal pyramid scheme and falsely promising recruits that they will achieve financial independence if they join the scheme.
The FTC went on to further allege the company of creating a message that "brand partners also receive greater compensation from recruiting new brand partners than they earn from retail sales."
Is Neora a Pyramid Scheme?
---
Wikipedia defines a pyramid scheme as a business model whereby members of a scheme are compensated solely for recruiting new members without the need to sell any products or services.
In other words, the company pays its existing members with funds that come in from the new members.
The problem with a classic pyramid scheme is that once members stop joining, the "funds run dry" and eventually the scheme collapses. Usually, the guys on the top have made their money and the newcomers lose out the most.
Neora is not a pyramid scheme. It is clear that they have an extensive product line. From their comp. plan, it's evident that you only get paid from selling the products, or from folks within your downline buying or selling the products.
How can you make money with the Neora business?
Let's take look in the next section.
The Neora MLM Brand Partner Compensation Plan- How To Make Money With Neora
---
With most MLMs the compensation plans are complicated. And Neora's comp.plan is no exception.
To remain an active Brand Partner, you have to make at least 200 PQV(Personal Qualifying Volume) worth of sales each month. Or 80 PQV from the ADO(auto-delivery program).
Should you succeed in getting preferred customers to sign-up for the auto-ship program, then you qualify for bonuses.
Let me simplify the whole process for you:
You sell the stock you earn money. You recruit people. They sell or buy the stock you earn more money. The more people you recruit, and the more active your downline, the more money you can make.
Is It Easy To Make Money With The Neora MLM Business?
---
Let's take a look at how some of the Neora distributors performed over a 12-month period.
From the above screenshot: Neora reported that during Jan 2021-Dec 2021, more than 59.9%(over half of the company's members) did not earn any commissions at all.
Furthermore, they reported that the average earnings for US Brand Partners on an annual basis was  $1,358. It is around $113 bucks a month.
Remember, that figure is gross earnings. One still has to deduct any additional business expenses incurred such as hosting show days, travel, and any other costs involved.
Does that sound like a lot of money, after having put in all the hard work and time?
Pros of the Neora MLM Business Opportunity
---
They have an extensive product portfolio
They are within a popular niche
They offer social media training in their business kit
They have an income disclosure
Cons of the Neora MLM Business Opportunity
---
Only open to certain countries
It's expensive to get started (you have to commit to product purchases to qualify for commissions, and you have to pay for the Neora edge marketing system)
Products are expensive
Is Neora a Scam? My Personal Opinion
---
The obvious question to ask is, why has the name changed from Nerium International to Neora? Is it to avoid the topic of the lawsuits?
The company is still run by the same owner as during the time of the FTC lawsuits. Many pro-Neora folks might argue that the company has turned a new leaf and that things are changed for the better.
That may be true, but it does not change the fact that this is an MLM business. To earn higher paychecks, you still have to focus on recruiting.
Is it the right business for you?
If you have sales, marketing, and leadership experience, and see yourself RECRUITING on a regular basis, then perhaps the Neora business is for you. Remember, earlier on I showed you that not many people make big commissions.
If on the other hand, you do not want to outlay capital to commit to buying ongoing stock, and do not want to recruit people to grow a business and want a global business, then read further on.
How I Earn A Passive Income Online- And How You Can Do It As Well…
---
I transitioned from the health field to the online world. I face a major health challenge that affected my ability to do my day job as a pharmacist, and I had no choice but to find another way to bring in the money. You can read my story here.
It's thanks to affiliate marketing that I can earn a passive income online.
With affiliate marketing, you do not have to focus on recruiting people at all. There is no cold-calling or having "tea-parties" or having to do any door-to-door selling.
It's a great business model for newbies. Even if you have no marketing or any technical experience with website building and so forth.
You have the freedom to build your business around a topic or niche that you enjoy talking about. And you are not restricted to marketing only ONE product or service.
It would my pleasure to show you more about how I made money with this business model since 2016. Let me show you how it can benefit YOU as well by clicking here.
Thanks so much for joining me on this Neora review.
I hope that it has helped you out.
Looking forward to hearing from you.
Regards
Roopesh