Welcome to my Officeless Agency review. Have you finally made that decision to become your own boss? Would you like to have a business without the headaches of running a "normal" brick-and-mortar enterprise?
If your answer is "YES", then you might be thinking of signing up for the Officeless Agency program. Is Officeless Agency a scam, or is it teaching you a legit way to make money online?
You might not have the worries of operating a traditional business, but is the business model they teaching you, well suited for YOU?
And in today's review, I am going to help you answer these all-important questions.
Congrats by the way, for taking the time to do your research. It shows that you want to be well-informed before making a decision. Well done to you!
Before we get started, feel free to check out my NR.1 recommendation for earning a passive income online. Click on the link that follows to learn more.
Is There A Legit Way To Make Money Online?
Yes, there is! I got proof it works!
What Is The Officeless Agency All About?
---
The Officeless Agency is marketed as the "perfect business model for 2022." A business model that is recession-proof. One that has very low overhead costs to get started and one that can be run from the comfort of your home.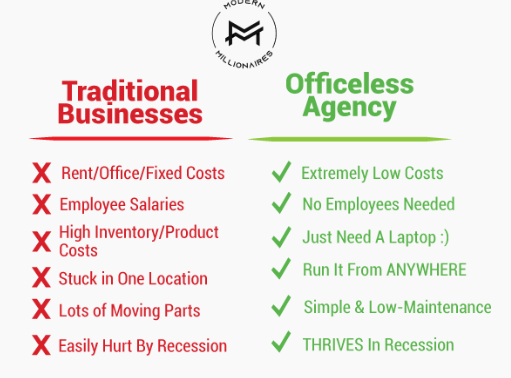 As their brand name suggests, the business model is different from your typical business that has its usual office set-up appearance.
You do not have to worry about paying wages or finding the perfect physical location. You also do not have to stress about investing in product inventory.
The business model is also different from other online business models.
It's not about eCommerce or Airbnb. It's not about dropshipping or Amazon FBA as seen with Amazing.com
It also has got nothing to do with affiliate marketing which is the business model that helped me to earn a passive income online. You can check out my story here.
The Officeless Agency is basically a coaching program that is designed to help you build your own digital marketing agency.
Basically, they will teach you how to get clients for businesses. The happier you make these businesses, the more they will PAY for ongoing services. Hence, you build yourself a recurring income business.
Apparently, the founders of the Officeless Agency claim that the strategies taught within the Officeless Agency program have built them a comfortable 7-figure income business.
And surprisingly, you can learn all these secrets for a small fee of $9.94. Sounds too good to be true?
I will show you in a minute exactly what you are going to be paying the 10 bucks for. For now, let's see who is behind the Officeless Agency program.
Who Are The Founders of The Officeless Agency?
---
Chance and Abdul are the founders of the Officeless Agency.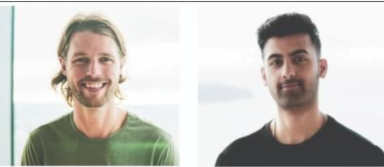 They call themselves "The Modern Millionaires."

The name Modern Millionaires is another business venture of theirs that talks about using "billboard ads" to start your own digital agency. Unfortunately, when I tried to learn more about the MM project, I was denied access.
Not sure, if it's only restricted to certain areas only. Perhaps you may have better luck than I do.
According to LinkedIn, Chance started his own marketing firm called Beachwood back in 2014. The company specialised in helping local businesses grow by sourcing out high-paying clients. It's kind of like what they will be teaching you inside Officeless Agency.
I found a recent article about Chance Welton on Forbes. mc website. In this article, they talk about how Chance apparently single-handedly built the Beachwood Marketing firm to a 7-figure platform where he currently sits as the CEO.
The Modern Millionaires is a business educational platform that teaches people how to build a digital business from scratch. 
As for the other founder, Abdul, there is not much information that I could find. However, at one point Chance admits that Abdul taught him a lot about the business model and he sees Abdul as a mentor.
The bottom line is that Officeless Agency has owner transparency. It's backed by two people who have experience in the field.
But how exactly does the Officeless Agency work?
Let's take a look in the next section.
How Much Does It Cost To Join The Officeless Agency?
---
Does it really cost just $10 to learn the secrets to building a 7-figure digital ads agency?
It costs more, much more!
The owners have mentioned that it would require a minimum of 4k to join their coaching program.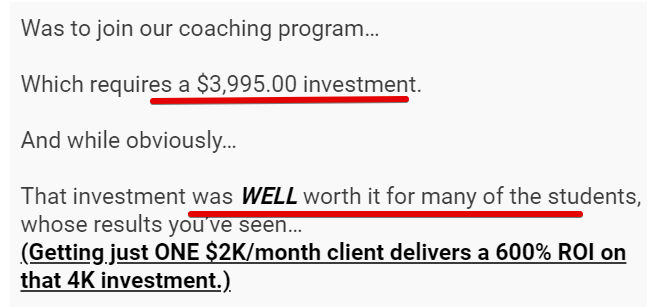 So, it's somewhat misleading for them to say that you can build a business for such a small investment. The $9.94 is for entry into their 2-hour Officeless Agency masterclass.
In all fairness, I believe that the masterclass does offer value.
Let me show you more in the next section.
What Is The Officeless Agency Masterclass All About?
---
It is a 2-hour long webinar that gives you an overall idea of how a lead generation business works.
In this masterclass, Abdul and Chance share the techniques they used to generate leads. They also talk about some of the best traffic methods to use.
They offer a glimpse into how to get leads using Facebook and Google Ad platforms. Then they walk you through going about selling them to businesses.
Here are some other topics covered in the masterclass:
What is a lead generation business?
Which are the cost-effective ads that get you the best leads?
Creating "high-ticket" lead funnels
Prospecting without a funnel
Attracting high-end clients
Scaling your business
Checking the "right tools" before opening your business
Avoiding pitfalls that can destroy your business
The reviews of the masterclass are positive. On a third-party review site such as Trustpilot, Officeless Agency scored a 4.4 rating from 138 reviewers.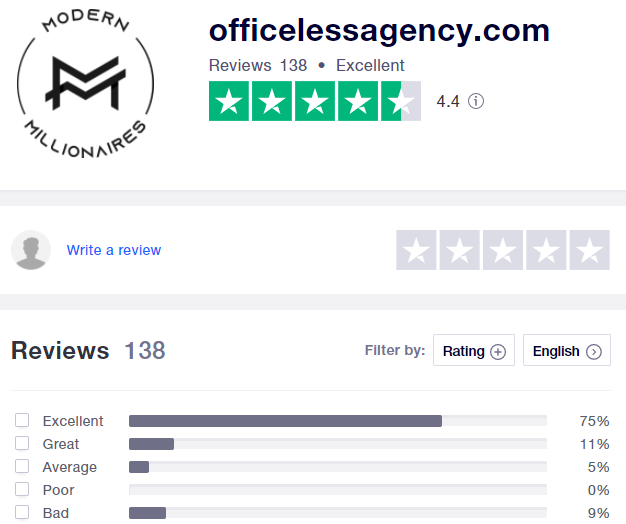 For registering with their masterclass, you also get extra bonus content.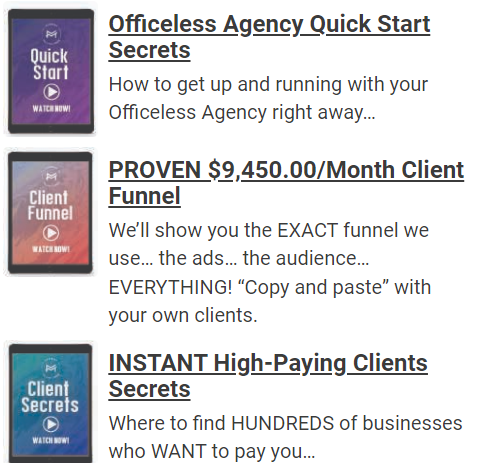 Some of the bonus content includes:
The Officeless Agency proven $9.450 /month funnel
Exploding Niches Report
FREE "Jet-Set" travel secrets
Is The Officeless Agency MasterClass Worth It?
---
For $10 it's not a bad investment. Especially if you are keen to learn the basics of starting a micro-digital agency business.
They do offer a 30-day money-back guarantee.
Do keep in mind, that using their funnels, means that you would need to purchase your own funnel software. And these can be pricey. As I showed you, there are other expenses involved, such as ad expenditures. And if you want them to coach, this is not going to come cheap as well.
Is Officeless Agency a scam? Let me show the pros and cons before I reveal my verdict.
Pros of The Officeless Agency
---
They have owner transparency
They offer decent value in the masterclass training
The business model they are teaching is legit
Cons Of The Officeless Agency
---
1. Marketing is Misleading
They make it seem like it's a really easy business model to do. You simply have to get 'ready to buy' leads for business owners. And you do this by running proven Online Billboard Ads that are "simple to set up and easy to manage."

It's not as easy as they make it out to be!
2. You Are Not Standing Out From The Crowd
Apparently, they have proven ads and funnels that you can incorporate into your campaigns. The only issue with using their templates is that thousands of other users will be using similar copywriting material in their business.
It makes it hard for you to be unique and stand out amongst the competition.
"In order to be irreplaceable one must always be different."

Coco Chanel
3. False Countdown Timer/ Scarcity Technique
4. Upsells are expensive
5. Their sister site Modern Millionaires does not function properly.
Is The Officeless Agency For Anyone?
---
More specifically, is the Officeless Agency business for you?
We are all different, and when it comes to choosing the right business model, it's a matter of personal preference.
You may like a certain business model, and I might not. To determine whether or not Officeless Agency is for you, you have to got to ask yourself, "Do I see myself doing this business model for at least another 5 years or so?"
And to help you answer that question, let me recap what you will be learning in the Officeless Agency masterclass.
The major stuff that you will be doing is all in an effort to eventually run your own ads agency.
So, whilst you might NOT have to worry about hefty overheads or paying your staff(initially), you still would need to register a company.
Then you have to master the skills of communicating and negotiating with businesses within your niche market. Basically, you are going to be marketing your services to them.
You also would need to master FaceBook and other social media advertising networks. You have to become good at writing effective ad campaigns to get high-converting ads. It might take time and money till you finally master the craft.
Then once your business finally has reached the point of having steady customer growth, can you look at outsourcing or hiring people to manage your business?
At this point, you need to have both managerial and leadership skills to take the company to the level you initially envisioned.
It's definitely a great milestone to finally accomplish because you can confidently say that your business is earning you a passive income.
However, you still need to be present to motivate your staff and make sure the business is steered in the right direction at all times.
That is a rough idea of what it entails to run a digital ads agency. Do you see yourself doing this sort of business model?
If it excites you, then perhaps the Officeless Agency program is for you.
If, on the other hand, you want a business that does NOT involve liaising with customers or staff or one where you do not have to focus on using paid ads, then check out my alternative to earning a passive income online.
How Do I Earn A Passive Income Online
---
I transitioned from the health field to the online world. I face a major health challenge that affected my ability to do my day job as a pharmacist, and I had no choice but to find another way to bring in the money. You can read my story here.
It's thanks to affiliate marketing that I can earn a passive income online.
With affiliate marketing, you do not have to focus on recruiting people at all. There is no cold-calling or having "tea-parties" or having to do any door-to-door selling.
It's a great business model for newbies. Even if you have no marketing or any technical experience with website building and so forth.
You have the freedom to build your business around a topic or niche that you enjoy talking about. And you are not restricted to marketing only ONE product or service.
It would my pleasure to show you more about how I made money with this business model since 2016. Let me show you how it can benefit YOU as well by clicking here.
Thanks so much for joining me on this Officeless Agency review.
I hope that it has helped you out.
Looking forward to hearing from you.
Regards
Roopesh