Affiliate marketing is all about promoting products and getting paid when people buy them. It's like recommending things you like and earning money from it.
Lots of people are interested because it lets them make money while doing what they love instead of a regular job.
When you start with affiliate marketing, you're stepping into a world where your hard work and smart decisions can change your money situation. One big decision is picking the best topic to talk about. They call the topic a niche. Today we are going to talk about the top niches for affiliate marketing.
Even though affiliate marketing might sound simple, its success really depends on the niche you choose to focus on.
I am going to talk about the top 4 profitable evergreen niches. What if you do not know how to find a niche?
Great question. I am also going to show you two really simple ways to find untouched niches that are unique yet have great earning potential.
This guide will walk you through what makes a successful niche and it will cover essential tips on how you can become a successful affiliate marketer for years to come.
FREE 5-DAY TRAINING (+FREE WEBSITE)
Build Your Online Business With This
FREE

5-Day Training!
The Important Role of Picking a Niche: Your Path to Success
---
Imagine affiliate marketing as a big road with many different paths leading to different places. Each path is a niche, a special area you're interested in that has products you can tell people about.
When you choose a path, you're also choosing what kinds of things to talk about and who you'll be talking to.
In other words, a niche is your target audience.
Picking the right niche is not just a small thing; it's a big choice that makes your journey in affiliate marketing work.
It's like building a house – you need a strong foundation. If you don't pick a good niche, your affiliate marketing adventure might not do well.
Recommended Reading: What Are the Best Affiliate Marketing Training Courses for Online Success?
Exploring Niches That Matter to Your Audience
---
This article is here to help you choose a niche that your audience cares about. Being an affiliate marketer isn't just about talking about products. It's about helping people with what they want and need.
In the next parts, you'll learn about some niches that could make you money.
These are the top niches for affiliate marketing that can help you get closer to your goal of making money while you sleep.
Whether it's health, money, business, or travel, each niche could be like a stepping stone to getting income without working all the time.
Top Niches For Affiliate Marketing
---
Top Niche for Affiliate Marketing Nr.1:

Health and Wellness Niche: Promoting Well-Being and Wealth

The health and wellness niche presents an ideal opportunity to combine your health background with affiliate marketing.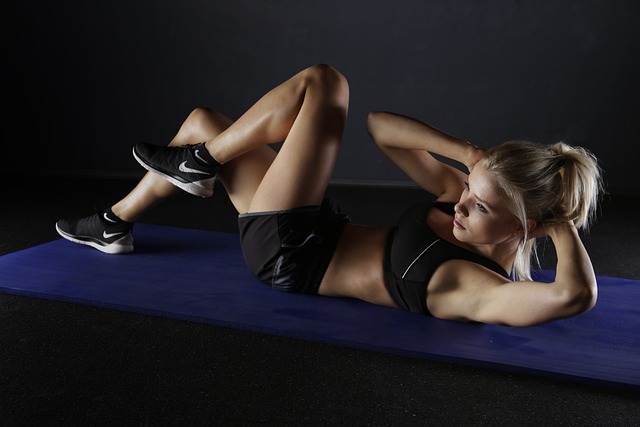 This niche encompasses various sub-niches, including fitness, nutrition, mental health, and holistic well-being.
As someone passionate about health, you can leverage your expertise to recommend fitness equipment, nutritional supplements, mindfulness courses, and more.
They say that laughter is the best medicine. It helps to reduce stress, boosts your mood, and even strengthens your immune system. You can consider promoting products that bring joy and laughter to your audience's lives.
Or you can promote "superfoods." The term "superfood" has taken the health world by storm. These nutrient-packed foods, like kale, blueberries, and quinoa, offer exceptional health benefits. You can introduce your audience to superfoods and recommend products related to their consumption.
How about DIY home workouts? People have hectic lifestyles and cannot always go to the gym. Enter the trend of home workouts!
You can recommend workout equipment, online fitness classes, and apps that allow your audience to exercise conveniently from home.
These are just some of the ways that you can make money by tapping into the health and wellness niche.
Imagine earning commissions while helping people achieve their wellness goals. It's a win-win for everyone!
Top Niche for Affiliate Marketing Nr.2:

Personal Finance Niche: Empowering Financial Transformation

For those burdened by debts and financial challenges, the personal finance niche offers a beacon of hope.
You can tap into sub-niches like budgeting, investing, and debt management.
You can recommend tools, apps, and educational resources that might have helped you, to your target audience.
For example, many people don't realize that your credit score affects not only loans and credit cards but also things like insurance rates and job opportunities. You could promote credit monitoring services and resources to help your audience improve their scores.
What about budgeting and tracking one's expenses? You can recommend mobile apps and online tools to make it easier than ever to track spending and stay on top of finances.
By guiding your audience towards smart financial decisions, you're not only promoting products but also empowering positive change in their lives.
Top Niche for Affiliate Marketing Nr.3:

Online Business and Entrepreneurship Niche: Carving Your Digital Path

The make money online niche is a very popular one.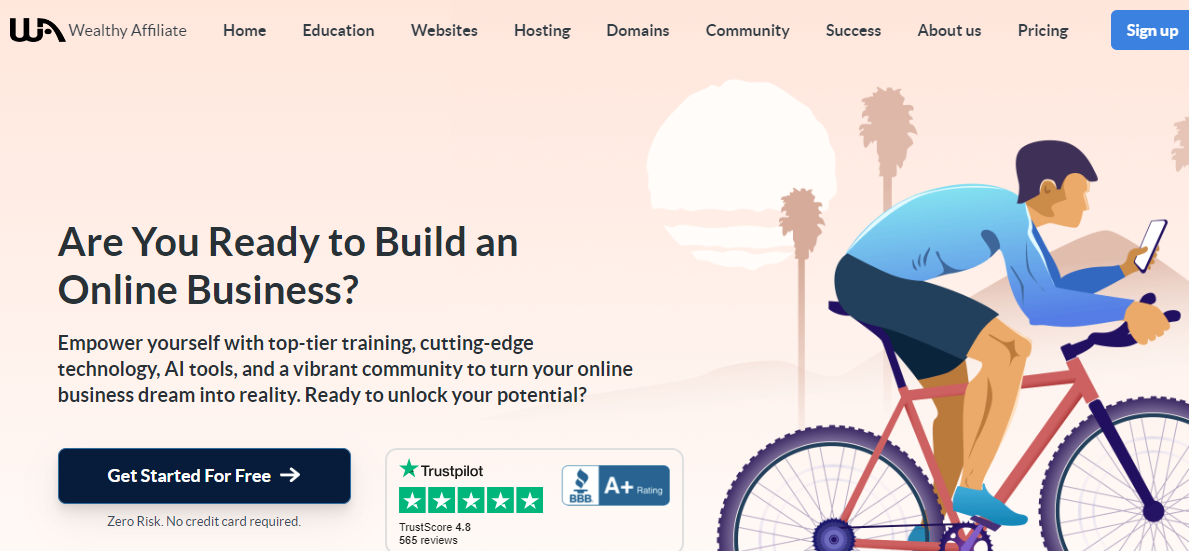 Who is your target audience? Almost everyone!
Who does not want to make extra money? I am sure that you can think of someone, a family member or friend, or maybe even yourself who wants a better income, or want to improve their financial situation.
As someone familiar with the make-money-online world, you understand the allure of the online business and entrepreneurship niche.
Whether it's e-commerce, dropshipping, blogging, or affiliate marketing itself, this niche aligns perfectly with your aspirations.
For instance, my blog is within this niche, and I recommend two of the best affiliate marketing training courses for beginners.
Highlight the potential for creating multiple income streams and recommend affiliate programs that offer training, software, and services to aspiring online entrepreneurs.
Recommended Reading: How Does a Disability Affiliate Program Work-Affiliate Programs for The Disabled
Top Niche for Affiliate Marketing Nr.4:

Travel and Lifestyle Niche: Turning Dreams into Reality

The desire to travel and spend quality time with family is a common aspiration.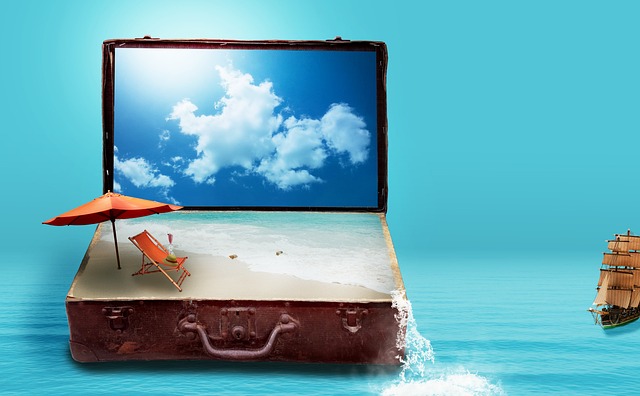 Dive into the travel and lifestyle niche, sharing insights into family-friendly destinations, travel hacks, and experiences that resonate with your audience.
Showcase affiliate programs for travel agencies, booking platforms, travel gear, and adventure tours.
By helping your readers explore the world, you're making their dreams a reality while building your income.
Is Any Niche a Profitable Niche?
---
That is a very commonly asked question.
The ANSWER: Not all niches are created equal in terms of their potential for profitability and ease of success
The niches that we discussed in the article are generally popular and have proven to be lucrative for many affiliate marketers.
However, the success of any niche in affiliate marketing depends on several factors:
Audience Demand: Niches that lots of people are interested in or need products for tend to attract more customers. When a niche solves common problems or fulfills strong desires, it gets a big audience.
Profitability: Some niches have expensive products or services, so you can earn more money from each sale. How much you can earn depends on how much people usually spend and how much commission you get.
Competition: Highly competitive niches can be challenging for newcomers. Choosing a niche with a balance of demand and competition can provide better opportunities for success, especially for those starting out.
Personal Interest and Expertise: You don't have to be an expert, but it's more fun if you're interested in what you're talking about. If you know a lot about a niche, you can create better content and connect with your audience.
Evergreen vs. Trending: Evergreen niches are always relevant while trending niches might have a short-lived popularity. Evergreen niches like health, finance, and relationships tend to provide consistent opportunities over time.
Target Audience: Consider the demographics, interests, and pain points of your target audience. A niche that resonates with your audience is more likely to drive engagement and conversions.
Affiliate Program Availability: Make sure there are good affiliate programs related to your niche. If there are trusted programs, you'll have better chances of making money.
Content Opportunities: Check if the niche has lots of topics to write about. If you have many ideas for blog posts, videos, and more, you can keep your content fresh and exciting.
Exploring Other Niche Ideas- How to Find The Right Niche?
---
You can consider niches such as technology, parenting, beauty, and hobbies in addition to the top niches for affiliate marketing we talked about.
Truth be told, there are so many other niches that you can build a profitable affiliate marketing business from.
How do you find these niches?
This is where it's important to consider joining a good affiliate marketing training course. One that will help you find a niche that you are excited about.
And one such training platform that I highly recommend is Wealthy Affiliate.
Wealthy Affiliate is a comprehensive training platform that will help you build your online business from the bottom up. They have step-by-step training modules, along with tools, and community support to help you reach your business goals.
You can read my detailed review of Wealthy Affiliate here.
But I want to show you two easy ways that Wealthy Affiliate can help you to find a good niche for your business.
The first is by using one of their in-house tools called the Niche Finder Tool.

You start by entering a topic of interest into the tool. It will load suggestions and you can explore these suggestions even further. In fact, the tool goes one step further by helping you come up with a brand name for your business.
And once you have the brand name, you can buy the domain right inside of Wealthy Affiliate, cool right?
The second way to find a unique niche for your affiliate marketing business inside of Wealthy Affiliate(WA), is by checking out the training by one of the WA ambassadors, who goes by the name of Vitaliy.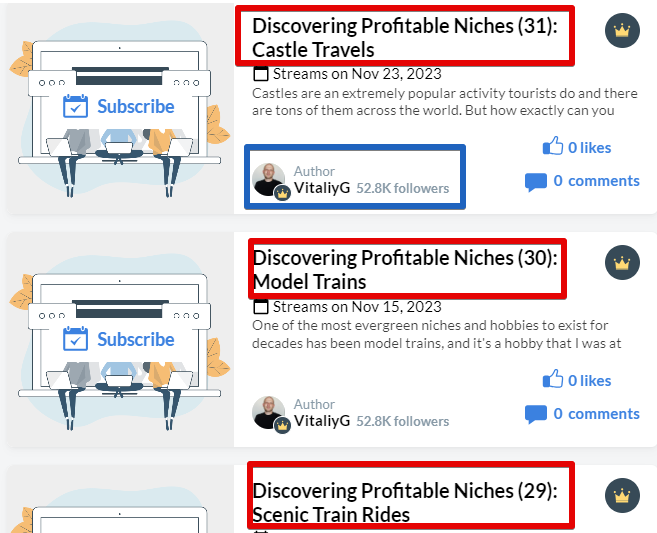 In the screenshot above you can see that Vitaliy has got three classes coming up talking about some rather unique profitable niches. These are Castle Travels, Model Trains, and Scenic Train rides.
I bet that you never thought of these.
In fact, this is the 29th, 30th, and 31st classes. Can you imagine all of the other niches that he has discussed?
Anyway, the point is that these are two ways, where you do not have scratch your head, and worry about what to build your affiliate marketing business about.
Wealthy Affiliate makes it so much easier for you. Join their FREE Starter membership here, and start your affiliate marketing journey today!
How To Become Successful With Affiliate Marketing – Success Tips for Aspiring Affiliate Marketers
---
Authenticity Matters: When promoting products, ensure that you believe in their value. Your genuine recommendations build trust with your audience.
Know Your Audience: Understanding the pain points and aspirations of your audience allows you to choose products that genuinely address their needs.
Quality Over Quantity: Instead of bombarding your audience with numerous products, focus on a select few that provide substantial value.
Content Is King: Consistently create high-quality content that educates, informs, and entertains your readers. Engaging content keeps them coming back for more.
Monitor Performance: Keep an eye on your affiliate links' performance. Adjust your strategy based on what's working and what isn't.
You Future as a Successful Affiliate Marketer- It Looks Really Bright and Awesome!
---
Earning commissions from affiliate products is just the start.
You will become an authority in your niche. Others will approach you for guest blogging opportunities, collaboration or even sponsored content.
It all comes from been consistent, providing value and building a loyal audience.
Eventually your long term goals will become a reality and you will be able to make that positive impact to your family and loved ones.
It will no longer be a dream. But a reality of living a life with time and financial freedom.
FREE 5-DAY TRAINING (+FREE WEBSITE)
Build Your Online Business With This
FREE

5-Day Training!
Conclusion – Ready To Start Your Online Journey?
---

Selecting the right niche for your affiliate marketing journey is pivotal to your success.
Remember, there's no one-size-fits-all answer; it's about finding the niche that aligns with your passions and addresses your audience's needs.
From health and wellness to personal finance, online business, and travel, these top niches for affiliate marketing open doors to financial freedom and a life of possibilities.
Ready to take the plunge? Join our community of aspiring affiliate marketers!
Sign up for our free 5-Day Affiliate Marketing Training and receive a complimentary website to kickstart your journey towards financial freedom and success.
Wish you everything of the best in your online success.
Kind Regards and Take Care
Roopesh