You have a problem! You want to start affiliate marketing, but you don't know where you should begin.
Everyone is rooting for their course as the one that you need to join. Which one do you go for?
The right business course is the key to unlocking the treasure chest of affiliate marketing knowledge and long-term online success. Looking for the best affiliate marketing training courses that will lead you to success? You're in the right place.
Affiliate marketing is more than just a venture; it's a thrilling expedition. And with the right tools in your arsenal, you're not merely setting sail – you're charting a course for triumph.
In this guide, I am going to chat about two affiliate marketing online courses that can and will open doors to your full potential as a marketer. Your part is to follow through with the training, not skip any of the steps and take action.
Why only 2 business courses, surely there are many more?
True.
There are many online business courses but these two I have personally bought and used, so I know what they are about. I would not recommend something that I did not try out myself.
Affiliate Disclosure: I feel that it's also right that I inform you that I am an affiliate for these affiliate marketing business courses. I do earn a commission if you join them, but it's at no extra cost to you. Having said that, I would be sincerely grateful if should you decide to join any of them, to please utilize my affiliate links provided. It would help my business to continue to grow and provide you with information pertaining to what's happening within the world of online business.
FREE 5-DAY TRAINING (+FREE WEBSITE)
Build Your Online Business With This
FREE

5-Day Training!
Why Start Affiliate Marketing In The First Place?
---
I know that you want to dive right in and check out these affiliate marketing training courses, but let's first talk about the business model of affiliate marketing.
Are you making the right decision to start a business as an affiliate marketer?
Affiliate marketing is a business model that is set to boom in the 21st century and beyond! If you are a student, then here are 6 reasons why affiliate marketing is the best business choice for you.
Some other cool things about starting affiliate marketing are that:
It's an easy business model to understand
You do not have to do any recruiting
It's not expensive to start
You can work on it during your free time (it offers flexibility)
You can build a business based on a topic that you are passionate about
You can choose from thousands of niches
You can actually get started for free, right here
Great!
Just wanted to highlight that you are not making any mistake by wanting to start your very own online affiliate marketing business.
Cool, now let's check out some of the key factors to consider when selecting a business course to help you get started.
How To Choose The Right Affiliate Marketing Business Course?
---
When you embark on your quest for the best affiliate marketing training courses, it's imperative to set sail with a compass that steers you toward success.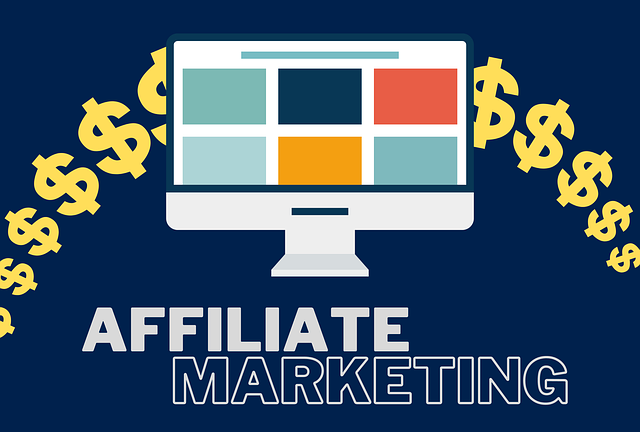 Here are some key criteria that should guide your decision-making process.
1. Relevance to Your Journey:
Imagine that you're venturing into the world of health and wellness affiliate marketing.
Now, think of selecting a generic course – it just doesn't quite fit, does it? This is where niche-specific training enters the scene, ready to empower your affiliate marketing path.
The course or program should help you build a business based on any topic you want. If you want to build a business marketing jewelry or model airplanes, then the training should be able to help you get there.
It should not be about bringing new members and getting paid for them, and the cycle repeating itself. That's a classic Ponzi in the works. And programs like 7 Figure Accelerator and Ulix7 operate that way.
2. Price Point: Affordability meets value when the training course aligns with your budget and offers a wealth of knowledge.
3. Community Support: A supportive community adds immeasurable value to your journey. Interact, learn, and thrive with fellow learners and experts. You need this kind of support to help you when you are having those days when things are not going so well.
4. Tools and Resources: The right tools streamline your progress. Ensure the training course provides essential resources for your growth.
5.No Upsells: Transparency matters. Opt for courses that respect your investment without bombarding you with unexpected expenses.
6. Expertise and Credibility: Look for training courses created or endorsed by experts who have a proven track record in affiliate marketing. Courses backed by industry influencers or individuals who have achieved substantial success lend credibility and assurance that the training is from reliable sources.
7. Learning Formats: Consider your preferred learning style. Some courses offer video tutorials, while others might include written content or interactive workshops. Choose a course that aligns with how you learn best to optimize your learning experience.
8. Flexibility and Accessibility: Review the course's format and accessibility. Can you learn at your own pace, or are there specific deadlines?
Does the course offer mobile-friendly options for learning on the go? Flexibility in learning can greatly impact your ability to complete the course successfully.
9. Case Studies and Success Stories: Courses that showcase real-life case studies and success stories provide valuable insights into how strategies have been applied successfully.
Learning from practical examples can help you visualize the concepts and apply them to your own affiliate marketing endeavors.
10. Regular Updates: Affiliate marketing is a dynamic field, with strategies and trends evolving over time. Opt for courses that promise regular updates to ensure you're learning the most current and effective techniques.
10. Money-Back Guarantee: Reputable training courses often offer a money-back guarantee, which speaks to their confidence in the value they provide. Having the option to request a refund within a specified timeframe can alleviate concerns about investing in a course that might not meet your expectations.
11. Trial Period: Some courses offer a trial period or a limited free preview of their content. Take advantage of these opportunities to get a sense of the course content, teaching style, and whether it aligns with your learning needs before committing.
12. Networking Opportunities: Look for courses that offer networking opportunities within their community. Connecting with fellow learners, exchanging insights, and seeking advice from those who are on a similar journey can enhance your learning experience.
13. Customer Reviews and Testimonials: Explore reviews and testimonials from past students. Their feedback can provide valuable insights into the course's strengths and weaknesses, as well as the kind of results you can expect.
Now let's see how the two affiliate marketing training courses that I recommend scores using the above criteria.
Recommended Reading: How To Get Into High-Ticket Affiliate Marketing For Newbies
2 Of The Best Affiliate Marketing Training Course That You Should Join
---
Best Affiliate Marketing Training Courses Number One:

Wealthy Affiliate
I started my affiliate marketing journey back in 2015. I started with Wealthy Affiliate, and still use them to this day.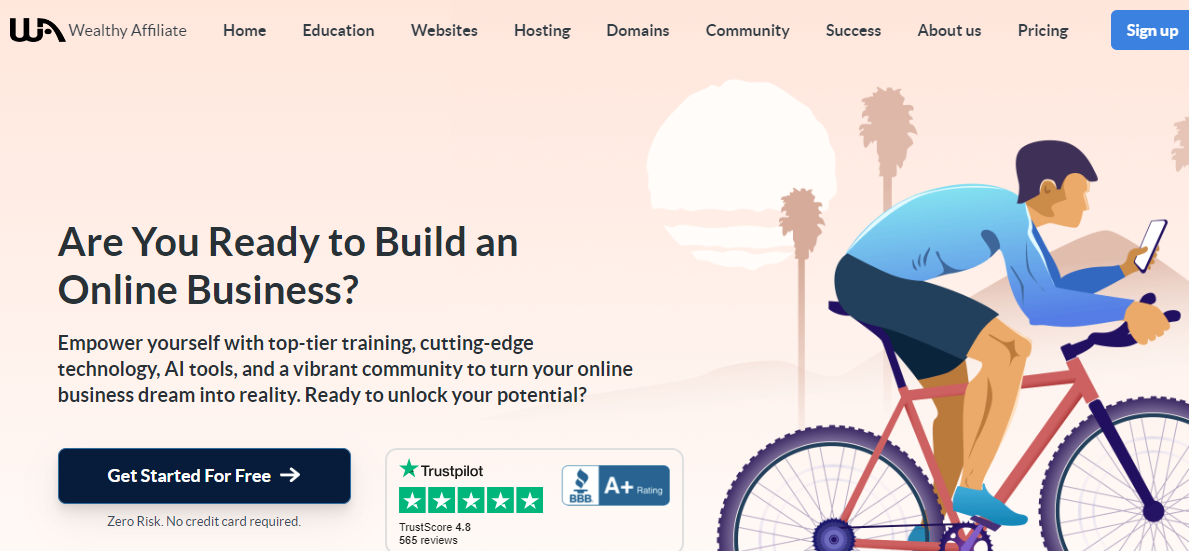 With Wealthy Affiliate(WA) you're not just learning the basics; you're delving into a comprehensive curriculum that covers everything from affiliate marketing fundamentals to advanced strategies. Their step-by-step training modules guide you through the process of building and scaling your affiliate business.
1. Relevance to Your Journey – 10/10
Wealthy Affiliate has two comprehensive courses. The OEC(Online Entrepreneurship Course), and the Affiliate Bootcamp Course.

The OEC is dedicated to helping you build a business on any topic or niche or subject that you are passionate about.
Whether it's football snack helmets, mud runs, hiking trails, basketball, collectible toys, or whatever you can think of, they can help you build a full-fledged online affiliate marketing business.
The Affiliate Bootcamp Course is to help you build a business within the make-money-online niche.
2. Price Point – 10/10
You can join their free starter membership and remain a free member for as long as you want.
The paid plans are Premium Membership – $49 per month, Premium Plus – $99 per month
3. Community Support – 10/10
They have an interactive community platform that I have yet to see within another course.
At any time of the day, you can jump into their live chat, and it's guaranteed you will make a friend or get all the help you need.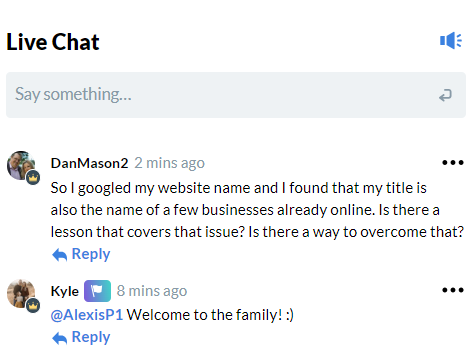 Community members also have the feature of blogging, They can share stories of success, motivation, or even general business news.
You can express or share much more using a blog, than with the usual Facebook, which by the way WA does not even believe in.
4. Tools and Resources – 10/10
Built-in website builder. You can buy and register your domain within WA. Free hosting for all your premium domains.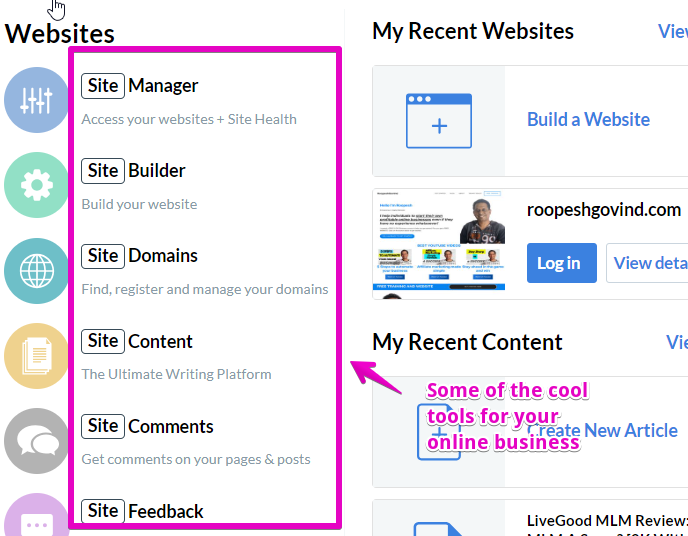 They have a content builder that helps you create content for your website, and it checks grammar and plagiarism. It allows you to publish your articles directly on your website.
They have a niche finder tool to help you find your perfect niche. A powerful keyword tool to help you find topics that will help you get ranked on Google.
Loads of other tools, like AlphabetX, SiteComments, and Site Feedback, for you to explore.
5. No Upsells – 10/10
The prices you see, are the ones you pay, nothing extra.
49 or 99 bucks a month. You can upgrade or downgrade between plans. In fact, I only recently upgraded to the Premium Plus.
I think that if you can, start with the Premium plan. It's good enough.
6. Expertise and Credibility – 10/10
Kyle and Carson are the owners. They started WA 18 years ago. Kyle is very much involved in hosting live classes on a regular basis.
You should check out his brand new series on AI(artificial intelligence) that was recently launched. A game-changer course to use as a powerful tool for your business.
Bottom Line: They have owner transparency, and teach you what they are using themselves in their own business.
7. Learning Formats – 10/10
The modules are broken down into a video section outlining the training, followed by a written lesson. Then there is a checklist for you to mark off the tasks to do.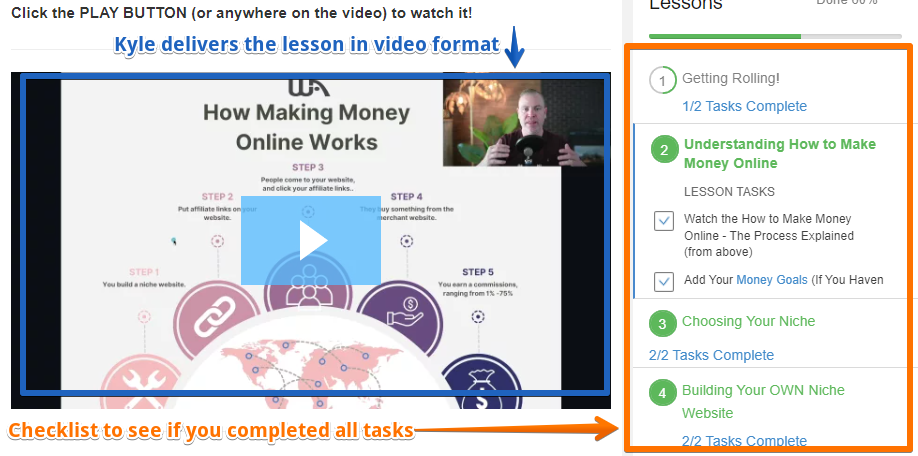 The best part is that there is a community discussion going on below the lesson. You can ask a question or reach out for help.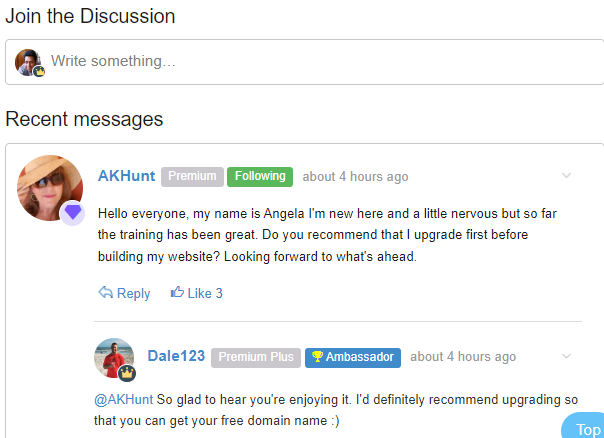 Oh yes, the videos also have subtitles, so you can follow them that way if you like.
8. Flexibility and Accessibility – 10/10
There are hundreds of videos, recorded webinars, and classes that you have access to. Even if you miss the live recorded webinar classes, you can watch them over and over in the library section.
No deadlines or expiry dates on any training modules or lessons
9. Case Studies and Success Stories – 10/10
Jay Neil is the WA Ambassador, and he has hosted numerous case studies since I joined. It's amazing to watch him start off with a unique niche website and take it to make profits right before your eyes.
10. Regular Updates – 10/10
Every Monday brand new training classes are released, To be honest with you, I got lots of catching up to do.
But the main point is that Wealthy Affiliate is at the forefront and keeps its members informed about trends and changes within the online business arena.
Kyle and Jay have tons of training on using AI in our online business.
Truly amazing stuff.
11. Trial Period – 7/10
They dropped points here. Look the free starter membership is great. It's their trial membership. You are under no pressure to upgrade.
However, once you upgrade, you cannot go back to the free starter membership. (that's why I gave it seven out of 10).
12. Networking Opportunities – 10/10
You can network with anyone within the Wealthy Affiliate community. They have over 2 million members from across the globe that you can connect with.
13. Customer Reviews and Testimonials – 10/10
BBB A+ rating, top rating on Trustpilot. Tons of genuine and REAL success stories within WA.
I believe that features are always great. But it's better to hear about the benefits.
How can Wealthy Affiliate benefit you?
Whether you are a beginner or an advanced marketer, they will help you with all the tools, training, and support under one roof. You will be learning skills that can help to not only build a business for yourself but can allow you to help others too.
With skills such as SEO, and local marketing, you can even open your own digital marketing agency and charge people to help them with their marketing needs.
I have seen people within WA help set up ready-made mini-niche websites for crazy profits using the training at WA.
The main benefit of joining WA is learning high-income skills that no one can take away from you, and helping you profit for years to come in the online world.
Best Affiliate Marketing Training Courses Number Two: Invincible Marketer
 Invincible Marketer is marketed as a COMPLETE  'over the shoulder', step-by-step program that takes a beginner with minimal knowledge of generating sales online, and transforms them into a confident, capable, and profitable affiliate entrepreneur.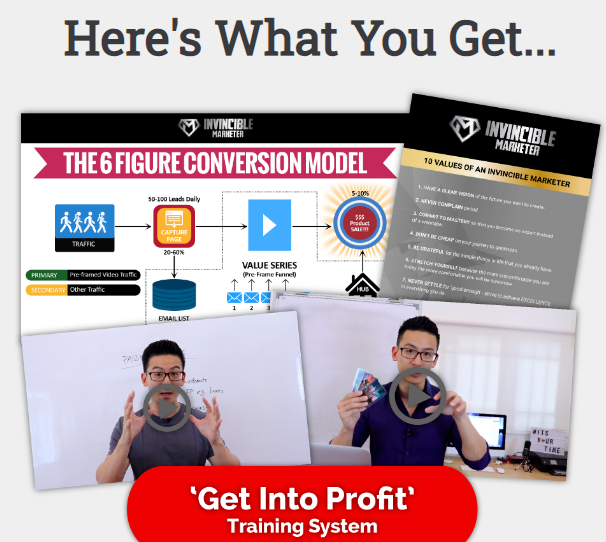 The program consists of daily sessions, mindset strategies, and specific steps that you as an IM member need to take in order to have a successful online business.
Aaron Chen is the founder of the Invincible Marketer program
1 Relevance to Your Journey – 10/10
The cool part is that just like with Wealthy Affiliate, you can build a business based around a niche or a topic that you are passionate about.
The training that Aaron gives you, can help you to make money in any industry, and not necessarily affiliate marketing. You can use the training to get more leads to an MLM(multi-level marketing) business or a coaching/consulting business.
The PPN or Private Product Network is a list of different products within different niches that you can choose from if you are unsure of where to start.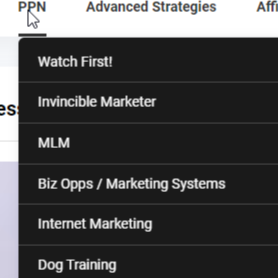 2. Price Point – 09/10
There are three price points.
You can join via:
No other hidden fees.
Aaron does have another course called Video Authority Mastery which he does talk about in this course. It's not compulsory to buy. I did not buy it.
Aaron also has an Invincible Platinum membership option for $3,997
3. Community Support – 08/10
As an Invincible Marketer member, you have access to their Private Facebook group.
However, I think that Aaron's Live Coaching calls are better.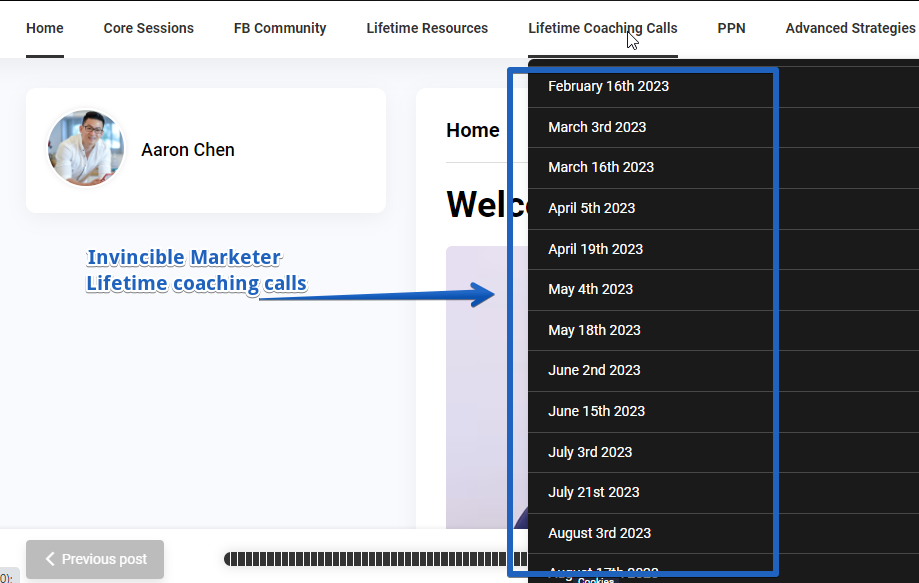 Aaron takes the time to go through your query be it with a funnel, or email campaign, or even checking out your YouTube channel and offering suggestions and advice.
That is well worth the money for the course alone.
4. Tools and Resources – 07/10
Unfortunately, it's not like Wealthy Affiliate where you have all the tools under one roof. You have to invest in funnel builder software and link tracking software.
However, you do not have to go with expensive options. I used Systeme.io which is an all-in-one marketing tool that does the job.
5. No Upsells – 10/10
When you pay the full price for the course be it monthly or a lifetime, you get all the training to help you build your online business.
6. Expertise and Credibility – 10/10
Aaron runs the whole show. There are no business advisors or third-party people that are teaching you.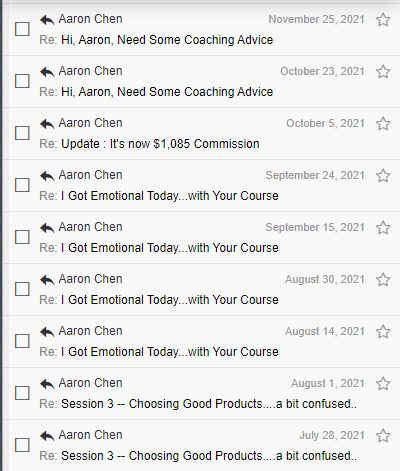 In fact, even before I was a member of his course, Aaron took the time to reply to all my queries.
Totally genuine guy, in my humble opinion.
7. Learning Formats – 09/10
There are 17 modules. Each module is broken down into sessions. Each session has a video lesson hosted by Aaron followed by tasks or assignments to do for that session.
8. Flexibility and Accessibility – 10/10
Even if you miss the live recorded webinar classes, you can watch them over and over in the library section. You can access these modules whenever you want.
9. Case Studies and Success Stories – 07/10
I achieved success using the training, and many others also have reported success with Aaron's course.
10. Regular Updates – 06/10
At the time of writing this review after having logged into the back office, I noticed that there was no update or changes to the course materials.
That is why I think this part deserved a 6 out of 10.
11. Trial Period – 7/10
The trial period cost $7 and it runs for 7 days. After that time, you can either cancel your membership or upgrade.
12. Networking Opportunities – 09/10
You get support from Aaron himself. These days it's not very common that the owner takes a vested interest in allowing his customers to have direct access to him.
You can connect with another member within the Invincible Marketer private Facebook group.
13. Customer Reviews and Testimonials – 10/10
Tons of positive reviews on 3rd party review sites. I achieved success by implementing the training.

Wealthy Affiliate VS Invincible Marketer
---
Which one do you go for?
In my opinion, both of them are great starting points for newbies.
However, there are some differences that are worth highlighting.
Wealthy Affiliate starts you off with building a solid website foundation. You will be learning SEO or search engine optimization with WA. Invincible Marketer does not teach this.
I was a bit disappointed that Aaron has not updated his flagship training since I last went through it. Wealthy Affiliate are constantly keeping their members updated with the latest news, and changes in the affiliate industry, and offering brand-spanking new updates and training.
What I really like about Invincible Marketer is that Aaron concentrates a lot on mindset training. I found this really helpful. It is something that I think is unique and crucial for any entrepreneur starting their online journey.
There you have my take on what I believe are two of the best affiliate marketing training courses that are value for your money.
Click here to join Wealthy Affiliate.
Click here to join Invincible Marketer
Thanks for joining me today on learning about these affiliate marketing training courses.
I hope that it has helped you out.
If you have further questions about affiliate marketing or any of these courses we talked about, just leave a comment below.
I will get back to you.
Wish you everything of the best in your online success.
Regards and Take Care
Roopesh
FREE 5-DAY TRAINING (+FREE WEBSITE)
Build Your Online Business With This
FREE

5-Day Training!