Welcome to my Vortic United review. Are you thinking of getting into the online trading game? Would you like to make a passive income from doing automatic winning trades?
If that sounds exciting to you, then you might be interested in joining the Vortic United MLM trading platform.
Is Vortic United a scam, or is it a legit trading platform? I have uncovered 5 red flags about Vortic United. You need to check them out before you make an informed decision on whether or not you should invest with them.
Before we chat about the red flags, let's first see what Vortic United is all about.
FREE 5-DAY TRAINING (+FREE WEBSITE)
Build Your Online Business With This
FREE

5-Day Training!
What Is Vortic United All About?
---
Vortic United promises daily returns on your investment from online trading. Their main marketing angle is that you can make a 1.8% daily passive income return without having to do anything.
All you have to do is choose from one of their investment packages and let their trading system do the hard work.
How Does The Vortic United Trading System Work?
---
Apparently, they use advanced algorithms and data analysis to make trades on behalf of their clients, which they claim can lead to higher returns.
At the same time, it eliminates the risk that would come if you were to do the trades yourself or if you do not have much experience.
The site attempts to show transparency by pasting pictures of both winning and losing trades.
However, this is in no way convincing that Vortice United is a legit trading platform. You will see why when we chat about the red flags.
Recommended Reading: Ihub Global Review – Is Crypto Cloud Mining For You?
How Do You Make Money With Vortic United?
---
They have various membership packages that you can invest in, and earn a ROI. The packages start from a minimum investment of $50 all the way up to $10,000.
Here is a breakdown of the various Vortic United investment packages: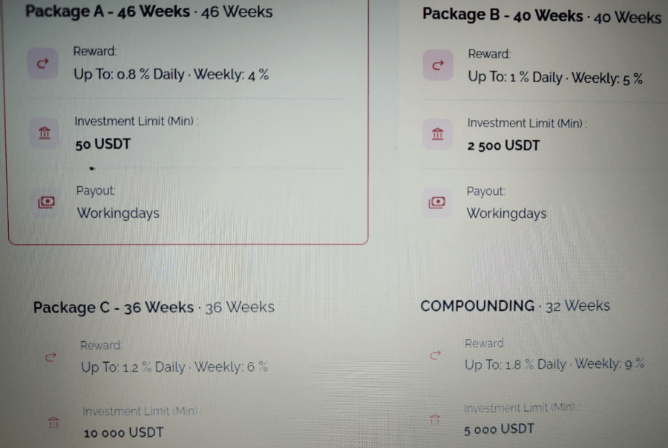 Package A:

$50 Earn 0.8% Daily 4% Weekly

Package B:

$2500 Earn 1% Daily 5% Weekly

Package C:

$10,000 Earn 1.2% Daily 6% Weekly

Compounding:

$5,000 Earn 1.8% Daily 9% Weekly
Package A runs for 46 weeks, Package B runs for 40 weeks, Package C runs for 36 weeks and Package runs for 32 weeks. Once you reach the end of the term, the company will reimburse 80% of your investment.
But that's not the only way that you can make money with Vortic United.
They have an MLM-type compensation plan, where you can earn from the referrals whom you introduce to the company.
The Vortic United Compensation Plan
---
You can earn commissions from selling the Vortic United affiliate membership.
They have a uni-level compensation plan. This plan pays up to 15 levels down.
Firstly there are many affiliate ranks that make up the compensation plan. It starts from the 'Investor' level and goes all the way to the 'Diamond rank.'
For instance, let's say that you are on the Investor level, you can earn 10% of whatever your directly sponsored affiliates earn, 4% on level two, and 3% on level three.
The higher the rank you advance to, the more levels you unlock to earn from.
Here is a summary of the payouts per rank level following the INVESTOR rank.
Affiliate Rank Level
Payouts
Agents
10% (level one) 4% (level two)
3% (level three) 2% (level four)

Partners
(same as agents) + 1% (levels 5 and 6)
Operators
(same as partners) + 0.8% (levels 7 and 8)
Managers
(same as operators) + 0.6% (levels 9 and 10)
Directors
(same as managers) + 0.4% (levels 11 and 12)
Presidents
(same as directors) + 0.2% (levels 13 to 15)
The Vortic United MLM Compensation Plan Breakdown
ROI Match.
You can also earn an ROI match on the daily returns of your affiliates. It's paid out according to the pay structure in the table above.
RANK ADVANCEMENT BONUS
When you ascend or unlock a certain rank starting from the AGENT level, you get a one-time bonus.
For the AGENT level it's $50, and if you reach their highest level, the DIAMOND, you get a $700 000 bonus!
Now let's take a look at some of the red flags of the Vortic United business opportunity.
Red Flags of Vortic United
---
Red Flag Number One: No Owner Transparency
According to the official Vortic United website, the current acting CEO and founder of the company go by the name of Jensen Robles.
The site does not give any breakdown of his background or employment experience. There is also the possibility that Jensen Robles is not the real name attached to the face.
There are reports that Jensen is an actor, and the real name of the so-called founder is Rene Scharwze.
Whatever the case is, the mere fact that there is no credible information about the owner is a sign that one should think twice about joining the company.
Red Flag Number Two: No Social Media/No Physical Address
If you wish to contact them, you have to leave a message on their site along with your e-mail address. There is no physical address on record for the company.
In addition, if you were to click on the "FaceBook" logo at the bottom of the official website, it directs back to the contact page and not their FaceBook business account.
Red Flag Number Three: The site Is Always Offline
Sometimes I manage to get into the member's area and at other times my login credentials are not recognized.
Then there are times where the site does not load even after clearing my browser's cache.
I get a "bad request" response.
What if I wanted to process a withdrawal, and the site is down or offline all the time?
A frustrating situation, right?
Red Flag Number Four: Promise of 'NICE' Returns
The trading market is volatile and depends on market conditions which are unpredictable. For them to promise such returns is not possible.
There is no trial for one to actually test run their system, and see if it works before investing.
Red Flag Nr. 5: Warning From Russia Regulatory Body
The Vortic United company received a pyramid scheme fraud warning from Russia. As per the Central Bank of Russia's February 20th notice, Vortic United exhibits "signs of a financial pyramid".
Bonus Red Flag: Everything Uses Cryptocurrency
If you want to get involved with Vortic United, then you have to make a purchase using Cryptocurrency.
If you are not happy at some point after having made a deposit, you cannot get your money back as cryptocurrency transactions cannot be reversed.
Pros of Vortic United
---
Nothing much
Cons of Vortic United
---
(1) No member testimonials/proof of earnings
(2) No trial run
(3) Need a referrer code to sign-up
(4) No owner transparency
Is Vortic United a Ponzi Scheme? My Personal Opinion
---
According to Wiki, a Ponzi scheme is a form of fraud that lures investors and pays profits to earlier investors with funds from more recent investors.
There are no physical products that one can earn retail profits from in the Vortic United MLM business. One can only earn from selling the membership to people.
This is a securities offering. As such it needs to be regulated and Vortic United has no regulation with any financial authority. Instead, there is proof of a warning from a Russian bank. Vortic United is a cryptocurrency scam.
What about the proof of earnings from certain users?
True, there might be people who are making money from Vortic United. But the money they are earning is coming in from new members who are investing in the company.
In other words, once new members stop joining, no money comes in. The scheme collapses leaving the new members to lose out the most.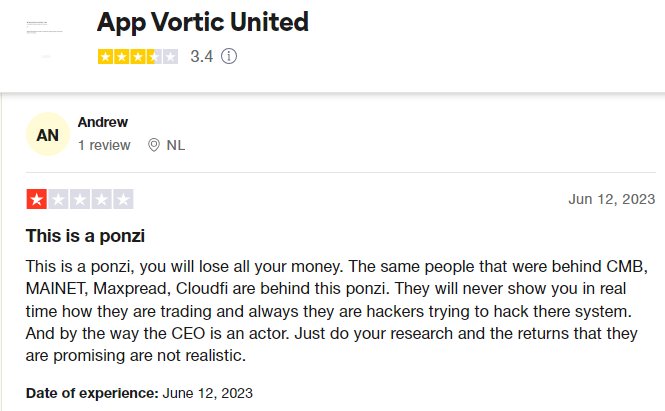 These Ponzi schemes can operate for years before (a) the money stops coming in, or (b)the owners cash out and close the operation for good.
Go for the safer option, go with a regulated Cryptocurrency trading platform. Learn paper trading, and do all the training and trading by yourself. It's a long road, but at least you are in control of things.
Or if trading is not for you, check out my nr.1 recommendation for earning a passive income online.
How I Earn An Income Online
---
I transitioned from the health field to the online world.
I faced a major health challenge that affected my ability to do my day job as a pharmacist, and I had no choice but to find another way to bring in the money. You can read my story here.
It's thanks to affiliate marketing that I can earn a passive income online.
With affiliate marketing, you do not have to focus on recruiting people at all. There is no cold-calling or having "tea parties" or having to do any door-to-door selling.
It's a great business model for newbies. Even if you have no marketing or any technical experience with website building and so forth.
You have the freedom to build your business around a topic or niche that you enjoy talking about. And you are not restricted to marketing only ONE product or service.
It would my pleasure to show you more about how I made money with this business model since 2016. Let me show you how it can benefit YOU as well by clicking here.
Thanks so much for joining me on this Vortic United Review.
I hope that it has helped you out.
Looking forward to hearing from you.
Regards
Roopesh