Welcome to my Livegood review. Are you looking to join the network marketing business? Would you like to make money from an MLM business?
Well, Livegood is entering the MLM industry with a twist. According to their compensation plan, you can earn up to $2,047.50 per MONTH without ever enrolling a single person!
It sounds pretty exciting right?
Usually with the traditional MLM businesses, recruiting is essential for you to earn higher paychecks. You just have to take a look at the popular MLMs that have an income disclosure and it will confirm that what I am saying is true.
So, is Livegood MLM a scam, or is it a legit business opportunity? How do you earn money with Livegood? What are the benefits of the Livegood Membership? What is the Livegood company all about?
Today I will answer all of the above questions and other concerns so that you can have as much information as possible to make an informed decision on whether or not to join.
FREE 5-DAY TRAINING (+FREE WEBSITE)
Build Your Online Business With This
FREE

5-Day Training!
Overview of The LiveGood MLM Company
---
Name: Livegood MLM
Availability: WorldWide
Owners: Ceo, Ben Glinsky
Price: $49.95
Overall Rating: 2 stars
What Is LiveGood All About?
---
Livegood is a company that operates within the health and wellness industry. The founders of the company believe that a huge percentage of the American population is deficient in vitamins and minerals.
They recognize that conventional foods are not doing a great job of addressing this lack of essential elements. The impact of this deficiency if left to escalate, can cause organs to fail or even lower one's immune system.
Hence, the need for proper supplementation. And that's where the Livegood company comes in.
The health experts at LiveGood have created a range of vitamins, and supplements to help people to get healthy and to stay healthy. By sticking to this healthy route, one would get sick less often, avoiding the need to pump the body with drugs.

The founders believe that having good health, and quality vitamins does not have to be expensive as seen with other MLM companies. They believe that they sell products with the highest quality ingredients, and it comes at a fraction of the cost!
Recommended Reading: 4Life MLM Review- A Good Business 4 Your Life
Who Are The Founders of Livegood?
---
Ben Glinsky is the CEO of Livegood.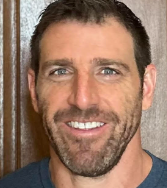 Ben believes that the "network marketing system model" is broken. According to him, less than 1% of the members who participate in the MLM's compensation plan make REAL money.
He claims that 95% of the people are struggling to make any money or even fail to recoup their initial investment.
Ben believes that Livegood is different. Their products are cheaper and they do not force member to do auto-ship buying of products or recruiting. (I will talk more about this in the comp. plan section)
Ben has over 20 years of experience owning and running companies within the Nutritional Supplements industry. He was the founder and CEO of another MLM company called Skinny Body Care.
At the time, a customer opened a complaint against Ben.
The customer was apparently performing well with the Skinny Body Care business. He was earning in the region of 3k to 3.5k, and all of a sudden his account was deactivated.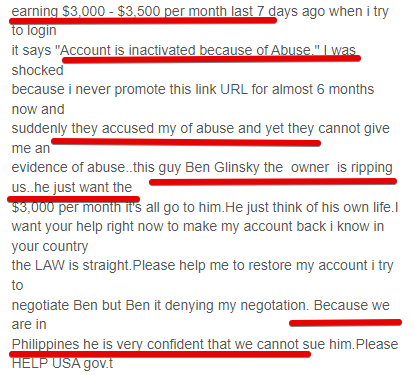 Ben Glinsky was also involved in another company called ProBuilderPlus. The customer claimed that Ben accused him of stealing when he wanted to close off his ProBuilder account. Ben allegedly went to the extent of falsifying documents to prevent the credit card company from reversing the payments due to the customer.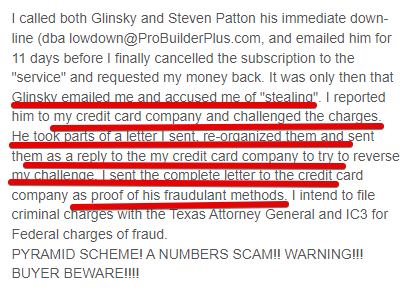 The rest of the Livegood team is made up of Lisa Goodkin(Director of Product Education), and Nauder Khazam(Director of Network Marketing).
They also have a pharmacist, Ryan Goodkin who is the Director of Product Development.
It's cool to see another pharmacist venturing into different areas of business.
The LiveGood Products? Are LiveGood Products Really Cheap?
---
The company does not have an extensive range as compared with most health and wellness MLMs.
It reminds me of another MLM company that I reviewed called Quiari which sells health shakes. Quiari also did not have many products in its portfolio.
On the other hand, you have a company such as Velovita that sells many products to "fuel the mind."
Nevertheless, Livegood sells multivitamins, protein shakes, CBD oils, and skincare products.
Here is a summary of their entire product range :
Bio-Active Complete Multi-Vitamin For Men
Bio-Active Complete Multi-Vitamin for Women with Iron
D3-K2 2000 (a vitamin D3 supplement)
Organic Super Reds (cardiovascular supplement)
Organic Coffee
CBD Oil
CBD Oil – For Pets
Essential Aminos
Factor4 – Advanced Inflammation Management (Anti-inflammatory supplement)
E3 – Energy, Endurance, Electrolytes
Instant Youth (anti-aging cream)
Ageless Skin Serum
The last three products are part of their limited-release campaign.
In all honesty, and as a pharmacist, I believe that these products are nothing new on the market.
I am sure that you will agree that these days health stores are packed with different brands of multivitamins, anti-aging products, and a variety of CBD formulations.
The one difference with Livegood products is that they are affordable.
They even compared every single item to other brands just to show you how much money you would be saving if you were to make that switch over.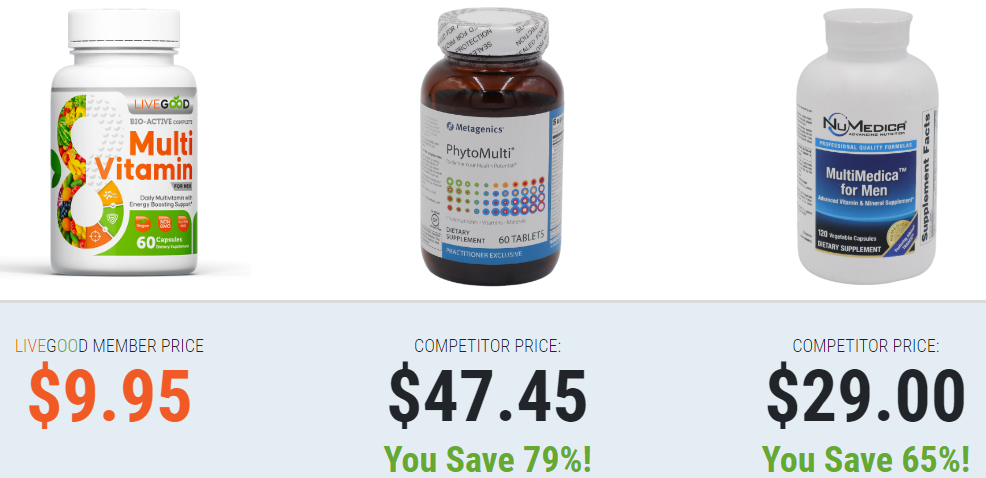 Are people happy with using the Livegood products?
There are no testimonials on the official Livegood website. However, here is one from Sitejabber.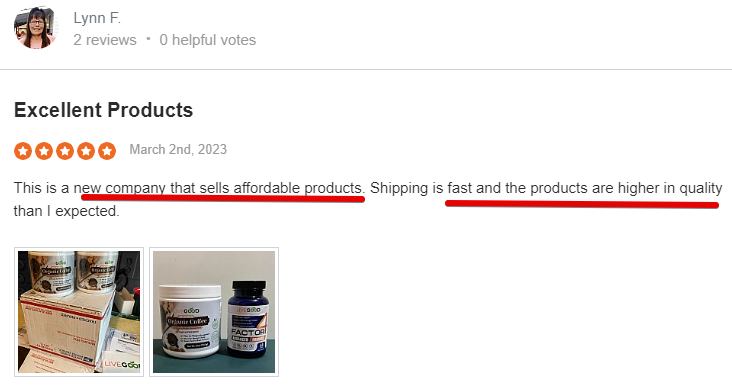 At the end of the day, it's all about trying it out for yourself. What may work for you, may not work for me.
Allow me to now highlight a challenge that you can face should you be thinking of making money selling Livegood products.
You can earn retail profits, but it might not be as easy as you think. Whilst these products are cheap, folks may already be used to using a particular brand.
Once they already trust a brand, it's not easy to switch people over. They need to want to do the change, and you have to be patient for it to happen.
Remember something else, if the products are cheap, then your profits will be small. That means that you have to turn high volume, to make big profits.
Speaking of making money, let's talk about the other ways you can make money as a Livegood affiliate.
How To Make Money With LiveGood- The LiveGood Compensation Plan
---
Now we come to the exciting part. How can you earn $2,047.50 without enrolling anyone in Livegood?
I am going to show you.
The cost of becoming a member and an affiliate of Livegood is $49.95
Firstly, like with most MLMs, they have a compensation plan showing you a number of ways in which you earn money.
There are 6 ways to earn with Livegood.
They are as follows :
Weekly Fast Start Commissions
Matrix Commissions
Matching Bonuses
Retail Commissions
Influencer Bonuses
Diamond Bonus Pool
WEEKLY FAST START COMMISSIONS
For every new member who joins as an affiliate and pays the $49.95, you earn a $25 commission, the following week.
You can also earn commissions from the affiliates whom you DID NOT directly sponsor, i.e. affiliates from your direct referrals. It will not be $25 though, but a percentage depending on the current rank that you are within the company.
Ranking levels start from Unranked all the way to Diamond. (total of 6 ranks)
MATRIX COMMISSIONS
This is where you can supposedly earn that $2,047.50 without having to enroll a single person into your organization.
As an affiliate, you are locked in their 2 by 15 matrix plan having your own business center. As more people join the company, you start getting spillovers from the enrollers above you, and they start filling in the slots in your matrix.
The more of these slots that get filled by paying affiliates, the more you can earn.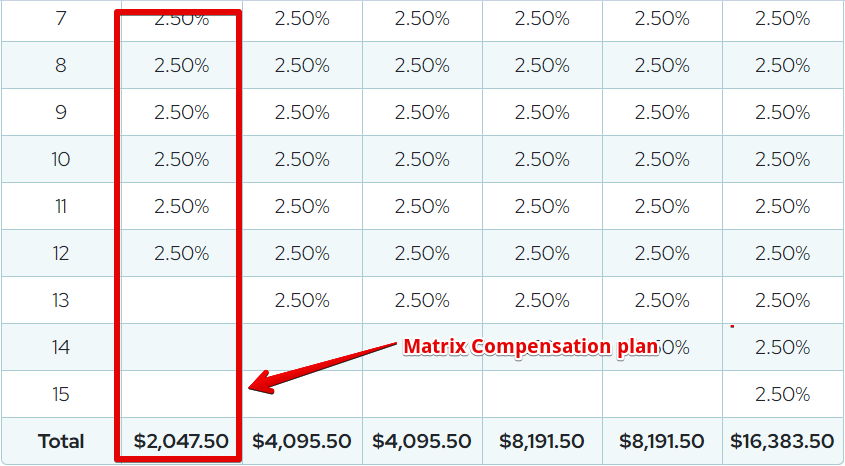 Note, the payout is worked out on the $9.95 monthly Livegood membership.
They encourage people to join earlier so that they can lock in a higher position in the matrix.
Is this a legal way to earn money, or does it sound like Livegood is operating as a pyramid scheme? We will talk more about that later.
MATCHING BONUSES
You earn a 50% matching bonus of the matrix commissions on people you directly introduced into the company. This means that if you focus on recruiting people you can earn more money.
You earn a matching bonus on indirect referrals, but naturally, the percentages will be less than 50% as they were sponsored by someone else.
RETAIL COMMISSIONS
You can earn 50% of the difference between the member price and the retail price of products bought from your referrals.
INFLUENCER BONUS
If you focus on turning a high volume of product sales, you can bag higher retail profits.
DIAMOND BONUS POOL
The Diamond rank is the highest rank that you can reach within the company. Once you reach this level, you can qualify to earn a percentage of the company's profits.
2% of the profits are split amongst all qualifying diamond members.
Are People Happy With Livegood? The People Have Spoken…
---
At Trustpilot, the company scored a 4.4 user rating.
The positive comments were related specifically to the company's product lines. People had good things to say about their coffee products and of course the affordable pricing of the products.
The negative complaints revolved around poor customer support, unable to get refunds processed, could not get membership canceled and continuously getting billed when expressed to be removed from the company.
People were also been bothered on a continuous basis by family or friends to join the Livegood business.
The above was taken from a Reddit thread. There were other stories like the one above where people were hell-bent on getting close family or friends to join not realizing that they were actually distancing themselves from the relationship.
Is it really worth it? There are other ways that one can earn a passive income online without having to put precious relationships at risk.
Pros of Livegood MLM
---
(1) Products are affordable
(2) Owner transparency
Cons of Livegood MLM
---
(1) Limited product range
(2) Lots of customer complaints
(3) No income disclosure report
(4) Shady history of company founders
Is The LiveGood MLM A Pyramid Scheme? This One Can Be Tricky
---
According to Wiki, a pyramid scheme is a business model that recruits members via a promise of payments or services for enrolling others into the scheme, rather than supplying investments or sale of products.
As I explained above, with their matrix commissions, one can supposedly make $2 047.50 just from getting other people to purchase the $9.95 Livegood membership fee and sit back and benefit from the spillover.
If this becomes the core focus of the members and the company, then I would say that Livegood is operating as a pyramid scheme.
Frequently Asked Questions about LiveGood
What are the Benefits of the Livegood Membership?
---
The Livegood products are cheaper than the competitors.
As a Livegood member, you can get the products at an even cheaper price. You also do not have to register for any auto-ship to qualify for product discounts.
How To Make Money With Livegood?
---
Like with other MLMs, Livegood also have different ways to earn within their compensation plan.
They market their matrix compensation plan as popular where you can earn without recruiting. This is through spillovers within the 2-by-15-matrix compensation plan.
Is LiveGood MLM A Scam? My Personal Opinion
---
Livegood sells nutritional supplements at much more affordable prices than other companies. Customers have had positive feedback from using their products. From this point, I think that Livegood is legit.
However, as far as their business opportunity is concerned, I would be hesitant to recommend it to anyone.
The Livegood compay is relatively new. They are not registered with the DSA or direct selling association.
They do not have an Income Disclosure to show how well existing members have performed within the organization.
They do not offer any training or marketing education to help one to grow their business. That is why so many people turn to family and friends in the hope of building their businesses. In the process, they can end up destroying family ties. (It happened to me when I first started with an MLM business)
I find the marketing line of " earn up to $2 047.50 per MONTH without enrolling a single person." misleading.

It gives the impression that it's easy money, and one does not have to do any work.
The truth is that there is no get-rich-quickly way of making money.
How I Earn An Income Online
---
I transitioned from the health field to the online world.
I faced a major health challenge that affected my ability to do my day job as a pharmacist, and I had no choice but to find another way to bring in the money. You can read my story here.
It's thanks to affiliate marketing that I can earn a passive income online.
With affiliate marketing, you do not have to focus on recruiting people at all. There is no cold-calling or having "tea parties" or having to do any door-to-door selling.
It's a great business model for newbies. Even if you have no marketing or any technical experience with website building and so forth.
You have the freedom to build your business around a topic or niche that you enjoy talking about. And you are not restricted to marketing only ONE product or service.
It would my pleasure to show you more about how I made money with this business model since 2016. Let me show you how it can benefit YOU as well by clicking here.
Thanks so much for joining me on this Livegood MLM Review.
I hope that it has helped you out.
Looking forward to hearing from you.
Regards
Roopesh