Welcome to my G2.com review. Would you like to get rewarded by providing software reviews? Have you used, or bought a particular software recently?
If you have, then you can help someone to make a buying decision and you can get rewarded for your reviews. Does that sound exciting?
If it does then you might be interested in signing up with G2.com. Is G2.com legit?
There are some drawbacks to using the G2.com platform. As a person providing these reviews, it is a simple process, but it might not be worth it when it comes to earning money.
Let me show you exactly how the G2 website works so that you can make an informed decision.
FREE 5-DAY TRAINING (+FREE WEBSITE)
Build Your Online Business With This
FREE

5-Day Training!
What is G2.com All About?
---
G2.com is home to thousands of software program reviews. Whether it's e-mail marketing, IT, or sales, they cover a number of different industries.
Whatever product you need for your business, there is a very good chance that G2.com has reviews on it from verified users. In fact on their website, they claim to have over 2,188,400+ real reviews.

So basically G2.com is a site that has software programs reviews for interested buyers. At the same time existing users have the opportunity to provide their opinion or experience of using that particular program.
In exchange for providing a review, G2.com rewards the users.
Recommended Reading: Is TesterUp a Scam? [$120 Per Game Offer]
How To Sign-Up With G2.com?
---
It's free to join G2.com. However, you need to have a business e-mail to join them. Once you verified your e-mail with them, you need to complete your profile.
They will require more information about your business.

How To Make Money With G2.Com?
---
To get started with G2.com, you need to have experience with using some software. There also is the possibility that not every software might be listed with G2.com for you to test.
I went along and tried out the platform.
The first thing that you need to do, is to click on the "write review" tab. You will find that there are a number of different categories that you can choose from.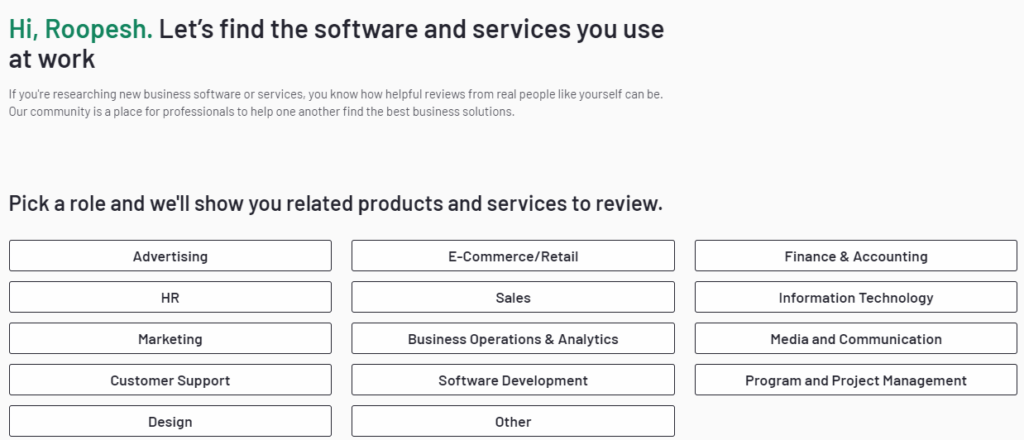 I chose the 'sales' category.
Unfortunately, I could not find the software that I wanted to review on their list. So I used their search functionality to find it.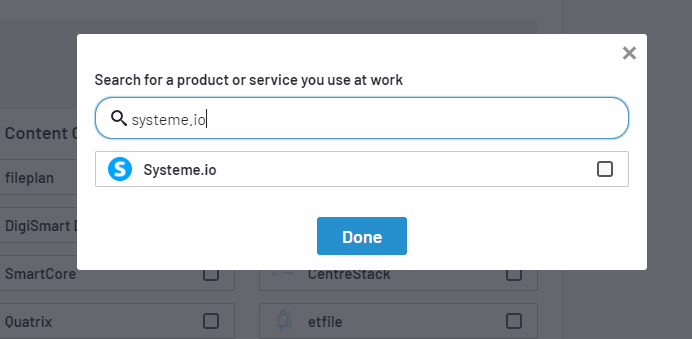 The software that I selected to review is called Systeme.io.
It's an e-mail marketing software that allows you to build capture forms, build an e-mail list and communicate with your subscribers. You can check out my review of Systeme.io here.
It took me less than 6 minutes to complete the review.
Did I get paid immediately after completing the review on G2.com? Not quite, once you have completed a survey, your results are forwarded to the G2 moderation team.
Once they approve your survey, it will be posted on the G2.com website for all the buyers to see.
The moderation process takes three days.
Can You Make Money With G2.com?
---
It's not clear how much G2.com rewards you for completing a software review. After having completed my review of Systeme.io, I tried to learn more about their compensation plan.
Unfortunately, they do not to tell you what sort of rewards you can earn.
From my research, I learned that folks earned around $10 per post survey, whilst others were given Amazon gift cards.
In the event that I do get compensated for my efforts, I will definitely update this post.
Pros of G2.com
---
(1) Free registration
(2) Easy to use
(3) Lots of software you can choose from to review
Cons of G2.com
---
(1) Need to have a business e-mail to join G2.com
(2) No clarity on how much you will earn
(3) Not a passive income-earning opportunity
(4) Have to wait three days, to find out if your review was accepted
How Does G2.com Make Money?
---
Have you wondered how G2.com makes money?
Let me show you.

G2.com is an affiliate for the software programs that you and I review.
A buyer will visit the G2 website. They will browse through the reviews/deals that G2 will showcase. And once they are happy after reading these reviews, they will choose to buy that particular software.
At that point, G2 earns an affiliate commission. In other words, your review helps them to make money. This is based on a business model called affiliate marketing.
Affiliate marketing is a totally legit way to make money online. It's the same business model that I use to build an income online. Check out my review of the best affiliate marketing training platform here.
Is G2.com Legit? My Personal Opinion
---
G2.com is a legit platform.
They take their business seriously and that's why I believe that only a person with a business e-mail address can join the G2 software review program. It's because they want reviews from verified owners of the software programs.
Whilst it is a legit platform, it's not intended for everyone to make money from. It's only reserved for folks who have already tested, bought, and are using software programs for their business.
I do not imagine them paying huge amounts of money to software users for completing a review.
So not only is G2.com not for everyone, but it's also not a place where you earn big money or a sustainable income.
The site is designed to provide buyers with informed decisions to make a purchase. And of course, G2.com earns the lion's share from such a purchase.
Is G2.com the right business opportunity for you?
If you would like to make a consistent income online, then I would not recommend G2.com. It's fine if you want to earn a few dollars or perhaps score some gift cards, but not if you want to earn a passive income online.
In fact, you can do exactly what G2.com is doing and earn from doing product reviews. You can become an affiliate for products and market them and earn commissions.
There are a number of ways that you can do this. You can write blog posts like what I am doing right now. You can use social media or YouTube. You can even do e-mail marketing or use paid advertising.
The key is to join an online business training platform that can help you get started. If you are interested in knowing more, then click on the link that follows to learn more.
Other Commonly Asked Questions about G2.COM
(1)Is G2 a Reliable Source?
Yes. They are a legit source. They have a strict policy to only allow software reviews from verified users only. In other words, from users who have bought or are currently using the software.
(2)How Much Does G2.com Pay?
That is hard to say. They do not have a set rule as to how much compensation one will get for completing a review. You can get paid in small amounts or they may reward you with gift cards.
How I Earn An Income Online
---
I transitioned from the health field to the online world.
I faced a major health challenge that affected my ability to do my day job as a pharmacist, and I had no choice but to find another way to bring in the money. You can read my story here.
It's thanks to affiliate marketing that I can earn a passive income online.
With affiliate marketing, you do not have to focus on recruiting people at all. There is no cold-calling or having "tea parties" or having to do any door-to-door selling.
It's a great business model for newbies. Even if you have no marketing or any technical experience with website building and so forth.
You have the freedom to build your business around a topic or niche that you would enjoy talking about. And you are not restricted to marketing only ONE product or service.
It would my pleasure to show you more about how I made money with this business model since 2016. Let me show you how it can benefit YOU as well by clicking here.
Thanks so much for joining me on this G2.com review.
I hope that it has helped you out.
Looking forward to hearing from you.
Regards
Roopesh