Are you brand new to the online world? Looking at starting your very own online affiliate marketing business?
Congratulations!
You took an awesome step! You decided to build your own business. That takes courage. You want to build yourself an asset.
Many folks out there want more in life, but they are not willing to make that sacrifice. Here you are wanting to learn how to get into high-ticket affiliate marketing.
That's cool.
It shows that you are NOT only interested in affiliate marketing, but you want to make big commissions doing it! And I will outline the steps that you need to take to get started.
How To Get Started With High-Ticket Affiliate Marketing? Just follow these steps…
---
The first step is to decide which 'niche' you want to target.
A niche means your target audience. Who is your business going to serve? Which industry or market do you want to get into?
It can be the health niche or fitness niche, or collectible toys niche. Once you decided on the "who" then it's time to think about the "what."
"What" are you going to be promoting or marketing in your business? Then comes the "how" part. How are you going to reach your audience?
Will you be using social media, blogging, or paid advertising? These are the main steps you have to take to start affiliate marketing.
You can apply these steps to both low-ticket, and high-ticket affiliate marketing.
If you are a newbie, then it's a brilliant idea to join a comprehensive training platform that will walk you through each of the steps above.
Recommended Reading: Is High-Ticket Affiliate Marketing a Scam?
Why Do People Shy Away From High-Ticket Affiliate Marketing?
---
When I first started my affiliate marketing journey back in 2016, I too shied away from doing high-ticket affiliate marketing.
I was a bit intimidated by the idea. I had thoughts in my head that high-ticket affiliate marketing is :
Only if you are an experienced marketer, or
Is not lucrative as it's hard to find people who will spend $1,000 on products or services, or
Only reserved for experts.
I later learned that these all are MYTHS.
When I made my first $1,000 commission, it serves as proof that if I a pharmacist can do this, then anybody can.

You just need the right training and follow through with the process and you can do it.
Bottom line: There are TONS of people willing to spend money online. Would you rather have the money come to you, than somebody else?
How To Find The Right Target Audience for Your Affiliate Marketing Business?
---
Many folks complicate this part. They think too hard and feel that they will end up choosing the "wrong" niche.
You do not have to spend too much time on this part.
Do you have to be passionate about your niche?
Not necessarily.
If you have a niche in my mind that you are excited about, well that's great! If you do not, that is perfectly fine too.
If you can see the earning potential, then it's simply a matter of learning about the niche, as you go about building your business. Learn as you grow!
There is no fast and hard rule when it comes to picking a niche.
Let me give you some niche ideas and the type of affiliate programs that are out there.
Niche Idea One: Luxury Jets
There are folks out there who want to travel via their own private jet. Refer them to the Villiers Jet Affiliate website.

As an affiliate, you can earn 30% uncapped commission.
2. Niche Idea Number Two: Fashion
This affiliate program is related specifically to watches. Used Rolex and other luxury brand watches. The name of affiliate program is called Bob's Watches.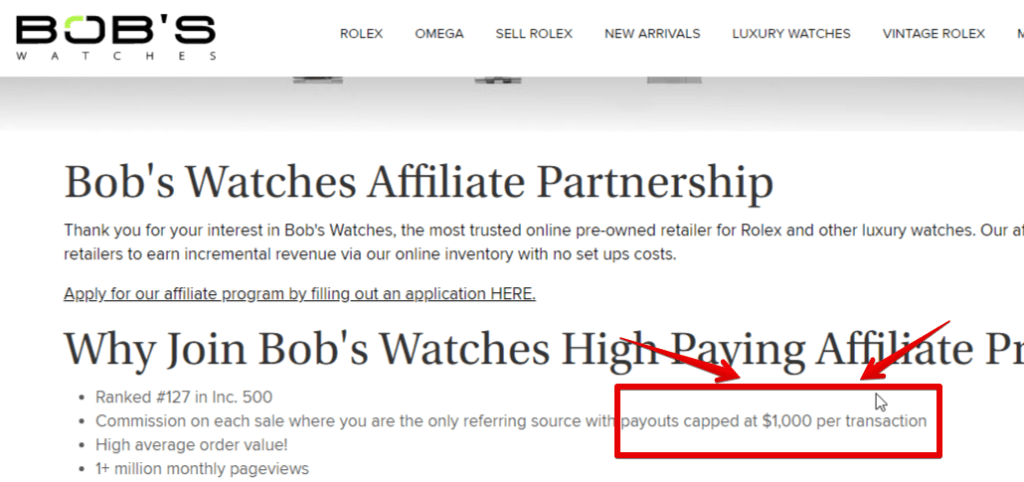 For every $7,500 sale you make, you earn $375. And anything above that, you earn a maximum of $1,000.
3. Niche Idea Number Three: Health and Fitness
Here you can market high-end fitness tech products. The affiliate program is called Urikar.
They sell massage guns, paddleboards, exercise bikes, and a range of accessories. You get a 10% commission on all sales, and there are no capped amounts.

4. Niche Idea Number Four: Online Education
The number of online education programs is growing. People want to learn about starting their own affiliate marketing business or drop shipping.
Perhaps they want to learn how to create their own course or launch a mastermind.
For affiliate marketing, I would recommend Wealthy Affiliate. You can earn a recurring income for every member that takes out a monthly membership.
You earn $29, or $49 monthly depending on which package a member chooses. You also qualify for an all-expenses paid trip to Vegas. (should you meet their requirements)
Then for someone who wants to learn how to create their own course, or launch a mastermind, I would recommend the Legendary Marketer program. They sell blueprints for each model, and it cost $2,500. You earn a once-off $1,000 commission.

Read my detailed reviews of Legendary Marketer and Wealthy Affiliate.
How Do You Build Your Affiliate Marketing Business?
---
Now that you know who your audience is, and the type of products that you are going to be promoting, how will you reach out to your audience?
You can build your business using social media channels. You can use Instagram and Facebook reels. You can create YouTube videos. You can also use TikTok and Pinterest.
The cool part about using social media is that you can repurpose that same video, and use it across multiple networks.
If you feel like you are not ready to go on social media, there is another powerful way that you can build your online business. That is via blogging.
With blogging, you have your very own website. You would focus on writing articles, and learn how to get them ranked on Google and other search engines.
I talk more about this in my article where you can do affiliate marketing without having a following.
There are 5.5 billion people visiting Google daily. Can you imagine if you get the top spot of Google, how much FREE traffic your business will get?
This is the method that I used when I first started. If you would like to learn how to do SEO affiliate marketing, then check out my review of the Wealthy Affiliate platform.
If you do not like social media or blogging, then you can market your business using PPC or pay-per-click advertising.
This is NOT a newbie-friendly method in my opinion. If you do not know what you are doing, you can end up losing a lot of your money.
These are some of the main ways that you can get into high-ticket affiliate marketing.
Tip of The Day: Whichever route you choose, stick to it until you get the results. Then you can branch out onto other things.
How To Be Successful With Affiliate Marketing?
---
Be Consistent. Take action every single day. Treat it like a business, and not a hobby, and eventually, you will see the results.
When you are not getting the results, do not fall for the shiny object syndrome.
What is the shiny object syndrome? It is a "false promise" that there is an easier, quicker, better way to make money online.
Trust me, you will only end up losing a great deal of your precious TIME and MONEY.
That is why I always recommend one join a teaching program that has an online community. The presence of the community helps to inspire you, motivate you, and keep you going on when the day is tough.
Because like any business online, or offline, you will get those challenging days. Remember to persist when those times come by.
The last thing that you ever want to do is GIVE-UP. You never know, you might be so close to your goal.
Conclusion- High Ticket Affiliate Marketing Starting Tips
---
To summarise.
Dispel all the MYTHS you hear about this business model. You do not have to be an experienced marketer. It's not a business that is losing its trend, as more and more people are shopping online and YES, they do spend $1000s online.
Yes, you might need to learn some skills, but ANYONE can learn this model.
You need to first decide on a niche. Then research the particular products you want to promote. And focus on ONE traffic method. Master it, and then move on.
Do not never GIVE UP even when times are tough.
I hope that this article has helped you out.
If you have any questions or comments, please leave them below and I will get back to you.
It was awesome to chat with you.
Regards