Ready to start your affiliate marketing journey? The only problem is that you are not sure what is the difference between an affiliate network and an affiliate program.
Should you sign-up for both of them or just one? How will this two help you in the course of your business?
In today's article, I am going to show you the main differences between the two, and the disadvantages associated with each of them.
It is my hope that at the end of this article, you will have a clearer picture and will be able to make an informed decision.
By the way, if you need any help with your affiliate marketing business, feel free to contact me. Or alternatively, check out my NR. 1 recommended affiliate marketing program, by clicking on the link that follows.
FREE 5-DAY TRAINING (+FREE WEBSITE)
Build Your Online Business With This
FREE

5-Day Training!
What is The Difference Between Affiliate Networks and Affiliate Programs?
---
As an affiliate marketer, you will be promoting products or services in order to earn a commission and build a sustainable online business.
The affiliate merchant or vendor is the seller. These are the people whose products you will be marketing. The buyer is the person who will buy the product or service. For every successful transaction that takes place, you receive a handsome commission.
In summary, this is what your affiliate marketing business looks like.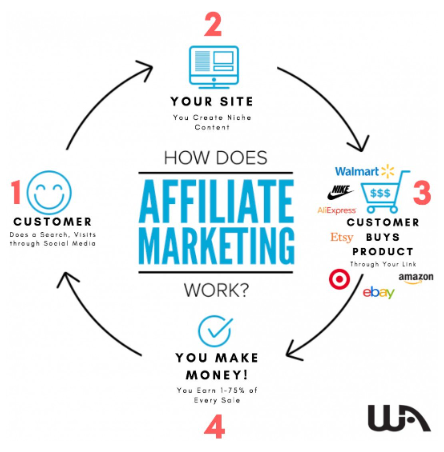 The main difference between affiliate networks and affiliate programs is that there is a network of marketers and vendors in affiliate networks.
In an affiliate program, you are dealing with just one vendor and his or her product.
In an affiliate network, there is an additional "player." That is the network provider. So not only do the vendor and marketer(yourself) have to play by their rules but the commission will be split further.
With an affiliate program, the rules are made by the vendor. It's easier to reach out to the vendor here and build relationships.
Let's take a closer look at how an affiliate network and an affiliate program work.
Recommended Reading: How To Get Into High Ticket Affiliate Marketing
What is an Affiliate Network and How Does It Work?
---
An affiliate network is a marketplace where you can view the top-rated sellers, learn about trending products, and become affiliates with a host of vendors.
How does an affiliate network work?
It's free to join an affiliate network.
The first thing to do is check out the top-selling products that are within your niche. Once you found a product, you can apply to become an affiliate.
Once approved, you will be able to use their resources such as banners, links, etc to create your campaigns, or send the offers(using your link) to your e-mail list.
The network then tracks the sales for products you promote, and calculates earnings due to you.
Recommended Reading: Can Affiliate Marketing Crash? Are The Days Numbered?
Advantages of Joining An Affiliate Network
---
You can choose from a range of products if you are rejected by some of them.
You can choose from different niches
You can track your leads
There is good support for both you, and the vendor
Disadvantages of Joining an Affiliate Network
---
When you start off, the vendor can opt to withhold your commission until you reach a certain number of sales.
Not all products are top-quality, you have to sift through them to find one that you are comfortable promoting.
Your commission may be cut by having to pay network fees.
Competition is tough.
What is an Affiliate Program?
---
An affiliate program only has two parties. You, (the affiliate marketer), and the vendor, or seller.
How Does an Affiliate Program work?
One of the most popular affiliate programs is the Amazon affiliate program.
One of the biggest advantages of joining an affiliate program is that you can earn higher commissions.
Affiliate programs such as Legendary Marketer offer $1,000 commissions and more if you sell their higher-priced products.
I wrote a post recently answering the question of whether or not high-ticket affiliate marketing is a scam.
Let's take a look at some of the other benefits of joining an affiliate program.
Advantages of Joining An Affiliate Program
---
You can get better incentives such as travel incentives or invitations to Masterminds if you reach their super affiliate status.
You can personally contact the owner.
You can do high-ticket affiliate marketing.
You can promote business programs that carry monthly recurring commissions.
You get extra attention if you prove your worth to the company.
You get other incentives depending on the affiliate program.
Disadvantages Of Joining An Affiliate Program
---
You are restricted to promoting one niche or target audience
They may have stricter approval requirements
Is an Affiliate Network or An Affiliate Program Really the MOST Important Thing?
---
In my opinion, NO!
It does not matter which one you choose. You can actually incorporate both of them, and promote multiple products pertaining to your niche.
The most important thing in your business should be: FOCUS ON TRAFFIC.
Without traffic, your business is as good as dead. You can have the best offer, and the best-looking website, but it's no good if no one is visiting your business.
That is why from the word go, it's important to get the right training on how to get traffic to your offers.
If you are struggling with that at the moment, I invite you to check out my NR.1 Recommended affiliate marketing training program to learn how to build that solid business foundation.
Thanks so much for checking out my article.
I hope that it has helped you out.
If you have any questions or comments, please leave them below.
Looking forward to hearing from you.
Regards and Take Care