Is Blogging too saturated? Is it too late to start an online business? You have a look at all the already-established blogs, and you wonder to yourself, "how can I even compete with that site?"
The truth is that at one point that blog that is now getting thousands of page views a day and is earning recurring commissions started out from nothing— just a blank WordPress site.
The good news is that you can get to that point too.
Blogging is not saturated. There are 5.5 billion people searching Google every day. You certainly will not be short of customers.
There is even better news – The process of starting and maintaining a blog is made so much easier than before. I will show you what I mean in today's article.
I will also share with you 6 reasons why blogging is not saturated, and why it can work in your favor.
And if you are ready to get started with your blog, then check out my NR.1 recommended training platform to get started. This platform has all the training, tools, and community support to help your blog start off on a solid foundation. Click on the link that follows to get started.
6 Reasons Why Blogging Is Not Saturated?
---
(1) There are many ways you can earn from blogging.
(2) Changes in the internet, and new trending topics always give new blogging opportunities.
(3) Numerous niche topics that one can choose from.
(4) You are unique- you can stand out from the crowd
(5) People connect with people
(6) Blogging helps businesses grow in the online space.
Now let's take a look at these 6 points in a bit more detail.
Recommended Reading: How Much Does It Cost To Have A Blog Website?
Many Ways To Earn From A Blog
---
There are many ways you can monetize your blog.
Once your articles are well-ranked on Google and other search engines, your blog will start to receive free traffic.
And if you are wondering as to how your blog gets well ranked on Google in the first place? It's through following SEO(search engine optimization).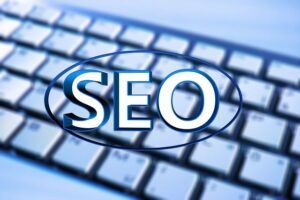 SEO simply means following techniques such as keyword research, and other white hat strategies to get your article noticed by Google and ranked well to answer to people's queries.
Coming back to making money from your blog, you can promote affiliate products and earn commissions. (this is called affiliate marketing)
You can also register with a display ad company and sell ad space on your site, and earn recurring income from the ads.
You can also work with companies and arrange for sponsored content to be placed on your website.
You can design your very own online course or coaching program and market it from your website.
If you want to learn how to build a blog and write articles that rank well, I recommend the Wealthy Affiliate training community.
Internet Changes and Trending Topics Give Rise To Blogging Opportunities
---
There was a time when one needed to learn coding to start a blog.
These days within a few seconds, you can have your own domain name, theme, and framework set up for your site in half an hour or less.
There are many platforms out there that make it easy to start a blog. Some are free and some are paid.
The fact that platforms such as WordPress, Wix, Medium, Squarespace, and Blogger are still existing shows that blogging is still very much alive and far from the point of saturation.
Along with technological advances, these days many new topics are trending that one can blog about.
Recommended Reading: Is Writing Blogs For Affiliate Marketing a Waste of Time?
Tons of Niche Opportunites For Blogging
---
I mentioned earlier that there are 5.5 billion people visiting Google on a daily basis.
From this number, there are billions of searches taking place across tons of different niches.
Niches are simply the audience or target market. So many of these niches are untapped audiences with specific needs that you can help and earn money from.
The three top niches are the relationship niche, the health and fitness niche, and the make-money-online niches. Highly competitive but has lots of opportunities.
But you do not have to target these niches with your blog.
You can target urban hiking, pet supplies, drones, vintage collectibles, ethical fashion, and tiny homes just to name a few.
The list of niches is basically endless. It proves that blogging is not saturated at all.
If you want to learn how to find more about a specific niche, you use the Niche Finder Tool at Wealthy Affiliate. (Note you may have to create a free account to use this tool.)
You Are Unique – Build Your Own Tribe
---
As a pharmacist I always wanted to run my own pharmacy.
Unfortunately, at the time, circumstances did not allow me to have one. I actually am grateful that my life took the unexpected turn into the world of online business (read my story here).
Anyway, I noticed that in my hometown, there are like 15 pharmacies and all the stores were making a profit!
The interesting thing is that people would go to a pharmacist that they are comfortable with talking to.
It's the same thing with an online business.
You can have 10 blogs talking about the same subject, but you might favour visiting one particular blog site over another.
Perhaps you like the way the blogger writes or you can resonate with his or her energy, or their blogs just make you feel happy and at home.
You are unique. You will bring your own unique twist to the subject matter, and people(your own tribe) will gravitate to your site amongst others.
In other words : people will want to hear what you have to say!
People Connect With People
---
There is a place for A.I, but there will always be a place for people.
At the end of the day if you are blogging, it's not to help robots, it's to help people. Let's face it,robots do not pay you. Humans do, after they feel helped.
The people reading your blog want to feel a connection. They first want to get to know you, like you and trust you.
And that cannot be done with a robot. That personal touch can only be given from a human.
If you want to feel warmth, it's through the words of a human. If you want to feel sincere and genuine help, then it can only come from a human and not a robot.
Blogging Helps Businesses To Grow
---
Existing businesses can make use of a blog to expand on their brand awareness. And if you want to, you can help businesses within your area to set it all up.
You can take it a few steps further by doing all of their social media marketing, and even do paid marketing.
Which business does not want to make extra money? This is another reason why blogging is not saturated.
The Tools That Can Make Blogging Easier
---
Let me give you a glimpse of the various tools that helps make your blogging career easier. Firstly, the most common platform bloggers use is WordPress.
It's free, though you have to get your own domain name, and make sure there is good hosting(more about this shortly).
Then it comes down to the actual content creation or blogging.
You do not need to be technically minded, or learn any coding. It is simple to use WordPress. Of course initially it will take you some time to get used to the editor.
Once you get the hang of it, it's child play.
The real time savers in your blogging business are the keyword tools and the use of A.I. I use a keyword tool called the Alphabet SoupX that helps me find keywords in seconds!
I pass my selected keyword through a keyword research tool and evaluate the competition and see if it's a viable keyword to use.
My final setup is using an A.I(articifical intelligence) tool to help me build out the structure for my article.
It will give me more ideas, headline suggestions and builds out a content structure that I can use.
It even writes me the entire article.
But I never copy the content. I do not recommend you do it as well. Just use it to give you some headlines and a structure. Trust me, it's a HUGE timesaver.
And last thing left, is for you to write the article.
How Do You Get Started With Your Blog?
---
The A.I tool that I use is FREE. I use OpenAI.com
The rest of tools comes from one place.
Yes, you read right!
Everything I need from the WordPress site and hosting, to the domain name purchaser, the training on how to get content ranked, Alphabet Soup X tool, and keyword research tool come from Wealthy Affiliate.
Now you know that it's not too late to start your own blog. Blogging is not saturated, and you have plenty of opportunity.
It all boils down to taking action. And be consistent with it.
Have you tried blogging before? Is there anything that stops you at the moment from starting your own blog?
Looking forward to hearing from you.
I wish you everything of the best in your online future.
Regards and Take Care
Roopesh