To blog or to not blog, that is the question.
Are you wasting your time by starting up your own blog?
Did you know that 4.4 million blogs are published every signal day? This is according to envisagedigital.
That means it's something that one should definitely consider starting. But what about starting an online affiliate marketing business?
Is blogging for affiliate marketing a waste of time?
In today's post, I am going to share with you 5 reasons why blogging is not a waste of time. Especially, if you want to use it to do affiliate marketing.
Firstly I want to congratulate you! Why?
Well, because out of all the business models that you can choose from, you go with affiliate marketing.
You could have gone with drop shipping, MLM, or even start your own course, but you went with affiliate marketing.
Not to say that there is anything wrong with the other models. It's just that affiliate marketing, it's a flexible model, it's easy to understand the concept and it's one of the newbie-friendly business models out there.
So, well done to you!
And if you want to get started with building your online business, but you are not sure where to get decent training, feel free to check out my NR.1 recommendation by clicking on the link below.
FREE 5-DAY TRAINING (+FREE WEBSITE)
Build Your Online Business With This
FREE

5-Day Training!
Is Blogging for Affiliate Marketing a Waste Of Time?
---
No, it is not a waste of time. Here are 5 reasons why blogging for your affiliate marketing business is not a waste of time.
(1) You are providing value and helping someone.
(2) It's not expensive to get started with.
(3) You can choose to write about any niche or topic for your website.
(4) You can earn multiple ways from your blogs. Not just from blogging.
(5) You are building an online asset that will have resale value.
Let's take a look at these 5 reasons in a bit more detail.
Recommended Reading: Why Affiliate Marketing Is Booming In The 21st Century and Beyond!
Blogging Allows You To Help Someone Out
---
When you start a blog, you might be sharing your experience or your knowledge around a specific topic.
Whatever it is that you are going to be talking about, there is someone out there that you will be helping.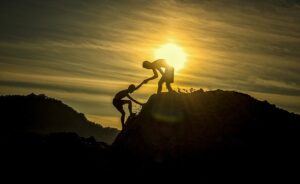 They are looking for help, information, or support and your blog is there to do that job. And you might not make that initial sale. But that does not mean that it's a complete waste of your time.
You probably gained that reader's trust, which means it is highly likely that he or she will visit your blog in the future.
And maybe on that revisit, it will be the time when they are ready to buy.
Reason One: A blog helps to build a strong online presence.
It's Not Expensive To Start a Blog
---
You are not wasting tons of your money starting a blog. You only need a few things to get started.
You need a domain name, which cost you around 13 bucks a year. Then you need to decide on which content management system you are going to be building your blog upon. Most users go with WordPress, which is what I would also recommend.
And then you need to find a good hosting provider for your website. And the last expense would be joining a decent affiliate marketing training platform.
I would recommend a platform such as Wealthy Affiliate where you can get everything for under 50 bucks a month!
Reason Two: It's not expensive to start a blog.
You Can Choose The Topic For Your Blog
---
Blogging for affiliate marketing is not a waste of your time because you get to choose which niche or industry you want to target.
If it's something that you are passionate about like health and fitness, home decor, collectible toys, or investing, it's all up to you.
Or if it's something that you want to learn more about as you grow your business, you can do that as well.
You have flexibility when it comes to choosing in which direction you want to build your business.
Reason Three: You get to choose your niche(target audience)
You Can Earn Multiple Ways From Your Blogs
---
When you are blogging, you are aiming for your pages to reach the top spots of Google and other search engines.
In other words, you are working toward getting organic traffic to your website.
Once you get the traffic, you can start earning commissions from whatever affiliate products or services you are promoting.
But this is NOT the only way to make money with your affiliate marketing blog.
The other popular way to monetize your blog is by having display ads on your blog. Advertising companies do have certain requirements though before they can approve your site.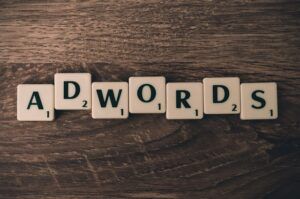 For instance, mediavine, requires your site to have at least 200 000 sessions, before they approve your site.
However, once you are approved, depending on how much traffic your blog is getting, you can earn a decent passive income from display ads.
Reason Four: You can monetize your blogs in many ways
Recommended Reading: Do You Need To Be a Good Writer for Affiliate Marketing?
Your Blog Is Your Online Asset
---
It's just like physical property. Once you start building the property and adding more value to it, it becomes more available on the marketplace.
You are basically building an online asset. Once your blog starts gaining traction, and more people start visiting it, it gains more value.
You can then decide to sell it.
Just to give you an idea, a friend of mine sold his first website for $5,152.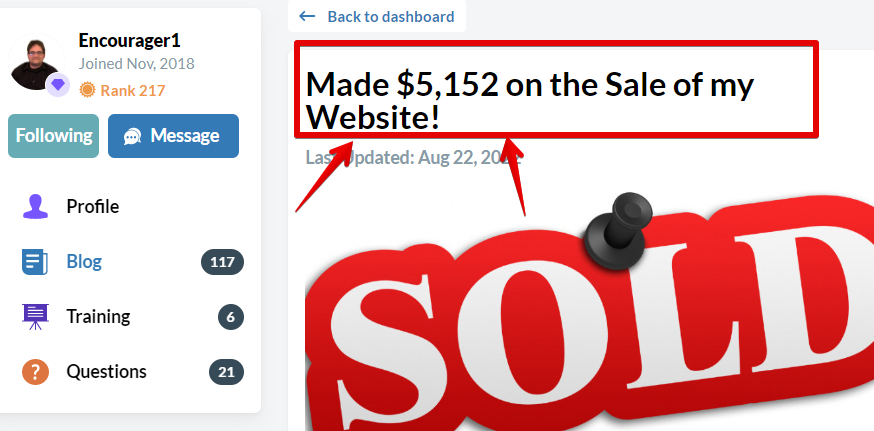 And the best part is that he was working on this website on a part-time basis.
If you would like to read his full story, you can click here. (note you will have to join the Wealthy Affiliate platform to read the FULL article–don't worry its FREE, and its the place where I started my affiliate marketing journey)
Reason Five: Blogging allows you to build an online asset
Conclusion- Are You Ready To Start Your Blog
---
As you can see blogging for your affiliate marketing business can be a lucrative business.
If you are finding it tough to get into the property market, then consider going into the "online real estate" world.
The easiest way to start is by having your blog. Register your domain. Learn how to do SEO or search engine optimization.
SEO is simply employing techniques to get your site ranked on Google and other search engines.
If you do not like using social media, or you do not have a budget for paid advertising, then blogging is a very affordable and effective way to start affiliate marketing.
I hope that this article has helped you out.
If you have any questions or comments, please leave them below, I will be glad to help you out.
Looking forward to hearing from you.
Wish you everything of the best in your online success.
Regards and Take Care
FREE 5-DAY TRAINING (+FREE WEBSITE)
Build Your Online Business With This
FREE

5-Day Training!