Welcome to my Southwestern Advantage review. Would you like to build a business whilst you are still studying?
It would be cool to be able to have an income to help pay off your student or car loan. How about having extra spending money for the holidays, would that be nice?
You might be thinking of joining the Southwestern Advantage business opportunity for college and varsity students.
Is SouthWestern Advantage a scam? Is it a worthwhile business opportunity? I will show you some of the drawbacks of this business and what it takes to have it work for you. It is my hope that this review will give you all the information that you need to make an informed decision.
My name is Roopesh. I have reviewed over 400 make-money-online products.
If you would like to learn about my Nr.1 recommendation for starting an online business, then click on the link that follows.
FREE 5-DAY TRAINING (+FREE WEBSITE)
Build Your Online Business With This
FREE

5-Day Training!
What is SouthWestern Advantage?
---
Dan Moore is the president of the company. The company was founded back in 1868.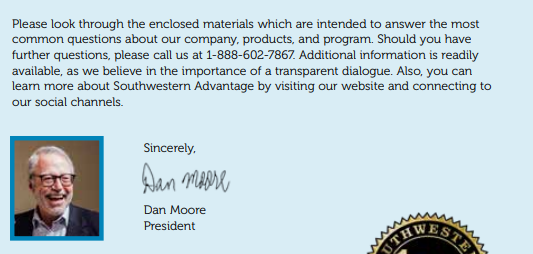 According to the official website, Southwestern Advantage is "the oldest entrepreneurial and direct selling program for college and university students in the world. "
The mission of the Southwestern Advantage company is to empower students with entrepreneurial and leadership skills to last well longer than the duration of years of study at varsity or college.
Once a student joins their internship program, the company supports them to become leaders in other sectors of the Southwestern Family of Companies.
Recommended Reading: Wealthy Affiliate Review- It Still Is Worth Your Time and Money!
The Training and Support at The Southwestern Advantage Company? Is It Any Good?
---
Unfortunately, the business opportunity is only open to students within the US, Canada, and UK.
To get started, you have to complete training and an assessment, to see if this is the right fit for you.
Some of the topics that they cover in the training are :
Face-to-face communication with your customers
How to properly handle your finances
Safety when doing your job
Self-coaching
The fundamentals of running a business
You will come to realize that as a Southwestern Advantage sales representative, you will be going from door-to-door marketing the company products. As such, safety is of utmost importance.
The company trains you on how to communicate with the local authorities should your safety be in danger.
They provide females with additional training. They also have a host-family program in place. This is where you stay with a host family to keep your expenses low and have that added protection.
As I said earlier, the company also wants its students to grow within other areas of the group. That is where they can join the family of companies.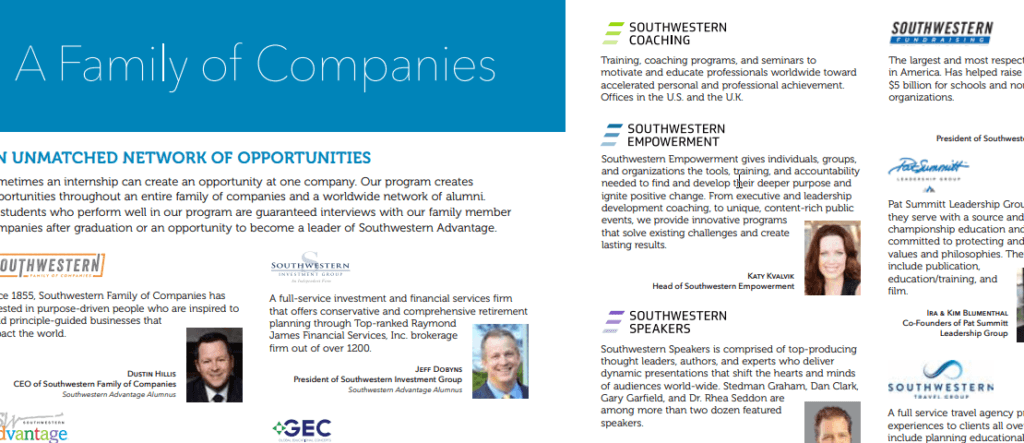 How Do You Make Money With SouthWestern Advantage?
---
The company offers an internship program. When you sign-up as a student rep, you will get the training that will help you to market the company's educational materials.
The main way to sell these products is via door-to-door selling or cold-calling.
I will show you more about their products in the next section.
The advantage of being a member of the SouthWestern company is that you have exclusive rights to selling their products. They are not sold in regular educational stores or marketed on social media. And that gives you, the ambassador, an opportunity to secure sales through your efforts.
However, on that same token, it can also be viewed as a not-so-good thing. The company is well established. And it's likely that students are already promoting the products. Hence, it can be a competitive environment for you to get into.
But, that should not stop you, if you like the idea of working as a sales representative.
The SouthWestern Advantage Products
---
All of the SouthWestern Advantage products form the basis of a complete educational program.
They cater to all age groups. The products also are made in various formats such as interactive apps, websites, and books.
The idea behind using the SouthWestern Advantage products is to assist families with learning and leadership skills.
Products are designed for different sectors such as :
Pre-schoolers (Grade 1-5)
Young leaders
Parents, and
Families.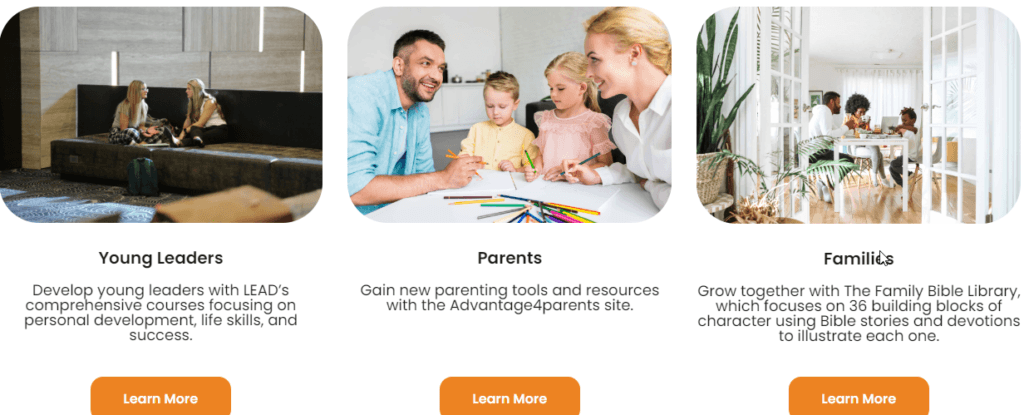 Recommended Reading: Solarium.World Review 5 Red Flags That You Need To Know!
Are People Happy With SouthWestern Advantage?
---
If you are going to be a part of a company, then it's a good idea to learn more about how customers feel when either interacting with the company or using their products.
I usually like to check out third-party review sites for this part. Unfortunately, I could not find any reviews of the SouthWesternAdvantage.com site.
However, at Trustpilot.com, the sister site, SouthWesternAdvantage.co.uk, scored a low rating. It was a 1.8 out of 5 stars.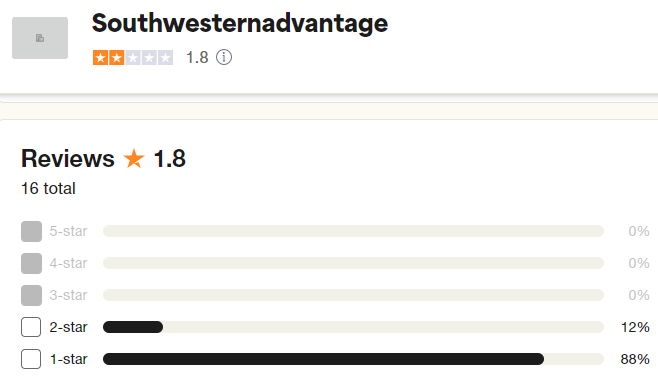 88% of these reviews were 1-star rated.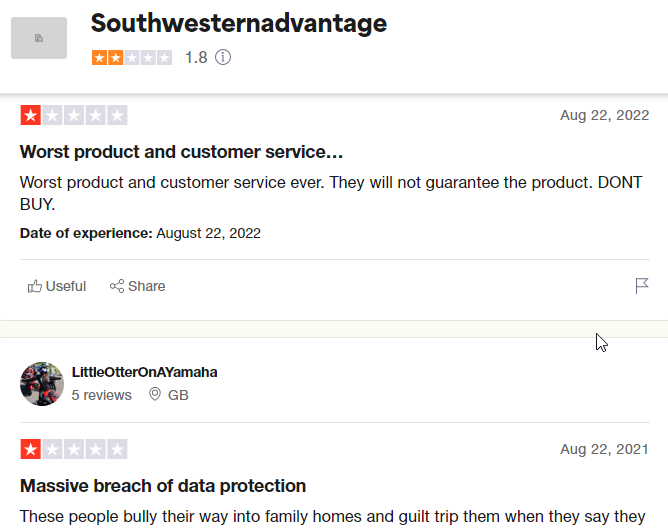 Here are some of the issues that folks brought up as complaints:
Rude customer service
Unable to utilize the educational apps(suffered frequent downtimes)
Breach of client confidentiality
Books do not follow "The British" curriculum
Highly pressured into buying from company representatives
Pros Of SouthWestern Advantage
---
They have member testimonials
They are registered with the Direct Selling Association(DSA) and other well-known bodies
They are in the market for a long-time
Cons Of SouthWestern Advantage
---
Membership is restricted to only certain age groups and geographical locations – not a worldwide business opportunity
You have to do cold-calling or door-to-door selling
Can only earn when you have free time
Highly competitive (competing with other students who are already in the game)
Lots of customer complaints
Is SouthWestern Advantage an MLM?
---
The company is not an MLM.
Remember that with a multi-level marketing business, the one thing that would usually stand out is the complex compensation plan. It would involve ranking levels, accumulating PV(points volume), CV(commissionable volume), etc.
Take a look at my reviews of MLMs such as One Hope Wine, Neora MLM, and Quiari to see what I mean.
Basically in an MLM concern, the higher paychecks lie in the recruiting side of the compensation plan. You would have to focus on building and motivating a team to grow.
With SouthWestern Advantage, it's not the case. You do not get paid for referrals who join you. There are no rank levels, and you only get a return on sales from your team.
Is SouthWestern Advantage A Scam? My Personal Opinion
---
SouthWestern Advantage is not a scam.
They have owner transparency. They have a long-standing in the market. They also have an income disclosure to show that students are earning money with the company.
Is SouthWestern Advantage the right business opportunity for you?
There are a number of drawbacks to the SouthWestern Advantage business, that I would like to bring to your attention.
Drawback One: Highly Competitive
As a new recruit, you will be competing with affiliates who are already in the game.
Drawback Two: Customer Complaints
As discussed above, customers were not happy dealing with the company or with their purchase of educational materials.
Drawback Three: Cold-Calling
Does the thought of going from door-to-door selling sound exciting to you?
That is essentially what you would be doing as a Southwestern Advantage company representative.
Drawback Four: Not a Full-Time Passive Income Earning Opportunity
You can work and earn ONLY when you have free time. As a full-time student, it means that you most likely would be able to do the job over your holidays.
It's also not a passive income opportunity. Your money will not work for you. If you stop doing the sales representing, then you will not earn anything.
If these drawbacks do not bother you, then you can give SouthWestern Advantage a try.
If you want to have a global business without having to do cold-calling and build a passive income, then check out my NR.1 recommended business opportunity here.
How I Earn A Passive Income Online
---
I transitioned from the health field to the online world. I face a major health challenge that affected my ability to do my day job as a pharmacist, and I had no choice but to find another way to bring in the money. You can read my story here.
It's thanks to affiliate marketing that I can earn a passive income online.
With affiliate marketing, you do not have to focus on recruiting people at all. There is no cold-calling or having "tea-parties" or having to do any door-to-door selling.
It's a great business model for newbies. Even if you have no marketing or any technical experience with website building and so forth.
You have the freedom to build your business around a topic or niche that you enjoy talking about. And you are not restricted to marketing only ONE product or service.
I sell high-ticket digital products. The commissions are higher and you have to only sell a few to make your monthly target.
It would my pleasure to show you more about how I made money with this business model since 2016. Let me show you how it can benefit YOU as well by clicking here.
Thanks so much for joining me on this SouthWestern Advantage review.
I hope that it has helped you out.
Looking forward to hearing from you.
Regards