Welcome to my Solarium.world review. Is Solarium.world a scam or a legit business opportunity? There is a switch to using alternative sources of energy. Solar energy is a trending topic, and it sounds even more exciting if one makes money from this industry.
The official Solarium.world website states that you can earn a daily income of 1.8% of your investment, as well as investment from folks you invite to join your downline.
Does that sound like Solarium.world might be a scam? Let me highlight the 5 main red flags of this opportunity before you decide to join this business.
Congratulations on taking the time to do the research before you go all in. It shows that you are someone who will not accept things at face value. That's a good thing. Well done to you!
Before we dive into the review, feel free to check out my number one recommendation for starting an online business, even if you have zero experience. Go ahead and click on the link that follows to learn more.
Is There A Legit Way To Make Money Online?
Yes, there is! I got proof it works!
What is Solarium.World All About?
---
Solarium is marketed as a business opportunity that offers "clean energy" alternatives as their main flagship products.
The mission of the Solarium company is to become a "worldwide distributor of clean solar energy" for everyone.
Why invest in Solarium.world? What are they offering?
---
According to information gathered from their downloadable pdf, non-renewable sources such as oil will be exhausted in terms of supply within the time to come.
Other non-renewable sources such as hydroelectricity depend largely on rainfall. For this reason, it can be considered an unreliable source taking into account the erratic climate change in certain countries.
By investing in solar energy alternatives or the Solarium.world company, you are investing in a renewable energy source. As long as the sun is out, your solar panels will be absorbing the energy and the system will convert this energy into alternating current or electricity.
Recommended Reading: Wealthy Affiliate Review- Why This Business Course is Worth Your Time and Money!
Who Is The Founder of Solarium.World?
---
There is no founder on record. However, there is an acting CEO of Solarium. He goes by the name of Morilo Torres.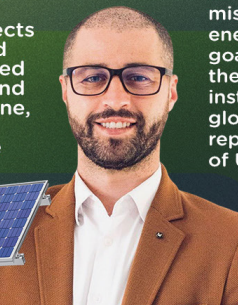 According to LinkedIn, Morilo served as a Senior Project Manager at a company called Energi Flow from Feb 2016 – May 2018.
Morilo holds qualifications from the London Business School and Coimbra Business School.
How To Join Solarium. com
---
You cannot join directly with the company. You need sponsor details to become a Solarium member.
Once you have this information then registration is pretty much easy.
You need to create your own username and verify your e-mail address, and then you are all good to go!
Recommended Reading: Invincible Marketer Review- This One Course You Need To Try!
How To Make Money With Solarium. World?
---
The two ways in which you can make money with the Solarium business opportunity are via :
Buying products (and earning interest from them)
Recruiting people and earning from their purchases
Let's first take a look at some of their products.
The Solarium. World Flagship Products
---
Note: There are no physical or standalone products that you can profit from.
You can invest in one of the Solarium investment packages and earn an ROI on them.
They have 6 packages starting from $25 all the way up to $2000.

Let's say that you buy the $25 solar investment package. You can earn $9.90 per month. If you buy the $2,000 pack, you can potentially earn $792 per month.
You can only earn from Monday to Friday at their flat rate of 1.8% daily. Furthermore, if you want to make a deposit, you can only do so using either digital dollar or bitcoin.
The Solarium.World Compensation Plan- Get Paid For Recruiting!
---
If you want to earn more money, then you can focus on recruiting your family and friends. Get them to join your team and you can earn binary bonuses, referral bonuses, and indirect bonuses.
Binary Bonus
The binary bonus is 10% of the total value of the investment made by your team. They calculate which leg within your binary tree has accumulated the least amount of points.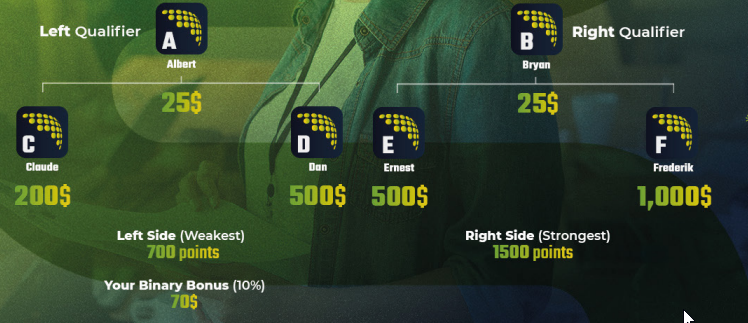 In the image above, the lesser leg has 700 points. So, they would pay you 10% of 700 points which would be $70.
NOTE: The first two people who are placed on the left and right sides of the binary tree, do not qualify you for any commissions. You only earn from the third person(and onwards) who joins your team.
Referral Bonus
You get a 10% bonus on anyone who joins via your referral link, and purchases a package.
Indirect Bonus
You can receive a bonus on all the referrals that your direct referrals bring into the company. This goes up to 4 levels deep.
Earning with the Solarium.World Career Plan
There are nine rank levels that you can ascend to within the company. These are based on achieving a certain amount of points within a certain rank level.
As you will notice below, that from level three, you also have to have a certain number of direct affiliates to qualify.
SOLAR ONE: 2,500 points, Earn $50
SOLAR TWO: 10,000 points, Earn $200
SOLAR THREE: 50,000 points, Earn $1,000 (must have 1 direct affiliate solar2 each side)
SOLAR FOUR: 200,000 points, Earn $3,500 (must have 1 direct affiliate solar3 each side)
SOLAR FIVE: 500,000 points, Earn $8,000 (must have 1 direct affiliate solar4 each side)
SOLAR SIX: 1.250 000 points, Earn $15,000 (must have 1 direct affiliate solar5 each side)
SOLAR SEVEN: 5.000 000 points Earn $75,000 (must have 1 direct affiliate solar6 each side)
SOLAR PRIME: 15.000 000 points Earn $250 000 (must have 1 direct affiliate solar7 each side)
SOLAR INFINITE: 50.000 000 points Earn $1 000 000(must have 1 direct affiliate solar8 each side
As you can see, you have to work extremely hard at recruiting people to earn higher paychecks.
5 Red Flags Of Solarium.World
---
Red Flag Number One: No Owner Transparency
There is no one to stand responsible for this company. They have an Instagram account that has 131 posts and around 5600 followers. However, not one of them reveals who the owners of the Solarium.world are.
The only information is of a certain Mr.Morilo Torres who is the current CEO. This information is also not made readily available on their website. You have to download the PDF in order to learn this info.
Red Flag Nr.2: Recent Domain Name
The Solarium.world domain is not an old domain name. It was bought recently. The domain name is only one year old. It was registered on the 3rd of December 2021.
Red Flag Nr.3: Not registered with any regulatory authority
As per their compensation plan, they have a multi-level marketing-type payment plan in place. They offer a passive income-earning opportunity. (You can earn in two ways, as described earlier)
As such, this is regarded as a securities offering. Therefore, the company needs to be registered with the necessary authorities to carry out these business functions.
As we speak the company is not regulated by any company.
Red Flag Nr.4: The Membership Area is Not User-Friendly
There are no tutorials on how to go about purchasing Solarium packages. There also are not many, if any ways to contact their support team when you want to get started with your business.
Red Flag Nr.5: No Refund Policy or Money-Back Guarantee
Most sites would have a "terms and conditions," section.
This is where one could get a better idea of the company's policies. Especially, if you are going to invest your money, you would want to know if there is a cooling-off period or money-back guarantee.
There are no terms and conditions to be found on their site.
It might be easy to put your money in, but I suspect that getting your money out, would be a different story altogether.
Bonus Red Flag NR.6: There is no Income Disclosure Statement
Without an income disclosure report, it's very hard to determine how the existing members are performing within the organization.
I have reviewed MLM ventures such as Velovita, DreamTrips, and OneHope Wine. They all have income disclosure reports.
One of the most common highlights of these income disclosure reports reveals that the majority of the members do not go past the first rank.
That means that it's hard(but not impossible) to build an MLM business. You have to do lots of recruiting, and you need your team to do the same.
Are People Happy With Solarium.World?
---
There are no member testimonials on the official site. However, the company scored a low ranking on Trustpilot.com.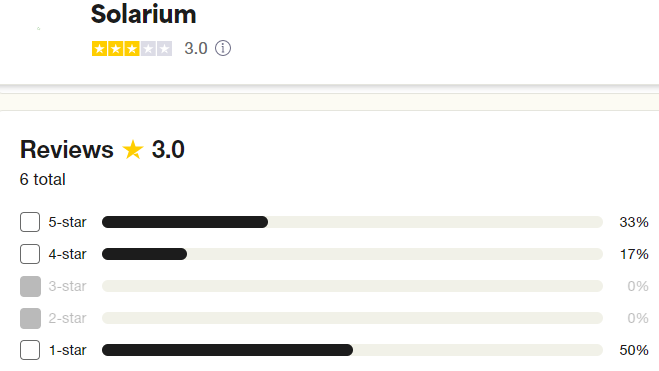 50% of the reviews were 1 out of 5 stars. Folks have complained that their accounts were frozen, and they were unable to retrieve their investment. They also could not get a hold of anyone at support to resolve their issues.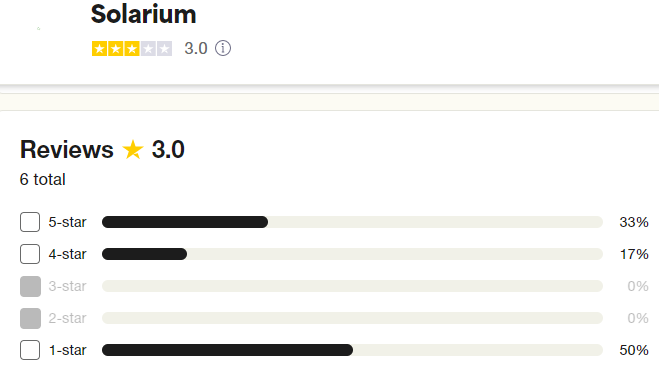 Pros of Solarium. World
---
They have some member testimonials
Folks have made money with the company. Here are a couple of success stories from their Instagram account.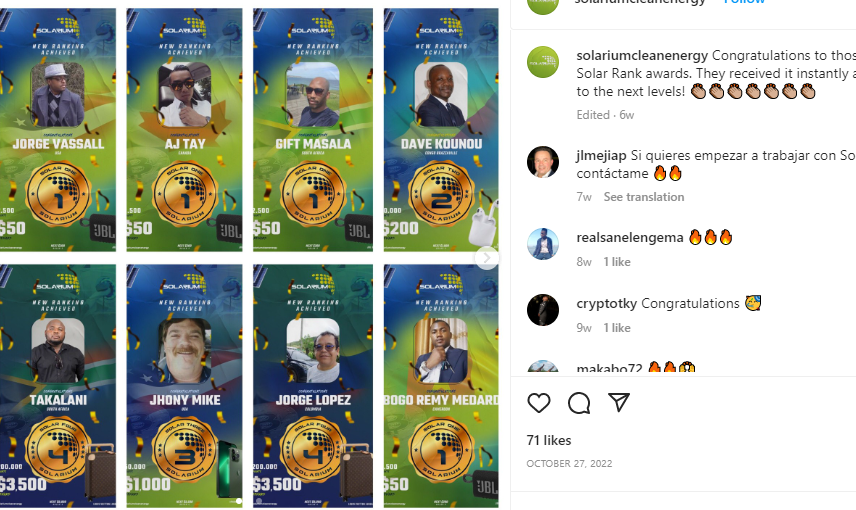 Cons of Solarium.World
---
No Income Disclosure Report
No owner transparency
The site is new
No regulation with the necessary authorities
Have to recruit to earn the higher paychecks
Lots of complaints
Is Solarium.World a Scam? My Personal Opinion
---
Is Solarium.world a Ponzi Scheme?
According to Wikipedia.org, a Ponzi scheme is a form of fraud that lures investors and pays profits to earlier investors with funds from recent investors.
The only thing that stops me from calling Solarium.world a Ponzi scheme is the fact that they have product packages where one can earn a small ROI.
Higher paychecks can be earned by recruiting people. If the focus becomes solely on the recruiting side then I would call it a Ponzi.
Is Solarium.world a Scam?
The company is new. They promise a lot, yet they have no owner transparency. They are not regulated by any authority, and they cannot guarantee your investment or even offer any cooling-off period or money-back policy.
What about the proof of earnings from Solarium.world members?
They may be legit. But it does not mean it will last forever.
Initially, there might be positive stories. But when a company without decent owner credentials has made enough money from their investors, they can easily shut down the whole operation.
In fact, they can run the scheme for years, and one-day, close down everything. Remember, they are asking you to invest using Bitcoin, which makes them untraceable.
The sad part is the "newer investors" will stand out to lose the most should this happen.
MY VERDICT: I would not recommend this business opportunity.
How I Earn a Passive Income Online
---
I transitioned from the health field to the online world. I face a major health challenge that affected my ability to do my day job as a pharmacist, and I had no choice but to find another way to bring in the money. You can read my story here.
It's thanks to affiliate marketing that I can earn a passive income online.
With affiliate marketing, you do not have to focus on recruiting people at all. There is no cold-calling or having "tea-parties" or having to do any door-to-door selling.
It's a great business model for newbies. Even if you have no marketing or any technical experience with website building and so forth.
You have the freedom to build your business around a topic or niche that you enjoy talking about. And you are not restricted to marketing only ONE product or service.
I sell high-ticket digital products. The commissions are higher and you have to only sell a few to make your monthly target.
It would my pleasure to show you more about how I made money with this business model since 2016. Let me show you how it can benefit YOU as well by clicking here.
Thanks so much for joining me on this Solarium.World review.
I hope that it has helped you out.
Looking forward to hearing from you.
Regards