Welcome to my One Hope Wine MLM review. There are many network marketing companies that are based around vitamins, fitness, or health topics. Today's review is about one MLM that is focused on a different niche, and that is wine.
If you enjoy drinking wine and are looking to pursue a business in the wine industry, then you might be considering joining One Hope Wine.
Is One Hope Wine a scam or a legit business? Is it a worthwhile business to get into? I will show you how the One Hope Wine business work, and what you need to do to make it a success.
Congrats to you for taking the time to do your research. It shows that you are not one to make an impulsive decision. You need to have all the info, before making up your mind. Well done to you.
Before we get started, feel free to check out my NR.1 recommendation for making money online. Simply click on the link that follows to learn more.
Is There A Legit Way To Make Money Online?
Yes, there is! I got proof it works!
What Is One Hope Wine All About?
---
One Hope Wine is a direct sales company. A direct sales company is one where the company does NOT advertise its products directly to the public. Instead, they rely on their distributors or affiliates to market the product.
In exchange, the company compensates its distributors for bringing in new clients or sales. With most MLM companies, the compensation plan is complicated. You have various point requirements that you need to meet to unlock certain ranking levels and ultimately earn more money.
You can check out my reviews of Neora and Quiari to see the similarities in their compensation plan.
In this case, the main product that distributors will be marketing is, of course, wine. In addition, to selling wine, the founders of the company also donate a certain amount of the profits to charity.
Let's learn more about the owners of the company.
Who Are The Founders of One Hope Wine?
---
The One Hope company was founded by a group of friends. Apparently, Robert Mondavi Jr. and Jake Kloberdanz started the company in 2007. Their headquarters are based in Napa, California.
They post regularly on their website as well as on their social media channels talking about the company's activities.
In addition to their charitable causes, the other mission of the company is to "disrupt the wine industry" by helping people gain access to quality wine. At the same time lies the opportunity to start their own work-home business.
The video below explains more about the One Hope company.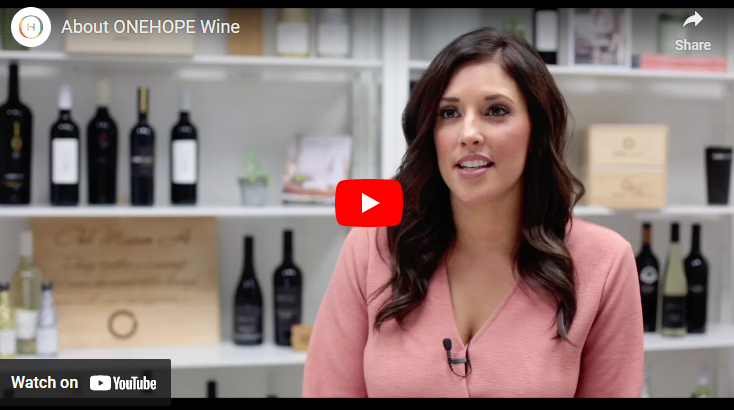 Is One Hope Wine A Pyramid Scheme?
---
According to Wikipedia.org, a pyramid scheme is a "business model that recruits members via a promise of payments or services for enrolling others into the scheme, rather than supplying investments or sale of products."
One Hope wine offers its members the opportunity to make profits by selling the products. In addition, you can earn more through product sales that members within your downline make.
One Hope Wine does not reward you for bringing new members to the scheme. Therefore, it is not a pyramid scheme. If the emphasis were placed on purely paying one for just recruiting and not making any sales, then One Hope Wine can be considered to be a pyramid scheme.
Nevertheless, it's still difficult to make money with this type of business model. I will show you what I mean in a moment. Let's first check out what the products are.
The One Hope Wine Products – Not much Variety
---
The company offers a huge range of wine products that you can market. They have different wine categories you can choose from.
They have red wines, white wines, sweet wines, etched wines, etc that are available to everyone. If you are a member, you can have access to their member-exclusive wines.
People can also purchase gift packs that start from $45 and goes all the way up to the $100s. You can customize your very own gift pack.

Some of their award-winning wines are priced from $25 all the way up to $140.
If you want to commit further, you can choose to join their Wine Club. You can choose whether you would like to receive 4,6, or 12 bottles per month. You can choose your own bottles, or let them choose the bottles for you.
One of their unique selections is the etched wines. This is where you can have them brand your bottle if you want to gift someone a bottle.
Many people are happy with this product as you can see below:

How To Make Money With One Hope Wine?
---
The two main ways to make money as a One Hope Wine distributor is :
1. Earn Retail Profits – by selling wine (folks can purchase directly from your replicated website, so you do not have to physically stock the products)
2. Earn commissions from sales of your downline – as you recruit people to join the company, you will earn a percentage from sales that they make.
The One Hope Wine Compensation Plan –
---
You can earn by personal selling, personal sponsoring, team building, and leadership.
Each wine product carries a commissionable volume. You earn 25% on all personal sales from
tasting events, bulk orders, corporate gifting, fundraisers, and online purchases within any given calendar month
If you personally sponsor someone, you $25 for each person you sponsor. As your team grows and the members reach new levels, you earn $30 for each referral(or they call it Cause Entrepreneur) that reaches the rock star bonus.
It may sound easy, but there are requirements. They have a binary leg compensation in place. To qualify for commissions, your CE must make at least 300 in PCV(personal commissionable volume)
There are 10 title ranks that you can advance within the company. These are as follows:
Cause Entrepreneur
Lead cause entrepreneur
Senior Cause Entrepreneur
Executive Cause Entrepreneur
Director
Lead Director
Senior Director
Executive Director
Senior Executive Director
National Executive Director
You earn a Rank Advancement Bonus whenever you advance to a new rank. Should you help one of your referrals reach the director level, you get a Matching Rank Advancement Bonus of $250.
Basically, to make big money with the company, you have to focus on recruiting and motivating others to do the same. But it's not just about getting people to join. Everybody has to purchase and sell wine products regularly and a certain amount of it too, to reach certain rank levels.
Take a look for instance at the requirements you have to meet in order to make the director level.
Is It Expensive To Join The One Hope Wine company?
---
There are three different membership packages from which you can choose. In addition, you also have to pay an annual subscription of $99.
There is a Business Builder package that cost ($198). Wine is not included in this package.
6-Pack Starter Kit- cost ($248). With this package, you get the business bundle as well as 6 Vinter Collection wines.
12-Pack Starter Kit- cost($298). In addition to the standard bundle package and the 6 Vinter Collection wines, you receive 5 Reserve Collection wines and 1 Glitter Collection wine.
How easy is it to make money as a One Hope Wine distributor?
---
Let's say that you like wine. That's a start and this business could be for you.
But let's do deeper and see what it takes to become a success with this business model.
Do you like recruiting?
As you have seen from their compensation plan, if you want to earn higher paychecks, you need to focus on building your downline. And to do that, you need to recruit people.
It does help make it easier if you have experience with sales and marketing to grow a team. And if you do not have such experience, they do not offer any ongoing training to help you.
There is no income disclosure. It is hard to tell how existing members are doing in the company. However, with MLMs the majority of members do not exceed further than the first few rank levels. My reviews of the BeautyCounter and 4Life MLM will reveal this to be true.
And lastly, it's not easy to make money with One Hope Wine, as it's not a global business. You cannot build a global network.
Pros of One Hope Wine
---
There is owner transparency
2. They have a unique product (it's different compared to your usual health, and wellness network marketing business)
3. They have been around for a long time
Cons of One Hope Wine
---
The starter packages are expensive
2. Complex compensation plan
3. They do not operate worldwide
4. No sales and marketing training
5. You have to recruit to earn the higher paychecks
6.No income disclosure report
Is One Hope Wine a Scam? My Personal Opinion
---
One Hope wine is not a scam. They are not a pyramid scheme either.
The One Hope wine business may not be for everyone. I showed you many reasons above why this business can be challenging and below is one more reason.
You can earn money from retail profits. These profits are generated from selling their flagship wine products.
However, to make good money on the retail side, you have to turn high volume. And the company's product is not unique. So you have to do some convincing to get folks to switch from their fav wine brands to One Hope's.
The other option is to build a downline. This is where you can earn more from the sales of the entire organization.
However, to make it work, you have to motivate your team members and get them to be as passionate as you are about building the business. And this is the tough part, and that is why many do not succeed in the networking marketing business.
It's not that they do not want to put in the effort. The problem is that you need others to put in the same amount of energy and effort as you. And that is something that you do not have control over.
If you have sales, marketing, and leadership expertise, then perhaps the One Hope Wine business is for you.
If you feel, like this is not for you, it's not the end of the world. Check out my nr.1 recommendation for making money online without having to recruit people.
How I Earn a Passive Income Online
---
I transitioned from the health field to the online world. I face a major health challenge that affected my ability to do my day job as a pharmacist, and I had no choice but to find another way to bring in the money. You can read my story here.
It's thanks to affiliate marketing that I can earn a passive income online.
With affiliate marketing, you do not have to focus on recruiting people at all. There is no cold-calling or having "tea-parties" or having to do any door-to-door selling.
It's a great business model for newbies. Even if you have no marketing or any technical experience with website building and so forth.
You have the freedom to build your business around a topic or niche that you enjoy talking about. And you are not restricted to marketing only ONE product or service.
I sell high-ticket digital products. The commissions are higher and you have to only sell a few to make your monthly target.
It would my pleasure to show you more about how I made money with this business model since 2016. Let me show you how it can benefit YOU as well by clicking here.
Thanks so much for joining me on this One Hope Wine review.
I hope that it has helped you out.
Looking forward to hearing from you.
Regards
Roopesh