Are you thinking of starting your very own personal blog? Can diary blogs make money?
You might be wondering if it is worth your while. After all, one of the most important resources that you will be using to build this blog would be YOUR TIME.
The good news is that starting a blog is definitely a good thing to do. It's easier if it is just going to be something for fun.
If you are looking at it from an investment point of view, then the bad news is that you have to follow certain steps to build a blog that has money-earning potential.
You cannot just write and publish content day in, and day out and hope that Google will rank your content on the first page.
You got to learn the process. I got you covered with this.
And that's what today's blog post is all about. I am going to show you what you need to do to make sure that your diary blog is optimized so that it can get the traffic that you need, to earn money.
By the way, if you are ready to get started with your own blog, check out the link that follows. It will direct you to my NR.1 recommended online business training platform.
What is A Diary Blog And How Popular Are They?
---
A diary blog is a personal blog.
There is no set rule as to how often a blogger should share their opinions, or experiences with a reader. And the blogger can also choose whether or not they want the blog private or for everyone to read.
But, at the end of the day, a personal blog is like reading someone's journal online.
Is there a purpose to creating a personal blog?
Yes, there are a number of reasons why one would start a blog.
It could be because of just wanting to have a record of one's progress from the start of a particular journey.
For instance, if one starts a specific diet, by documenting their journey, they are showing the readers, what is working and what is not. At the same time, creating a following that will help to build accountability.
Many times, a blogger might be feeling frustrated with a certain area in their life.
For instance, in my personal life, I suffer from a condition called Tinnitus.

Tinnitus is a constant ringing noise in the ear. It affected many areas in my life, from my relationships with family to social interactions, and my job environment.
I realize that many others suffered from this condition as well.
Hence, I created a website called DealWithTinnitus, to share my feelings, and encourage other readers to open up about the condition as well.
So, a personal blog can help a target market to share their thoughts, feelings, and emotions in a safe and non-judgmental environment.
A personal blog can help to create an online community where folks can share ideas and solutions to problems.
But the big question is, can you make money with a diary blog?
Recommended Reading: Is A Blog An Article?
How To Monetize a Blog? 6 Awesome Ways!
---
When your blog starts to rank favorably with Google and other search engines, you will start getting free organic traffic.
And this can open up a number of ways that you can capitalize upon, to make REAL money online.
Let me show you some of the possibilities that will be available to you.
The first way is through selling ad space to advertisers. You can register with a display ad network, like Mediavine. Once they approve your site, you can have them place ads on certain areas within your site.
Every time a reader clicks on these ads, you make money.
The other way is to charge companies to place "sponsored content" on your website. This is a nice passive income-earning possibility.
Affiliate marketing is the method that I use to make money online. With affiliate marketing, you promote companies' products or services and earn a commission for every successful transaction that takes place.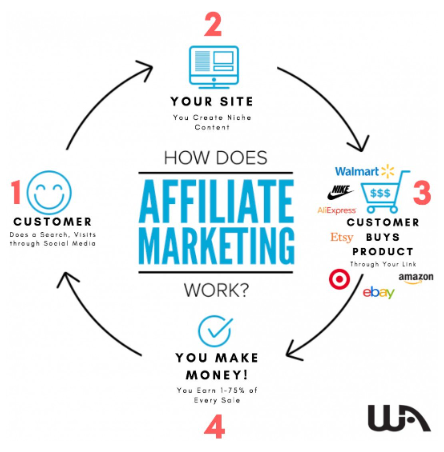 It's a newbie-friendly method to get started with an online business. Some of the benefits of affiliate marketing are:
If affiliate marketing is not your thing, then you can also use your diary blog to promote your own online course or even start a coaching/consulting service.
These are just some of the ways that you can earn from your diary blog.
But, you might be asking, what is the right way to start a business diary blog?
I am going to show you that in the next section.
Recommended Reading: Why is Affiliate Marketing Booming In The 21st Century and Beyond?
FREE 5-DAY TRAINING (+FREE WEBSITE)
Build Your Online Business With This
FREE

5-Day Training!
How To Ensure That Your Diary Blog Is An Online Success?
---
I mentioned earlier on, that there is a certain process or learning curve that you need to follow.
If you want your blog to receive FREE organic traffic, then you need to learn a bit about SEO. SEO stands for Search Engine Optimization.
It's all about optimizing your content to be recognized by search engines and getting well-ranked. If your blog posts are on page two onwards, you are going to have a hard time getting visibility to your site.
By using SEO techniques such as keyword research, you stand a better chance of beating your competition and getting those top-spot rankings.
I highly recommend the Wealthy Affiliate training platform. They have the training, tools, and a one-of-a-kind interactive community to help you reach your goal. Check out my Wealthy Affiliate review.
What Are Some Of The Challenges That Bloggers Face?
---
Some of the challenges that you can face as a blogger are:
(Smaller audience size) – Work consistently on your blog, and share it on various social media platforms and eventually your following will grow. And if you are wondering whether you really need a following for your website, check out this article I wrote.
(Competition with existing blogs)– You might feel intimidated that other personal blogs are established and that you stand no chance. There are 5.5 billion people online, and you can earn within your niche market. You just need the right training and you need to work consistently.
Conclusion – Can Diary Blogs Make Money?
---
Now you know the answer.
A personal blog has great potential to earn you money. You will be sharing stories, based on your own experience. As such your content will be unique.
You learned about the various ways your blog can be monetized. The key is to get your blog to be trusted by search engines. And for that to happen you need to have the necessary training.
A diary blog can help with personal expression, build a following, and reach out to others who have similar thoughts, feelings, or experiences as yourself.
At the same time, it is not an expensive way to start a business. If you are ready to get started with your first business blog, click here to get started.
Thanks so much for joining me today.
Are you ready to start your first blog? What is it that you are going to be talking about?
Looking forward to hearing from you.
Kind Regards and Take Care