Affiliate marketing is a billion-dollar industry. It offers many people the chance to achieve financial independence online.
However, as an affiliate marketer, your success extends beyond the products you promote—it's equally about the affiliate companies you align with.
In this article, I am going to show you what are the top companies of affiliate marketing that promise not just substantial earnings, but unwavering support as well.
The fact that you reading this post, shows that you want to become an online entrepreneur. And one of the best ways to get started is by investing in an online asset.
What better way than to get started with your first FREE website? In fact, you can get a free 5-day training course that I created along with a free website without having to pay anything at all. Check it out by clicking on the link below.
FREE 5-DAY TRAINING (+FREE WEBSITE)
Build Your Online Business With This
FREE

5-Day Training!
How to Select Top Companies For Your Affiliate Marketing Business?
---
What should you look for when you select a good affiliate company to partner with? Here are some criteria I think you need to have in mind when choosing them.
Affiliate companies should have a good commission structure

Let's talk about the green stuff – your earnings.
The commission structure is like the sturdy base of a house, holding up your affiliate dreams. The good news?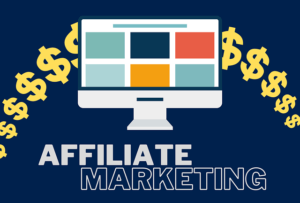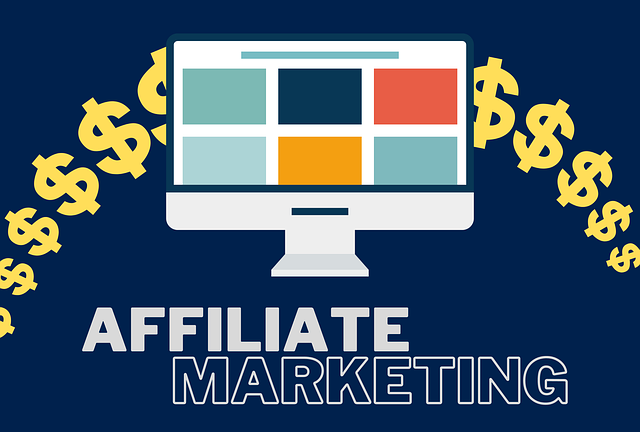 Top affiliate companies aren't stingy. They boost the game with commissions that go beyond the ordinary. Look for those that offer rates that match the effort you're putting in. It's like a fair reward for your marketing hustle.
For instance, I reviewed an affiliate company where the founders were stealing leads from their affiliates and not rewarding people for their efforts. Very unethical. You can read more about this company here.
Matching Your Crowd: Targeting the Right Folks

Imagine throwing a surprise party and inviting everyone's favorite people.
That's what you're aiming for with your audience. The best affiliate companies know this dance. They've got products and services that vibe with your audience's interests and needs. It's a bit like introducing two friends who instantly hit it off – more conversions, more authenticity.
Your job is to provide value to the customers and bring these two parties together and you can earn the commissions.
Trustworthy Allies: Reputation Matters

Just like you'd trust a friend with your secrets, you want to trust your brand with an affiliate company. It's all about reputation.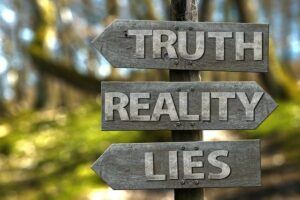 Choose partners known for being on the up-and-up. You're looking for reliability, honesty, and business practices that are as clear as day.
Oh, and they should treat payments like clockwork – no drama there.
The Backup You Need: Resources and Support

Picture this: you're on a journey, and you've got the coolest sidekick ever – that's the kind of support we're talking about.
Top affiliate companies are armed with goodies. We're talking marketing materials that shine, guidance from the experts, and a crew that's ready to help. It's like having a toolkit that turns you into an affiliate superhero. Look for banners, product info, and a team that's got your back.
Cool, now we are going to take a look at some of the top affiliate companies that you should consider signing up to.
Recommended Reading: Why is Affiliate Marketing Booming in the 21st Century?
5 Of The Best Companies For Affiliate Marketing To Sign Up To
---
(1)
Top Affiliate Company Number One:

Amazon.com

Diving into the Amazon Affiliate World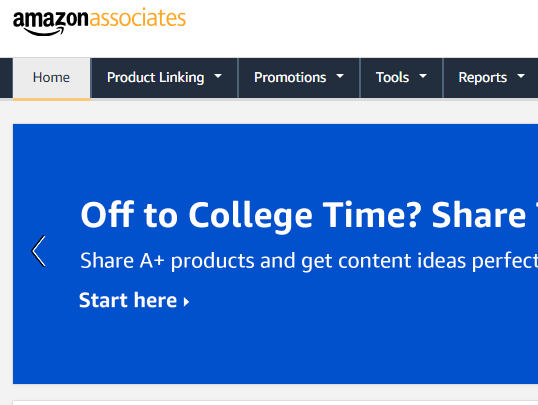 Get ready to meet the Goliath of the affiliate realm – Amazon Associates. This is where our journey begins, my friend. You know Amazon – it's like the shopping mecca for everyone, and guess what? You can be a part of this shopping extravaganza!
The Product Wonderland

Imagine stepping into a world where every imaginable product is at your fingertips. That's Amazon for you. With a massive product selection (seriously, it's like a universe of stuff), you've got a playground for promotions. From books to gadgets to furniture – it's all here, waiting for your magic touch.
Earnings That Fit Your Fancy:

Commissions, oh yes!
Amazon offers a range from 1% to 10%, depending on what you're promoting. It's like having a commission buffet – you get to choose what suits your style. And hey, those numbers might seem small, but they add up faster than you think.
You're putting a smile on your face and money in your pocket.
The Cookie Magic

Now, let's talk about cookies – not the edible kind, but the online magic that gets you commissions. Amazon's got a 24-hour cookie lifetime.
Imagine you share an affiliate link, and your friend clicks on it. If they make a purchase within 24 hours, you're in for some commission goodness. It's like leaving a trail of breadcrumbs that leads to your earnings.
A 24-hour cookie lifetime may seem short. However, people may just end up buying more than one item.
So if they buy something else even though it might not be related to your niche, you get credited the commission as well.
Easy Peasy Interface:

Amazon's not just about shopping; it's also about making your affiliate journey a breeze. The user-friendly interface means you don't need a degree in rocket science to get started. You'll be navigating like a pro, checking stats and tweaking strategies without breaking a sweat.
Why We Love Amazon Associates:

Whether you're a newbie or a seasoned affiliate ninja, Amazon Associates is your go-to. The sheer range of products, the chance to earn, and the user-friendly setup – it's like a playground built just for affiliates.
(2)

Top Affiliate Company Number Two:

ClickFunnels
Navigating the ClickFunnels Affiliate Adventure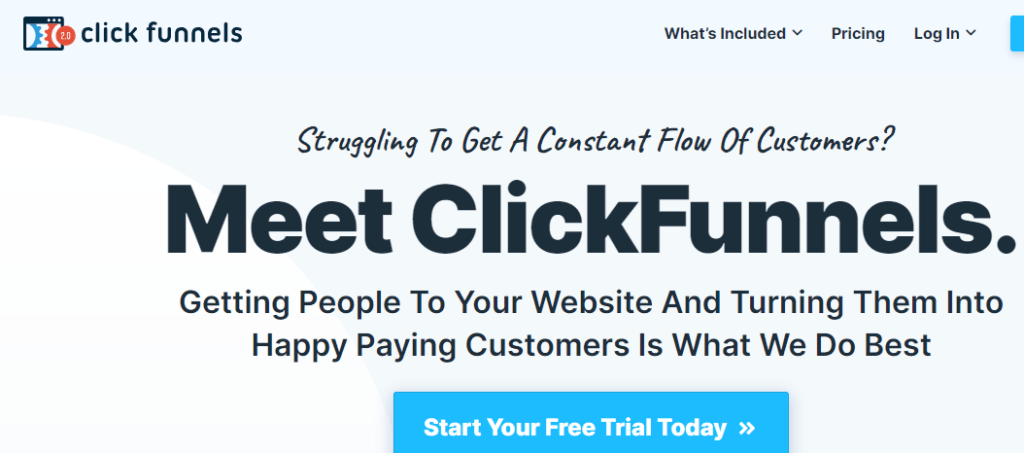 Hold on tight, because we're about to explore the realm of ClickFunnels – where affiliate dreams take shape.
This isn't just any company; it's like the secret sauce behind high-converting sales funnels. Let's dive into what makes ClickFunnels an affiliate wonderland.
Crafting Conversions with ClickFunnels

Picture this: you're not just promoting products; you're crafting journeys that lead to conversions. ClickFunnels specializes in sales funnels – those magic pathways that turn visitors into buyers. With their tools and strategies, you're not just an affiliate; you're a conversion creator.
Earnings that Make You Grin

Ready for some numbers that'll put a grin on your face?
ClickFunnels offers up to 40% in recurring commissions. It's like planting seeds that grow into a steady stream of income. Plus, recurring means you're not just earning once; you're earning as long as your referral sticks around. That's like getting paid for being a super cool affiliate matchmaker.
The Sticky Cookie Trick

Now, here's the cool part – the "sticky cookie."
Imagine you introduce someone to ClickFunnels through your affiliate link, and they start with a basic plan. Later on, they decide to upgrade to a more robust plan.
Guess what?
You're still earning, my friend. ClickFunnels' "sticky cookie" makes sure you get credit for the upgrade, even if it's down the road.
Guidance and Community

Affiliate journeys are way more fun when you've got a crew to share the ride. ClickFunnels doesn't just hand you tools and wish you luck – they've got a whole boot camp for affiliates. You're getting guidance, insights, and strategies that give your affiliate mojo a boost. Plus, you're joining a community of like-minded hustlers who are all about success.
ClickFunnels in a Nutshell

So, what's the scoop?
ClickFunnels is all about giving you the tools and knowledge to not just be an affiliate but a conversion genius. You're not just promoting; you're creating paths to success. With their commission structure, the sticky cookie magic, and a community cheering you on, ClickFunnels is like a turbo boost for your affiliate journey.
And if you want the other company that is very much similar to Clickfunnels that you can promote, it is called Systeme.io.
It's also a funnel builder, e-mail autoresponder, basically an all-in-one marketing tool that is more affordable. So you can promote this tool for folks who cannot afford Clickfunnels.
Read my review of Systeme.io here.
Cater to both audiences, right?
(3) Top Affiliate Company Number Three: Rakuten Advertising
Embarking on Rakuten Advertising's Affiliate Odyssey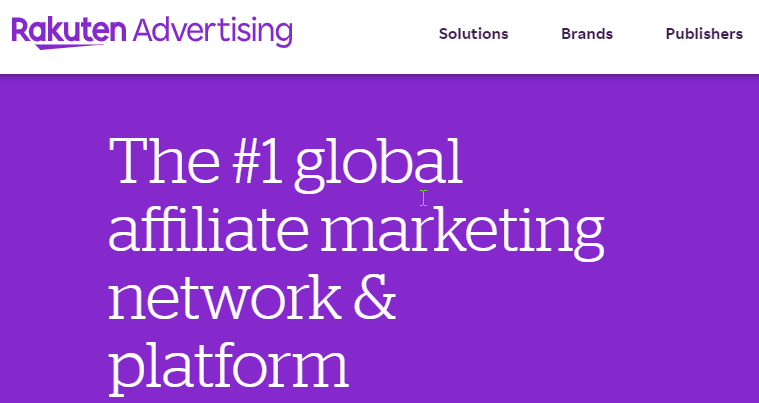 Get ready for an adventure with Rakuten Advertising – a global playground for affiliate marketers. It's not just about promoting products; it's about stepping onto the world stage.
Ready to explore what makes Rakuten Advertising an affiliate marvel?
Let's dive in!
A World of Possibilities

Imagine a marketplace that's like a buffet of options. That's Rakuten Advertising for you. With advertisers from all around the globe, you're not just an affiliate; you're a worldwide influencer. From fashion to tech to lifestyle – you've got a smorgasbord of products to choose from, making your affiliate journey exciting and diverse.
Stellar Tracking and Reliable Rewards

Imagine you're following a treasure map, and every step you take is accurately tracked. That's Rakuten's tracking system – it's spot-on.
Why does this matter?
Because every click and conversion means rewards for you. No mystery, no guesswork – just accurate commission payouts for your efforts.
Your Partner in Crime: The Affiliate Dashboard

Let's talk about ease of use.
Rakuten's affiliate dashboard is like your secret partner in crime. It's where you'll find all your stats, reports, and insights.
With a user-friendly interface, you're not just crunching numbers; you're making strategic moves based on data. It's like having a loyal sidekick that's always got your back.
Variety in Commissions

Rakuten Advertising doesn't believe in the one-size-fits-all approach. Different advertisers offer different commission structures.
It's like a customized experience based on what you're promoting. Whether it's a percentage of sales, flat fees, or even hybrid models – there's a commission style that suits your groove.
Why We're Loving Rakuten Advertising

Rakuten Advertising isn't just a company; it's a global affiliate extravaganza. With a variety of products, accurate tracking, and a user-friendly dashboard, they're all about setting you up for success.
Plus, that international flavor means you're not just an affiliate; you're a world-changer.
(4)

Top Affiliate Company Number Four:

Legendary Marketer
Legendary Marketer: Your Personal Guide to Affiliate Triumph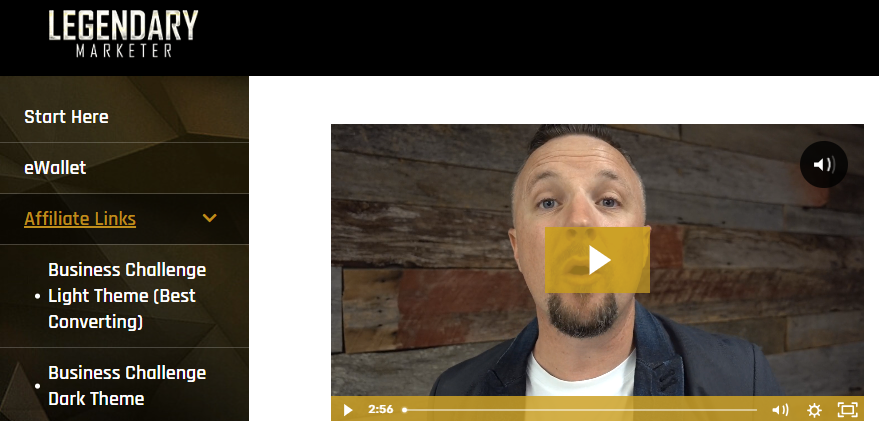 With Legendary Marketer, it's like stepping into a treasure trove of affiliate wisdom.
This isn't just any company; it's like having a mentor who's been there, done that. Let's uncover the legendary story behind Legendary Marketer.
Guiding You to Affiliate Mastery

Imagine having a seasoned guide who's navigated the affiliate landscape. That's Legendary Marketer for you.
Founded by David Sharpe, an affiliate marketing guru, they're all about giving you the strategies, insights, and skills to master the game. You're not just learning; you're fast-tracking your way to affiliate success.
Commissions That Reflect Your Hustle

Let's talk moolah – the heart and soul of affiliate earnings. Legendary Marketer knows your hard work deserves solid rewards. Commissions range from 40% to a whopping 60%, depending on what you're promoting.
It's like having a partner who's got your back financially. You can get people to join their FREE 15-Day business-building challenge, and their support team will help you to convert your leads into buying customers.
The Cookie That Keeps the Magic Alive

Now, here's the magic – the cookie lifetime.
Imagine you introduce someone to Legendary Marketer through your affiliate link, and they decide to join the party later on. You will still get the credit.
Legendary Marketer's cookie lifetime ensures you get credit for your referral's actions, even if they take their time to dive in.
Education and Support: Your Ticket to the Top:

Affiliate marketing might seem like a puzzle, but Legendary Marketer hands you the pieces.
From courses to webinars, they're all about arming you with knowledge.
It's like having a backstage pass to affiliate mastery. There are many different products you can promote from low-ticketed products to high-ticket priced products like their masterminds and blueprints.
Legendary Marketer: Your Partner in Success:

So, what's the story behind the scenes?
With commissions that honor your hard work, a cookie that's got your back, and an education that empowers you, they are a company that I would recommend hands down.
Recommended Reading: Is High Ticket Affiliate Marketing A Scam?
(5) Top Affiliate Company Number Five:

Wealthy Affiliate
Wealthy Affiliate: Your Gateway to Affiliate Prosperity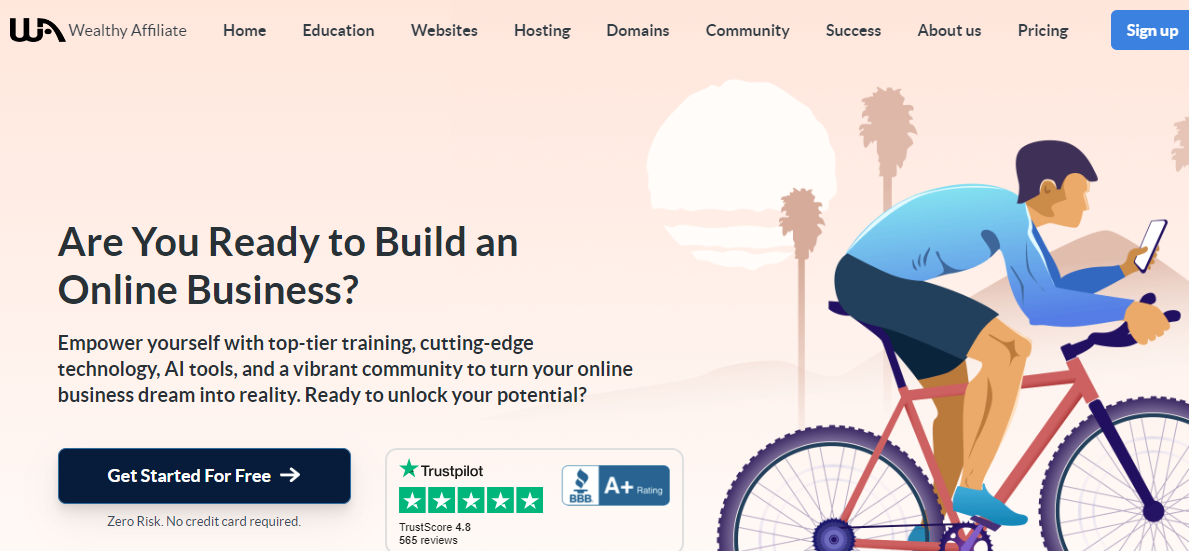 Wealthy Affiliate is my personal favorite and for good reason.
This isn't just another company; it's like having a family that's got your back. Let's see what it's all about and why it can be so powerful to your business.
A Family of Affiliates:

Imagine a place where you're not just another affiliate – you're part of a thriving community. Wealthy Affiliate is a supportive family of like-minded individuals. Founded by Kyle and Carson, they've created a space where your dreams and aspirations are nurtured.
They started 18 years ago with a simple keyword-supplying service to website users. Fast forward to today, they are an all-in-one affiliate marketing training platform.
They teach you how to build a solid business foundation, starting with a website, and then how to incorporate social media, e-mail marketing, and paid advertising into your campaign.
In fact, recently Kyle and his team launched an entire series dedicated to using AI (artificial intelligence), in your business.
They are at the forefront, and if you want to succeed with affiliate marketing, give their FREE Starter membership a try.
Your Affiliate Education Oasis

Wealthy Affiliate isn't just about products; it's about giving you the keys to success.
With their training programs, you're not just learning; you're getting a crash course in affiliate mastery.
And guess what?
You've got your introductory free 5-day business training course right in your pocket. It's like having a personal guide on your journey to success.
Commissions That Build Wealth

Let's talk about the rewards for your efforts.
Wealthy Affiliate's commission structure isn't just about quick gains; it's about building long-term wealth.
With recurring commissions that keep rolling in, you're not just earning a one-time fee; you're setting the stage for financial stability.
And the bonus to their affiliate commissions is that you can qualify for their Super Affiliate incentive. It's an all-expenses paid trip to Las Vegas!
The Lifetime Cookie that's Evergreen:

Now, let's dive into the magic of the lifetime cookie.
Imagine introducing someone to Wealthy Affiliate through your affiliate link, and they decide to join later on. You're not missing out; you're earning for a lifetime.
Wealthy Affiliate's cookie lifetime ensures that your referrals keep working for you, no matter when they decide to jump in.
Tools, Community, and Expertise: Your Triple Threat

Wealthy Affiliate isn't just about a course; it's a complete package.
From website-building tools to a community of support, you're not just an affiliate; you're part of a movement. Kyle and Carson have created a platform that's like a one-stop shop for all your affiliate needs.
Wealthy Affiliate: Your Secret to Success:

So, why is Wealthy Affiliate my personal favorite?
Because it's not just about the dollars; it's about the journey.
They have support all around. From daily backup of your website to live chat, 24/7 technical support, and the luxury of reaching out to their online community, you will not feel alone as an affiliate or as an entrepreneur.
What Is The Key To Your Affiliate Marketing Success?
---
These are just some of the top companies for affiliate marketing that you can incorporate into your business.
You have Amazon's massive selection of products, to ClickFunnels' mastery of sales funnels, Rakuten Advertising's worldwide impact, Legendary Marketer's dedication to learning, and finally Wealthy Affiliate's all-encompassing approach.
Remember, you can choose to promote low-ticket or high-ticket affiliate products. My personal approach is to promote both of them. In that way, you are helping different audience segments.
At the end of the day, it's not entirely about making money.
Yes, that is what you want, but the approach should be on helping people. Help them to get what they want, and you will get what you want.
You Can Have Everything in Life You Want if You Will Just Help Enough Other People Get What They Want.

Zig Ziglar
How Do You Choose The Right Affiliate Company For You?
---
It all depends on what your business is going to be about.
In other words, who is your target audience, or what the niche is?
It depends on what your love or passion is, and the company that aligns with your needs.
Conclusion – Your Affiliate Marketing Journey Begins
---
Congratulations!
You learned about some of the top affiliate companies that you can partner up with. Your success is built on the partnership that you create. The more support you get, the more successful you are going to be.
Choose to team up with companies that share your vision, connect with your audience, and stand for what's right.
With these partnerships, you're set to soar in your affiliate marketing achievements. But joining affiliate companies is one step to online success.
You will also need the right training, to promote the products or services that these affiliate companies sell.
If you feel that you need some top-notch training, then I can help you out too.
Simply sign-up for my FREE 5-Day Business training course, where you will get set up with your free website, and have a solid foundation built to start your affiliate marketing journey.
Wish you everything of the best in your online success.
Regards and Take Care
Roopesh